Duval Schools to keep 73 'diverse, inclusive' books out of classrooms
Published on December 22, 2022 at 9:13 pm
Dozens of books the Duval County school district ordered in the summer of 2021 will never hit classroom shelves. That's the result of an ongoing review after the district pulled almost 200 books this spring while the Florida Legislature passed limits on what teachers can say about race, gender and sexual orientation in classrooms and set new rules for purchasing classroom materials.
After a 10-month process – delayed by staffing shortages, according to the district – 47 titles are being returned to the distributor. Twenty-six others will remain in storage, awaiting further state guidance.
Among the rejected titles are a book about Martin Luther King Jr. intended for fourth graders; a biography of Rosa Parks for second grade classrooms; a first grade Berenstain Bears book about God; and multiple titles including LGBTQ+ characters and families. District staffers are sending the rejected books back to the distributor, Perfection Learning, for exchange.
The rest of the 179 books that had been held for review were determined to meet "statutory guidelines and are useful toward our reading goals," and were distributed to classrooms in October, a district representative tells Jacksonville Today in an email.
All of the books are from the Essential Voices Classroom Libraries collection, which the distributor says are meant to engage students in "independent reading through these diverse, inclusive" stories.
Explore the full list of books that were pulled for review:
'Banned books'
In September, PEN America, an organization advocating for free speech, released a tally of books they said were banned across the country, including more than 550 in Florida, the second-most of any state. Only Texas banned more.
The list included the Essential Voices books the district withheld from classrooms. Duval Schools contested the characterization as a book ban because none of the books was challenged by the public — the district pulled them before they ever went on shelves.
Ami Polonsky is the author of one of the recently rejected books, Gracefully Grayson, a transgender coming-of-age novel intended for fifth grade classrooms. A teacher herself, Polosky believes books like hers are blocked to appease a small subset of parents.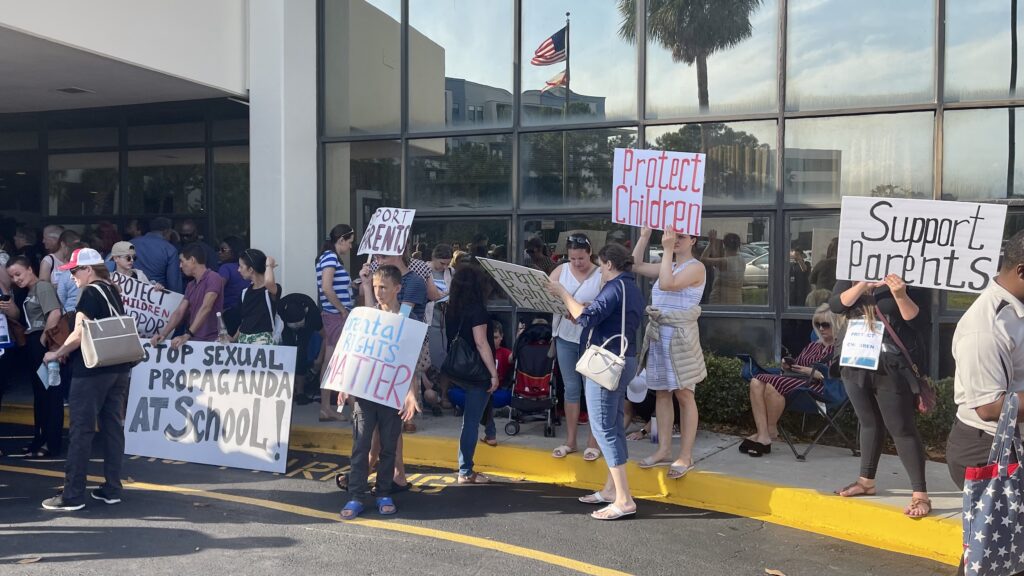 "Books can save kids' lives, and to know this, but still refuse to take them out of storage is nonsensical, it's immoral. A parenting perspective cannot outweigh a national mental health crisis among trans children," Polonsky told the School Board this month. "Books that are ordered with the best of intentions gather dust, and the LGBTQ children continue to receive the message that their existence is controversial."
Polonsky and two other authors came to Jacksonville to address the Duval School Board in early December at the urging of national free speech organizations PEN America, We Need Diverse Books and Freedom to Read. At the time, the district had not yet publicly released the list of 106 books it now says were distributed to classrooms in October.
New state laws
Another of the authors, Linda Sue Park, wrote a book about South Sudanese sisters on a two-hour walk to get water for their family called Nya's Long Walk. Her book was among the 179 titles initially pulled, but it was since distributed to kindergarten classrooms, according to the district.
Park was in Jacksonville advocating for all the books in the Essential Voices collection, many of which are written by authors of color with main characters of color.
"You never know what book is going to do it for them, what book is going to hit them, and that's why more choice, more access, more variety is so important," she said.
Duval decided to pull the books for review as it grappled with limited state guidance for how to implement at least three new Florida laws that restricted school curricula: HB 1467, HB 7 and HB 1557.
HB 1467, sponsored by Rep. Sam Garrison, R-Fleming Island, requires school districts to maintain a list of library materials and make it easier for the public to contest school books. Districts are also required to have a state-certified media specialist sign off on new materials.
Starting in January 2023, school librarians and media specialists will have to complete an online training program developed by the state Department of Education. In an email this week, a Duval Schools spokesperson said the remaining 26 Essential Voices book reviews will be the first use of this training.
"Once that training [is] released, the district will use this as a great opportunity to go through this process applying the required training," the spokesperson wrote.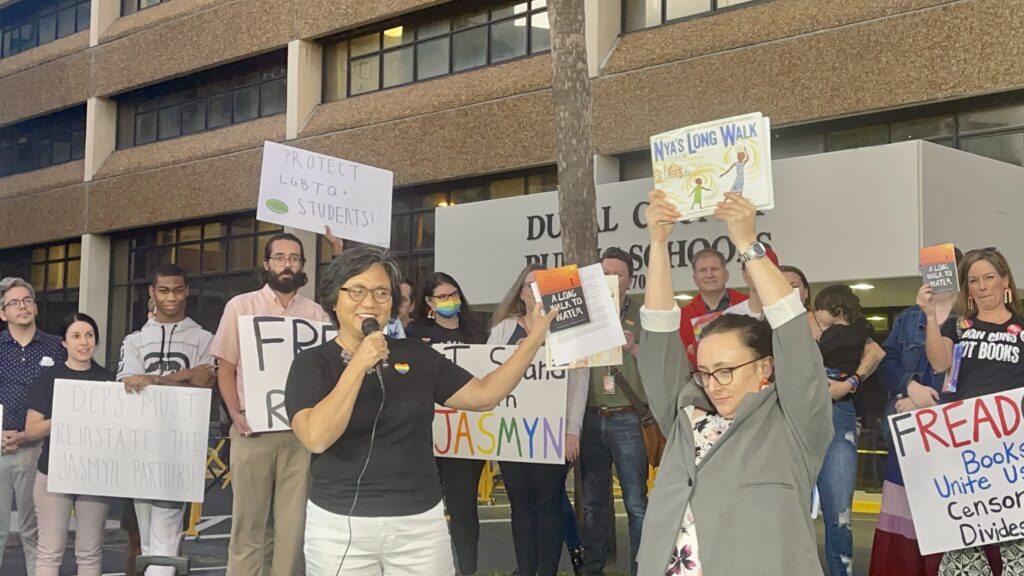 Another new law, HB 7, which Gov. Ron DeSantis nicknamed the Stop WOKE Act, limited how teachers can talk about race and racism and in the classroom. A federal judge blocked the law from taking effect last month, calling it "positively dystopian." The DeSantis administration is appealing the ruling in federal court.
Though HB 7 is not currently in effect, Duval Schools blocked multiple books that deal with race and history, including a Memphis, Martin, and the Mountaintop by Alice Faye Duncan, about Martin Luther King Jr. and the 1968 sanitation strike; Other Words for Home by Jasmine Warga, about a 12-year-old Syrian refugee in the U.S.; and Separate Is Never Equal: Sylvia Mendez and Her Family's Fight for Desegregation by Duncan Tonatiuh, a children's book about the fight to end segregation in California schools seven years before Brown v. Board of Education – the Supreme Court decision that found school segregation unconstitutional.
A third new law, HB 1557, or Parental Rights in Education, bans instruction about sexual orientation and gender identity in first through third grade, "or in a manner that is not age-appropriate" in older grades. Rather than define "age appropriate," the law that critics call "Don't Say Gay" allows parents to sue districts if they believe something is not.
Polonsky's rejected book, Gracefully Grayson, was intended for fifth graders. Other books meant for older grade levels with LGBTQ+ stories are also being sent back, including the fourth grade book, Rainbow Revolutionaries: Fifty LGBTQ+ People Who Made History, by Sarah Prager, and The Stonewall Riots: Coming Out in the Street, by Gayle E. Pitman for fifth graders.
Also in response to HB 1557, the Duval school district dramatically shrank its LGBTQ+ support guide, removed rainbow stickers and posters that supported LGBTQ students from classrooms and took down a 12-minute anti-bullying video that taught middle and high school students how to support their gay and transgender peers.
Ellen Oh, author and CEO of the national nonprofit We Need Diverse Books, says Duval's actions are particularly concerning because the decisions were made before any parent complained about the books.
"It's the secretive, the silent censoring part of it that is so troublesome to us," Oh said ahead of the Dec. 6 School Board meeting. "Books that have been banned have been done publicly. People have challenged books. In this case, these books were pulled because of fear. We can't live in a society like that."

Claire Heddles
Reporter, Jacksonville Today
Claire has been a reporter in Jacksonville since August of 2021. She was previously the local host of NPR's Morning Edition at WUOT in Knoxville, Tennessee. Reach Claire with tips, ideas or comments at (904) 250-0926, claire@jaxtoday.org and on Twitter at @ClaireHeddles.

Claire Heddles
Reporter, Jacksonville Today
Claire has been a reporter in Jacksonville since August of 2021. She was previously the local host of NPR's Morning Edition at WUOT in Knoxville, Tennessee. Reach Claire with tips, ideas or comments at (904) 250-0926, claire@jaxtoday.org and on Twitter at @ClaireHeddles.
---
Sign up for the Jacksonville Today newsletter
Your local weekday newsletter for news and ways to get involved in Northeast Florida.