Another LGBTQ resource disappears in Duval Schools
Published on July 10, 2022 at 8:39 pm
Duval County Public Schools has taken down a 12-minute anti-bullying video that taught middle and high school students how to support their gay and transgender peers, the latest in a string of vanishing LGBTQ resources in the district.
Besides the video, the district is planning to dramatically reduce a LGBTQ+ support guide, and the School Board will vote Monday on a policy that could require schools to notify parents if students want to use different names or pronouns in unofficial records, like ID cards and yearbooks.
The moves are largely in response to Florida's new Parental Rights in Education law, which restricts how schools can teach about gender identification and sexual orientation. Supporters say the law give parents control of their children's education, but critics have labeled it the "Don't Say Gay" law.
A Duval Schools federal grant coordinator raised questions about removing the anti-bullying video, according to a Jacksonville Today review of internal district emails. "Here is what the students have access to for training," the grant coordinator wrote to the district's policy team on April 5, 2022. The email was marked "high importance."
"I just wanted to make sure you both have a look before taking it down," she wrote, attaching screenshots from the video detailing how to support LGBTQ+ peers, combat bullying in schools and respond when peers come out.
The video is now inaccessible and, in response to questions from Jacksonville Today, district spokesperson Tracy Pierce said, "The materials you referenced have been removed for legal review to ensure the content complies with recent state legislation."
The video's removal follows the district's controversial takedown of a 37-page LGBTQ+ Support Guide last fall, and draft, consolidated support guidance that cuts out many of the explicit protections for transgender students. LGBTQ advocates say the disappearing resources send a dangerous message to a vulnerable student population.
"I do believe [the school system] is trying to create some kind of balance," JASMYN CEO Cindy Watson tells Jacksonville Today. "But I don't want to, in any way, suggest that removing all of this is the right thing because it creates a lot of uncertainty and a lack of safety for students right away."
A training video by students, for students
The now-removed video, specifically created for students, was developed using funds from a federal Centers for Disease Control and Prevention grant. The district consulted with LGBTQ+ students in Duval Schools about how to best communicate the anti-bullying message with their peers, according to Darnell-Cookman School of the Medical Arts science teacher, and campus Gay Straight Alliance faculty sponsor Scott Sowell.
He says he did not receive notification from the district about the plan to remove the video, even though some of his students helped to create it. It's a training he's used during monthly GSA meetings.
"The video was co-written by some students, and so it had very student-appropriate and student-specific language that was, you know, teenagers talking to other teenagers," Sowell says. "It's one critical resource that is now no longer available to teachers to help support students."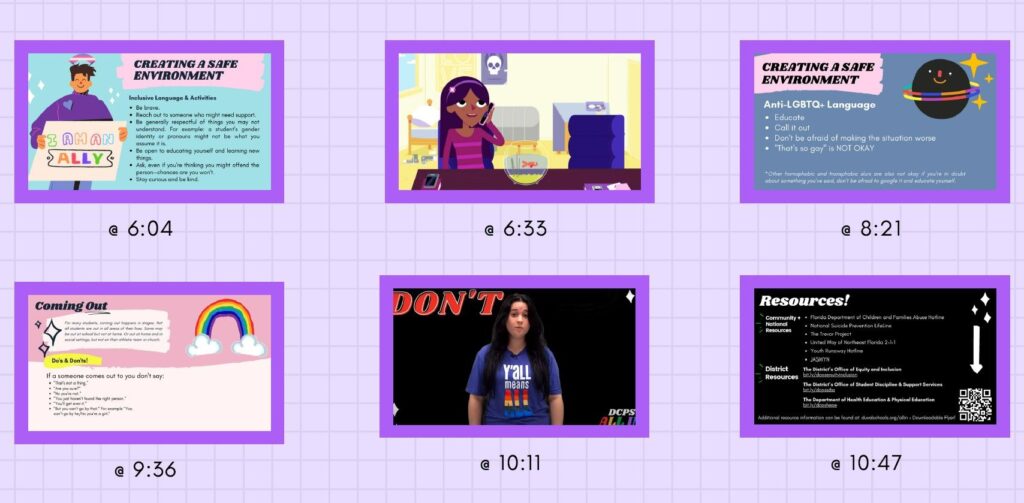 The guidance in the video includes, "Be generally respectful of things you may not understand," and, "'That's so gay' is NOT OKAY." According to the teacher script accompanying the video, obtained by Jacksonville Today, the training was part of a program for students to obtain an "All In for Safe Schools" badge, a marker that signals the person completed the Safe Schools training.
The All In program is still in place for Duval Schools employees, according to the district's website. It's not clear whether the school district will continue the program for students in the upcoming school year. At the time of publishing, the student badge request form was publicly accessible, but the accompanying training video was not.
According to Florida's new Parental Rights in Education law, classroom instruction "on sexual orientation or gender identity may not occur in kindergarten through grade 3, or in a manner that is not age appropriate or developmentally appropriate for students."
The removed video was designed for students in grades 6-12, not K-3 graders, according to the script accompanying the training materials. And state guidance issued last month says the provision of the law for older students "takes effect only after the Florida Department of Education develops rules or guidance on age-appropriate and developmentally appropriate instruction." Those rules have not yet been released, according to state officials.
Sowell says it's disappointing the district removed the video preemptively, without notification or detailed explanation.
"If the district or individuals in the legal team are being held to a specific law, or piece of legislation or mandate that they have to change and edit this, then hopefully, they'll be as transparent and communicate those changes to everyone involved so things just don't just disappear," Sowell says.
Another LGBTQ+ resource removed
The training was not the only LGBTQ+ support resource to disappear last school year. Six months prior to the video's removal, Superintendent Diana Greene directed her staff to remove a decade-old LGBTQ+ Support Guide from the district's website, amid rising right-wing backlash against similar support guides across Florida following a lawsuit in Leon County.
In an October 22, 2021, email obtained by Jacksonville Today, Greene told School Board members the guide was never intended to be a public document.
"As the document was not created for external use, it has been removed. Additionally, since the support guide has not undergone a comprehensive review in several years, I have instructed staff to work with the Officer of General Counsel to conduct a comprehensive review of the guidance," Greene wrote last fall.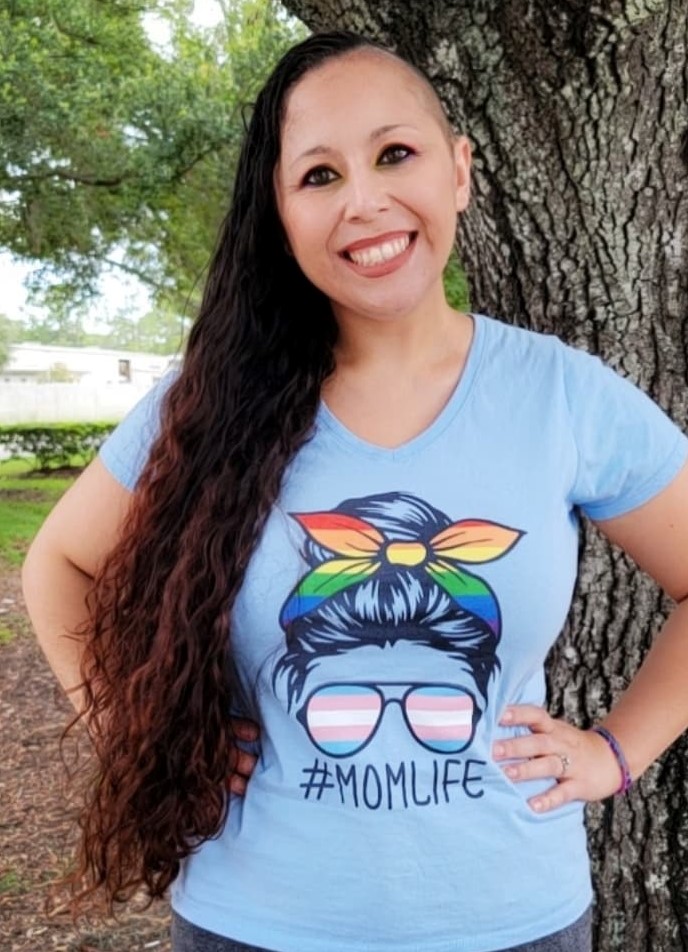 At least a dozen districts had similar support guides in place last year, but more than half of them have since removed them from their websites, according to an Equality Florida lawsuit. Duval Schools announced a plan last month to cut back most of the former support guide.
"Consolidating training and guidance documents for staff shouldn't reflect on our commitment to supporting students," Dr. Greene said in a recent press release. "The proof is in our actions, and we will continue to do all we can to help students thrive."
But parents of trans students, like Duval mom Josinda York, fear fewer guidelines could hurt kids like hers. York's son, now in middle school, told her he was a boy when he was 4. Josinda started transitioning him at school in the second grade.
"This would have been a direct issue for him had they not had everything in place already, because that gave the school all the tools they needed to help him with his transition," York tells Jacksonville Today. "Specifically because the School Board had these guidelines, they had something to go by."
York says the level of detail about trans students' federal rights and frequently asked questions in the former support guide, stripped out in the consolidated draft guidance, were an important part of her family's experience in Duval Schools.
Without the former support guide, York says, "I think the principal still would have supported us, but I don't know if they would have had the education to properly support us."
Hundreds of parents have shown up at recent Duval School Board meetings to comment on the support guide, some to push back against the proposed changes and others advocating for throwing out the support guide altogether. According to the district, the proposed changes were not required by Florida's new laws, but were a choice by district staffers.
"We are taking these steps to streamline our training and internal communication with staff even though it is not required under the law," a district spokesperson wrote in an email to Jacksonville Today.
Monday's vote could bring more changes
In addition to the disappearing training materials, Duval School Board members are also set to vote on a policy change — drafted in response to Florida's new Parental Rights in Education law — requiring schools to send emails to parents if there's a change in student services, which would include if students want to change their name or pronouns in unofficial school records, like ID cards and yearbooks, according to proposed district guidance. According to the draft policy, schools would send the email to parents, unless there's a risk of "abuse, abandonment or neglect."
The new policy would likely affect trans kids and their parents, like Dawn and David Clapp. The two were decked out in LGBTQ+ pride gear at the last School Board meeting, David in a pink and blue shirt that reads, "Trans rights are human rights" and Dawn with a "Love Wins" headband. They're, by all accounts, affirming parents to their transgender daughter.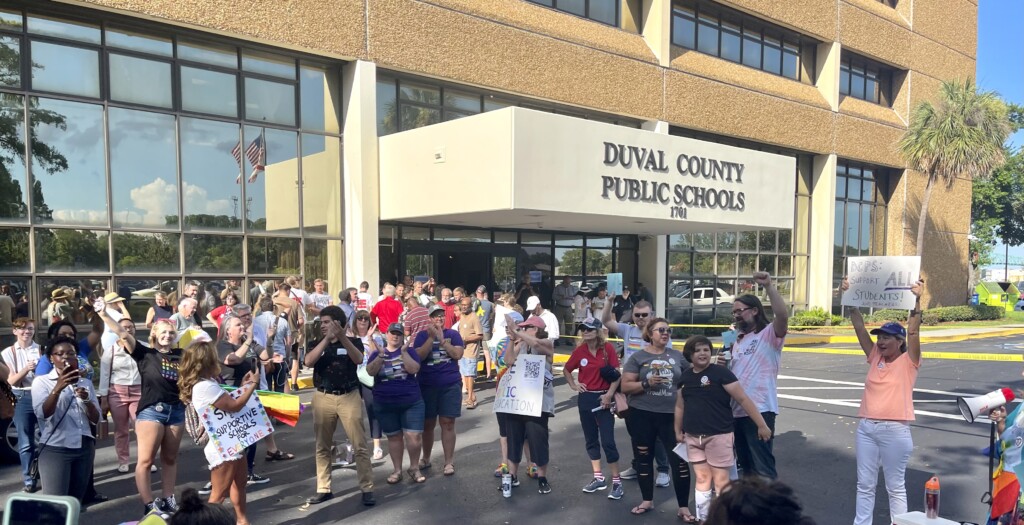 Even with supportive parents, their daughter was first comfortable coming out to her friends and a teacher at her Duval charter school. She told her parents she was a girl later on when she felt ready.
"We were supportive of her," Clapp says. "It was surprising, and it's been a lot to deal and adjust with, but she's become this amazing, blossoming human being because she's felt safe at home and safe at school to be who she wants to be."
Dawn and David are among a group of parents of transgender kids, and other LGBTQ+ advocates, who oppose sending an automatic email to parents that "outs" kids without their consent, instead of letting kids like the Clapp's daughter change their name on class rosters, but tell their parents when they want to, as the policy currently permits.
"My children's friends that don't have as supportive parents, it scares me for them, that they would have that taken from them," Dawn Clapp says.
District staffers say the new policy is necessary to comply with Florida's new law.

Claire Heddles
Reporter, Jacksonville Today
Claire has been a reporter in Jacksonville since August of 2021. She was previously the local host of NPR's Morning Edition at WUOT in Knoxville, Tennessee. Reach Claire with tips, ideas or comments at (904) 250-0926, claire@jaxtoday.org and on Twitter at @ClaireHeddles.

Claire Heddles
Reporter, Jacksonville Today
Claire has been a reporter in Jacksonville since August of 2021. She was previously the local host of NPR's Morning Edition at WUOT in Knoxville, Tennessee. Reach Claire with tips, ideas or comments at (904) 250-0926, claire@jaxtoday.org and on Twitter at @ClaireHeddles.
---
Sign up for the Jacksonville Today newsletter
Your local weekday newsletter for news and ways to get involved in Northeast Florida.