#AskJAXTDY: Answering your local Hurricane Ian questions
Published on September 27, 2022 at 3:40 pm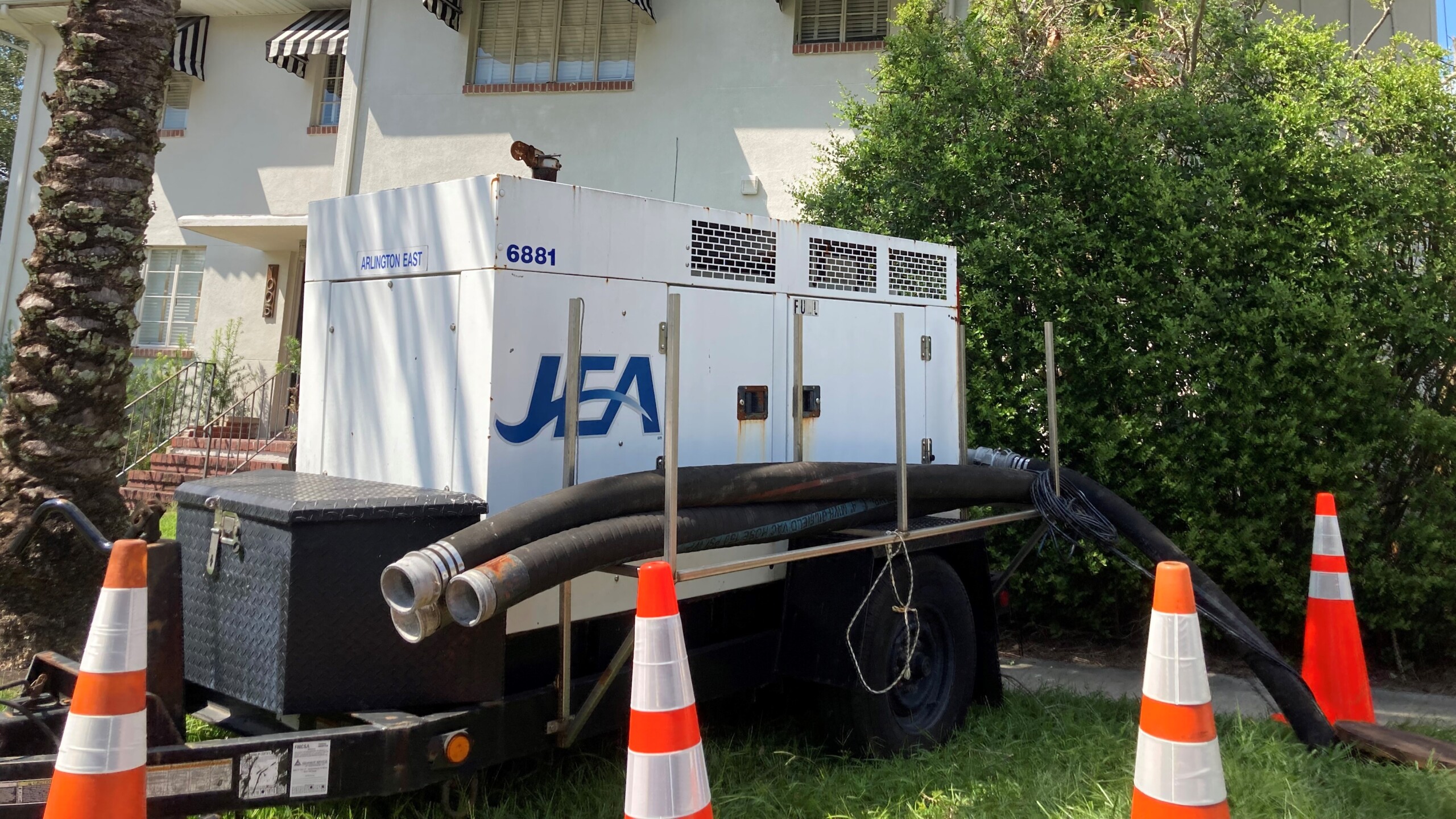 A JEA water pump sits at the ready at the corner of Landon Avenue and San Marco Boulevard in San Marco.

Jessica Palombo, Jacksonville Today
The Jacksonville Today team is answering storm prep questions ahead of Hurricane Ian making landfall on Florida's west coast tomorrow. Send us your questions on Twitter @JAXTDY and we'll update this story with the answer.
For up-to-the minute info on Hurricane Ian, follow Florida Storms on Twitter; download the Florida Storms app, which includes street-level warnings on a live broadcast of WJCT News 89.9; or tune in to WJCT News 89.9 on any radio, phone or computer.
More than 37,000 Duval County residents filed insurance claims after Hurricane Irma flooding in 2017. According to the county's disaster mitigation plans, Irma brought 10 inches of rain and nearly 6 feet of storm surge (that's how far above normal water levels rise). 
Storm surge forecasts this week are nearing those of Irma for the First Coast. As of Tuesday, the National Hurricane Center forecasted 3 to 5 feet of storm surge and up to 15 inches of rain for the Jacksonville area.
---
Sign up for the Jacksonville Today newsletter
Your local weekday newsletter for news and ways to get involved in Northeast Florida.
---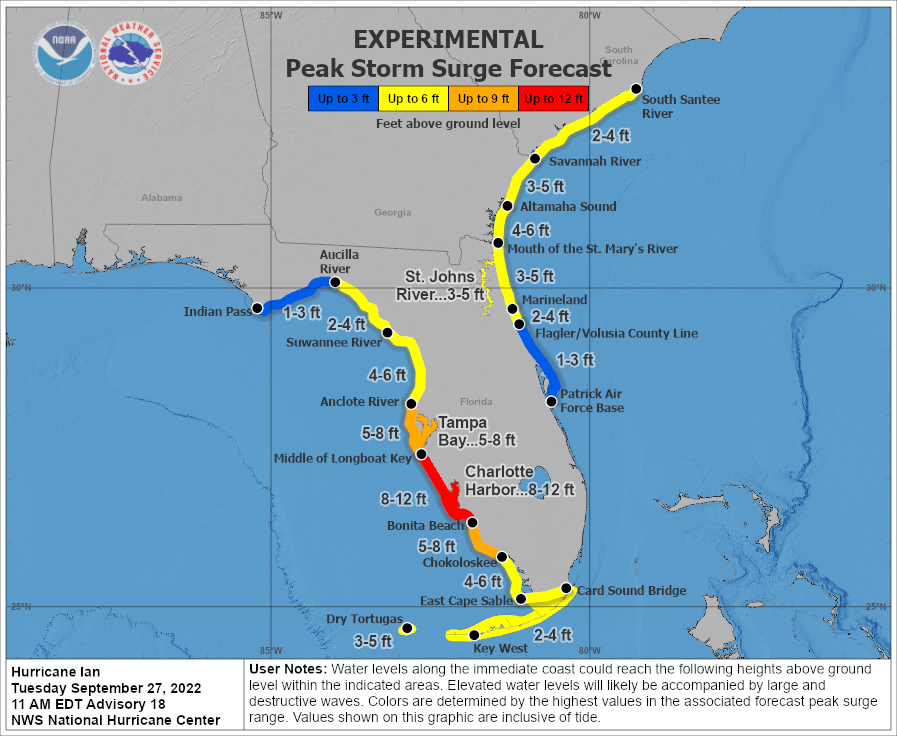 Storm surge predictions show that areas along the Intracoastal Waterway and the St. Johns River and its tributaries will be the most likely to see flooding. A worst-case scenario could see much of Jacksonville's beach communities and St. Augustine flooded, along with low-lying neighborhoods near the river, like Downtown, San Marco and Riverside.
Hurricane Ian's projected track looks similar to the path Irma took back in 2017 to devastating effect in Northeast Florida — and further river dredging since then could have made the city even more vulnerable to flooding Like Irma, Ian is expected to simultaneously raise water levels in the St. Johns and its tributaries and dump buckets of rain throughout the region. The highest risk for flooding is expected to be around noon Thursday.
Heavy sandbags can help redirect all this extra water around homes, instead of through them. Baker, Clay, Nassau and St. Johns counties are all distributing free sand to help people prepare their homes for potential flooding. But Duval isn't.
Todd Smith, Jacksonville's chief of emergency preparedness, says that's because of Jacksonville's stormwater system, which primarily directs water into the St. Johns River and existing ponds and tributaries. "We have a very comprehensive system, and sandbags – if not used the right way – can cause damage," Smith says. Some locals don't buy it, saying the city just chooses not to provide a useful service.
Smith says Jacksonville residents can still buy and use their own sandbags from hardware stores. "Most counties are only giving out about seven or eight," he adds. "Seven or eight are not going to fix a lot of the flooding problems for folks. In Jacksonville, because of those reasons, we don't use sandbags."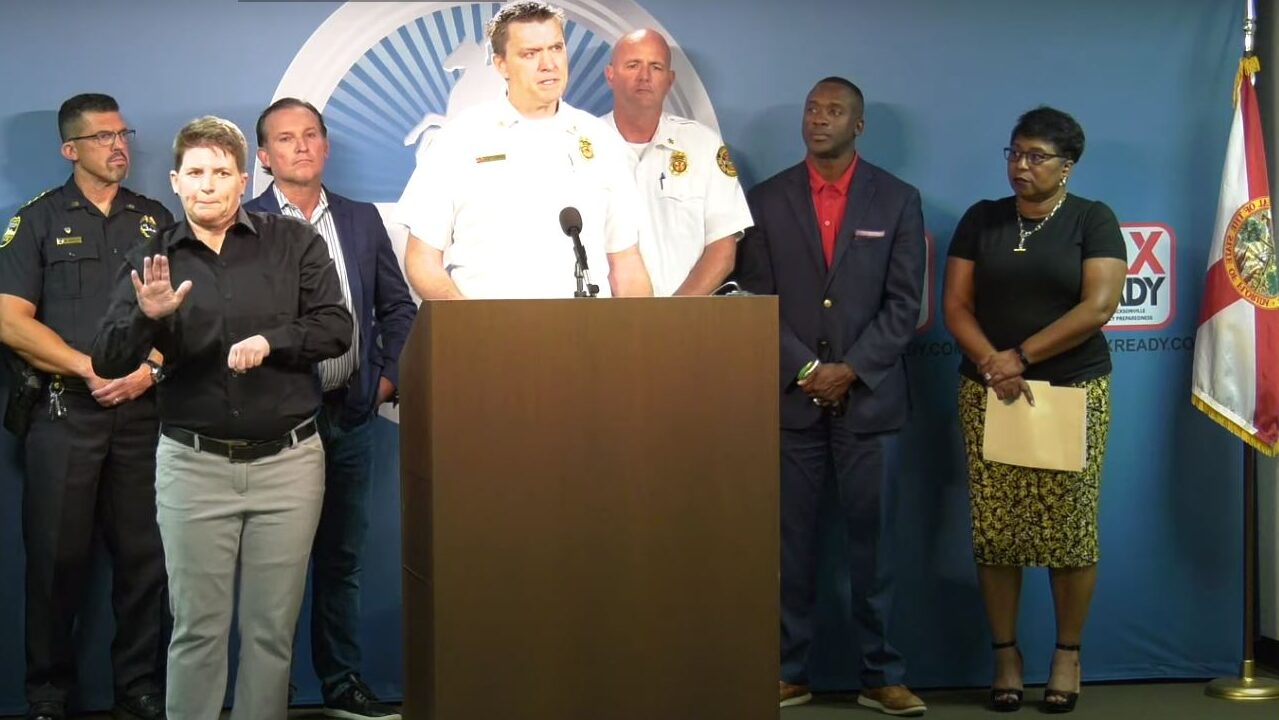 Get them now. Florida residents reliant on medication should get their prescriptions refilled today ahead of Hurricane Ian impacts in our area, officials say.
Under a statewide emergency declaration, pharmacists are required to provide prescriptions early regardless of typical limits placed on refills. Pharmacists have to provide a 30-day supply of any maintenance prescription medication under the emergency order, regardless of how recently it had been filled before the order was issued last Saturday.
---
Sign up for the Jacksonville Today newsletter
Your local weekday newsletter for news and ways to get involved in Northeast Florida.