Duval Schools reverses trans restroom policy, no longer discourages 'outing' students in new LGBTQ+ support guide 
Published on April 18, 2023 at 5:03 pm
Restrooms and lockers must be separated by sex assigned at birth in Duval County Public Schools — a reversal of the district's previous guidance that students use the restroom that corresponds with their "consistently asserted gender identity."
That is one of the changes in updated student-support guidance — now outlined in the School Board's administrative procedures — 18 months after the district pulled its 37-page LGBTQ+ Support Guide off its website amid new state guidance.
The newly approved guidance also strips out language telling staffers not to disclose a student's gender identity or sexual orientation without their consent. The new version tells school staff to consult a parental notification guide and talk to school administration if a student comes out to them.
The changes are in response to new Florida parental notification law that also bans instruction on sexual orientation and gender identity in certain grades, and recent legal rulings on accommodations for transgender students.
The district originally didn't intend to pass the sex-assigned-at-birth restroom and locker policy — and actually argued that such a policy would violate trans students' federal rights, according to a November legal memo to the state Department of Education.
But the district later reversed its position after an appeals court ruling about restroom accommodations in the St. Johns County School District, which Duval Schools says "completely altered the legal analysis."
Annie Gomez has a trans daughter in a Duval high school and says the new policy could make her child a more likely target of bullying.
"In large part, the administration, her student peers are very supportive of her. I feel that things like this are setting us back" Gomez told Jacksonville Today. "Potentially a really good situation for her may become a really bad one, especially when people then have a policy they can point to to say, 'No, you're not allowed here.'"

Gomez attended a School Board workshop on the guidance last week, but there was no opportunity for public feedback. Because the new guidance is an administrative procedure determined by district staffers and legal counsel largely out of public view, not a formal board policy, it doesn't require a School Board vote or public comment during a meeting.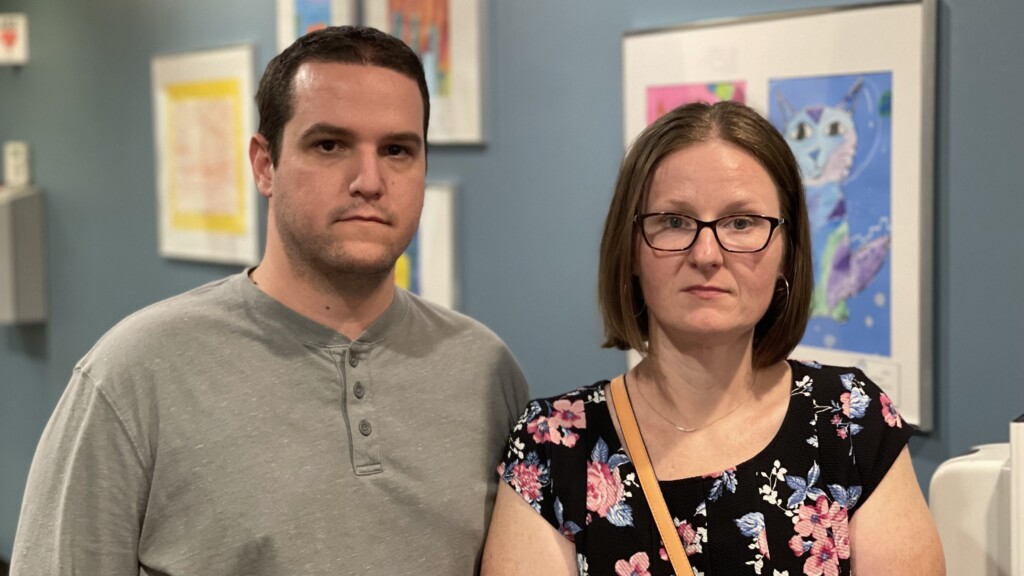 Restroom access changes
The district's new restroom policy says, "For students requesting restroom accommodations, school administrators will develop a plan to ensure that students have access to safe facilities on the school campus."
Under this guidance, trans students would have to either use the restroom that corresponds with their sex assigned at birth or use a single-stall restroom. School Board member Darryl Willie says that could pose an equity issue for students, and asked the district to perform an audit of single-stall restrooms.
"Some schools may be different than others, and then that actually limits someone's ability to have access that occurs if there's one at one school and five at another school," Willie told School Board members last week. Jacksonville Today has requested the results of this audit from the district when it is completed.
School Board member Lori Hershey spoke in support of the new policy, saying it lines up with Florida's legislative goals. "It does align us towards the direction that we see happening in Tallahassee, but I see this as still being respectful of individuals," Hershey said.
Duval Schools' Youth Risk Behavior Survey did not ask about gender identity, but other national data estimate about 1.3% percent of Florida youth identify as trans.

Dalton Bragg, a step-parent of another trans Duval student, says singling out trans students to have to walk across campus to a single-stall restroom, often in teacher's lounges and administrative areas, is dehumanizing.
"There's absolutely no basis for them to need to make that change. Trans youth can use the restroom now, and there's zero issues," Bragg says. "So why force them to go use another restroom when the only outcome is making them feel worse?"
The change is — in part — because last August, the state Department of Education passed a rule requiring schools to alert parents if restrooms were divided by any other means than sex assigned at birth.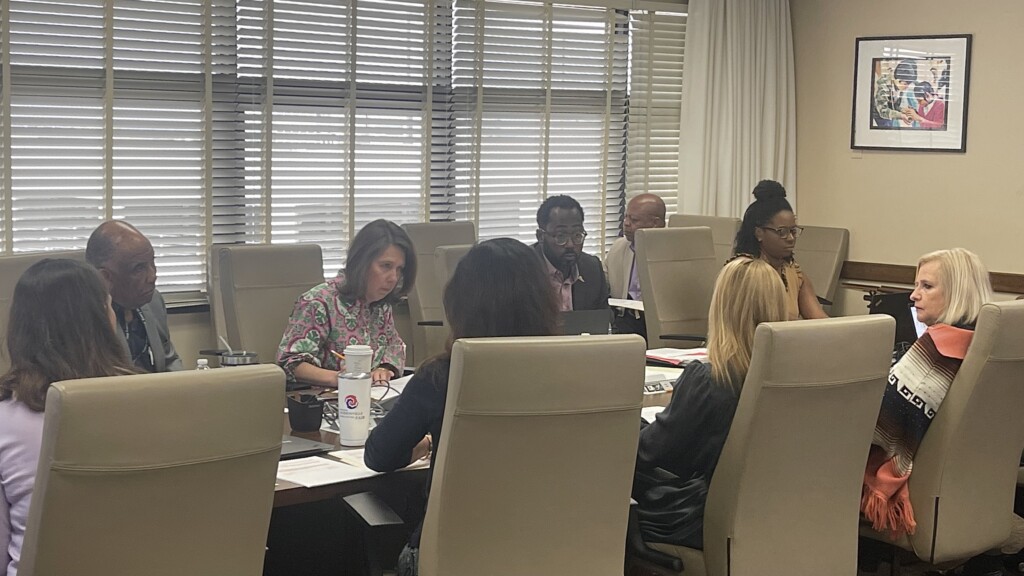 Duval Schools initially offered a different solution to follow that rule: In November, the district proposed a policy to state officials that would have kept all school restrooms divided by asserted gender identity – as has been the policy for years – and notify parents that single-stall, gender-neutral restrooms would be accessible to anyone.
In its legal memo to the state, the district said its proposal both met the notification requirement of the new state rule and protected trans students' federal rights. The U.S. Department of Education interprets Title IX — a federal civil rights law banning sex-based discrimination in education — as also applying to sexual orientation and gender identity. Florida Education Commissioner Manny Diaz Jr. told schools last summer to ignore this federal guidance.

"DCPS recognizes that federal law, federal case law, and federal administrative guidance prohibit it from discriminating against students on the basis of gender identity, and specifically prohibit the District from barring transgender students from using bathrooms which align with the students' gender identity," the district wrote to the Florida Department of Education last fall.
The district also argued that it could lose federal funding if it ignored federal guidance.
When Jacksonville Today asked the district about its sharp turnaround, the district pointed to the December appeals court ruling in the nationally watched St. Johns County restroom policy case.
In December, a 7-4 appeals court overturned a lower court's ruling that St. Johns County Schools had violated a trans student's federal rights by refusing to allow him to use the boys' bathroom in high school.
Guidelines when students come 'out' to teachers and staff
The district also changed language about "outing" students' sexual orientation or gender identity to their parents in the new guide. The nixed former guide stated, "A student should never be 'outed' without their input and permission."
In response to new Florida laws last year, the district proposed guidance last summer that changed this provision to: "Disclosure by a student of their sexual orientation and/or gender identity, absent other factors, does not mandate reporting the disclosure to a parent."

Jacob Oliva, who was then a senior Florida education chancellor, took issue with that sentence, according to emails obtained by Jacksonville Today, and the district later removed it.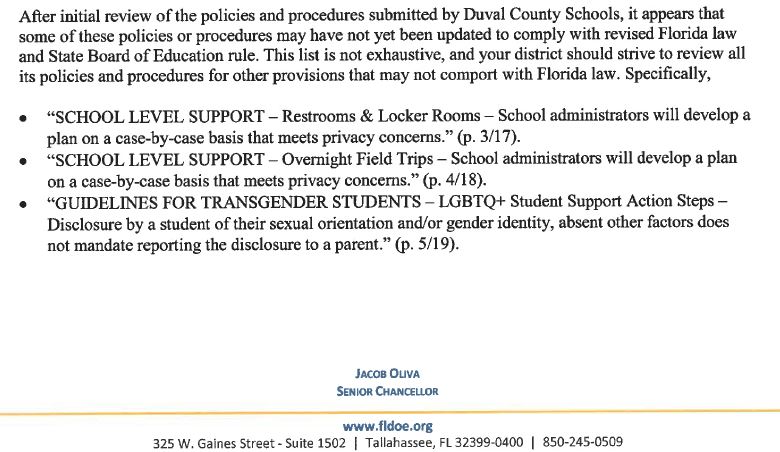 The newly published policy instead directs staff to consult school administration if a student talks to them about their sexual orientation or gender identity. The new guidance kept the advice from the former LGBTQ+ support guide that telling staffers to "offer support, be a role model of acceptance, and appreciate the students' courage."
Under both Florida's new parental notification law and the district's new policy, staff can withhold parental notification "if a reasonably prudent person would believe that disclosure would result in abuse, abandonment or neglect."
Why the district developed new guidance
Superintendent Diana Greene originally pulled Duval Schools' long-standing LGBTQ+ Support Guide from the district's website in October 2021, four days after parents filed a lawsuit against Tallahassee's Leon County over a similar support guide in schools there.
A federal judge dismissed their lawsuit, but the parents' allegation — that the school district hid their child's gender transition from them — took hold in Florida's Republican-controlled Legislature and spurred the state's Parental Rights in Education law, passed last year and dubbed "Don't Say Gay"by critics.
Eight months after pulling the 37-page guide off its website, the district proposed a pared-down eight-page version that would be a section in a larger student support manual — stripping out almost all sentences that explicitly protect transgender students' rights, and leaving most accommodations to be determined on a "case-by-case basis."
The district didn't formally approve or implement that draft last year but did submit portions to the Florida Department of Education for review. State officials found it to be out of compliance with state law.
In response, the district submitted the legal memo defending its open-ended policy, detailing how federal anti-discrimination guidelines applied to trans students. Then, after the landmark appeals court ruling on bathroom accommodations in St. Johns County Schools, Duval Schools changed its proposal and signed off on the bathroom rules based solely on sex assigned at birth.
For some parents of trans kids, like Gomez, the conclusion of the monthslong review is disappointing.
"I mean, what – my kid has to spend 30 minutes walking across the campus to get to another bathroom? That's time that's being missed on being educated, which is the mission," she says.
Review the new guidelines on the district's website, and the now defunct guidelines in former reporting from Jacksonville Today.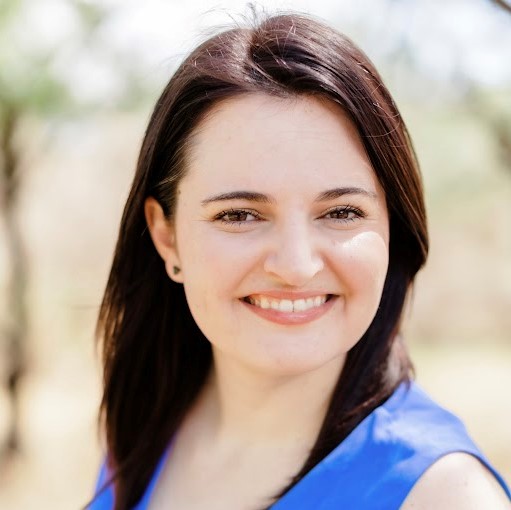 Claire Heddles
Reporter, Jacksonville Today
Claire has been a reporter in Jacksonville since August of 2021. She was previously the local host of NPR's Morning Edition at WUOT in Knoxville, Tennessee. Reach Claire with tips, ideas or comments at (904) 250-0926, claire@jaxtoday.org and on Twitter at @ClaireHeddles.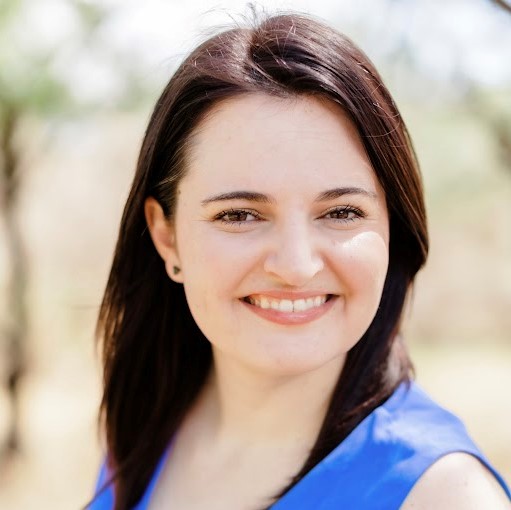 Claire Heddles
Reporter, Jacksonville Today
Claire has been a reporter in Jacksonville since August of 2021. She was previously the local host of NPR's Morning Edition at WUOT in Knoxville, Tennessee. Reach Claire with tips, ideas or comments at (904) 250-0926, claire@jaxtoday.org and on Twitter at @ClaireHeddles.
---
Sign up for the Jacksonville Today newsletter
Your local weekday newsletter for news and ways to get involved in Northeast Florida.