Black Restaurant Week puts spotlight on Northeast Florida's culinary diversity
Published on November 15, 2022 at 2:30 pm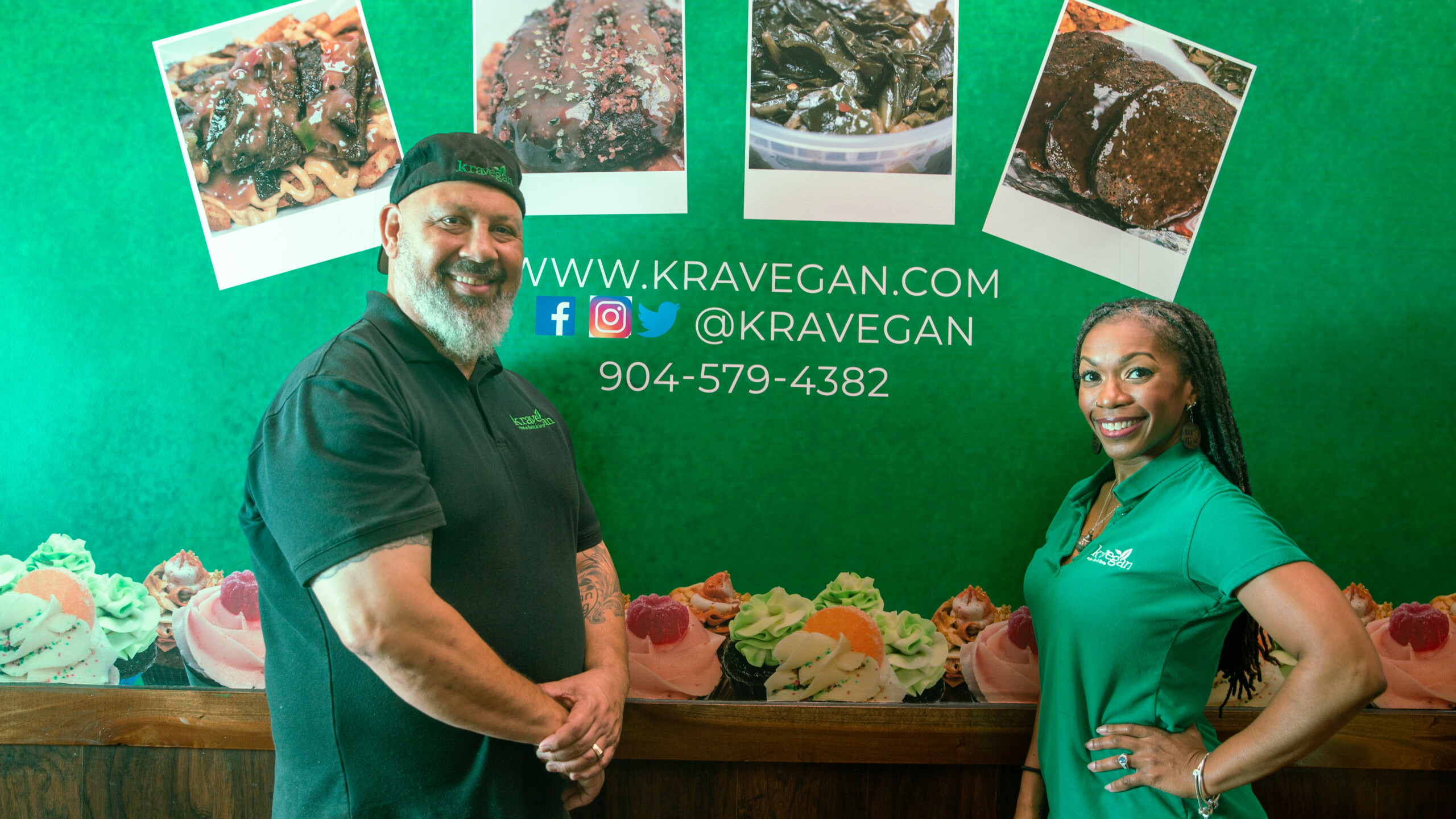 Lew Kaiser, right, and LaTasha Kaiser, left, own KraVegan LLC, a Jacksonville-based vegan restaurant that has a food truck and as well as a brick and mortar location inside the Orange Park Mall. LaTasha is the owner, CEO and culinary inspiration behind the business while Lew serves as its Chief Financial Officer. KraVegan is one of 11 Northeast Florida culinary establishment's that is participating in Black Restaurant Week. | Will Brown, Jacksonville Today
Nearly a dozen Northeast Florida eateries are participating in Black Restaurant Week.
The Jacksonville restaurants offering special dishes this week include a vegan restaurant, pie shop, Caribbean-themed diner, a bakery and a baked-potato franchise.
These are the Northeast Florida eateries that are participating in Black Restaurant Week.
Restaurateurs in Jacksonville hope the timing will help them recoup some of the lost revenue due to Hurricane Nicole. While the storm may not have physically damaged most of Northeast Florida locations, the precautions and subsequent flooding led to some restaurant closures last week.
LaTasha Kaiser and her family opened KraVegan in 2018, first in a commercial kitchen and then a food truck and then a brick-and-mortar location in the Orange Park Mall, all in less than two years.
Kaiser says Black Restaurant Week has been phenomenal exposure for her business.
"The purpose, for me, as far as KraVegan being a part of Black Restaurant Week, is for the exposure within our own community to say, 'Hey, the foods you love don't have to hurt you.' The foods that you've grown accustomed to that you know your doctor is saying, 'Hey, you should not eat this anymore because this is what it's doing to your gut. This is what it's doing to your health,' now, KraVegan is here for you, so you can have collard greens and your vegan ribs and your 'moxtails' and things like that. But, it's not hurting your health."
---
Sign up for the Jacksonville Today newsletter
Your local weekday newsletter for news and ways to get involved in Northeast Florida.
---
Kaiser says the week is the African proverb "it takes a village" in action. She considers Lakita Spann a mentor.
Spann and her husband Aaron own Mr. Potato Spread – another one of the local Black Restaurant Week participants – and have expanded into franchising the business. Their location in the Orange Park Mall is 100 feet away from KraVegan.
One lesson Kaiser says she learned from other restaurateurs like Spann is preparing for the end of summer.
"You need to have a village (to help with) staffing questions, mentorship, encouragement, and questions," Kaiser says. "September is very slow in retail. So (having people who can) encourage you that, 'Hey, we're not broken. We're not doing it wrong.' As an entrepreneur, when things aren't going ideally, the first thing I believe we all do is ask, 'What am I doing wrong? Did I break something? No, it's not the case, it's the industry."
Sharing information and best practices is what Falayan Ferrell hoped would happen when she, Warren Luckett and Derek Robinson started Black Restaurant Week in 2016.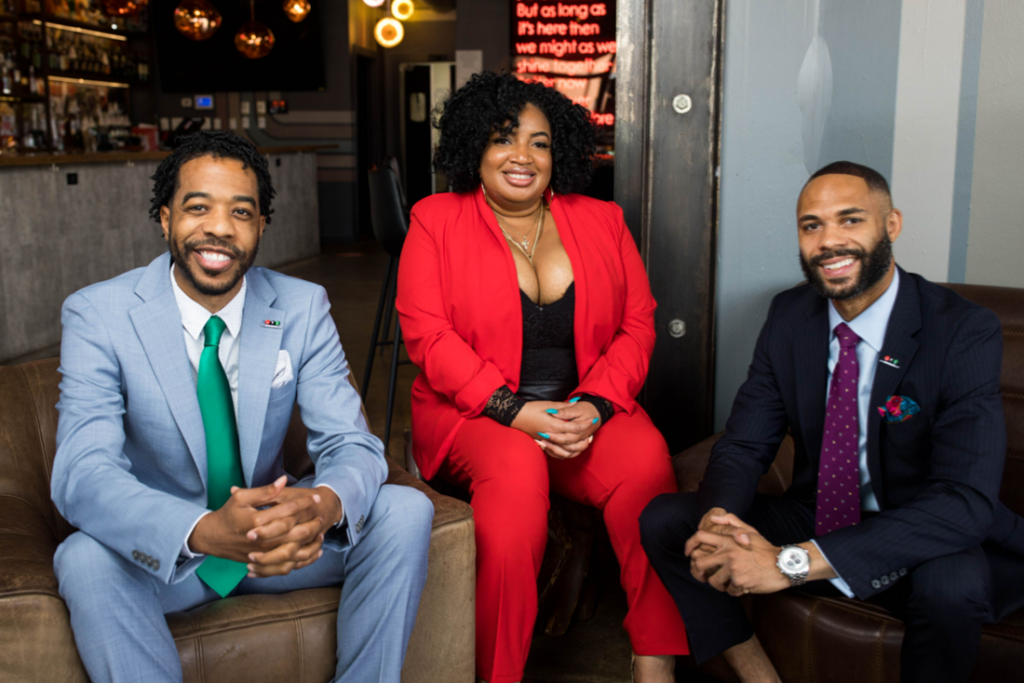 Ferrell, managing director for Houston-based Black Restaurant Week LLC, grew up in the restaurant industry, before embarking on a career in marketing. Having a father who is a retired chef exposed her to the marketing needs of Black-owned restaurants and culinary businesses.
"I always tell people that the easiest part of our job is telling someone to go eat some good food," Ferrell says. "It's definitely something we wanted to ensure that community can learn who these businesses are. They usually don't have the funds to pay for widespread marketing campaigns on their own."
Ferrell says the initiative includes nearly 90 restaurants and culinary businesses in Florida.
"When COVID hit, (there were) too many businesses in too many cities that needed help. And so we decided to restructure our campaign to be more of a regional campaign," Ferrell says. "So, instead of coming into Orlando, Florida, we were like 'Let's showcase the whole state. And, then that way, as many businesses as possible can participate.'"
The pandemic forced the restaurant industry to shift. Ferrell says restaurants relied on community support while diversifying their revenue streams.
The Florida Restaurant & Lodging Association this week published an open letter to the hospitality industry reinforcing the need for restaurants and hoteliers to invest in marketing and branding because "lower image quality increases real costs, damages the brand and stunts potential revenues."
Quinisha Bredwood wholeheartedly agrees. Bredwood owns Q's Crackin Crab and Seafood Kitchen in Cocoa Beach. The restaurant may be nearly three hours away from Downtown Jacksonville, but Bredwood tells Jacksonville Today she routinely has clients from Palm Coast and the River City.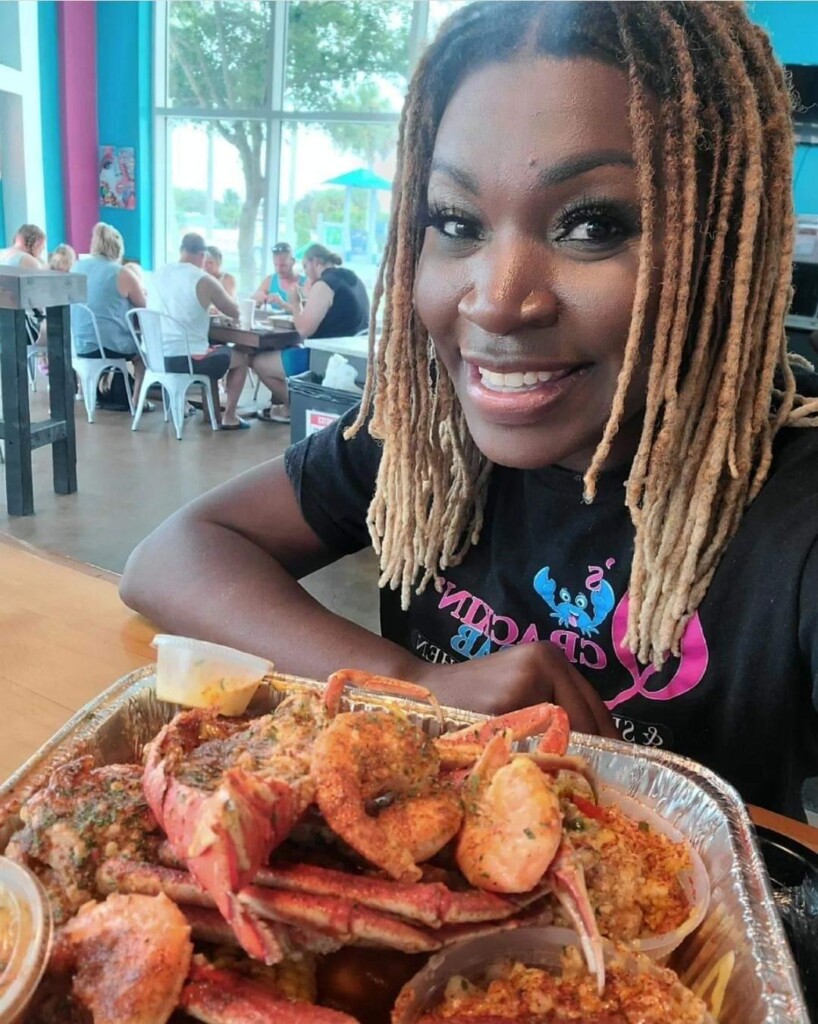 This is Bredwood's second year participating in Black Restaurant Week.
"I feel sometimes people get so caught up on having a great product and having a great location and a great interior and they just want to open up the doors and wish that people come," Bredwood says. "But, I think, marketing your brand as much and as often as you can is the key to geeting people in those seats and trying out your product."
Marketing gets people in the door. Networking is what helps businesses learn how to navigate an era where an airborne disease and skyrocketing food prices have produced a one-two punch to restaurants.
Last week, the Bureau of Labor Statistics reported the inflation rate for food away from home was 12.4%. Though inflation has slowed since the summer, Bredwood and Kaiser say they have relied on their peers for information about where and how they can source their ingredients.
With inflation eating into profits throughout the restaurant industry, Ferrell says Black Restaurant Week LLC supports eateries in Florida through partnerships with the Grubhub Community Fund and other corporate advertisers.
Ferrell says Florida's Black Restaurant Week is timed to coincide with the Florida Classic — the annual football game between the state's biggest Historically Black Colleges, Florida A&M and Bethune-Cookman. That's in Orlando on Saturday.
Black Restaurant Week specials at participating Jacksonville restaurants run through this Sunday, November 20th.
"Don't let anything discourage you. Yes, count the cost, do your research, count the numbers, know your space, be legitimate; but, do it," Kaiser says. "We are first-generation entrepreneurs. I've made a lot of mistakes. But, I've learned a lot of lessons and will gladly give what I was freely given."
---
Sign up for the Jacksonville Today newsletter
Your local weekday newsletter for news and ways to get involved in Northeast Florida.