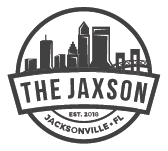 Perspectives
The Jaxson
on Jacksonville Today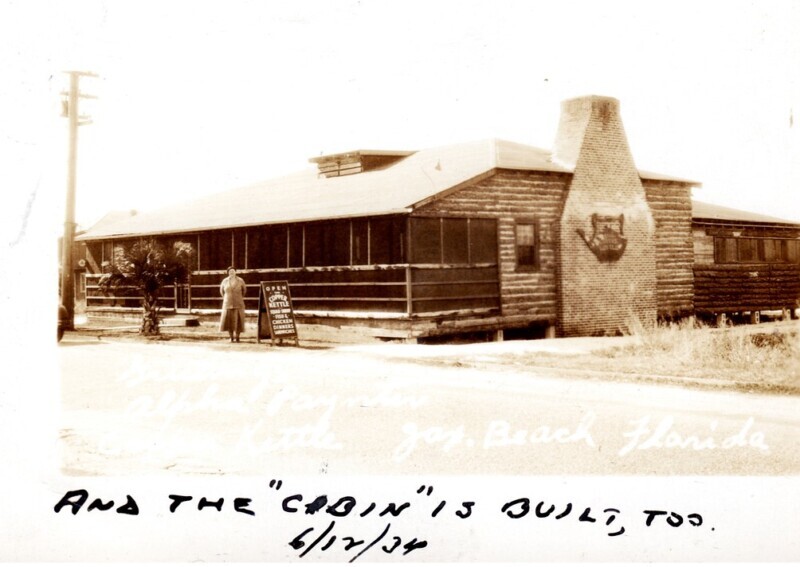 THE JAXSON | Jax lore: Alpha Paynter, ghost of TacoLu
Published on October 25, 2022 at 5:13 pm
Before it was TacoLu, the iconic log cabin off Beach Boulevard in Jacksonville Beach was home to the famed Homestead restaurant for 80 years. According to widespread local tradition, its founder Alpha Paynter never left even in death. In honor of spooky season, here's a look at the history and folklore behind one of Northeast Florida's best-known haunted buildings.
A haunted Homestead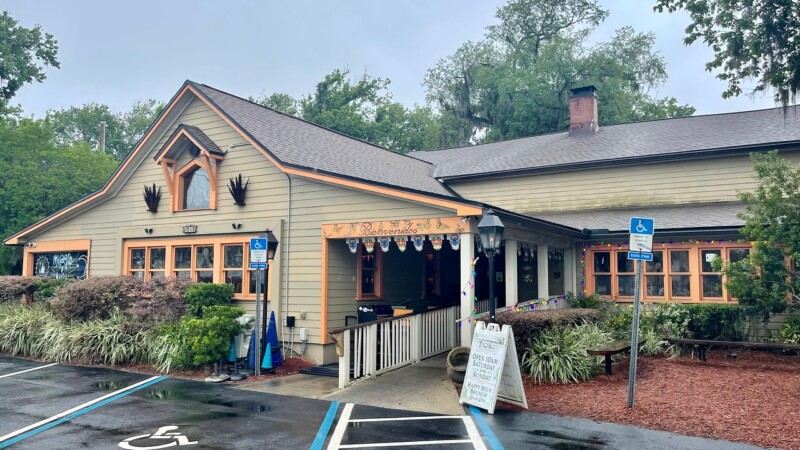 Jacksonville Beach's lore claims that local restaurateur Alpha Paynter has had trouble letting go of her old Homestead Restaurant, even six decades after she died. Perennial ghost sightings have given this rustic building, since 2012 the home of Tex-Mex joint TacoLu, a reputation as one of the First Coast's most famous haunted places.
Locals report hearing stories that the Homestead was haunted as far back as the 1960s, around the time Paynter died. My mother, Gena Delaney, a longtime Neptune Beach resident, heard the story as a child in the 1960s, and many other Beaches oldtimers have similar memories. Accounts of its spectral occupants can be found in hundreds of articles, books, web posts and TV programs created in the years since. The legend shows no signs of stopping anytime soon, but as with other pieces of Jacksonville folklore, the truth of Alpha Paynter's life was as interesting as any ghostly tale.
The mystery of Alpha Paynter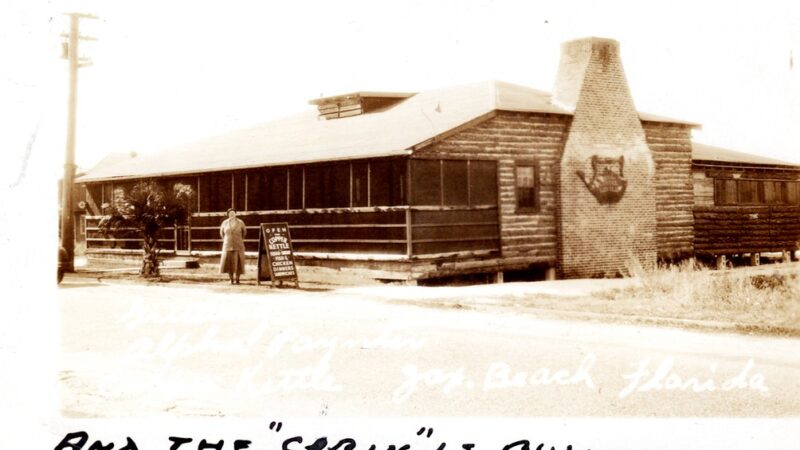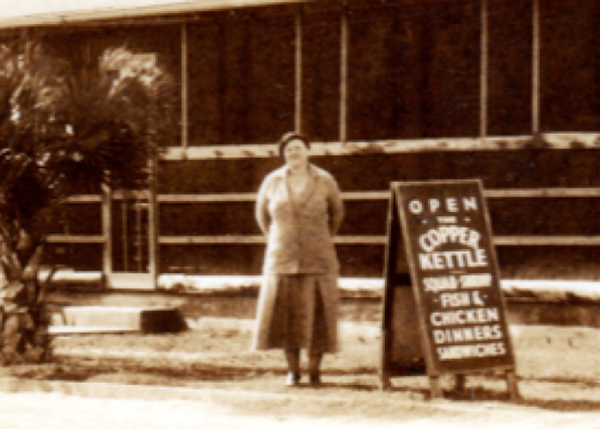 Alpha O. Paynter was a prominent Jacksonville Beaches businesswoman from 1930 until her death in 1962, well known in the area as the proprietor of two famed Beaches restaurants, the Copper Kettle and the Homestead. Despite her accomplishments in business over a long span of time, much of her background is unknown.
The best information about Paynter comes from Jacksonville Beach historian Don Mabry, who published an article on her in 2014. Mabry was a historian at Mississippi State University who returned to his childhood home of Jacksonville Beach after his retirement and spent many years researching and writing about the history of the Beaches community before his death in 2017. Investigating Paynter, he found substantial blank spaces in her life story — her maiden name and the names of her parents aren't known, and to date, only one photograph of her has been found. As Mabry wrote, "In spite of her successes, she is a bit of a mystery."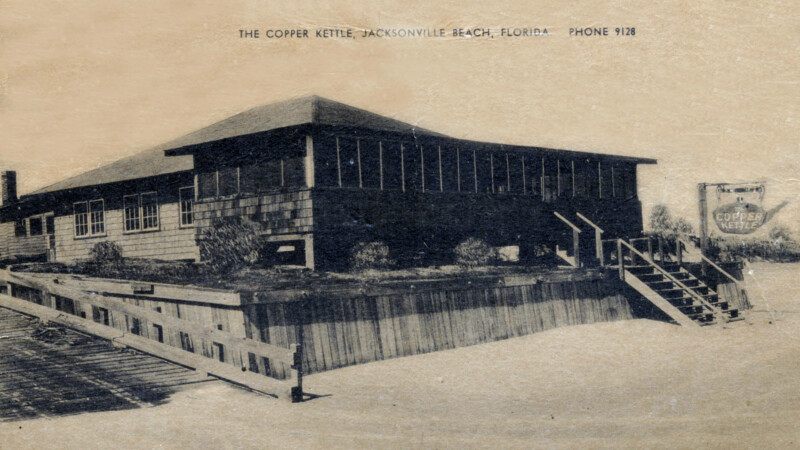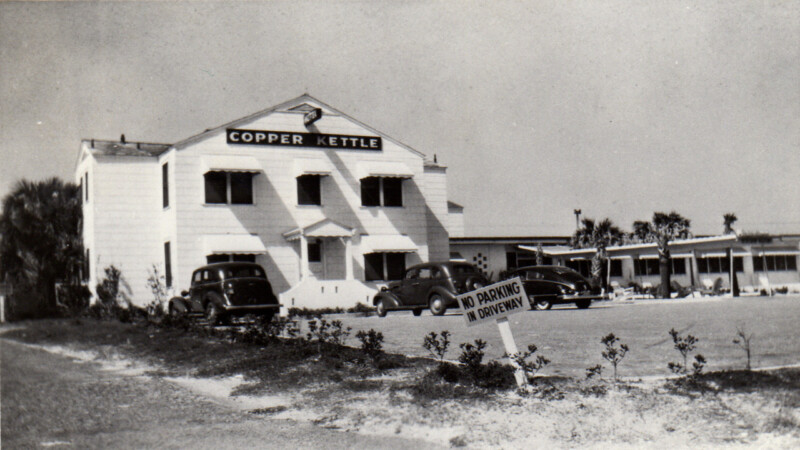 What is known is that Paynter was born in Pelham, Georgia, on Oct. 4, 1887. She lived in Philadelphia in the 1910s and married Gulf Oil salesman John Clifford "Cliff" Paynter. She may have been a nurse or radiologist. Sometime in the 1920s, the Paynters moved to Jacksonville. In 1930, the couple divorced and Alpha relocated to Jacksonville Beach. According to Mabry, those who knew Paynter described her as "charming, kind, hard working, a keen businesswoman, and somewhat regal in her bearing."
Also in 1930, Alpha Paynter opened her first restaurant, the Copper Kettle, somewhere on First Street in Jacksonville Beach. She subsequently moved the restaurant twice, first to the Jacksonville Beach oceanfront at 14th Avenue North and later to Atlantic Beach on the ocean at the end of Atlantic Boulevard. At this time, fewer than 3,000 people lived between Mayport and Palm Valley, but the Beaches were an increasingly popular destination for tourists and daytrippers, and Paynter found an impressive level of success for a divorced woman in this period. The Copper Kettle specialized in Paynter's Southern cooking and also featured a cocktail lounge and hotel rooms for overnight guests.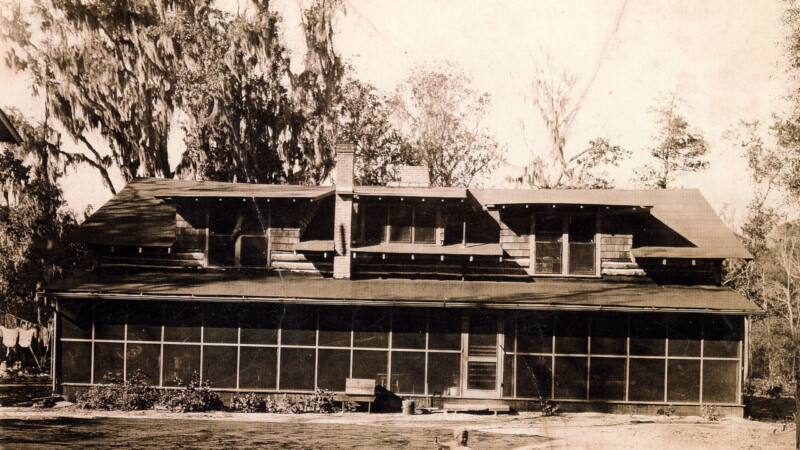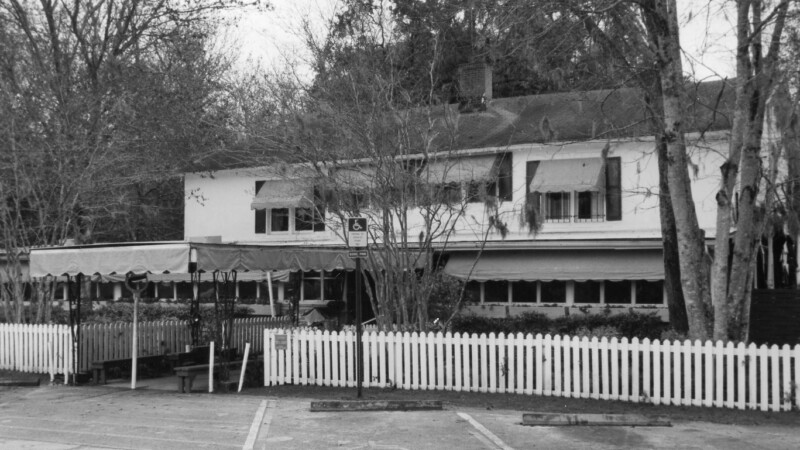 In 1934, Paynter purchased land on Hogan Road, now part of Beach Boulevard, where she built what would become her best known creation: the Homestead. This was a two-story log cabin that originally served as a boarding house and Paynter's home. The property also included a small farm and the residences of Paynter's staff, friends and family members. Mabry writes that unusually in the Jim Crow era, Paynter formed very close relationships with African Americans, especially the Roundtree family, who lived on the property. Maurice Zanders Roundtree worked for Paynter in various capacities for more than 30 years, and Paynter served as a witness for her wedding.
Paynter served similar family-style Southern fare at the boarding house as she did at the Copper Kettle. Her food became so popular that in 1947, she converted the Homestead into a restaurant, expanding the building but keeping its homey feel and rustic aesthetic. The conversion took place in anticipation of Beach Boulevard's completion as a new artery leading to Jacksonville. When the road opened in 1949, the Homestead flourished.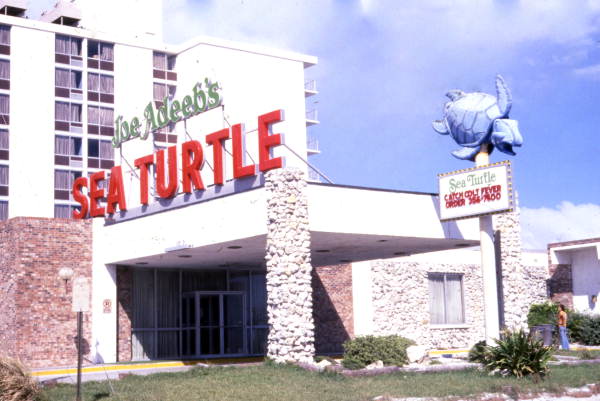 With the Homestead thriving, in 1951, Paynter sold the Copper Kettle to Joe Adeeb, who expanded it and renamed it Joe Adeeb's Sea Turtle. This was also a hit, and in 1973 the owners demolished the original building to construct the eight-story Sea Turtle Inn. In 2008, the property was remodeled as One Ocean Resort.
A legend begins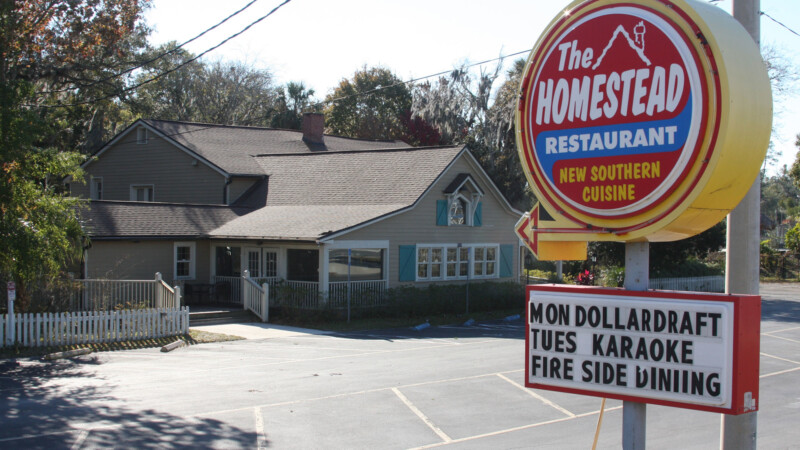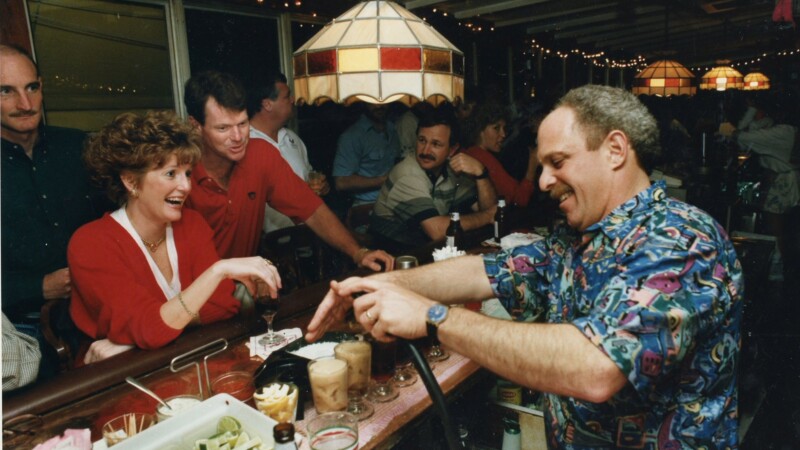 Paynter retired in 1961 at the age of 74. She sold the Homestead to Preben and Edna Johansen, with the stipulation that Maurice Roundtree and her family could remain living on the premises. Just a year later, on Dec. 7th, 1962, Paynter died at her Neptune Beach home.
Under a succession of owners, the Homestead remained a Beaches institution for another 50 years. In 1975, the Johansen family sold it to Steve Macri, who operated it for the next 26 years. In 2002, the Johansens' daughter Kathy Marvin and her husband, Martin, bought the restaurant from Macri. The venerable restaurant hit hard times in the 21st century and cycled through owners and concepts for the next few years before closing its heavy pine doors for good in 2011. The next year, Debbie and Don Nicol picked the old cabin as the new location of their popular Tex-Mex restaurant TacoLu. The new owners added Mexican-inspired decorations and murals but kept the homey architecture.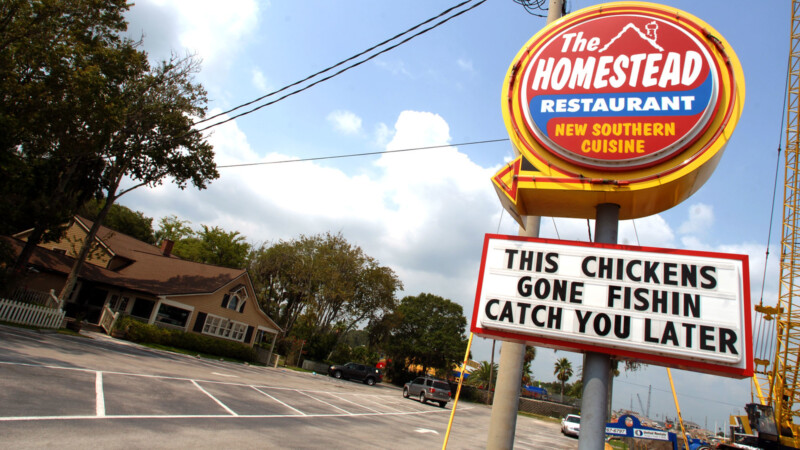 Claims that the building is haunted became prominent around the time of Paynter's death in 1962. The restaurant's old-timey log cabin aesthetic and its enduring significance to several generations of Beaches locals made it ripe for local legends and ghost stories. Additionally, its longevity as a popular restaurant has ensured progressive generations of staff are on hand to carefully cultivate and pass on its lore.
It's not clear if the resident spirit was originally thought to be Alpha Paynter, but true to her first name, she eventually emerged as the primary ghost reported in her old Homestead. She's considered a benevolent presence most often seen by the big limestone fireplace in the main dining room, sitting in a rocking chair or standing as if to check on her customers. Paynter has also been seen on the second floor and the stairs, and even in the mirror in the women's bathroom. Some stories claim that Paynter died by hanging in the building, or was buried on the property; these claims are false but add to the macabre mood demanded by ghost stories.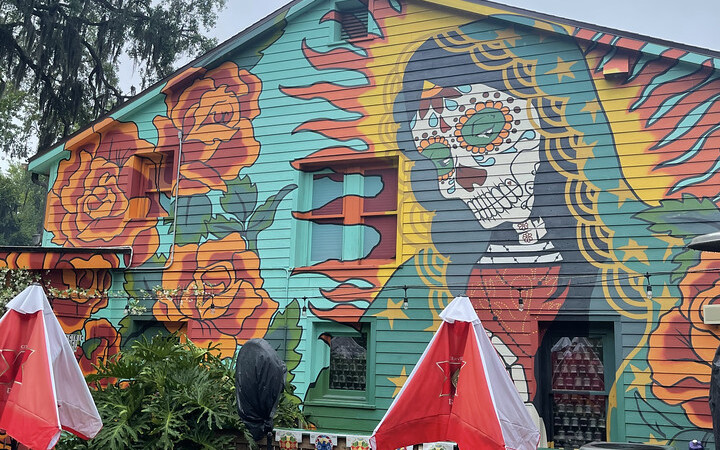 Paynter isn't the only spirit reported at the Homestead and TacoLu. One story in Greg Jenkins's 2005 book Florida's Ghostly Legends and Haunted Folklore, Vol. 2 describes two ghosts said to be a mother and daughter who supposedly ran an adoption agency on the site in the 19th century. According to this story, it was this duo who committed suicide on the premises; it claims that both mother and daughter suffered from melancholy and hung themselves, and now haunt the building as sad presences. Unlike Paynter, it's unlikely the two ever existed, but the story has made its way into other pieces on haunted locations.
While the Homestead is long gone, its ghostly lore hasn't dissipated in the years since the transition to TacoLu. Indeed, the TacoLu staff are just as diligent as those at the old Homestead about noting and sharing ghost sightings and stories about Paynter. As such, it's likely the old building's reputation as one of Jacksonville's preeminent haunted places will remain intact for years to come.

Bill Delaney
The Jaxson
Bill Delaney is a writer whose work focuses on the history and culture of the First Coast. He currently serves as City Council liaison for Jacksonville Mayor Donna Deegan.

Bill Delaney
The Jaxson
Bill Delaney is a writer whose work focuses on the history and culture of the First Coast. He currently serves as City Council liaison for Jacksonville Mayor Donna Deegan.
---
Sign up for the Jacksonville Today newsletter
Your local weekday newsletter for news and ways to get involved in Northeast Florida.