Taking a page from Orlando's book, Jax advocates call for a housing emergency declaration
Published on September 26, 2022 at 9:19 pm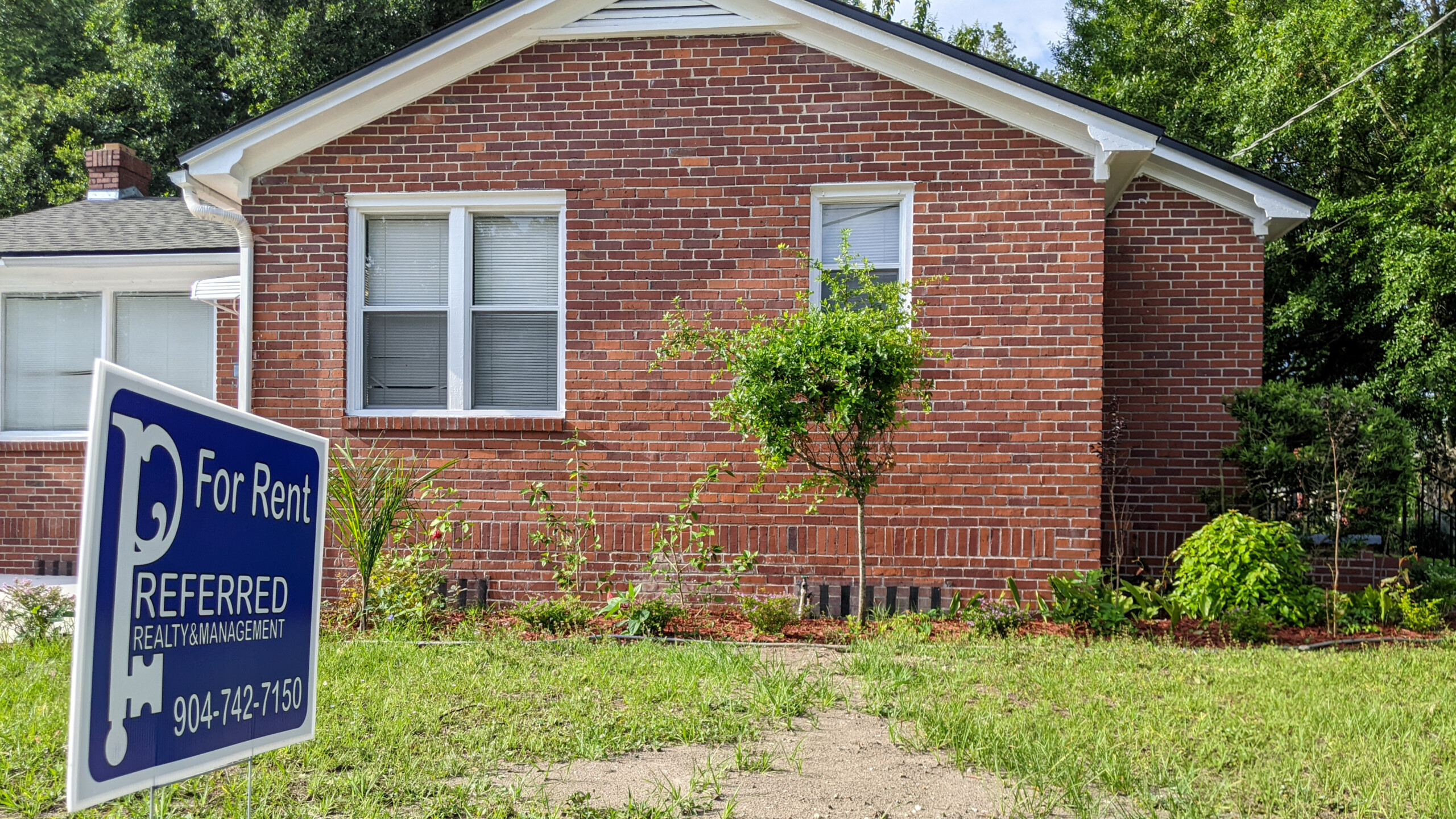 This home in the College Gardens neighborhood went up for rent in May 2022. Rent in the 32209 ZIP code, where the home is located, has increased 31.9 % during the pandemic. | Will Brown, Jacksonville Today
Jacksonville's $1.5 billion budget is going to be finalized on Tuesday night. Though it will include funding aimed at helping people achieve homeownership, it does not address rising rents in the way some local activists would like.
The Jacksonville Community Action Committee spoke en masse during the budget process, imploring the City Council to consider passing a housing emergency in an effort to stabilize rent prices. Its pleas for renter protections have become more urgent as rental prices have increased more than 10% in the last year.
Longer term, the group's aim is to press the City Council to create the Tenants' Bill of Rights to ensure renters are treated fairly and have livable homes.
"We don't expect anything to happen, but we want to bother them and put the demand out there," Jacksonville Community Action Committee member Jess Manchin says.
---
Sign up for the Jacksonville Today newsletter
Your local weekday newsletter for news and ways to get involved in Northeast Florida.
---
The average rent in Jacksonville in July was $1,784 — a 13.6% increase from July 2021 — according to the Waller, Weeks and Johnson Index compiled by researchers at universities in Florida and Alabama.
Council President Terrance Freeman tells Jacksonville Today, "Affordable housing is a crisis all over the country." He says he's waiting on the newly created Critical Quality of Life Issues Special Committee to provide a road map for addressing the city's dearth of affordable housing.
City Council created the special committee to look at not only affordable housing but homelessness and access to healthcare.
Freeman says, while there are unallocated dollars in the upcoming fiscal year's budget, he won't commit to devoting them toward rent stabilization. "We can find money to create sustainable solutions that find results," he says.
Affordable housing isn't the only type that's in short supply. This month, Lindsey McClain with the First Coast Apartment Association told the Critical Quality of Life Issues Committee that the Jacksonville Metropolitan Statistical Area – which includes Duval, Nassau, St. Johns, Clay and Baker counties — needs 24,848 more units of low-income housing to meet demand.
Jacksonville Housing Authority CEO Dwayne Alexander estimates that shortage to be even higher, up to 40,000 units needed by the lowest-income residents.
He explains, affordable housing is geared toward those who earn between 80% and 120% of the median income — in a four-person household in Jacksonville, that's anywhere from $66,000 to $100,320. Low-income housing is for those who earn less than 60% of the median income and have their housing subsidized by vouchers.
Alexander says, "The investment in low income housing is just drastically needed."
The shortage in housing, combined with Jacksonville's rapidly growing population, as well as rising construction, insurance and payroll expenses for apartment developers have led to the rent spike.
Meanwhile, the Jacksonville activists are watching what happens in other Florida metros that are trying to address affordable housing for working-class residents in much the same way the group is calling for here.
Orlando's Orange County declared a housing emergency in July. In November, county residents will vote on a one-year rent stabilization ordinance. At the same time, Tampa voters will decide whether to enact a housing emergency.
A 1977 state law says municipalities are allowed to control rent only in order to "eliminate an existing housing emergency" and can do so for only one year at a time.
Orange County Commissioner Emily Bonilla introduced the rent control ballot initiative.
Bonilla's goal, she tells Jacksonville Today, is to give renters an opportunity to regain their financial footing amid the hikes while more affordable housing is being developed. Under her proposal, the public sector would lead the charge.
"We need to start building more inventory ourselves instead of waiting for developers to do it, because they just haven't chosen to do it," Bonilla says. "They've had plenty of opportunity. After the Great Recession, things got really good, and still they were not building (affordable housing) to the rates they were before. It's also not in the best interest of private industry to build more inventory, because then they charge less."
Bonilla says a key to success could be in the placement of affordable housing.
"It's mixed-income and mixed-use communities, where you're not putting everyone with the same income in one location," Bonilla says. "You're having a diversity of people with different careers, incomes and backgrounds. And that really benefits the community when you have that diversity."
The Jacksonville Transportation Authority has advocated for mixed-use housing as part of a Transit Oriented Development study it produced last year. Nonprofits like the Northwest Jacksonville CDC have also pushed for mixed-use development to help with the shortage of affordable housing.
Jacksonville's rental market remains hot. This year, a 306-unit apartment complex near the St. Johns Town Center sold for $92.4 million – a 36.4% increase from its 2019 sale price – and a 692-unit apartment complex on the Westside sold for more than $80 million.
Rents might be beginning to stabilize — the real estate brokerage Redfin says rents are not increasing as much as they were earlier this year — but they are continuing to rise faster than inflation.
During an August council meeting, housing advocate Marie Peterson told the Council that rental increases could price out residents who have lived in Jacksonville for years.
"You're going to have a whole lot of women, with children, living on the streets," Peterson said. "You're going to have women and families living in cars and abandoned cars. I don't want to see that. I don't think the city wants to have that."
---
Sign up for the Jacksonville Today newsletter
Your local weekday newsletter for news and ways to get involved in Northeast Florida.