Eastside gearing up for renaissance on its terms
Published on August 31, 2022 at 5:02 pm
Bobby Graham doesn't trust the city of Jacksonville.
The lifelong Eastside resident has seen too many promises go unfulfilled to put his faith in City Hall. But his confidence in the Eastside will never wane.
He sees his once-thriving, predominantly Black neighborhood as sitting on the precipice of a renaissance. The community's resistance to gentrification has spurred what community advocates are calling "withintrification" — targeted investment, with enough resident input to keep the tenor of the community on key.
To that end, several initiatives are running in tandem.
The Restore and Repair program that renovates homes like Graham's began last year. "What we wanted to do is have more people co-exist," LISC Jacksonville Executive Director Irvin "PeDro" Cohen says. "New homes with older homes. It's a strategic partnership between us and LIFT Jax."
This June, LIFT Jax announced it plans to open a grocery store next year at the location of the former Debs Store to provide fresh groceries in this food desert.
In the coming weeks, Atlanta-based Columbia Ventures is expected to begin construction on a $73 million project to convert the nearby Union Terminal Warehouse at 700 East Union St. into a mixed-use development with more than 200 apartments, some of which will be set aside for workforce housing.
Meanwhile, the Jacksonville Armada semi-professional soccer club tells Jacksonville Today it's inching closer toward breaking ground on a new stadium in the neighborhood, a project that residents have eyed with cautious optimism.
Establishing trust on the Eastside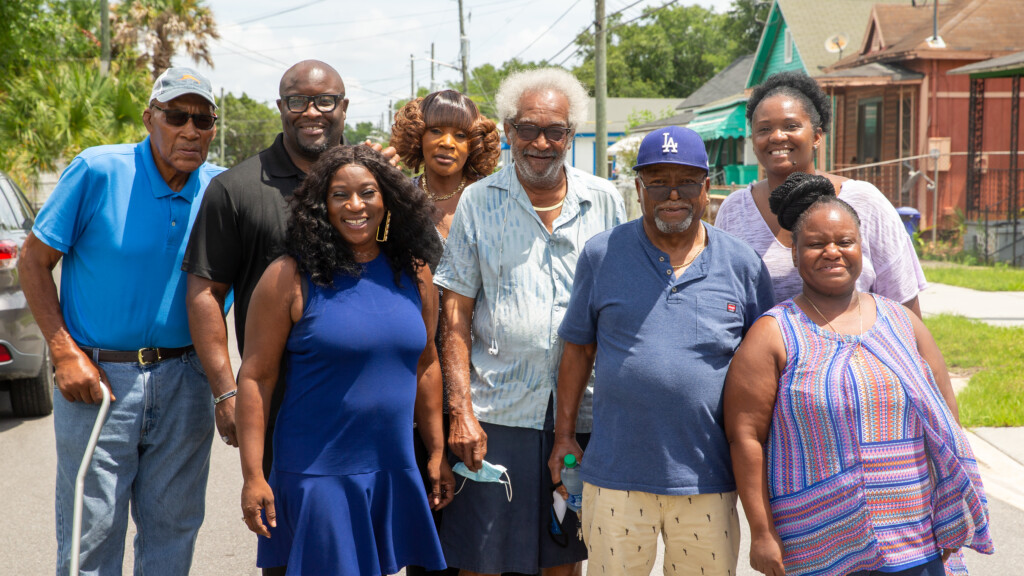 The developments are geared at keeping the soul of the Eastside alive, while giving its people new opportunities.
It's the people Graham trusts. The locally run Historic Eastside Community Development Corporation helped convince Graham the Restore and Repair program was not another over-promised, underfunded and under-delivered initiative.
"It is bigger than anything that has ever happened to this Eastside," Graham says.
His home on Van Buren Street was renovated through the program, spearheaded by the Historic Eastside CDC with funding from LISC Jacksonville, LIFT Jax and a gift from Delores Barr Weaver. Graham's living room, kitchen and bedroom were renovated, and his foundation stabilized.
"It makes me feel like I'm living in somebody else's house, actually, even though I grew up in this house," Graham says. "I have been in this house since 1953."
The assessed value of Graham's home increased 57% over the last three years to $26,643.
Before, he'd watch neighbors' houses fall apart and lose value. "The people were still living in the properties, and they weren't advancing nowhere."
Graham plans to remain in his home that's a stone's throw from Solid Rock Missionary Baptist Church.
The church has been a part of the Eastside for 106 years. On a sweltering day this summer, its pastor, Randy L. Sewell, praised the Historic Eastside CDC for its commitment to community and its patience in dispelling myths about the Restore and Renovate program.
"The Eastside is like a Wakanda," Historic Eastside CDC President Suzanne Pickett says. "People always say, 'I didn't know the neighborhood existed.' It's like it's hidden, but it's not. There is so much power here and so many resources here in the people, the strength and the families that are here."
Pickett, an Eastside native who moved away from Jacksonville and returned for her current role, says her goal is to develop the entire Eastside.
Doing that takes funding and partnerships. Pickett is on the board for LIFT Jax. And philanthropist Barr Weaver has bought into the Historic Eastside's mission.
Weaver, in a statement to Jacksonville Today, said she was immediately drawn to the idea of helping restore Eastside homes alongside Pickett.
"Her passion for this project, and her commitment to help these longtime homeowners, was compelling," Weaver said. "It was clear to me that by investing in these homes, we are also supporting the homeowners' rightful pride in their neighborhood, and that everyone would benefit from the improvements."
Each of the 15 renovated homes has undergone between $15,000 and $20,000 in work, at no cost to the owner.
Cleve St. Clair has lived "Out East" for 59 years. The retired welder moved to the neighborhood from Georgia. He remembers it as a thriving community with theaters, groceries and churches.
Inside the fellowship hall of Solid Rock Church, St. Clair said business mostly dried up after the Eastside Riot.
The 1969 riot began when a white cigarette salesman shot a 20-year-old Black man following an argument on what is now known as A. Philip Randolph Boulevard. As the Black man tried to escape the gunfire, he ran toward children. The idea of a white person shooting in the direction of Black children ignited racial tensions.
A riot ensued. A furniture store and supermarket were set on fire and nearly a dozen people were arrested.
"I want my kids to have a better life than I had," St. Clair says. "Every one of them has a college degree. I look at my life. It wasn't wasted. I have my whole adult life on the Eastside."
St. Clair and Graham lived on the Eastside long enough to remember when there was a grocery store within walking distance of their homes on Van Buren Street. Not everyone has.
That will change next year when the grocery reopens.
According to the U.S. Department of Agriculture, the Eastside is a low-income, low-access neighborhood for food. More than 27% of households do not have vehicles and are more than a half-mile away from a supermarket.
In February, the city transferred $600,210 from its Northwest Jacksonville Economic Development Fund Contingency Account to help LIFT Jax purchase the old Debs Store property, modernize it and allow for Goodwill of North Florida to convert the top floor into a job training and education space.
"What Debs can do, Winn-Dixie may not. What Debs can respond to, Winn-Dixie may not be able to because of scale," LISC Jax's Cohen says. "…What we have uniquely recognized is bigger isn't necessarily better."
A soccer club's promise
The Jacksonville Armada semipro team has moved all over the River City but it wants to call the Eastside home.
In January 2020, the city and the club signed an option agreement that gave the Armada the option to build a stadium on 5.83 acres of city-owned property, currently used for overflow Jaguars parking, along A. Philip Randolph Boulevard.
The agreement calls for the club to build a stadium that accommodates at least 2,500 spectators, an office building for its headquarters and a minimum of 100 parking spaces.
If the club has not begun construction by January 31, 2024, the property will revert back to the city. If it's not completed by July 31, 2024, the Armada's ownership group, RP Sports Investments Inc., will pay the city "fair market value" for the property.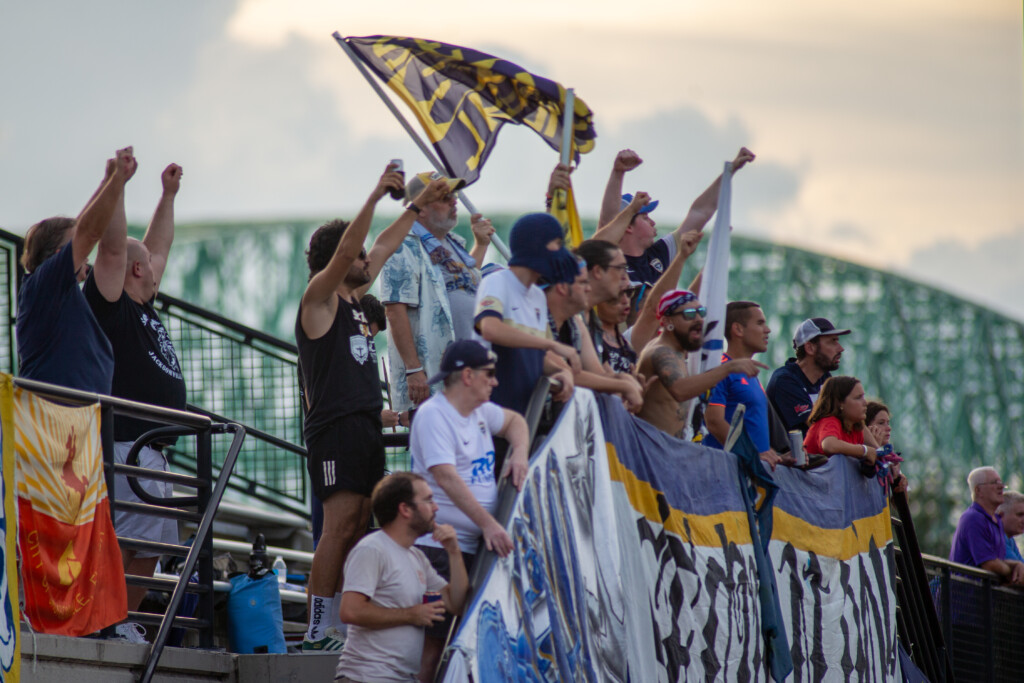 One issue is working around existing events in the Stadium District. Armada President Nathan Walter tells Jacksonville Today the club is working with athletic associations at the University of Georgia and University of Florida to approve reduced parking during the Georgia-Florida football game every October.
Meanwhile, Walter says the club continues trying to foster relationships throughout the Eastside.
"We spent a lot of time connecting with the community, understanding the community and listening to leaders about how the stadium could be a popular (addition)," Walter says. "We are Jacksonville's team. We wanted to be Downtown. We wanted to be connected to the other sports assets in the city. It's a great location that wasn't controlled too much. When you take those two things, which are community driven, and stick to the brand, it's a perfect location for where we are."
Early on in the legislative process, the Armada's stadium agreement mandated that the club form a nonprofit to provide "health and wellness opportunities" for Eastside residents. That requirement didn't make the final cut. Walter says discussions with the Historic Eastside CDC in 2019 helped change its approach to listening instead of dictating how it can help the community.
This time feels different, Pickett agrees. "We know what the neighborhood wants and needs."
MORE: Get to know the Eastside with this photo essay, Eastside Jax 'on the right path' by Dennis Ho.

Will Brown
Reporter, Jacksonville Today
Will Brown is a corps member with Report for America, a national service program that places journalists into local newsrooms. He previously reported for the Jacksonville Business Journal

. And before that, he spent more than a decade as a sports reporter at

The St. Augustine Record

,

Victoria (Texas) Advocate

and the

Tallahassee Democrat. Reach him at will@jaxtoday.org.

Will Brown
Reporter, Jacksonville Today
Will Brown is a corps member with Report for America, a national service program that places journalists into local newsrooms. He previously reported for the Jacksonville Business Journal

. And before that, he spent more than a decade as a sports reporter at

The St. Augustine Record

,

Victoria (Texas) Advocate

and the

Tallahassee Democrat. Reach him at will@jaxtoday.org.
---
Sign up for the Jacksonville Today newsletter
Your local weekday newsletter for news and ways to get involved in Northeast Florida.