5 takeaways from Tuesday's elections in Jacksonville
Published on August 25, 2022 at 1:35 pm
Voters across Florida cast ballots Tuesday in the state's first primary elections after redistricting changed the lines for Congress and the Legislature.
In Duval County, voters also passed a property-tax increase to fund public schools, ousted a School Board incumbent and re-elected another and then sent the special election for sheriff to a November runoff.
Here are five takeaways from the results:
Voters didn't skip the Jacksonville sheriff's race
Voters cast more ballots in the sheriff's race than in any other race, with only 1% of voters skipping the race, compared to 5% of voters who skipped voting on the property tax referendum.
The sheriff's race was between four Democrats and one Republican. Republican T.K. Waters, who earned Gov. Ron DeSantis' endorsement, earned the most votes but fell short of a majority, so he will face Democrat Lakesha Burton in a November runoff.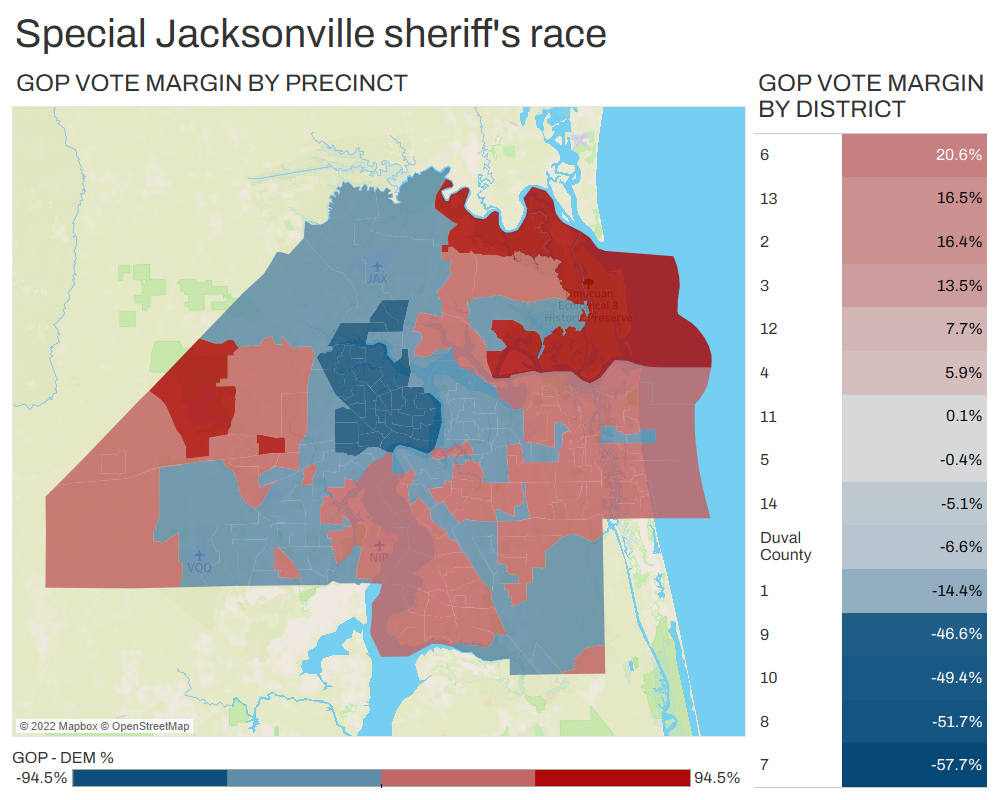 Waters came out in first with 47% of the vote. An even number of Republicans and Democrats turned out to vote in the election, which means some Republicans may have voted for some of the Democratic candidates or independent and third-party voters, who made up 10% of the electorate, broke for the Democrats.
About 27% of Duval's registered voters cast ballots Tuesday.
Burton, who earned 33% of the vote, will need to maintain whatever support she's gained so far from independents and Republicans while persuading Democrats who voted for one of the other three candidates to back her.
In November, independent and third-party voters should be more likely to vote. If past trends continue, they could make up 20% or more of those voting.
Whoever wins will take office as soon as results are certified in November.
The special election was called when former Sheriff Mike Williams resigned after The Tributary revealed he had moved out of the county in violation of city law.
Last week, The Tributary also revealed T.K. Waters and a candidate for City Council, Reggie Gaffney Jr., didn't live where they were registered to vote. Both Waters and Gaffney Jr. will be back on the ballot in November for runoffs.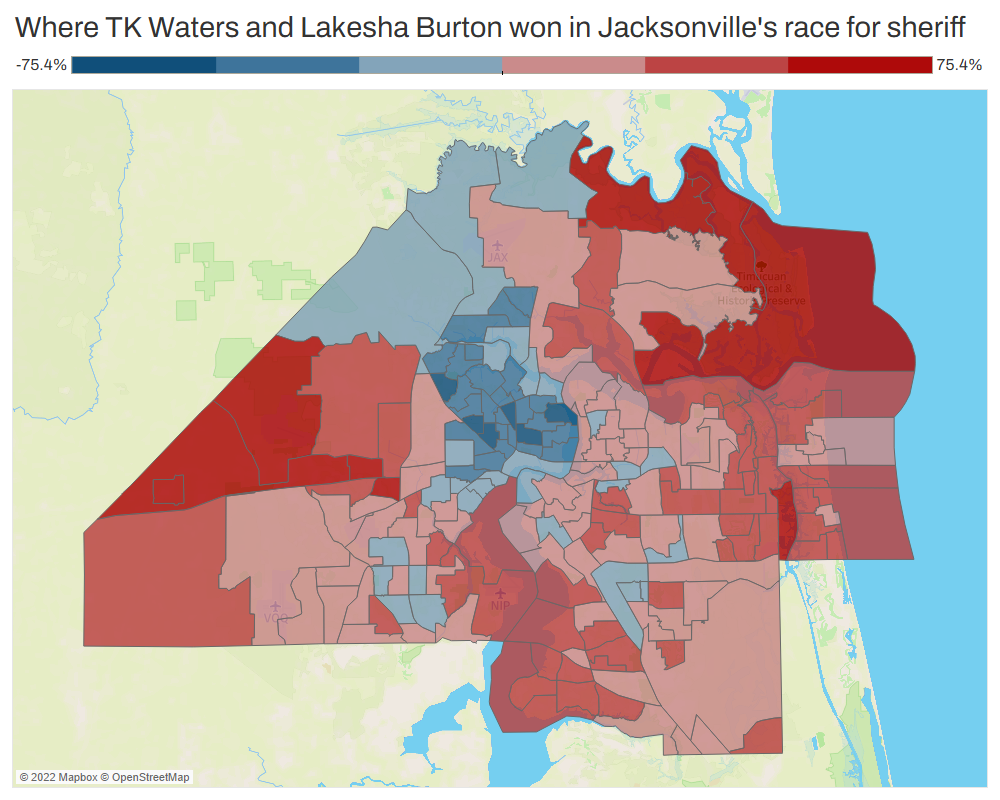 School politics has turned more partisan
Outside groups have tried, and largely failed, in the past to turn School Board races partisan. But this time, Gov. Ron DeSantis' endorsements worked at ousting incumbents in both Duval and Clay counties with culture-war messages that resonated with voters.
DeSantis targeted School Board member Elizabeth Anderson, a mental health counselor and former teacher, with an endorsement of April Carney, a conservative activist who has refused to say whether she was at the Jan. 6, 2021, riot at the U.S. Capitol.
Carney beat Anderson by a 5-point margin.
In neighboring Clay County, longtime School Board member Janice Kerekes lost to another DeSantis-endorsed candidate, Erin Skipper, by a 22-point margin. Kerekes has served on the School Board since she was first elected in 2010.
Even as culture war politics seem bound to continue at school boards, Duval voters still passed a property-tax increase designed to boost teacher pay. The referendum earned broad support across the city.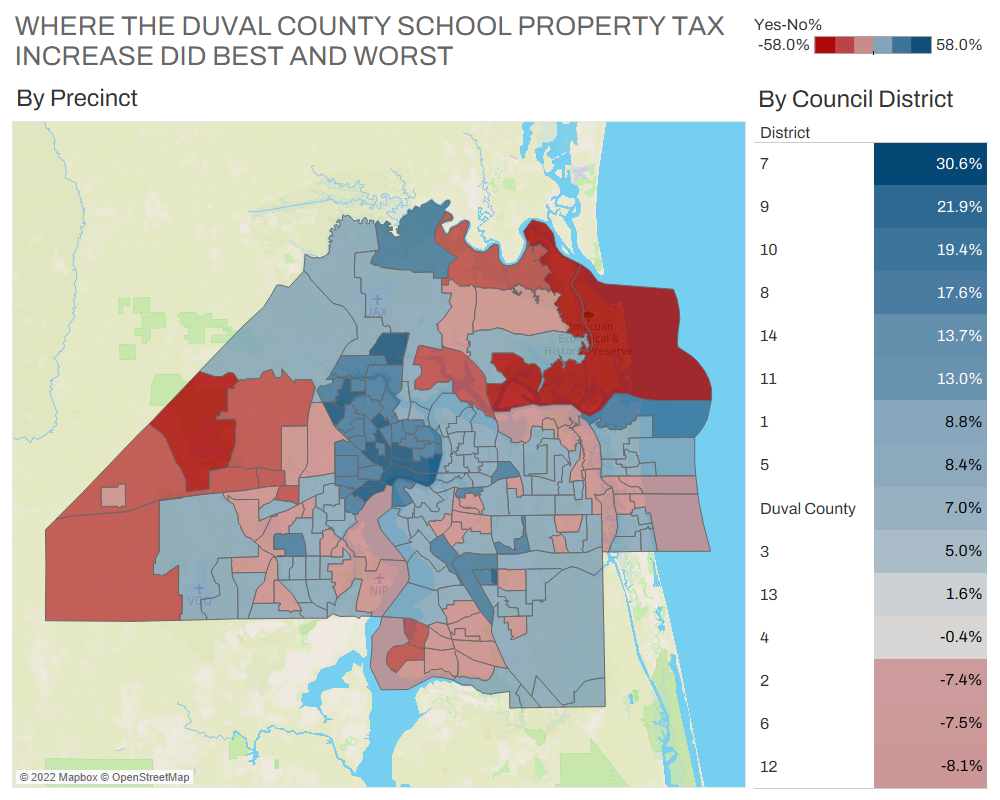 Freshman year: Elected leadership is changing
This year brings new Jacksonville-area representation to Tallahassee, thanks to both a new redistricting cycle and term limits for many of the area's elected leaders. Three of the Duval County's four Republican-heavy House districts will see new representatives in January, along with one of the county's two Democratic-leaning House districts and both of the county's Senate districts.
Rep. Clay Yarborough and Rep. Wyman Duggan were unopposed in their bids for Republican-heavy Senate and House districts.
Duval County GOP Chair Dean Black won the nomination for House District 15. Gov. DeSantis' endorsed pick for House District 16, political newcomer Kiyan Michael emerged victorious against a Jax Beach city councilman and a former state lawmaker. And Jessica Baker, whose husband Tim Baker is the most powerful political consultant in the county and was linked to the attempted sale of JEA, won the nomination for House District 17.
Only Baker will face a Democrat, activist Michael Anderson, in November.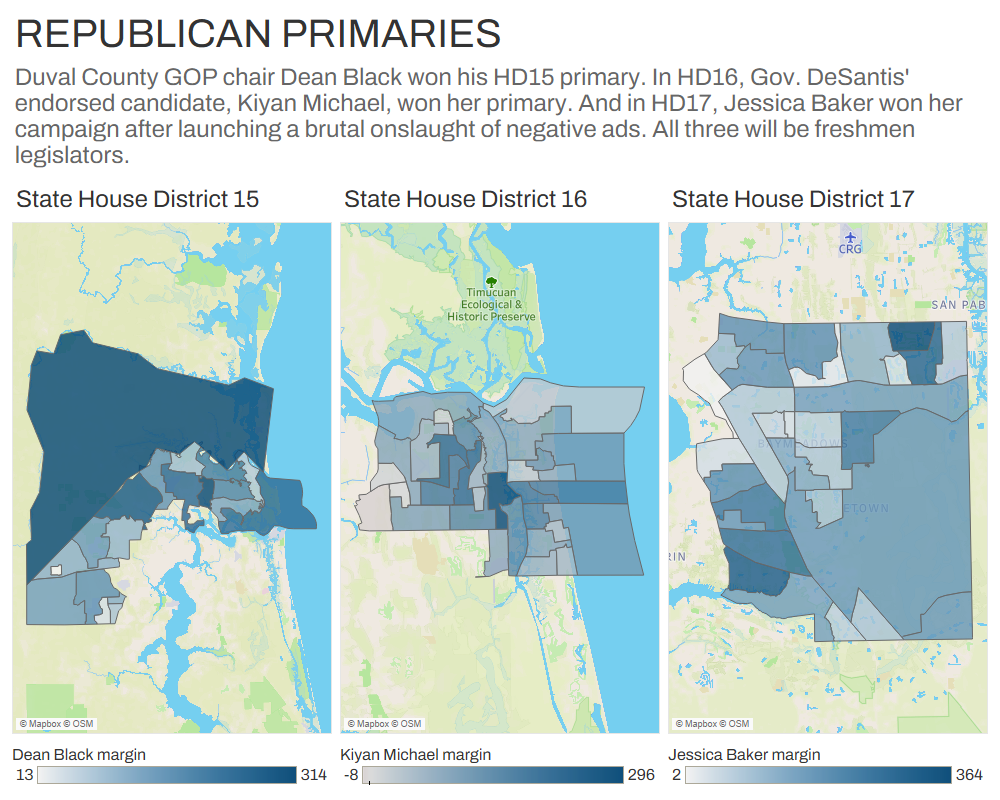 In the primary for heavily Democratic Senate District 5, Tracie Davis, a Democratic state representative, trounced City Councilman Reggie Gaffney, a former Republican, with 68% of the vote. She will face Republican Binod Kumar in November.
Democratic Rep. Angie Nixon, a labor and community organizer, easily won re-election in the new House District 13 with 89% of the vote. Nixon will face independent LaCiara Masline in November. If Nixon wins, she and Duggan will be the only area representatives returning to Tallahassee.
And former Rep. Kimberly Daniels, a pastor known for her conservative views and offensive comments, won the Democratic primary for House District 14, easily dispatching City Councilman Garrett Dennis, businessman Mincy Pollock and community activist Iris Hinton.
Daniels has spread anti-Semitic myths from the pulpit, saying, "You can talk about the Holocaust, but the Jews own everything." She has also praised slavery as a blessing from God, and she has said gay people are demon-possessed.
A write-in candidate filed in that House district but is not expected to mount a serious campaign against Daniels in November.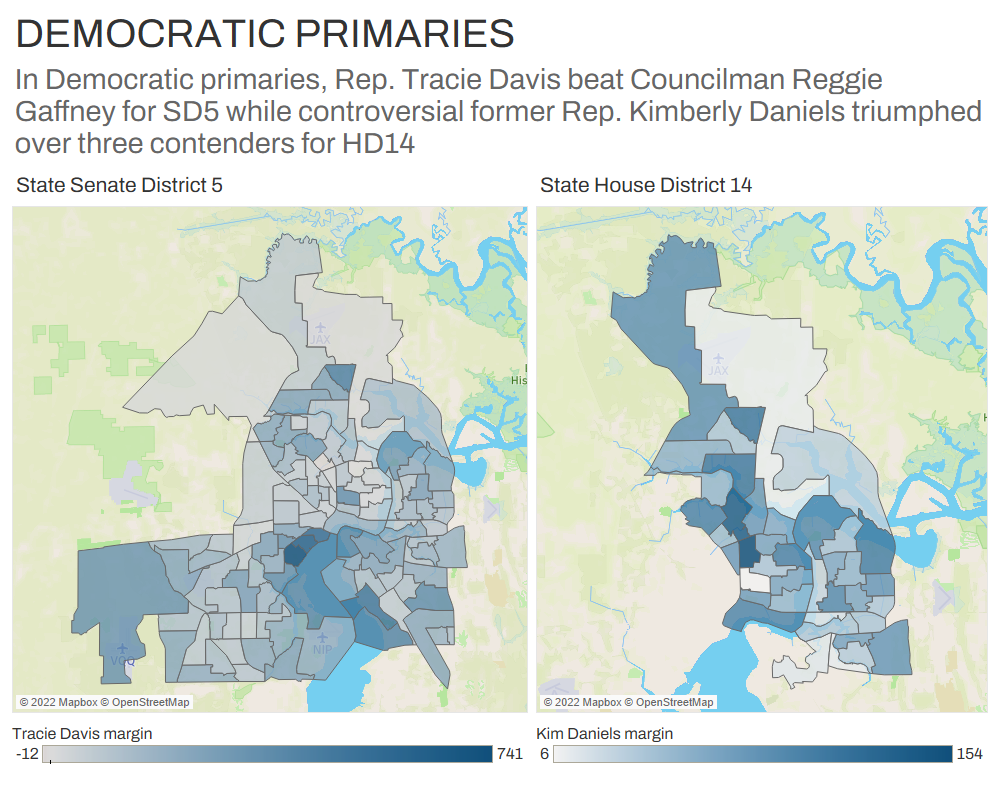 Racial polarization persists, even when all candidates are Black
All five Duval sheriff candidates are Black, ensuring that whoever wins will be the county's second post-Reconstruction Black sheriff.
Yet Black and white voters are still polarized in who they are supporting.
In 27 precincts, at least 80% of voters identified as Black, and in those precincts, Democrat Burton won 52% of the vote while Republican Waters won 7%.
Meanwhile, 42 precincts have at least 80% non-Hispanic white voters. Waters, the Republican, won 59% of the vote there, while Burton won 27%.
Waters actually did better in heavily Democratic precincts overall (winning 7.3% of the vote) than in heavily Black precincts, suggesting he may have actually fared better with some white Democrats than with Black voters, regardless of party.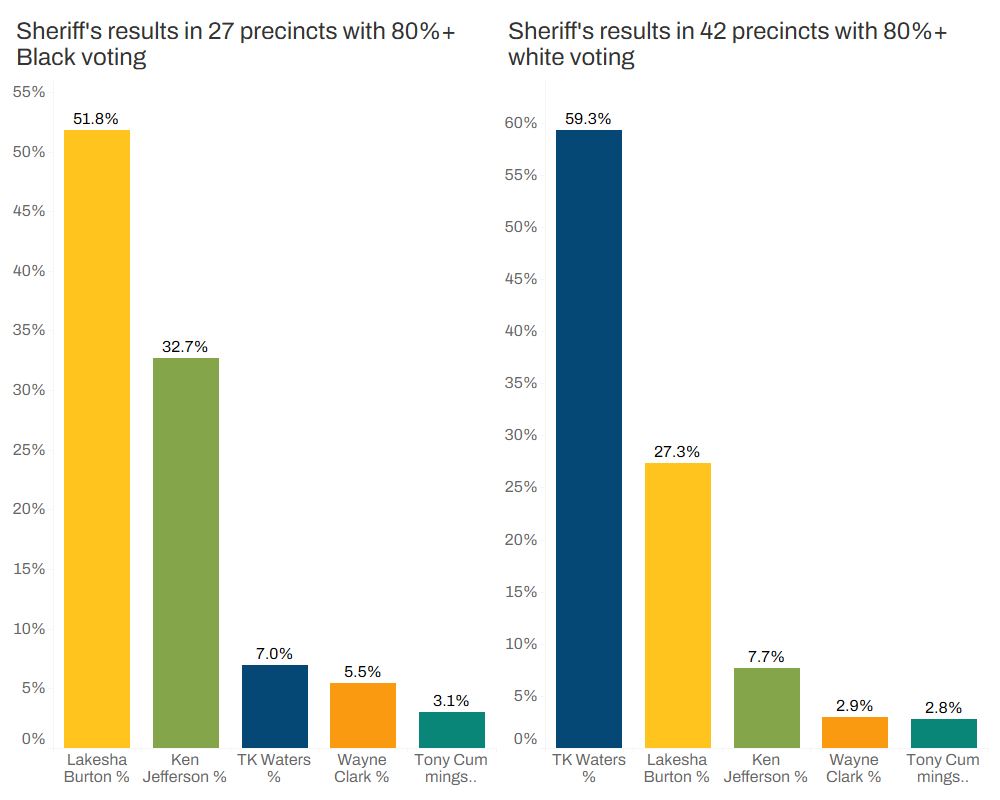 We still don't know all results
Some races were decided Tuesday night. Tyrona Clark-Murray won City Council District 9 outright. Both Duval School Board races were settled. U.S. Rep. John Rutherford won re-election.
Others will go to runoffs or general elections, including the Jacksonville sheriff race.
But there was one race that was still too close to call: The Democratic primary for the new, Republican-leaning 4th Congressional District.
With just 207 votes separating them, perennial candidate Lashonda "LJ" Holloway leads former labor leader and state Sen. Tony Hill for the Democratic nomination.
If Holloway wins, it will be a stunning upset to Hill.
Hill was a longshoreman who became the secretary-treasurer of the Florida AFL-CIO, the state's largest federation of unions. He served as a state representative throughout the 1990s and then as a state senator throughout the 2000s. He worked as former Mayor Alvin Brown's federal policy director and then in U.S. Rep. Al Lawson's congressional office.
Holloway, a healthcare advocate, ran for Congress unsuccessfully in 2016 and 2020.
The winner will face Republican Sen. Aaron Bean, who earned the GOP nomination with 68% of the vote in a three-way race.
This story comes from The Tributary.

Andrew Pantazi, The Tributary
Andrew Pantazi edits and reports for The Tributary. He previously worked as a reporter at The Florida Times-Union.

Andrew Pantazi, The Tributary
Andrew Pantazi edits and reports for The Tributary. He previously worked as a reporter at The Florida Times-Union.
---
Sign up for the Jacksonville Today newsletter
Your local weekday newsletter for news and ways to get involved in Northeast Florida.