Black labor fuels Jacksonville's maritime industry
Published on June 27, 2022 at 9:54 pm
Jacksonville is the growing mid-size city that it is today because of the maritime industry.
The petition to convert the Cowford community into a full-fledged city two centuries ago was based on the desire to create a port of entry at the mouth of the St. Johns River. Today, that port is responsible for hundreds of millions in commerce flowing through the region. JAXPORT is on pace for another record-setting year in container volume, a volume that would not be possible without the predominantly Black port workers who helped transform the River City into a logistics hub.
A jobs engine
"The Black labor force was the primary work force at the port way back when whites didn't want this work," says Florida AFL-CIO Vice President Charles Spencer. "Though (in) the last 50 years, the work (has) transitioned from needing a strong back to needing brains more than brawn."
JAXPORT doesn't keep comprehensive demographic data about all the stevedores, crane operators and other port workers there. However, more than 97% of the members of the International Longshoremen's Association Local 1408 are Black.
ILA Local 1408 has existed in Jacksonville for 86 years. Though other unions have been created and the harborfront has transformed, one thing has remained the same: Black labor is at the heart of the port.
Now, there will be more job opportunities.
In May, JAXPORT celebrated its third harbor deepening after the 11 miles of the harbor closest to Blount Island were dredged to 47 feet.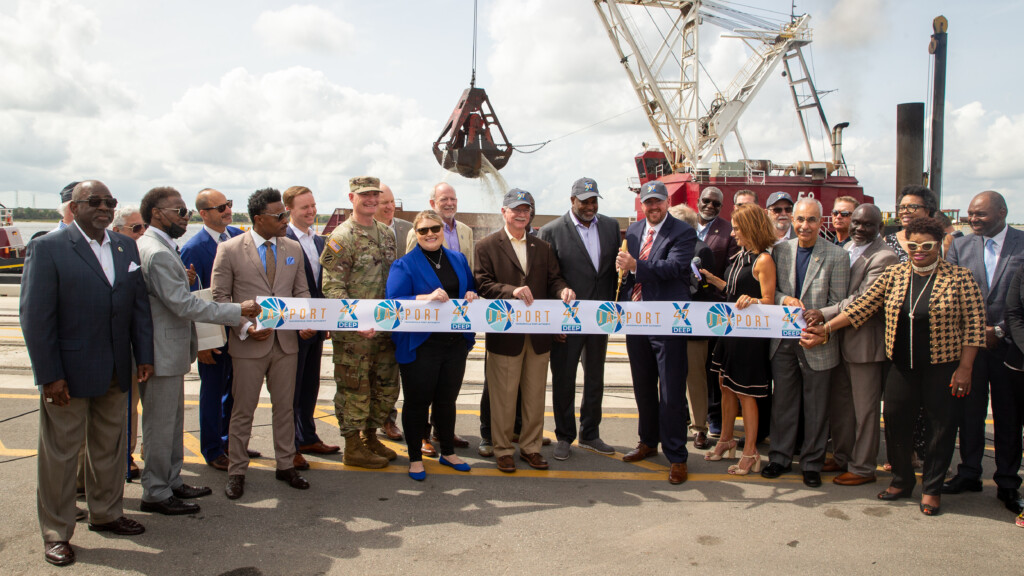 "You're going to see tremendous opportunity for people that live right here in Jacksonville that right now may not have an economic opportunity out there, but this growth is going to give it to them," said U.S. Rep. John Rutherford, R-FL4, at the celebration.
He touted the Transportation and Logistics Flagship Program at the University of North Florida and the Supply Chain Management program at Florida State College at Jacksonville as two workforce-development programs that will help fuel the maritime industry with local talent.
"I don't want to be bringing people in from the outside who already have these skills," Rutherford said. "I want to train our people for these jobs and improve our economy. We have folks who are in need here. With the right training and preparation, they can be a part of this growth. And, I think they deserve to be a part of this growth."
Last week, JAXPORT announced it completed $100 million in berth enhancements at Blount Island that will provide for the larger vessels that can call on Jacksonville because of the dredge.
Though that means installing more energy-efficient cranes, there is still a need for someone to operate those machines.
JAX Chamber President and CEO Daniel Davis said this community's proximity to three major interstates has created scores of jobs in the maritime and logistics industry.
"It's a highly competitive industry. Jacksonville is poised to take advantage of it," Davis said. "With all the logistics advantages that we have, deepening the harbor was almost the last step we needed to make sure that on a global scale we can compete with anybody."
Making waves beyond the First Coast
Working in the maritime industry, whether as a mariner, stevedore, forklift operator or crane operator, is physically arduous work. Business and labor leaders note that those who are willing to put in the effort are compensated well enough to maintain a middle-class lifestyle.
That's what Ann Jones has done over her 22 years with Jacksonville-based maritime and logistics company Trailer Bridge. The maritime industry, Jones says, is willing to train those with an interest in the field.
For the first 15 years of her career, Jones worked as a rating and billing supervisor. She says there are avenues for advancement, even for those without a college degree.
"It's a great industry to be in," Jones said. "I enjoy doing what I do. It's fun and it's rewarding."
Jacksonville's maritime industry is undergoing a renaissance because its port is not as congested as West Coast ports, and its diversity in cargo — whether barge services like Trailer Bridge or containers from Asia — allowed it to withstand the worst of the COVID-19 pandemic.
JAXPORT CEO Eric Green — one of the few Black port CEOs in the U.S. — says the deeper harbor will create or protect as many as 15,000 jobs in the region.
"As a Jacksonville native, one of my greatest joys, both professionally and personally, is seeing this project come to fruition, because of the lasting impact it will have on my hometown," Green said during the harbor deepening celebration last month.
Green grew up in Northwest Jacksonville, graduated from Ribault High School and transitioned into the maritime industry in 2005 when he became JAXPORT's senior director of government and external affairs. He became CEO in 2017. Considering how much the maritime industry is moved by the brains and brawn of Black men and women, Green does not take his role lightly.
"You begin to carry the weight of your ethnicity on your shoulders, because you're speaking for those that look like you," Green says. "It can be a heavy load sometimes. It's one I never forget. I feel if I screw it up, I will screw it up for others. It's challenging because I lose a lot of sleep over the decisions we have to make, because I want to make sure I'm making the right decision."
Green's grandfather was a brick mason and his father was a truck driver. He credits them for developing his toughness and business savvy, which was on display on Monday, June 27th, when the port board approved a deal that Green's team had negotiated for a long-term lease with Trailer Bridge.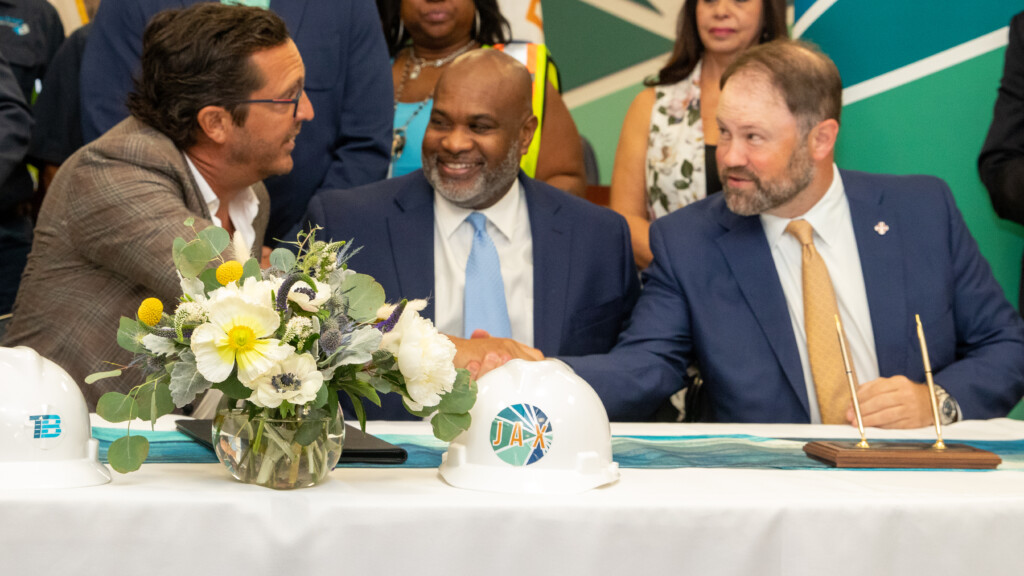 Looking toward the horizon
In May, Trailer Bridge welcomed more than a dozen students from the A. Philip Randolph Career Academies to tour its facilities on Blount Island and conduct a simulated onboarding experience at its headquarters.
Jones was among those who met with the A. Philip Randolph students.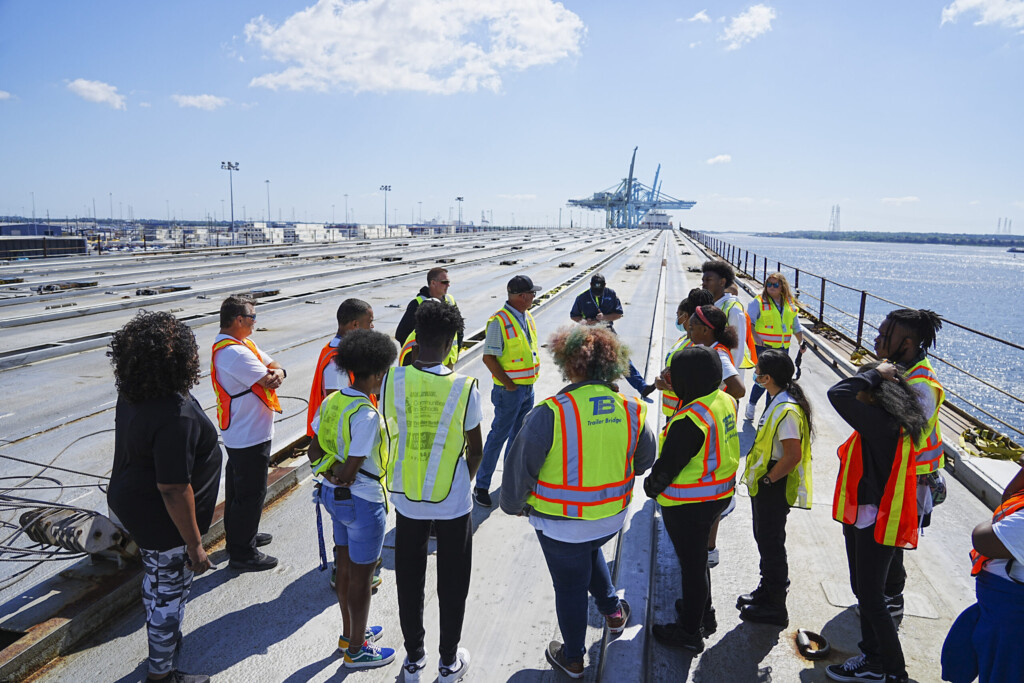 "It was awesome," Jones says. "I gave the kids some advice on how to move forward, how to get into a company like this, while not having a degree. I came up in poverty. I did not grow up in a rich area. I had to work my way up to where I am now."
Jones grew up on the Southside, near Atlantic Boulevard. She hopes her professional story, beginning in Trailer Bridge's billing department and moving into her current managerial role, will motivate the next port workers.
"It is so important to show students the different opportunities that are available for them after they graduate high school, whether it be a path to college or directly into the workforce," said Communities In Schools of Jacksonville CEO Leon Baxton in a statement. "We are thankful for local companies like Trailer Bridge that step up to show these kids what is available to them and how they can start a successful career at a major company here in Jacksonville."
Trailer Bridge was named to the 2021 Inc. 5000 List of America's Fastest Growing Companies. Its CEO, Mitch Luciano, readily notes that he initially viewed the logistics industry as a temporary position until he saved money for law school, but he turned it into a career once mentors poured into him.
"When I joined Trailer Bridge, I was so excited to see the diversity inside our office," Luciano said. "From male to female, from 22 to 70, color, backgrounds — whether Cuba, the Dominican Republic, Puerto Rico, from here, from Southern Georgia or North Florida. Seeing the diversity in our company thrilled me. Then, I saw it in other companies as well.
"I don't know why there is so much diversity in the maritime industry in Jacksonville. I don't know what the one thing is. It's an intriguing industry," he says.
Lorenzo Spencer, the president of the ILA Local 1408 and a container inspector, says harbor deepening will produce more container and breakbulk cargo, which will lead to more jobs for people who want them.
"It doesn't get talked about enough," the local union president says. "You can still make a damn good living without going to college…You will not get that opportunity anywhere in the U.S. The port workers, we have that. I'm grateful for the port. It does a lot for Blacks who otherwise (would not have these opportunities.)"

Will Brown
Reporter, Jacksonville Today
Will Brown is a corps member with Report for America, a national service program that places journalists into local newsrooms. He previously reported for the Jacksonville Business Journal

. And before that, he spent more than a decade as a sports reporter at

The St. Augustine Record

,

Victoria (Texas) Advocate

and the

Tallahassee Democrat. Reach him at will@jaxtoday.org.

Will Brown
Reporter, Jacksonville Today
Will Brown is a corps member with Report for America, a national service program that places journalists into local newsrooms. He previously reported for the Jacksonville Business Journal

. And before that, he spent more than a decade as a sports reporter at

The St. Augustine Record

,

Victoria (Texas) Advocate

and the

Tallahassee Democrat. Reach him at will@jaxtoday.org.
---
Sign up for the Jacksonville Today newsletter
Your local weekday newsletter for news and ways to get involved in Northeast Florida.