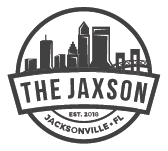 Perspectives
The Jaxson
on Jacksonville Today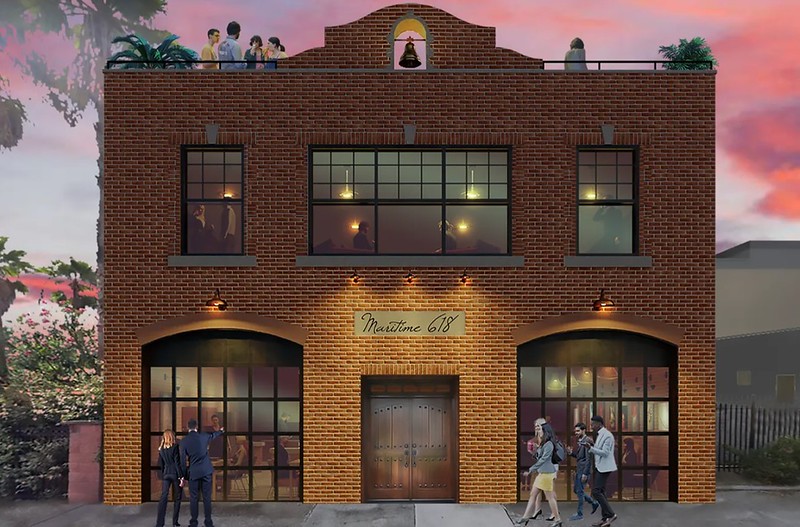 THE JAXSON | 3 alternatives to demolishing 618 West Adams Street
Published on June 14, 2022 at 9:47 pm
A building possibly directly linked to the Great Fire of 1901 in LaVilla could be demolished soon. Here are a few reasons why Jacksonville should not rush to approve a demolition request, and three alternatives to knocking down the building:
618 West Adams Street history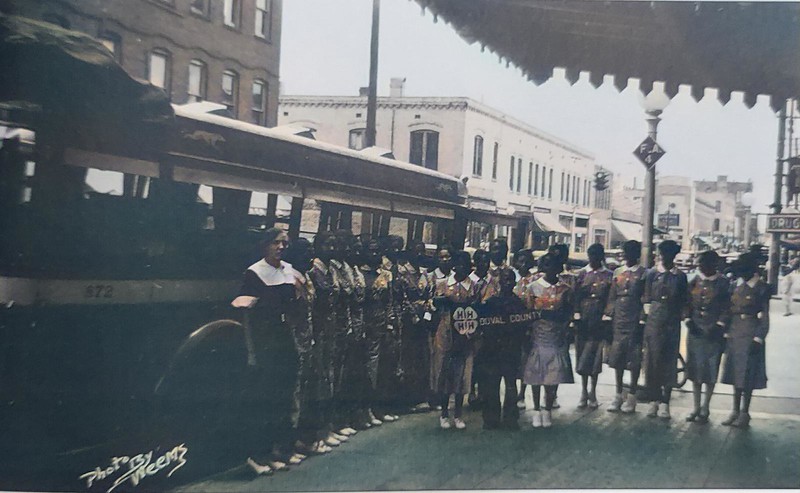 Adjacent to the Downtown Northbank, LaVilla is one of Jacksonville's oldest Gullah Geechee communities. Named after the LaVilla Plantation, LaVilla was established as a town of its own in 1866 by Francis F. L'Engle. L'Engle served as LaVilla's first mayor, and by the time the community was annexed into Jacksonville in 1887, its population had increased to 3,000.
Anchored by Henry Flagler's Jacksonville Terminal railroad station, LaVilla became a cultural exchange partner with New Orleans and emerged as a major epicenter for ragtime, jazz and blues during the early 20th Century. According to the Indianapolis Freeman, the first published account of blues singing on a public stage occurred at LaVilla's Colored Airdome on April 16, 1910. Following the 1920s Harlem Renaissance, LaVilla became known by some as the Harlem of the South. In local African American communities, it was also known as Uptown. Ultimately, LaVilla was largely destroyed by major urban renewal projects, including the construction of I-95 during the 1950s and the 1990s River City Renaissance plan.
Despite significant urban renewal, a few buildings survive and are currently under consideration for the inclusion of LaVilla as a National Register Historic District. This includes 618 W. Adams St., which is one of the last structures in LaVilla linked to an era when this portion of the neighborhood was a red light district and a Chinese and Jewish ethnic enclave.
There are two competing historical narratives at play with this particular piece of property: that it was either originally a tire warehouse or a fire station.
Records obtained through city directories, Sanborn maps and the city of Jacksonville Historic Preservation Office suggest that 618 W. Adams St. was completed in 1926 for Claude Eugene Sims and the Sims Tire Co. Born in 1885 in Georgia, Sims was a Jacksonville city councilman and the brother of Walter Sims, a former mayor of Atlanta and a Georgia state senator. The Sims Tire Co., which specialized in automobile tire sales, was previously located at 334 W. Forsyth St. before relocating to 618 W. Adams. The business operated there until 1933, when Sims and a companion drowned during a fishing trip between Jacksonville and Green Cove Springs. Since Sims' death, other businesses that have occupied the building include Cain & Bultman and an R & R Liquor Stores office and warehouse.
Or maybe not. A narrative obtained from the Jacksonville Association of Firefighters suggests that the building was actually a fire station built in 1897. Eventually replaced by Fire Station Number 4 in LaVilla, the story goes, "Old Number 4" served as LaVilla's fire station until the addition of a ladder company required the 1927 move two blocks north to West Duval Street. If this narrative is correct, then 618 W. Adams St. would be one of the last direct links to the Great Fire of 1901, one of the largest urban fires in the country's history.
Proposed project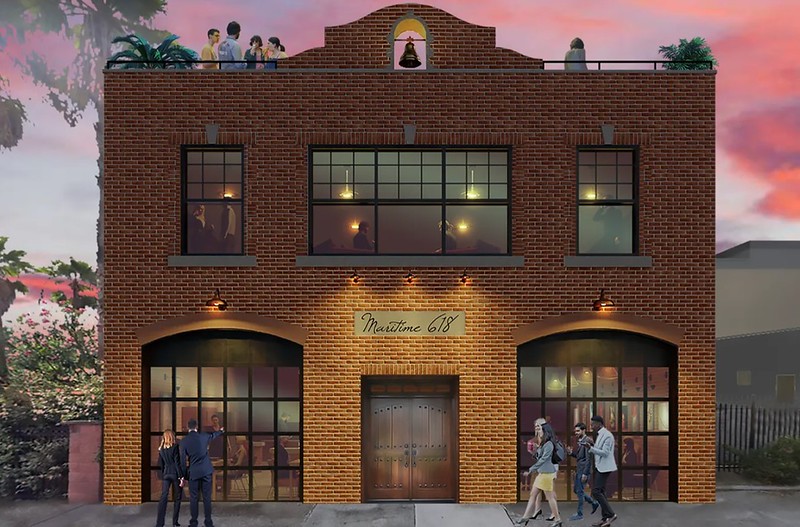 Captain Sandy Yawn, a mega-yacht captain and a star of Below Deck Mediterranean on the Bravo network, acquired 618 W. Adams St. for $185,000 in June 2020. Buying the building through her Miami Beach-based Yawn Properties, LLC, Yawn intended to retrofit the structure into a restaurant called Maritime 618. The revamped space would have included a restaurant, private club and rooftop lounge. Serving international seafood and cultural fare, it was originally anticipated that the restaurant would open in late 2021 or early 2022.
Since that announcement, Yawn has determined that she and partner Chad Quist cannot restore the building to fit their proposed concept. Facing an estimate of as much as $5 million, Yawn now seeks to demolish one of LaVilla's few remaining century-old structures and one that could be directly linked to the Great Fire of 1901, in hopes of one day finding interested investors to build a replica from scratch. Citing mold damage and the deadly collapse of the Surfside Champlain Towers South condominium building in South Florida, Elev8 Demolition submitted a demolition permit (B-22-536700) to the City of Jacksonville on behalf of Yawn on June 10. The permit has since moved into agency review. Because the property is not already locally landmarked or part of a National Register District, the demolition request will not need Historic Preservation Commission review or approval.
A need for demolition delay
Here are three alternatives to consider before approval to demolish another historically significant structure in LaVilla:
Use historic preservation incentives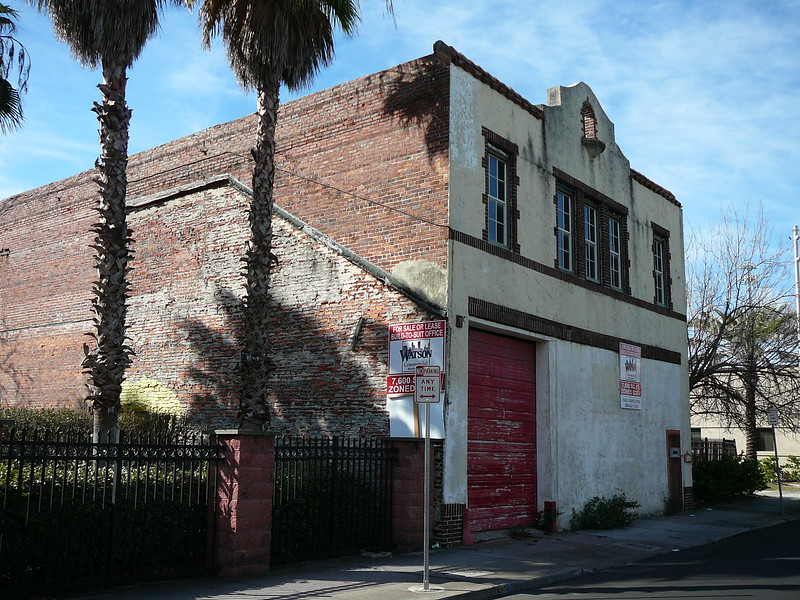 In November 2020, the Downtown Investment Authority launched the Downtown Preservation and Revitalization Program . The DPRP was intended to foster the preservation and revitalization of unoccupied, underutilized, and deteriorating historic buildings Downtown, such as 618 W. Adams St. Further exploration of options to finance the realistic restoration of the structure with the DIA should be considered and seriously vetted.
2. Move the yacht restaurant out of LaVilla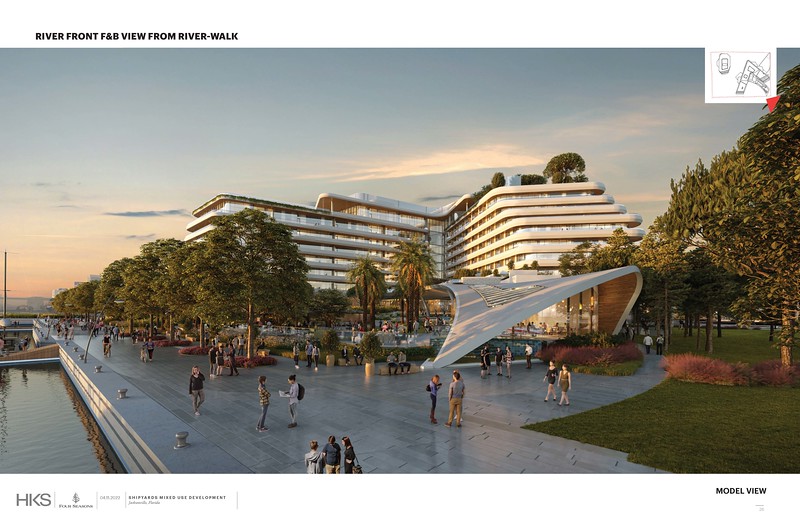 While Yawn should be applauded for desiring to invest in Downtown Jacksonville and LaVilla, the reality is that a yacht-themed restaurant several blocks from the riverfront is neither feasible inside of a restored structure or one built from the ground up. Furthermore, the use is not culturally appropriate for the historic cultural and social heart of Jacksonville's and Northeast Florida's Black community.
LaVilla has already experienced enough loss of precious historic building stock through urban renewal and failed visions of people who don't understand or seek to preserve and maintain the neighborhood's true history, culture and sense of place. It is very likely that the structure can be restored for a fraction of the costs estimated, if it were a use that didn't force a concept into a site where it should not be.
Perhaps the most appropriate solution to avoid unnecessary demolition of another LaVilla landmark is for the Maritime618 owner to sell the 618 W. Adams St. property and shift the concept to a Downtown riverfront location. Additional assistance and guidance may be needed to direct this concept to a commercial space already proposed and under development along Downtown's riverfront. Fuqua Development's One Riverside Avenue in Brooklyn, Shad Khan's Four Seasons at Metropolitan Park and Related Group's River City Brewing project adjacent to Friendship Fountain are all examples of developments intended to include riverfront dining space that may be more appropriate.
3. Explore eligibility for the National Register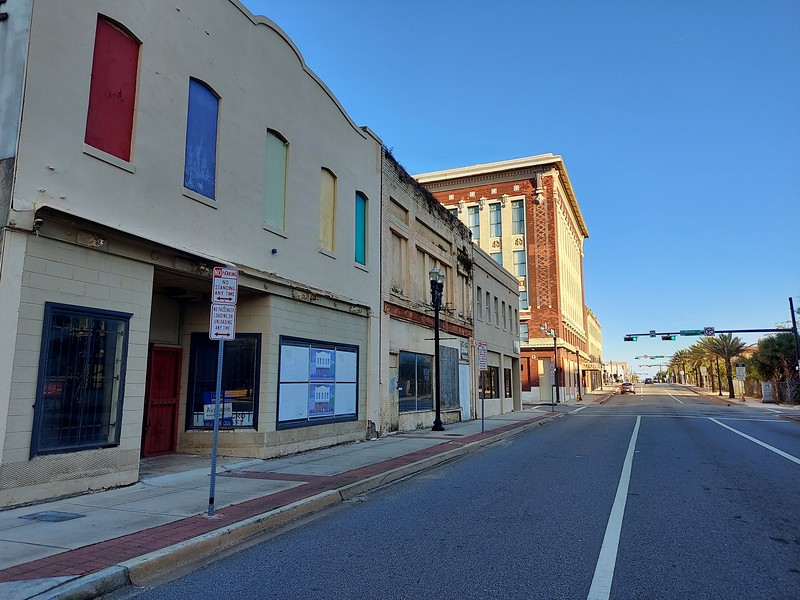 According to the Jacksonville code of ordinances, demolition of any building or structure individually listed on the National Register of Historic Places, determined to be eligible for individual listing on the National Register of Historic Places ("deemed eligible"), or which is a contributing structure within a historic district listed on the National Register of Historic Places, is to be reviewed by the Jacksonville Historic Preservation Commission before a demo permit is issued
Considering this property could be one of the last surviving direct links to the Great Fire of 1901, every effort should be made to solidify the historical narrative prior to demolition approval. If it was a fire station linked to an event that forever changed the country's 12th largest city by population, it would certainly be eligible for individual listing on the National Register of Historic Places. Regardless of its history, a collaborative effort is already underway involving the LaVilla community, the Downtown Investment Authority and the State Historic Preservation Office to designate what is left of LaVilla to the National Register as a Historic District. As such, 618 W. Adams St. would be included as a contributing structure within a historic district listed on the National Register of Historic Places.

Ennis Davis
The Jaxson
Ennis Davis, AICP is an urban planner and co-owner of The Jaxson and Modern Cities. Reach Ennis at edavis@moderncities.com.

Ennis Davis
The Jaxson
Ennis Davis, AICP is an urban planner and co-owner of The Jaxson and Modern Cities. Reach Ennis at edavis@moderncities.com.
---
Sign up for the Jacksonville Today newsletter
Your local weekday newsletter for news and ways to get involved in Northeast Florida.