Perspectives
A.G. Gancarski
Jacksonville Today Contributor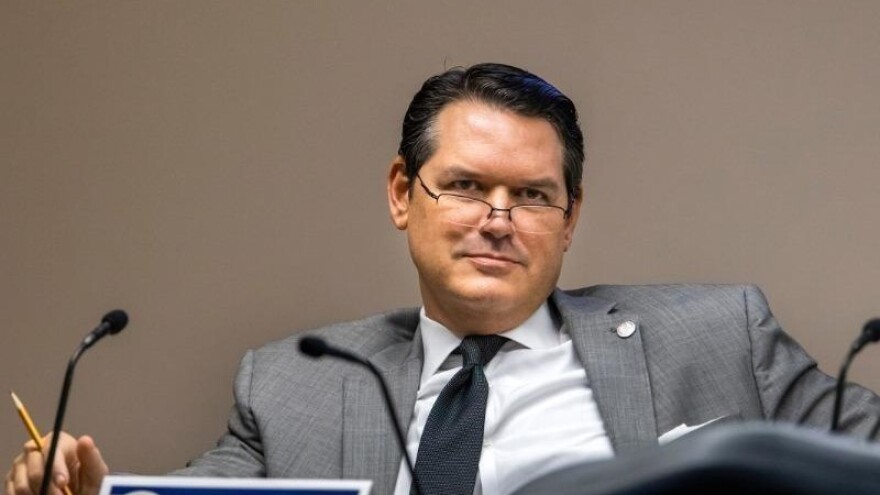 OPINION | Byrd's the word
Published on May 15, 2022 at 9:06 pm
The great unanswered question of the 2022 election cycle for Northeast Florida Republicans was what Cord Byrd would end up doing.
Would he run for state Senate, opposing Clay Yarborough?
Would he run for Congress, joining a field that includes political outsider Erick Aguilar and veteran politician Jason Fischer in the Congressional District 4 race (assuming the governor's map ultimately is the one people are running on, and not the one installed last week by a lower court in Leon County)?
Or another run for the state House for some reason?
In the end, he won't run for anything. Gov. Ron DeSantis appointed the Neptune Beach Republican as secretary of state on Friday.
DeSantis found a way to make the lives of local politicians a little less complicated, while handing Byrd the biggest political payoff anyone in our region has seen since DeSantis picked his wife, Esther Byrd, for the Board of Education.
The governor's office offered muscular quotes from Byrd and DeSantis in a press release that didn't include enthusiastic endorsements from other people.
"Cord Byrd has been an ally of freedom and democracy in the Florida Legislature, and I am confident he will carry that mission forward as secretary of state. I look forward to his successes ensuring Florida's elections remain safe, secure and well-administered," DeSantis said.
Byrd offered his own glow-up:
"Under the leadership of Governor DeSantis, Florida has led the way on election security and preserving freedom for its residents. As secretary of state, I will make sure Florida continues to have secure elections and that we protect the freedom of our citizens in the face of big-tech censorship and ever-growing cybersecurity threats," Byrd stated.
Byrd will replace Laurel Lee, who is running for Congress, and will be in a pivotal role for the 2022 midterms and (at least theoretically) the 2024 presidential election, where we cannot rule out DeSantis himself running. Expect Byrd to test the parameters of the office's authority in a way consistent with other recent DeSantis appointees.
The rap sheet on him is long, meanwhile, in terms of objections to the way he does business, including from local Democratic colleagues of his, such as Rep. Angie Nixon.
Nixon says Byrd antagonized Black Democrats during an abortion debate, and back when that happened, there was an idea that Byrd may be in play for a judgeship.
"The sad thing about all of this is, I heard Byrd wants to be judge on several occasions. I am hoping the rumors aren't true," she said. "If he ever gets a judgeship, Floridians will suffer. More importantly, Black or low-income Floridians will suffer. He clearly has biases (and) lacks composure."
Byrd said the aggrieved Democrats were "(expletive) jokes," and went on to say Nixon is a "one-trick pony" manufacturing "narrative."
Nixon doubled down on her read Friday: "Florida's top elections official should be a consensus builder whose sole focus is running free and fair elections for every citizen of our state. Cord Byrd is not that person. He is unqualified in both his credentials and his temperament, has proved time and again he will put partisanship ahead of good policy, and is unfit to lead the elections department of a diverse state of more than 20 million people. The idea that he will now be in charge of the governor's elections police force should be a frightening thought for every Floridian, no matter who you are or where you come from. This is another glaring example of Ron DeSantis' attempt to weaponize government against his political opponents, and we will not be silent in the face of the attacks on Black and brown communities we know are coming."
Byrd has flirted with the hard right, as has been documented repeatedly. He left Twitter last year around the Jan. 6 Capitol riots, recall, and that was after a campaign during which he and his wife were linked to Proud Boys and Q-Anon elements. He returned to the social media platform this year after Elon Musk's still-incomplete takeover attempt.
Those examples of extremist footsie and many more present a problem for those who value at least a pastiche of non-partisan integrity. But that's not really what's in play here.
DeSantis, as is the case with every position, wants a fighter in place. And if things get weird in this election or the next, well, the governor has his guy, someone who certainly would not have gotten to this position any other way and therefore will demonstrate loyalty and then some.
Meanwhile, local Republican politicians can loosen their belts. Yarborough won't have to sweat a Senate challenge with Byrd in an administrative role. And the growing field in the new House District 16, where Byrd would have run for a fourth and a final term in the House, can move forward without checking for a filing for that race.
DeSantis anointed the Byrds, and people in this region are supposed to take that as a tribute. The governor was a big loser in Duval in 2018, with local GOP leadership saying he ran a flat campaign. Will two Byrds in key roles flip that script in a city, we should note, that is still D+5 in terms of registration?

A.G. Gancarski
Jacksonville Today Contributor
A.G. Gancarski's columns were a staple in Folio Weekly for nearly two decades, and he has been the Northeast Florida correspondent for Florida Politics since 2014. He writes about the intersection of state and local politics and policy.

A.G. Gancarski
Jacksonville Today Contributor
A.G. Gancarski's columns were a staple in Folio Weekly for nearly two decades, and he has been the Northeast Florida correspondent for Florida Politics since 2014. He writes about the intersection of state and local politics and policy.
---
Sign up for the Jacksonville Today newsletter
Your local weekday newsletter for news and ways to get involved in Northeast Florida.