As neighbors take buyouts, some Jacksonville residents question city's plan for flood-prone areas
Published on November 18, 2020 at 12:00 am
Sea level rise isn't a hypothetical future issue in low-lying areas of Jacksonville. It's forcing people to make life-changing decisions right now. Like a group of 13 homeowners in South Shores, sandwiched between San Marco, St. Nicholas and the South Bank of the St. Johns River. This week is the deadline for the city of Jacksonville to offer them the chance to sell their properties rather than deal with the next inevitable flood.
To address sea level rise, city leaders and residents must choose mitigation or "retreat," like the buyouts — a strategy the city has employed only sparingly until now. Today, Jacksonville is planning to buy up groups of houses to demolish and create green space that will become a buffer for flooding. Though some residents have concerns, city leaders consider this strategy the best option for everyone.
"Frankly the program allows homeowners that couldn't afford to continue to stay and couldn't afford to fix the damage that the flooding has done to their homes, so I'm glad that there was relief available," said Councilwoman LeeAnna Cumber, who represents South Shores.
In 2017, Hurricane Irma pushed millions of gallons of water into Jacksonville, turning streets into canals and inundating homes and businesses. Flooding was particularly bad in South Shores, which lies just across from TIAA Bank Field, as well as in the Ken Knight Drive area of Northwest Jacksonville, where one resident used his boat to rescue neighbors trapped by rising waters.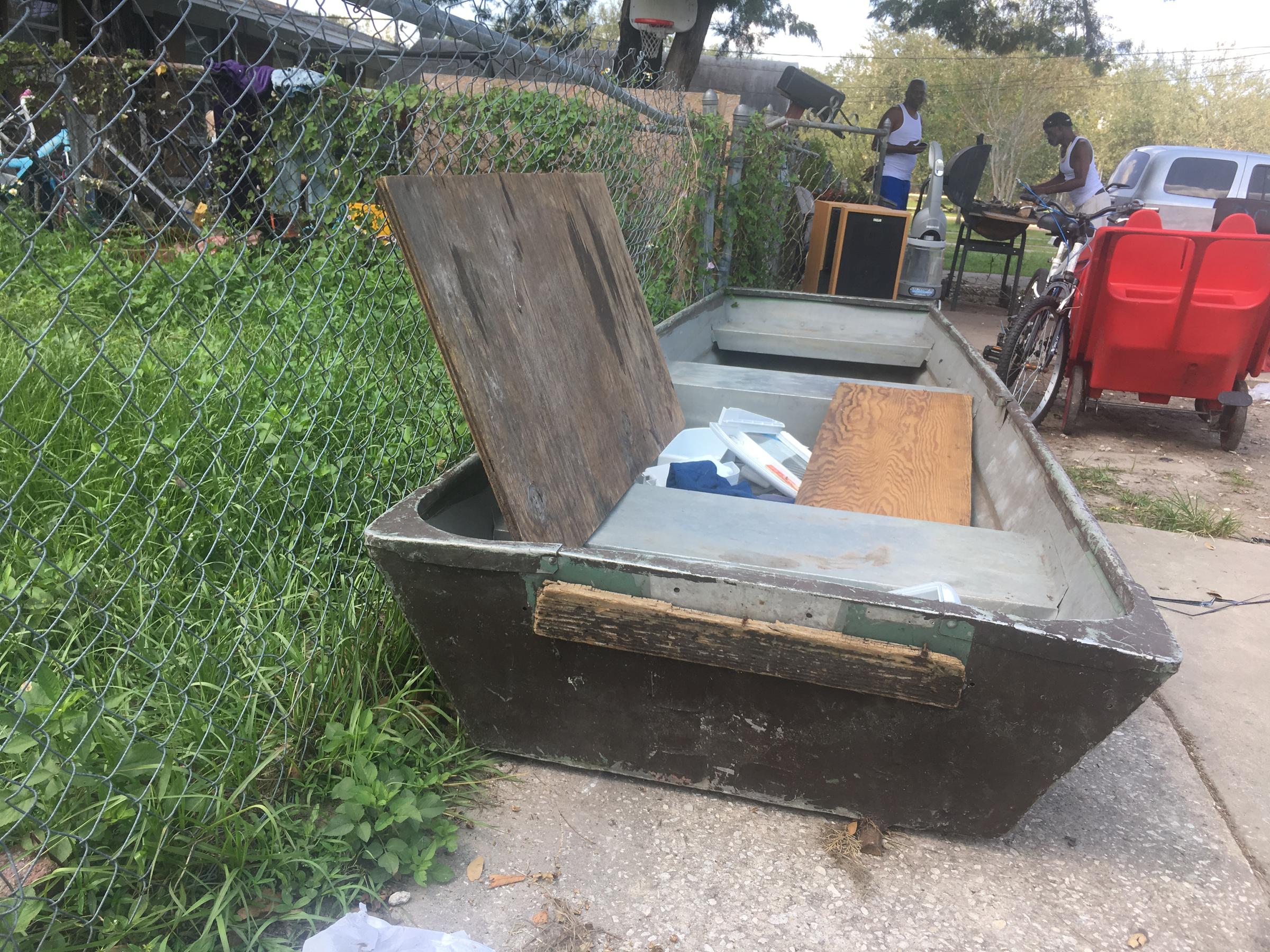 Both South Shores and Ken Knight Drive are firmly in the floodplain. Nuisance flooding is a regular occurrence; on some streets, tire tracks permanently gouge the grass from people driving around water.
Bob Holladay has lived in South Shores for 28 years. Early the morning Irma hit, he opened the front door to find his home surrounded by water. He dropped his wife off nearby, then returned to assess.
"I had to park well up the street, and when I walked back up, the water was this high," he said, gesturing towards his hip.
As Holladay waded to his home, across town, the Ribault River had cleared its banks along Ken Knight Drive. Cynthia Ellis, who rents a row house across the street from the river, grimaces to remember.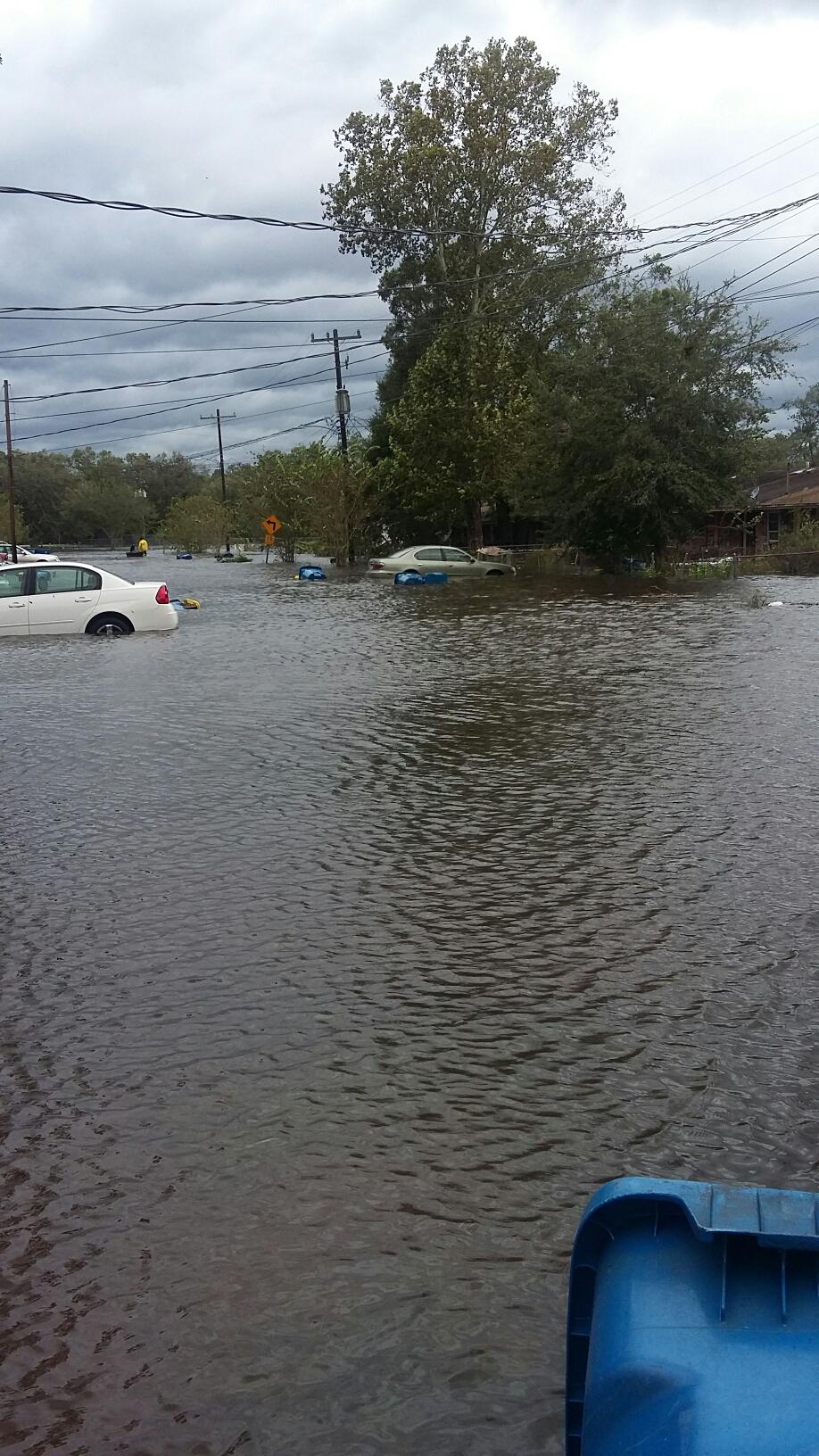 "[Water] was all the way to the bottom of my couch," she said.
Her neighbor Artelia Arisme, who lives in the home her parents bought in 1968, said it was a first in her lifetime.
"This place has never flooded until then," she said.
Irma, combined with the Nor'easter that had stalled over Jacksonville before it even arrived, caused what's known as a 100-year flood. Historically expected once per century, as the name implies, the frequency of such flooding is anticipated to increase along with the earth's average temperatures. Last year, Princeton University researchers predicted that 100-year floods may now occur anywhere from three times a century to every single year in the Southeast.
Irma led Jacksonville to avail itself of federal funding to buy and demolish homes damaged or threatened by the flooding. The city is in the early stages of figuring out the Ken Knight Drive program, which was announced earlier this year.
Three years since the city first applied for South Shores buyouts, the Office of General Counsel is now reviewing offers to be sent by Nov. 20 to the first 13 homeowners who have agreed to buyouts. City Council recently approved legislation on a second tranche of 22 homes there as well. Cumber's office said implementation is likely to begin by early December.
Some homes in the second batch are being evaluated for historic significance. If they are deemed historic, then the city will look in other neighborhoods for homes of equal significance — such as by the same architect — to affix the historic designation to, as a form of mitigation. If none can be found, historically significant homes may not be eligible.
Though the two buyouts are different — South Shores is through the Federal Emergency Management Administration (FEMA), Ken Knight the Department of Housing and Urban Development (HUD) — they have the same goal: offering property owners affected by Hurricane Irma an opportunity to sell for a fair price. A key difference between the two is that the city must provide 25% of the funds for the $10 million South Shores program, FEMA the remainder. Sam Mousa, then-city chief administrative officer, told ADAPT last year that the feds provided roughly $3.5 million for the first batch of homes. The $5 million Ken Knight Drive program doesn't require city funds.
Both projects include landscaping to make the space match the neighborhood's character. Once homes are demolished, the vacant properties are to be maintained by the city. They cannot be sold or used for another function, such as a park.
But the buyouts bring emotions, questions and concerns from residents. Although the programs are entirely voluntary, many in both neighborhoods felt affronted when the city announced its intent. Some who plan to stay are concerned that the properties won't be maintained as promised and their home values will suffer.
At someone's suggestion, Holladay went to Bakersfield Drive on the Westside, where FEMA had bought out 20 flood-prone properties from 2008 to 2013, according to an NPR database. What he saw put his mind somewhat at ease — the neighborhood is kept up well with open spaces where homes once stood.
Still, Holladay said that his neighbors are angered by the plan, and he remains skeptical about how the city chose properties. His riverfront home wasn't included; neither were his neighbors'. Because Holladay's home is elevated, like many in his section of the neighborhood, water didn't get inside. He said he's "very lucky," though he did have to replace some major appliances.
"They didn't offer it to any of the houses that were on the river," he said. In South Shores, much of the flood risk is from a creek that runs through the neighborhood, rather than the St. Johns River it borders. Yet the entire neighborhood is in the 100-year floodplain.
Noah Ray, emergency preparedness supervisor at the Jacksonville Fire and Rescue Department, said that the city chose homes based on flooding and damage after Irma, relying partly on self-reporting. It also considered factors like public safety calls and long-standing nuisance flooding complaints.
On Ken Knight, properties were chosen based on both the floodplain and damage from Irma, which left hardly a home unscathed.
The Ken Knight project at present includes 51 potential buyouts, 11 of which would be prioritized because they're owner-occupied. Much of the housing is HUD-subsidized, meaning owners of rental properties receive federal stipends to help their low-income tenants afford housing; the buyout program requires at least 80% of the neighborhood be low to moderate income. Because of this, additional incentives are included, like up to $25,000 toward the purchase of a new property on top of the pre-storm appraisal value for owner-occupied homes.
The city might offer relocation and rental assistance for tenants as well, but Sarah A. Bohentin, Jacksonville's disaster assistance program manager, said the contract to officially enter the program is still circulating among city officials, and everything is in flux. Her proposed budget has changed dozens of times.
Cumber said South Shores renters may also be eligible for financial assistance if their landlord sells to the city. The amount would be calculated with a complicated formula determined by federal statute.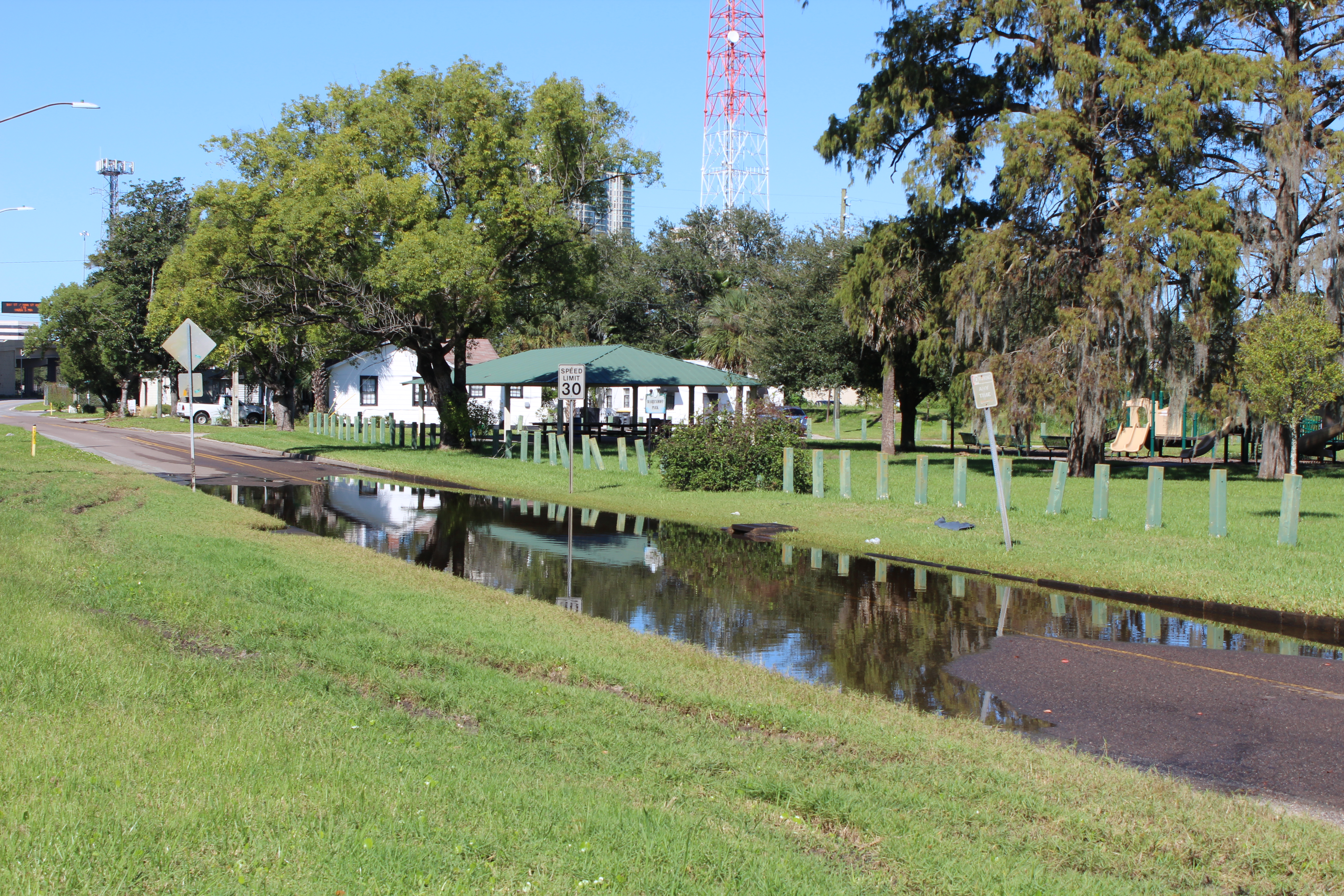 But what if retreat isn't necessary? Residents of both neighborhoods question whether the city could mitigate flood risk with infrastructural improvements rather than buy them out. On Ken Knight, people said work on a stormwater pipe stopped as soon as the buyout program was announced. Holladay says he's been trying to convince the city to elevate a low-lying section of Southampton Road that's routinely flooded for years. The city says that improvement projects are always ongoing.
While some, like Arisme, aren't interested in selling, others are jumping at the opportunity. Ellis, her neighbor on Ken Knight, is happy to move.
"I want to get out from here anyway," she said.
Alton Gordon, known as the neighborhood's mayor, said he hopes that the city considers that it's not just buying property, it's breaking up a community. Nevertheless, he's interested.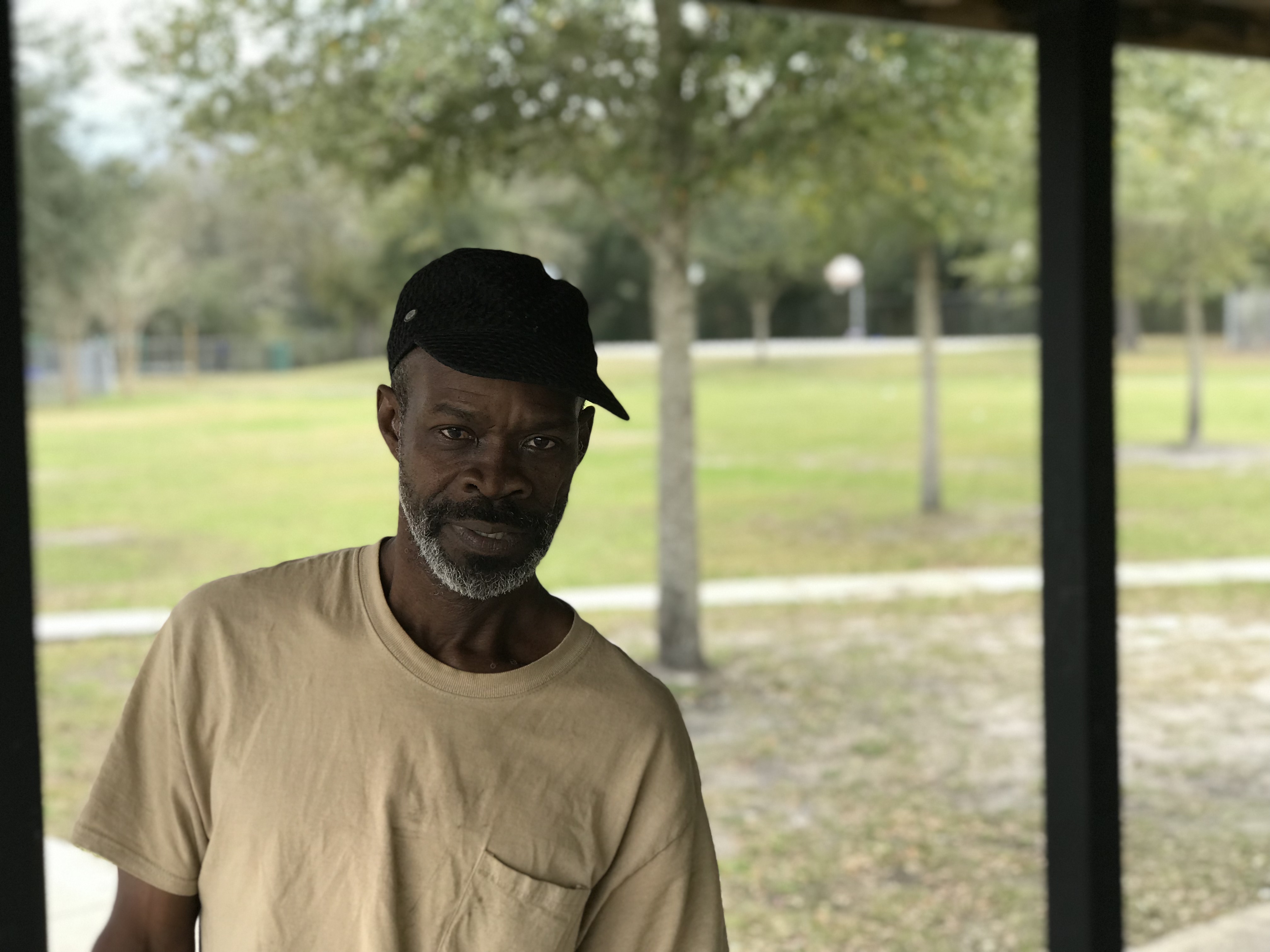 "If they give us a substantial amount of money, yeah, I'm gonna sell because I want my children somewhere comfortable," Gordon said.
With the first offers forthcoming for South Shores, it's not clear that even the homeowners who tentatively accepted the city's proposal will close on the deal. Real estate agent Jason Lindsey said at least four of the original first group identified have already sold to other private owners since the project was announced, dropping the number of possible buyouts from 17 to 13. One who was approved for the buyout now has her home listed with Lindsey's agency; in September, the house next door sold for nearly $300,000.
"She was waiting and… the city never took action," Lindsey said.
Others in both neighborhoods say they'll never sell, come hell or — quite likely — high water. The city hopes to one day change their minds.
"Our goal is to successfully relocate these people to somewhere they can be safe and out of the floodplain," said Bohentin.


Claire Goforth
Journalist/Writer at The Daily Dot
Claire Goforth is a staff writer at the Daily Dot covering all things politics and technology with a focus on the far right and conspiracy theories.

Claire Goforth
Journalist/Writer at The Daily Dot
Claire Goforth is a staff writer at the Daily Dot covering all things politics and technology with a focus on the far right and conspiracy theories.
---
Sign up for the Jacksonville Today newsletter
Your local weekday newsletter for news and ways to get involved in Northeast Florida.