Perspectives
Mike Clark
Jacksonville Today Contributor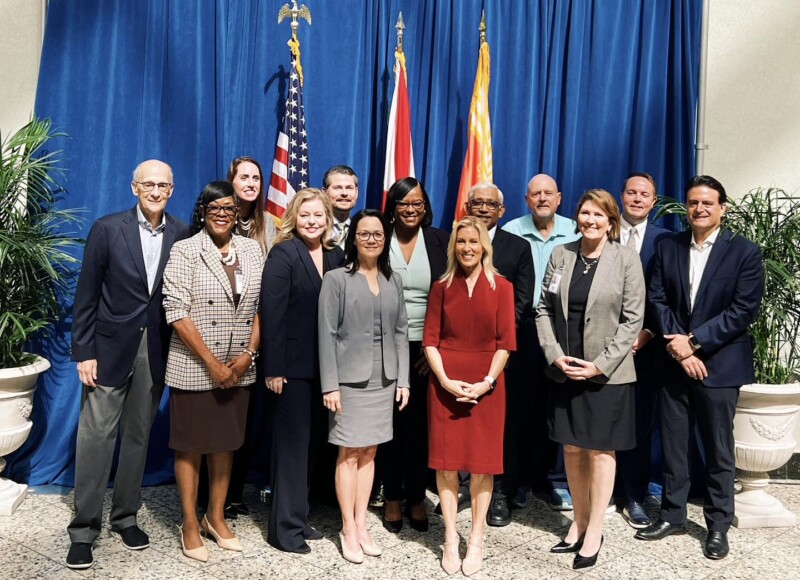 OPINION | One position is missing from Deegan's appointments, but she has a solid staff 
Published on June 15, 2023 at 9:20 pm
Incoming Mayor Donna Deegan gets an A-plus for her first key appointments.
Anyone who has ever held a leadership position knows that the most important job is to find and attract talented people.
Deegan has done that with her first batch of appointments. Besides choosing good people, she found people who can co-exist with a Democratic mayor and Republican City Council, after we saw what a toxic relationship there was between the Alvin Brown administration and Council. Brown brought in key people who did not know Jacksonville and its rare consolidated form of government. A few newcomers are valuable in revealing issues that longtimers don't see. Too many, however, make unforced errors that lose credibility with the Council.
Here are my thoughts on some of Deegan's appointees after 15 years as editorial page editor of The Florida Times-Union:
Karen Bowling: As chief administrative officer, she provides a huge amount of experience. In the Brown administration, she took on the blight crisis following an exposé by the Times-Union editorial page staff. As an entrepreneur, she has credibility in the business community. As a longtime member of the JEA board, she will be a valuable asset when issues arise. Is there some way that JEA could contribute to the new stadium deal? Granted, both JEA and the Jaguars are sacred cows in this city. 
Anna Brosche, CFO: One of the most talented City Council members I have ever met. Also, a good listener. She would be a great asset in a brainstorming session. As a numbers person, she also has an empathy for people that is rare.
Mike Weinstein, interim CFO: Filling in till fall, he has already taken on a role with the city team that will be negotiating a stadium financing deal with the Jacksonville Jaguars. His resume never quits. He was involved in the 1993 negotiations that brought the Jaguars the franchise with the NFL and in the group that brought the Super Bowl here in 2005. He has had so many key positions in city government, he would be an invaluable All Star utility man for the administration.
Melissa Ross, director of strategic initiatives and liaison to the press: She knows nearly everyone of any importance in the city, so she could fill the same type of role that Susie Wiles filled for the John Peyton administration. Wiles helped to put together the steering committee that became the Jacksonville Journey. Ross could do the same thing with a renewed Journey.
Bob Rhodes, interim general counsel: Rhodes has an impressive legal resume, important civic experience and a high character. He strikes me as a person you would want to call before a big decision is made. It would be great to add a female as the new general counsel. I can think of several outstanding and ethical female leaders in the legal community who would be outstanding candidates.
But one key job is missing here: liaison with the City Council. Relationships between Mayor Alvin Brown and the Council became so toxic that the door was locked between the mayor's office and Council offices.
Face it: Some Republicans will be automatic opponents for Deegan. But she can set things off on the right foot.
She would be wise to take up Council President Ron Salem's key projects, such as a new jail. There is no need to wait for a court to order a new jail, which is what happened the last time. For instance, Deegan could commit to paying for a new jail at some point during her four-year administration. During the first year, she could commit to a feasibility study. The next jail should be off the waterfront, include mental health facilities and not be a high-rise.
Salem, a pharmacist, also is interested in addressing the opioid epidemic. So Deegan's appointment of Sunil Joshi, former president of the Duval County Medical Society as chief health officer, should help.
And beyond her relationship with the Council, Deegan has an opportunity as a former professional communicator to reach out to the public with regular press conferences. I covered Mayor Hans Tanzler's administration when he would hold almost weekly conferences in the mayor's office. Tanzler sometimes misspoke, but his communications director had enough credibility to handle those situations. Similarly, Mayor John Delaney was a master at dealing with the press. He used to visit the Times-Union newsroom and took questions without aides or notes.
It would be refreshing to hear public officials admit when they don't know something or that they made a mistake. And if there is a scandal, appoint a committee and promise to follow its suggestions.
Deegan has one advantage that many public officials do not have: She does not need this job. So she can follow the instincts that marked her campaign: an emphasis on being positive and getting things done for the people.
Speaking of that, one reason that Deegan is in office is that outstanding Republicans like Randy DeFoor and Matt Carlucci endorsed her. In fact, by dropping out of the mayor's race, Carlucci helped to focus voters on Deegan. (Remember that Republican Audrey Moran lost the 2011 mayor's race because she and Rick Mullaney were competing for the same voters. Moran would have been a great mayor.)
The city's ridiculous schedule of starting a mayoral term right when a budget must be submitted needs to be changed. In any case, Deegan has attracted outstanding leaders to get off to a great start.

Mike Clark
Jacksonville Today Contributor
Mike Clark devoted about 47 years to Jacksonville's two daily newspapers. He retired in 2020 after 15 years as editorial page editor at The Florida Times-Union, where he and his staff won local, state, regional and national journalism awards.

Mike Clark
Jacksonville Today Contributor
Mike Clark devoted about 47 years to Jacksonville's two daily newspapers. He retired in 2020 after 15 years as editorial page editor at The Florida Times-Union, where he and his staff won local, state, regional and national journalism awards.
---
Sign up for the Jacksonville Today newsletter
Your local weekday newsletter for news and ways to get involved in Northeast Florida.