Unlike GOP donor Kent Stermon, most of JSO's 'Sheriff's Circle' barely used special access 
Published on March 5, 2023 at 7:54 pm
Most people in Jacksonville's "Sheriff Circle" — a group of civilians with special access to Sheriff's Office buildings — rarely used it, according to new records obtained by Jacksonville Today. Just five of the nine people used their access badges in recent years.
The access logs, along with Jacksonville Today interviews with those listed in the Sheriff's Circle (a badge designation assigned by JSO) show all used the privilege far less frequently than Kent Stermon — the influential Republican donor and Gov. DeSantis-appointee to the Board of Governors who was under criminal investigation when he died by suicide in December.
Stermon used his special JSO badges on almost 200 different dates between 2017 and 2022, swiping the badge more than 700 times in total (often multiple doors on the same day) to access JSO headquarters, multiple Sheriff's Office substations and JSO aviation facilities. The Jacksonville Sheriff's Office has blacked out records — or redacted — the specific areas he accessed. The investigation into Stermon is continuing, almost three months after his death, JSO says, and police have not commented on the nature of the investigation.
The degree of access that one well-connected member of the public had to policing buildings, beginning under former Sheriff John Rutherford, has raised questions about security and preferential treatment in JSO. Now a Congressman, Rep. Rutherford, R-FL4, has not responded to multiple requests for comment.
According to JSO, current Sheriff T.K. Waters "discontinued the practice of allowing special access to individuals outside of the need for official business" shortly after he was elected last fall — though the logs show one person with the Sheriff's Circle designation had access after that.
Many of those who had badges say they used them for official purposes. Since 2017, Mitch Reeves, the former Republican mayor of Atlantic Beach, has used his badge on 38 dates; former GOP chair and former city policy director Robin Lumb has gained access on 34 days; former head of the Police Athletic League Stephen Vining has used it on 19 days; and Ryan Backmann, the head of the nonprofit organization Project: Cold Case, has used it on just three days.
The four other people listed as having a Sheriff's Circle badge have not used it to access any building since 2017, the records show.
Why civilians had access
Reeves was the second most-frequent visitor to JSO buildings with the Sheriff's Circle designation, after Stermon. He says he visited the Sheriff's Office as part of his full-time job in police equipment sales, a job he held while also serving as mayor. 
"The only time I went to the sheriff's department was only in the capacity as a vendor to sell to them," Reeves says. "I'd go up on the third floor if the sheriff was in … I'd just say hello, and sometimes I would talk to him about new products."
Reeves says he had a vendor badge to access JSO under former Sheriff Nat Glover but received the Sheriff's Circle badge while he was Atlantic Beach mayor. When asked by Jacksonville Today if he thought the designation granted him special advantages compared to other vendors, Reeves said, "To the best of my knowledge, it didn't."
About half of the times Reeves used the badge, according to access logs, he was visiting the Montgomery Correctional Center, a jail campus on the Northside. JSO records blacked out the exact doors, but Reeves says these scans are likely because he regularly visited the gun range there.
Reeves also is the only person to have some of his visits blacked out in the records under a different state law than most of the redactions. JSO withheld most door descriptions under a provision that protects building security or fire safety system plans, but two of Reeves' visits were blacked out under a state law that protects police departments from revealing surveillance techniques or procedures. Stermon was the only other person JSO withheld specific information on for that reason.
Reeves says, for his part, those two visits could be related to visiting an offsite SWAT location to discuss tactical equipment for potential sales — but each time he went, he recalls, someone had to let him in because his badge didn't work to get into the gate.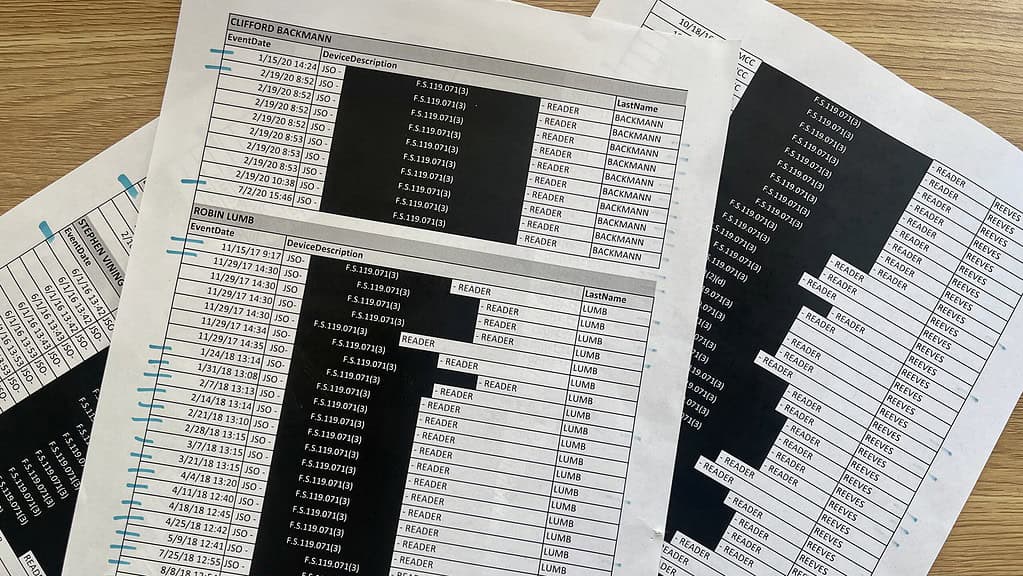 Lumb, a former Duval GOP chair and former Jacksonville policy director, has accessed JSO buildings on 34 dates since 2017 during his tenure with the city. "I was given an access badge to the Police Memorial Building so that I could attend the weekly 'Group Motivated Crime' meetings in my capacity as policy director," Lumb says. "It afforded me no special privileges beyond access to the meeting room on the first floor."
When asked if long-standing connections to the Republican Party were related to who received the special access badges, Lumb says, "That wouldn't apply in my case. I had a specific reason for going."
Vining, the former Jacksonville Police Athletic League board member, has used his badge on 19 dates since 2017, all of which were at the Duval County Courthouse, not at JSO stations or substations, the records show. He was the only person listed as part of the Sheriff's Circle to access JSO buildings after Waters stated he had ended special access. When reached by phone by Jacksonville Today, Vining said he had no comment and hung up.
Backmann, the Project: Cold Case director, who has used his badge on only three dates since 2017, says: "Former Sheriff Mike Williams was a public supporter of Project: Cold Case and saw great value in the services we provide to local families of unsolved homicides. He was very open about community partnerships and fostering those relationships. I was provided an access badge as part of that ongoing partnership," Backmann says. "It is not uncommon for me to facilitate meetings between families and detectives, attend cold case spotlight media campaigns, or to attend and participate in press conferences regarding cold case arrests."
Inconsistency from JSO
In responding to new public records requests from Jacksonville Today, the Jacksonville Sheriff's Office again withheld the door descriptions for each person listed in the Sheriff's Circle, despite previously releasing similar information about Sheriff Williams.
Last summer, in response to another records request from Jacksonville Today, JSO provided a detailed log of badge swipes by Williams. The same category that is blacked out in the Sheriff's Circle logs — door "device description" — is public in the Williams document, and shows which days the former sheriff went to the gym and accessed the front gate, side gate, elevators and various other doors.
JSO now says that information was released by mistake. In an email to Jacksonville Today Feb. 5, JSO public information officer Christian Hancock said, "The information previously released for the Sheriff Williams request was released in error, and should have been redacted similarly to the most recent Stermon request."
This is the second time JSO blamed errors for inconsistencies in public records. Last summer, in response to a public records request from Jacksonville Today, the department stated, "There were no badge swipes found for Kent Stermon."
After his death, the department released five years worth of logs and said the previous false record was due to a "software issue."

Claire Heddles
Reporter, Jacksonville Today
Claire has been a reporter in Jacksonville since August of 2021. She was previously the local host of NPR's Morning Edition at WUOT in Knoxville, Tennessee. Reach Claire with tips, ideas or comments at (904) 250-0926, claire@jaxtoday.org and on Twitter at @ClaireHeddles.

Claire Heddles
Reporter, Jacksonville Today
Claire has been a reporter in Jacksonville since August of 2021. She was previously the local host of NPR's Morning Edition at WUOT in Knoxville, Tennessee. Reach Claire with tips, ideas or comments at (904) 250-0926, claire@jaxtoday.org and on Twitter at @ClaireHeddles.
---
Sign up for the Jacksonville Today newsletter
Your local weekday newsletter for news and ways to get involved in Northeast Florida.