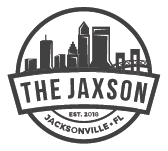 Perspectives
The Jaxson
on Jacksonville Today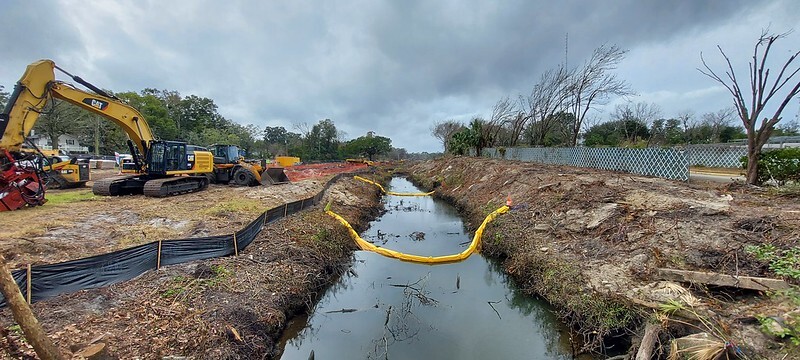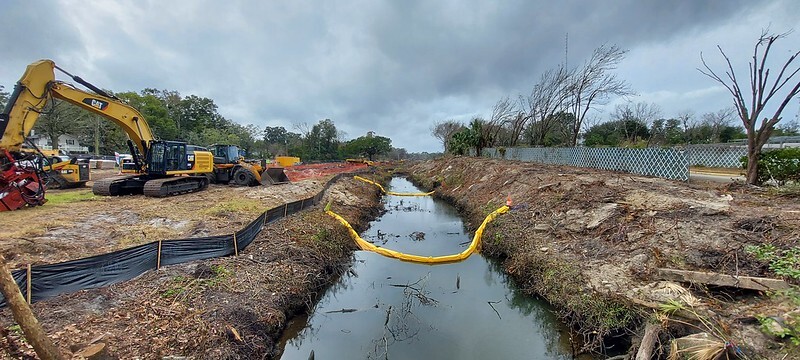 OPINION | Changing the urban landscape in 2023
Published on January 24, 2023 at 5:51 pm
Between redevelopment projects' moving forward, gentrification's gaining attention and a federal judge's tossing City Council maps that she ruled were gerrymandered, 2023 could be a year of big change for Jacksonville's urban core. Here's a look at five trends to watch through the year.
The LaVilla Link stimulates growth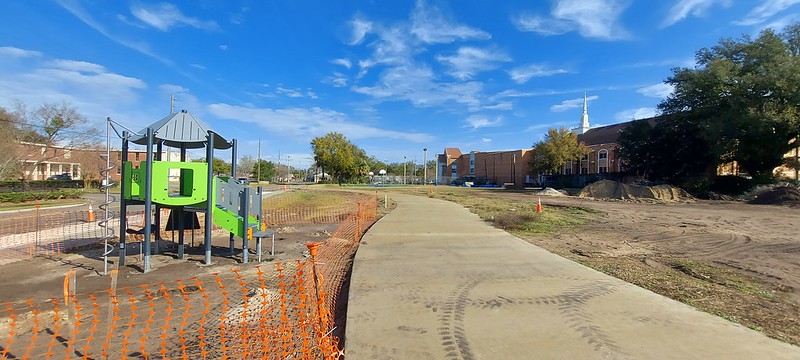 The Emerald Trail is one of the most hotly anticipated public infrastructure projects in Jacksonville, and among the most significant in the city's history. Decades in the making, the project is envisioned to become a signature outdoor destination encompassing approximately 30 miles of trails, greenways and parks, connecting at least 14 urban core neighborhoods when completed. Through the leadership and advocacy work of Groundwork Jacksonville, the community will witness the completion of the $8.9 million LaVilla Link in 2023.
Connecting Brooklyn and LaVilla with Durkeeville, New Town and the S-Line Urban Greenway Trail, the LaVilla Link is the first phase of the Emerald Trail system. The LaVilla Link broke ground in 2020 and is expected to be fully open in April 2023. Stretching 1.3 miles into a forgotten part of the urban core, the 14-foot-wide concrete pedestrian/bicycle trail was designed for both active and passive recreation with abundant shade trees and native plantings. Several public space destinations, including Lift Ev'ry Voice and Sing Park, Florida C. Dwight Memorial Playground and new parks at the Park Street Bridge and the Lee Street Pond, will greet trail users. Similar to the Atlanta BeltLine, the project will not only be a draw to local residents, but will stimulate redevelopment along its path as well. Between this and other projects moving forward in LaVilla (more on that in a minute), the neighborhood is becoming a hotbed for new development and adaptive reuse.
The Northbank Renaissance bears fruit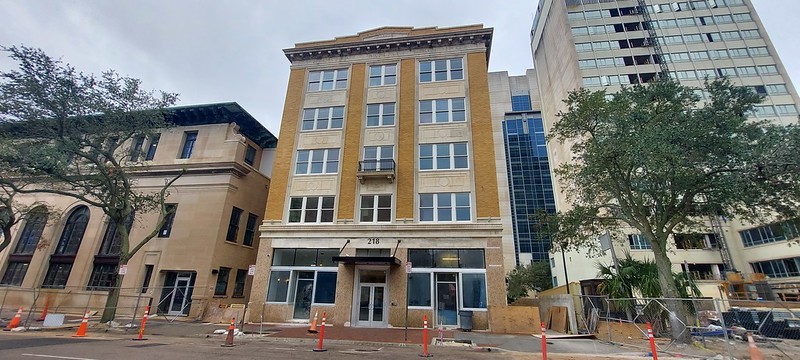 As we've written about many times, one of the biggest changes coming to the urban core has come along relatively quietly. In 2020, the Downtown Investment Authority under CEO Lori Boyer proposed an overhaul of city incentives for adaptive reuse projects involving Downtown buildings 50 years old and older. Overnight, the Downtown Northbank saw a rapid rise in new projects and proposals that took advantage of the new incentives, a trend The Jaxson has dubbed the Northbank Renaissance. In January 2021, we covered 14 major development projects proposed or recently completed within three blocks of James Weldon Johnson Park. Additional projects popped up by the end of the year, and we listed the Northbank Renaissance as one of the urban core's biggest trends to watch for 2022.
This year, Jaxsons will begin to witness the fruit of that labor. A number of projects started since 2020 are projected to wrap up by the end of 2023, which will add more destinations and street-level activity all within a close walking distance. Owned by JWB Real Estate Capital, the Old Federal Reserve Bank and the Florida Baptist Convention will come online on the same block as the popular Sweet Pete's Candy, also owned by JWB. The new developments will add restaurants, new apartments and outdoor space connecting all three buildings on this catalytic block adjacent to City Hall.
Just around the corner, JEA has begun moving its staff into its new headquarters on Pearl Street, bringing more activity to the area while also opening the previous JEA building on Church Street for potential redevelopment. Meanwhile, the redevelopment of the Ambassador Hotel and the Old Independent Life Building as mixed-use projects with apartments and ground-floor retail — including a much discussed new grocery store — are moving forward on Julia Street. While these projects individually are less sexy than projects like the Iguana Investments marina/resort/office project in the Shipyards, they collectively will have a bigger and more immediate impact on the core of the Downtown Northbank.
Gentrification comes for North Riverside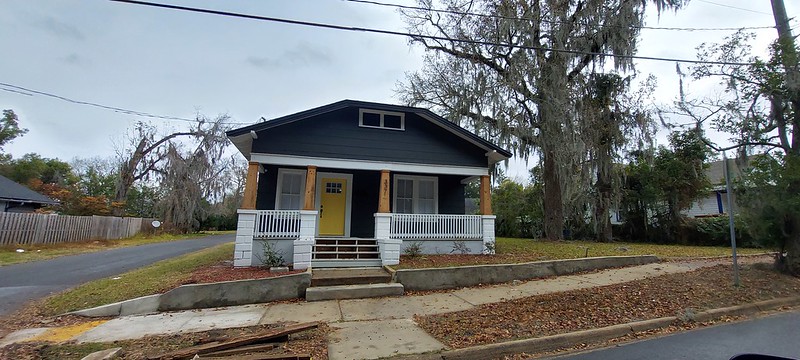 Gentrification can be described as an influx of new money in a neighborhood that drives property values and prices up, ultimately pricing out and displacing current residents. Brooklyn is the best example of recent gentrification in Jacksonville's urban core. Characterized by small shotgun houses for well over a century, today the neighborhood is dominated by expensive mid-rise apartment buildings, a six-lane highway and riverfront office buildings.
The community of North Riverside lies just west of Brooklyn. Originally isolated and rural, the neighborhood urbanized during the first decade of the 20th century as a result of high housing demand following the Great Fire of 1901. Due to discriminatory local zoning practices and redlining, North Riverside became a desired location for heavy industry. By 1950, its rows of homes found themselves adjacent to a slaughterhouse, a poultry plant and a waste incinerator. By the end of the decade, a large swath of the neighborhood was removed to make room for interstates 95 and 10.
Also known as Mixontown, this historic Gullah Geechee community is now threatened by gentrification due to its proximity to Brooklyn, Five Points, the McCoys Creek Restoration project and the Emerald Trail. Real estate speculation by outside investors appears to already be taking place within the neighborhood. One example: A 1,400-square-foot bungalow built in 1922 at 337 King St. was acquired for $12,100 in August 2016 and sold for $38,000 in October 2017. It sold again for $80,000 in May 2021, and then the renovated residence was listed for sale at $265,000 in November 2022.
Without public policies to better protect the culture and integrity of the existing community and residents, prior to the completion of the creek restoration project, expect to see additional gentrification pressures on North Riverside. Potential solutions to protect the neighborhood's most vunerable residents, such as Groundwork Jacksonville's plan to assist residents with home repairs, can be found in the withintrification work in the Eastside neighborhood.
Broad Street: Downtown's next revitalization hot spot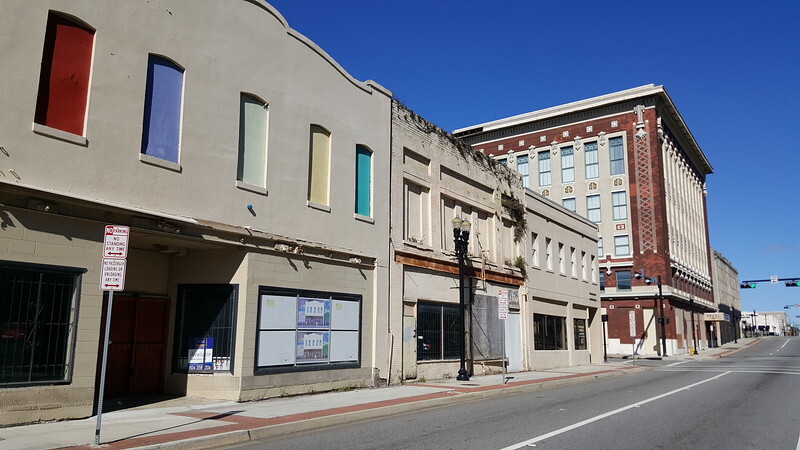 Over the last decade, when revitalization of the urban core has been discussed, what may come to folks' minds are the projects and proposals associated with the riverfront and the sports and entertainment district. In the meantime, there are more redevelopment projects underway in the Downtown Northbank than at any point in this city's history over the last half century.
This year, we believe LaVilla's Broad Street is a corridor to keep an eye on. Historically, Broad Street served as the major Downtown business district for Jacksonville's segregation-era African American community. During this era, such individuals as James Weldon Johnson, John Rosamond Johnson, Zora Neale Hurston, Ma Rainey, Rhonda Robichaux and Jelly Roll Morton helped developed a culture of entertainment and enlightenment. Testifying to LaVilla's importance in music and performing arts, in 1910 the intersection of Broad and Ashley Streets was the site of the first published account of blues singing on a public stage in the country. While urban renewal destroyed large swaths of LaVilla during the 1990s, there are strong signs pointed to a rebirth on Broad Street.
At the intersection of Broad and Beaver, 525 Beaver LLC intends to convert the former Lawton Pratt Funeral Home into apartments and a retail space that could potentially become a restaurant, coffee shop or wine bar. Across the street, plans to restore the Old Stanton High School into a mix of uses that could include a museum and Downtown's first food hall continue to advance. Last year also saw the local landmarking of 318 Broad St., with a new owner working to restore the long-abandoned structure. Furthermore, although its current site plan is facing considerable opposition, Daily's has proposed building a gas station, convenience store, restaurant and bar at the intersection of Broad and Bay streets. All of these developments will be bolstered by the Downtown Investment Authority's plans to establish a LaVilla Heritage Trail paying homage to the history of the corridor and its surviving historic structures.
Need more proof? Broad Street is the logical north extension of Brooklyn's Riverside Avenue, where a Whole Foods Market and several hundred units of multifamily housing are currently under construction within short walking distance. This year will be a make or break year for the LaVilla community's desire to see Broad Street redeveloped in an economically inclusive manner that respects the sense of place, history and culture of history urban neighborhood.
New City Council maps redraw the urban core's political future
In 2022, a federal judge threw out the Jacksonville City Council's proposed district maps on the grounds that they were racially gerrymandered and instituted a new map that advocates considered a fairer representation of the community. The previous maps were found to have "packed" African Americans into just four of the 14 districts, spreading far out into the county. This simple redistricting has changed the political future of the urban core, possibly permanently.
Previously, the urban core, defined as the neighborhoods within Jacksonville's pre-Consolidation city limits, fell within the territory of six districts that all included far more territory: 5, 7, 8, 9, 10 and 14. Under the new maps, the urban core is now represented within districts 5, 7, 9 and 10, with small parts located in District 8. This has had an immediate effect on the candidates running for election in 2023. Brenda Priestly Jackson, currently the council member for District 10 in the Northwest and Westside, decided not to run again due to the redistricting. The map change placed another incumbent, District 8 representative Ju'Coby Pittman, into District 10, making the field far more competitive.
Current District 14 Council Member Randy DeFoor would also have been redrawn into District 7, but she isn't running again in 2023, leaving the field wide open for both of those districts. In November 2022, Reggie Gaffney Jr. was sworn in to represent District 7 following a special election to replace his father, Reggie Gaffney Sr. The district formerly included Downtown Jacksonville and a large section of the Northside and had been represented by Reggie Gaffney Sr. and his brother Johnny Gaffney for the previous 16 years. Under the new maps, Reggie Gaffney Jr.'s Northside residence falls in District 8. While a residency waiver would have allowed him to run for District 7 again, Gaffney chose instead to run in District 8. Meanwhile, Tyrona Clark-Murray, who won a special election for the District 9 seat in November 2022, will run again for that seat, while District 5 incumbent Leanna Cumber was precluded from running again by term limits. Cumber is running for mayor in 2023 and will be succeeded by one of two candidates running to replace her.
Beyond the immediate impact, if the federally instituted map remains in place, it could have a wide-ranging impact on elections moving forward. With fewer African-Americans packed into just four districts and demographic shifts changing the landscape across the city, races in several other districts could become far more competitive in future elections.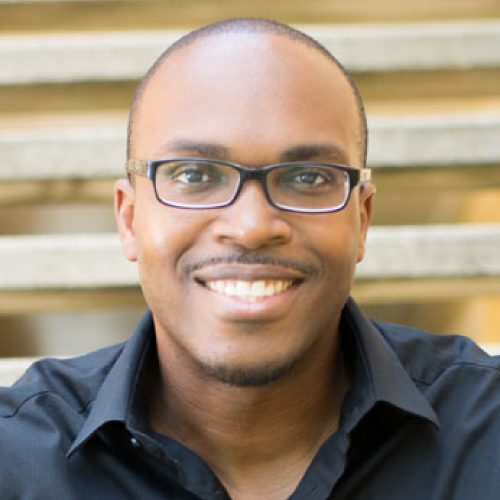 Ennis Davis
The Jaxson
Ennis Davis, AICP is an urban planner and member of the city of Jacksonville's Downtown Development Review Board. He is also co-owner of The Jaxson and Modern Cities. Reach Ennis at edavis@moderncities.com.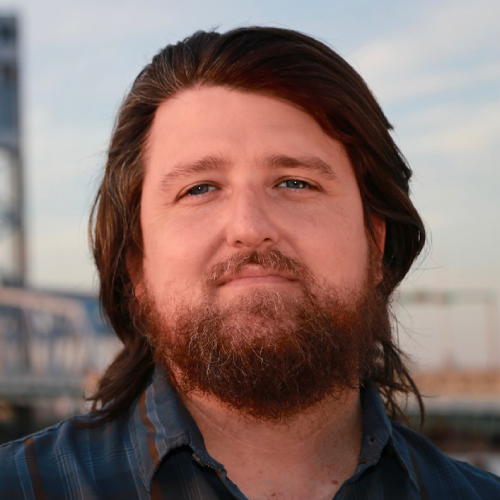 Bill Delaney
The Jaxson
Bill Delaney is a writer whose work focuses on the history and culture of the First Coast. He currently serves as City Council liaison for Jacksonville Mayor Donna Deegan.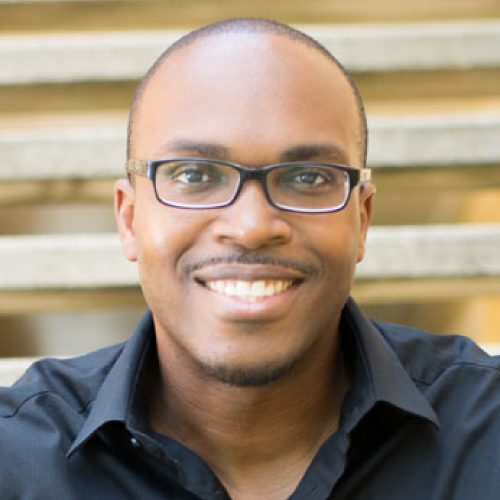 Ennis Davis
The Jaxson
Ennis Davis, AICP is an urban planner and member of the city of Jacksonville's Downtown Development Review Board. He is also co-owner of The Jaxson and Modern Cities. Reach Ennis at edavis@moderncities.com.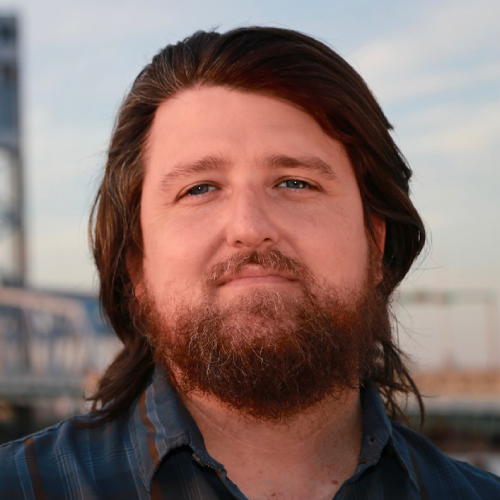 Bill Delaney
The Jaxson
Bill Delaney is a writer whose work focuses on the history and culture of the First Coast. He currently serves as City Council liaison for Jacksonville Mayor Donna Deegan.
---
Sign up for the Jacksonville Today newsletter
Your local weekday newsletter for news and ways to get involved in Northeast Florida.