5 issues that Jax-area lawmakers might tackle this Florida legislative session
Published on January 10, 2023 at 11:14 pm
Florida lawmakers had their first round of committee meetings last week and are already filing bills for the 2023 Legislative session, beginning March 7. And for the first time in more than 20 years, the Florida House is led by a Northeast Florida lawmaker.
House Speaker Paul Renner, R-Palm Coast, started his state legislative tenure representing Jacksonville in 2015 and now represents part of St. Johns County and all of Flagler County. (The last Northeast Florida speaker was John Thrasher, R-Orange Park, from 1998 to 2000.)
Republicans hold 84 of 120 state House seats (one seat is vacant) and 28 of 40 state Senate seats – giving the party a wide margin to push through policies. "Other red states are watching us, and that puts a burden on us to get it right," Renner said recently in a podcast interview. Renner laid out his priorities for the 2023 Legislative Session in November, focusing on hurricane recovery and trending conservative issues like "parental rights" in education and "anti-woke" financial investing. Renner also restructured the House with new committees on infrastructure and hurricane resiliency this year. 
And an aesthetic change to watch out for this session: Each lawmaker now has a Florida flag to accompany the existing American flag on their chamber desk. In a November speech in which he also criticized the federal government, Renner says the new addition is because of the historical moment when "all eyes are on Florida as America's beacon of freedom and opportunity."
Here are five issues that Renner, and others in the Northeast Florida delegation, will likely act on in the coming months:
1. Hurricane recovery changes
Renner's first promise as he took over House speakership was to mitigate the impacts of last year's Hurricanes Ian and Nicole. "While the TV cameras have gone, we will remain laser focused on the recovery effort." That includes the First Coast, "making sure we're addressing not only Southwest Florida," Renner told reporters in November. "In my area of the state, that is really in a pretty desperate situation along the beach."
Renner created the new House Select Committee on Hurricane Resiliency & Recovery, which includes Cyndi Stevenson, R-St. Augustine. In the first meeting, last week, Stevenson said, "As the storms become more frequent, it's really important that we focus on resilience, where the infrastructure is and how we best defend people and property."
A similar Senate Select Committee on Resiliency includes local state Sens. Tracie Davis, D-Jacksonville, and Jennifer Bradley, R-Fleming Island. During its first meeting, state Emergency Management Director Kevin Guthrie requested solutions for "red tape" problems, like extending permitting for demolition and debris removal after storms, as well as a temporary public record exemption for the names of storm victims. 
2. Opposing 'woke' investing
Speaker Renner has aligned himself with a rising conservative backlash to what Gov. Ron DeSantis has called "woke" investing. Last month, Florida Chief Financial Officer Jimmy Patronis announced the state's plan to pull about $2 billion from the investment management company BlackRock — the largest known divestment over environmental, social and corporate governance (ESG), an investment strategy that takes companies' social responsibility, environmental sustainability and company ethics into account. (BlackRock called the move part of a disturbing trend.)  
Gov. DeSantis is calling for legislation this session that would bar fund managers from considering ESG metrics when investing state money. 
Renner is also pushing against environmental and social factors' weighing into Florida's credit rating, saying, "Fiscally irresponsible states like California could receive a better credit rating than Florida simply because they adopt ESG's political agenda. We are not going to let that happen in Florida." Renner says he has asked three credit reporting agencies to drop the environmental, social and governance considerations.
3. More education changes
House Speaker Renner says his goal is to push back against "idealogues" who he says are pushing "indoctrination at the expense of education." "They spend more time defending drag queen storytime than promoting phonics and the science of reading," he told lawmakers in November.
Renner says he supports expanding "parental rights," after last legislative session's Parental Rights in Education bill ("Don't Say Gay," to critics) resulted in more than a dozen Florida districts' modifying or shrinking their LGBTQ support policies. The controversial law, which prohibits teaching about sexual orientation and gender identity before third grade and in a way that's not "appropriate" in higher grades, was co-sponsored by now District 4 state Sen. Clay Yarborough, R-Jacksonville.
No Northeast Florida lawmakers have filed education-related bills yet, but Reps. Kimberly Daniels, D-Jacksonville, and Jessica Baker, R-Jacksonville, are on the Education Quality Subcommittee. During the first committee meeting last week, Baker, a prosecutor and mother of two young kids, said "parental rights and school choice are very important to me."
Renner told News Service of Florida his long-term vision is for Florida's public education includes expanding education spending accounts (sometimes called universal vouchers) for parents to spend on kids' education, not just private school tuition but tutoring, equipment or other services. "We're going to put up money for everyone to have a high-quality, world-class education, and to the greatest extent possible, that should be customized."

Rep. Angie Nixon, D-Jacksonville, is on the House Choice and Innovation Subcommittee, tasked with addressing education and school choice. In introducing herself to the committee last week, Nixon said last week she plans to "ensure that traditional public schools have a voice."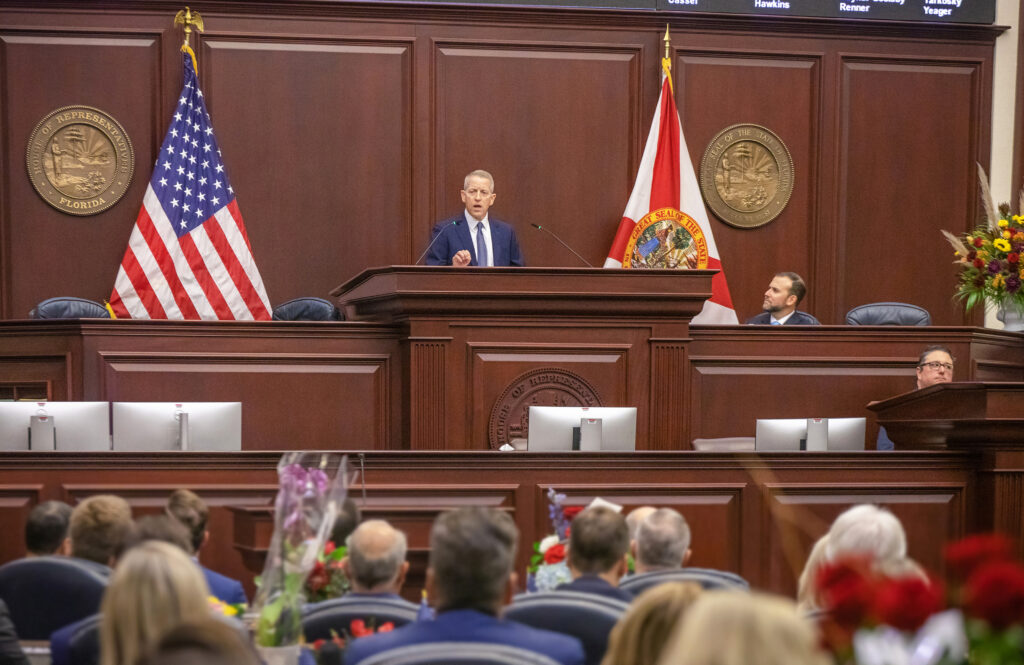 4. Abortion restrictions
Florida lawmakers may act on abortion in their first post-Dobbs regular legislative session, though Speaker Renner didn't mention the topic when laying out his priorities in November.
When asked by reporters if House Republicans had come to a consensus about whether to propose a 12-week, 6-week or all out abortion ban, Renner said, "We haven't gotten there." He added, "We have pro-life majorities in both chambers with that conversation in front of the voters. Having said that, I can guarantee you that members on both sides have very different opinions about what it means to be pro-life."
The Democratic minority in the House says they'll fight against abortion restrictions, though they may not have the votes to keep bills from heading to DeSantis. "Floridians do not want excessive, abusive regulation over their bodies. If you take us there, we will have no choice but to push back and to hold the line," House minority leader Fentrice Driskell, D-Tampa, told her colleagues in November. Current state Sens. Chuck Brannon, R-Macclenny, and  Clay Yarborough, R-Jacksonville, co-sponsored Florida's 15-week abortion ban last year. 
No abortion legislation has been filed yet this session. Senate President Kathleen Passidomo, R-Naples, told reporters in November she wants to see exceptions for rape and incest if the issue comes up this legislative session. Those exceptions were not in last year's abortion bill, which is still being litigated.
5. Affordable housing
Renner told reporters he thinks "a big component of making housing attainable" is bringing down property insurance costs, for which he's open to putting up public money to uphold the private insurance market.
"You have to consider things that I as a conservative would not wish to do, which is put up some of our reserves to backstop the private market." Renner says that would come alongside systemic reforms to grow the private market capacity and get people off the state-backed Citizens property insurance.

Senate President Passidomo says she plans to file affordable housing legislation that focuses on encouraging mixed-income rentals instead of home prices. "We can't tell people how much we can sell their house for, but what we can do is work with local governments and developers and [the] Florida Housing [Finance Corporation] to find affordable rentals," Passidamo told reporters in November.
Last year, two dozen lawmakers including Angie Nixon, D-Jacksonville, called for Gov. DeSantis to declare a housing state of emergency. That could open the door for rent control ordinances, but it didn't gain traction among Republican leadership. House minority leader Fentrice Driskell, D-Tampa, says this session, "we need to focus on fully funding the [Sadowski] Affordable Housing Trust Fund." 
How to get involved
Look up your House representative and senator here, including their biographical information, contact info and bills they're sponsoring. Check out the full list of House reps (The Jacksonville area includes Districts 10- 20), and senators (The Jacksonville area's Senate districts are 4-7). You can also livestream committee meetings on the Florida Channel. 
And if you haven't already, subscribe to the Jacksonville Today newsletter for regular Tallahassee Check-ins following the progress of legislation that's filed by our local lawmakers.

Claire Heddles
Reporter, Jacksonville Today
Claire has been a reporter in Jacksonville since August of 2021. She was previously the local host of NPR's Morning Edition at WUOT in Knoxville, Tennessee. Reach Claire with tips, ideas or comments at (904) 250-0926, claire@jaxtoday.org and on Twitter at @ClaireHeddles.

Claire Heddles
Reporter, Jacksonville Today
Claire has been a reporter in Jacksonville since August of 2021. She was previously the local host of NPR's Morning Edition at WUOT in Knoxville, Tennessee. Reach Claire with tips, ideas or comments at (904) 250-0926, claire@jaxtoday.org and on Twitter at @ClaireHeddles.
---
Sign up for the Jacksonville Today newsletter
Your local weekday newsletter for news and ways to get involved in Northeast Florida.