MOSH releases new views of its planned Northbank museum
Published on December 21, 2022 at 6:45 pm
A sneak peek of what's planned inside the second generation of Jacksonville's Museum of Science & History has been released now that the Downtown Investment Authority's board of directors has approved its Northbank site plan.
The new images of the MOSH Genesis design reveal a deep dive into the St. Johns River that will flow right outside the museum, as well as two stories of other exhibits that detail the area's history, arts and culture.
The primary goal of the MOSH Genesis plan, in association with the New York City-based Local Projects design lab, is to create an experience "unlike anything else in Jacksonville" and be a source of pride, MOSH CEO Bruce Fafard told WJCT News on Wednesday. Now a major step has been made toward its proposed 2026 opening, leaving Fafard "very appreciative" of all the efforts to get this far.
"While it's been maybe a lengthy process, I think it ended up at a very good point, and we are really excited to look forward and take the next step, which is very exciting for us," Fafard said, adding in an earlier statement that this plan makes "imaginative and deliberate use of every square foot" in the new building's design.
---
Sign up for the Jacksonville Today newsletter
Your local weekday newsletter for news and ways to get involved in Northeast Florida.
---
Local Projects Creative Director Eric Mika added: "Crafting the exhibit design plan for MOSH has been an incredibly collaborative and creative process. We believe the approach will spark curiosity about nature, culture and innovation for visitors of all ages in a way that honors and reflects the local context."
The museum has operated at 1025 Museum Circle on the city's Southbank since 1969 and celebrated its 80th anniversary in 2021. MOSH had planned to expand its existing 77,000-square-foot building but then opted for a new, larger home after it faced construction challenges. A consultant estimated that a new 130,000-square-foot building on the Northbank would increase annual attendance from 175,000 to 469,000, nearly triple the museum's pre-pandemic budget, and create 78 jobs.
The Downtown Investment Authority voted unanimously 11 months ago to support the details of a city lease for MOSH on 2.5 acres of the Shipyards along East Bay Street, with a riverwalk and planned park space. That site is on TIAA Bank Field's Lot X across from Intuition Aleworks at East Bay Street and A. Philip Randolph Boulevard. It is just east of the Jacksonville Fire Museum and Pier 1, the future home of the USS Orleck naval ship museum.
In May, MOSH released illustrations of the planned Northbank museum, exterior renderings created by DLR Group in partnership with kasper architects + associates and SCAPE.
It named the concept MOSH Genesis, saying the exterior design was inspired by the flow of water that has played such an important role in Jacksonville's history. And it initially listed an $85 million price tag for the new museum when the DIA board supported the land lease a year ago.
After multiple meetings with the DIA, the city's chief resiliency officer and recreation and public works staff, now comes early 2023's dedicated fundraising phase to raise the estimated $100 million cost. That is higher than the initial estimate due to inflation and supply chain issues, Fafard said.
"Now that we have that behind us and basically the conceptual design is done, the exhibits are done, we are in the process of putting together all the collateral material we need," he said. "We expect to hit our fundraising goals, and we will be able to break ground at the very end of 2024, with occupancy in 2026."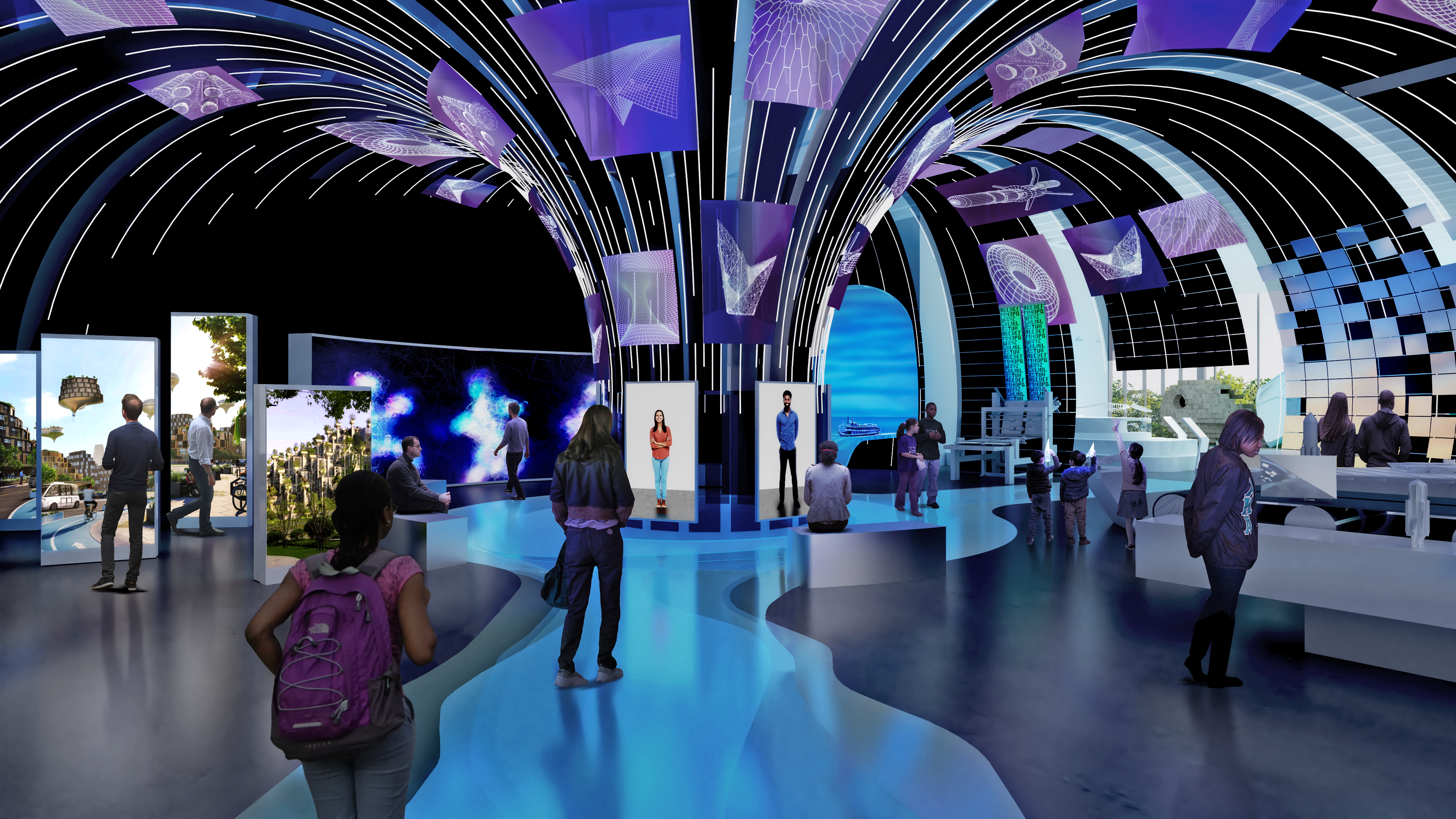 Illustrations show the Museum of Science & History planned on the Northbank.Local Projects' interior designs were born after a six-month conceptual design process in collaboration with MOSH's leadership, architects and others. The exhibit plan focuses on what officials call "one of Northeast Florida's most powerful natural assets," namely the St. Johns River.
Visitors will first experience a dramatic two-story "river drop" water feature that showcases the full 27-foot drop the river takes from its Central Florida source to the ocean. The guests will take pathways that mimic the river's role in connecting the region, viewing themed collections and "islands" will show off Northeast Florida's nature, innovation and culture. Each display island will have a permanent gallery, interactive main exhibit and four supporting exhibits.
Right now, those anchor exhibits will include an interactive River Lab that invites guests to explore the science behind the St. Johns, allowing them to add to a live data visualization wall that logs their discoveries, MOSH said. There is also a Mission-Based Maker Space where guests can work on four engineering challenges. There will be a huge Story Lab map of the Jacksonville area with art, films and other cultural artifacts.
And yes, the 56-year-old alligator snapping turtle named Tonka, who has resided in an aquatic display at the current MOSH, will be moved to the new home, Fafard said.
The plans approved by the DIA are expected to undergo a full City Council review in early 2023.
---
Sign up for the Jacksonville Today newsletter
Your local weekday newsletter for news and ways to get involved in Northeast Florida.