Brace yourself: Tropical Storm Nicole is moving into Northeast Florida
Published on November 9, 2022 at 12:04 pm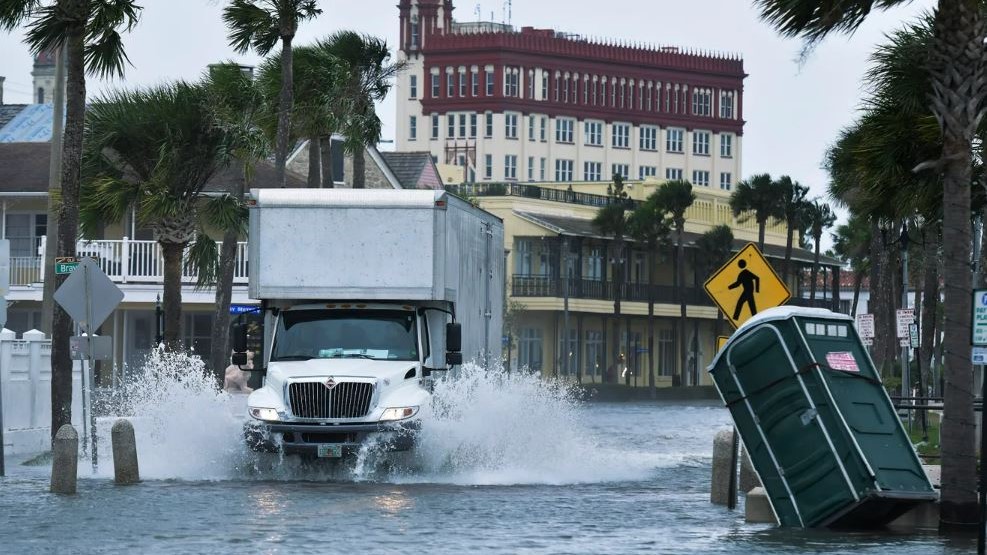 The outer edge of massive Tropical Storm Nicole reached Northeast Florida on Wednesday, bringing widespread cancellations and the potential for devastating flooding.
The center of the storm made landfall on Great Abaco Island in the Bahamas late Wednesday and was 135 miles east of West Palm Beach at 4 p.m. Winds held at 70 mph with gusts as high as 86 mph, and some strengthening was still expected, the National Hurricane Center said.
Nicole was expected to come ashore in South Florida overnight and cross the state before curving north late Thursday.
The hurricane center warned against focusing on the forecast cone for the exact track, however. The cone represents the possible path of the storm's center. Tropical storm winds extend outward up to 460 miles, especially to the north, forecasters said.
Winds of at last 39 mph were forecast for Jacksonville until 6 p.m. Wednesday and possibly higher Thursday. Rainfall of 2 to 4 inches is expected in Northeast Florida over the next three days, with storm surge of 3 to 5 feet along the coast and the St. Johns River.
---
Sign up for the Jacksonville Today newsletter
Your local weekday newsletter for news and ways to get involved in Northeast Florida.
---
Megan Borowski, meteorologist with the Florida Public Radio Emergency Network, said the First Coast will start to see bands of rain Wednesday night and all day Thursday.
"For our area, we'll remain away from the center of the storm, but this doesn't mean we won't experience substantial impact in the form of several inches of rain and then that storm surge inundation 3 to 5 feet right along the intracoastal and also 2- to 4-foot inundations up the St. John's River," she said.
A tropical storm warning was in effect from the Flagler/Volusia County line north to South Carolina, with a hurricane warning south to Boca Raton. A storm surge warning stretched from North Palm Beach to Georgia, including the mouth of the St. Johns River.
Flooding was already causing issues along the Downtown St. Augustine bayfront as water poured over the seawall Wednesday morning, according to Jacksonville Today news partner News4Jax.
Jacksonville Mayor Lenny Curry announced that a state of emergency would take effect at midnight Wednesday and that two emergency shelters would open at 8 a.m. Thursday:
Legends Center, 5130 Soutel Drive.
Landmark Middle School, 101 Kernan Blvd.
Curry said there are no plans for mandatory evacuations in Duval County, but garbage and recycling collection will be suspended Thursday. The makeup day will be Saturday.
"The biggest threat to Duval County remains to be intense storm surge and flooding along the coast and along the St. Johns River," Curry said. "This combined with bands of rain and strong winds throughout the storm makes flooding in low lying areas the biggest concern for our neighborhoods. We could see waves at the beach as high as 10 to 15 feet."
Jacksonville Beach Ocean Rescue issued a beach safety alert through the weekend, and officials advised people not to go into the water.
Curry said tornadoes also are a risk, starting before dawn Thursday. Bridges will close if sustained winds hit 40 mph.
JEA said it was preparing for "potential widespread outages and flooding in low-lying areas" — though it said the effects of Nicole are still unknown.
JEA has more than 2,000 workers ready to respond. Florida Power & Light Co. has mobilized 13,000 workers.
JEA said it has temporarily suspended disconnections for nonpayment until the storm passes. The Downtown customer center will be closed Thursday and Friday.
St. Johns and Putnam counties both recommended that people evacuate from areas at risk. A voluntary evacuation order covers coastal St. Johns County, including the entire city of St. Augustine, the city of St. Augustine Beach and people living in other waterfront property or flood-prone areas, beginning at 7 a.m. Wednesday.
Residents living on boats or in RVs, mobile homes and manufactured homes also were advised to evacuate.
In Putnam County, evacuations were recommended for residents of Zone F, including Sportsmans Harbor, Dunns Creek, Federal Point and other areas that experienced storm surge flooding during Hurricane Ian.
Nassau County issued an evacuation order for Zones A and D, including Amelia Island beaches, Nassauville, Blackrock, Pirates Wood and Chester. A zone map is available here.
Gov. Ron DeSantis issued a state of emergency in 34 Florida counties, including Clay, Duval, Nassau, Putnam and St. Johns counties.
St. Johns County planned to open two shelters at 1 p.m. Wednesday and others if necessary. The shelters are:
Health and Human Services Department, 200 San Sebastian View, St. Augustine, special medical needs.
Solomon Calhoun Community Center, 1300 Duval St., St. Augustine, general population and pet-friendly.
For more information, call the St. Johns County Emergency Management Citizen Information Line at (904) 824-5550.
Putnam County will open these shelters at 6 p.m. Wednesday:
Middleton-Burney Elementary School, 1020 Huntington Road, Crescent City.
Browning-Pearce Elementary School, 100 Marvick St., San Mateo.
Ochwilla Elementary School, 299 State Road 21, Hawthorne, pet-friendly.
Kelley Smith Elementary School, 141 Kelly Smith School Road, Palatka, special needs.
Reporter Dan Scanlan contributed to this report.
---
Sign up for the Jacksonville Today newsletter
Your local weekday newsletter for news and ways to get involved in Northeast Florida.