More conflict roils Jacksonville sheriff race
Published on October 28, 2022 at 5:24 pm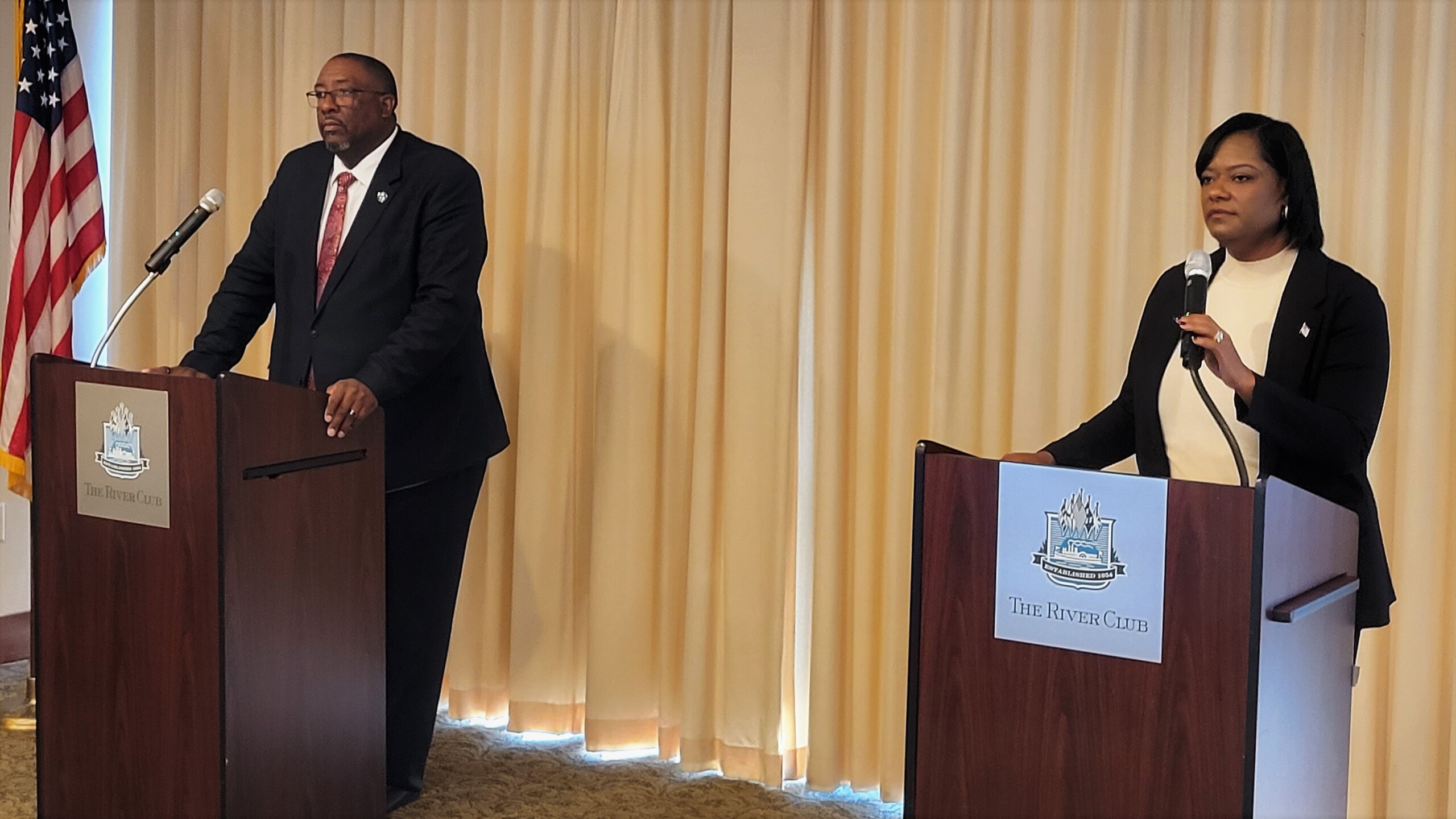 The debate over whether a former Jacksonville sheriff's candidate traded his endorsement for a job got deeper and more confusing Friday.
Democratic candidate Lakesha Burton said former candidate Ken Jefferson wanted her to promise him the department's No. 2 job if he would endorse her. She refused, she said.
Burton said Sheriff's Office Chief Andre Ayoub was present at the meeting and could vouch for her account. Contacted by WJCT News, he agreed.
Jefferson, who ultimately endorsed Burton's opponent, Republican T.K. Waters, called their version "totally nonsense." He said his campaign manager was present and would attest to what he said.
Asked whether he was promised a job for endorsing Waters, Jefferson adamantly said no. But he said he would consider a position if it were offered.
Those events, aired largely on First Coast Connection with Melissa Ross, left the explosive sheriff's race in even more turmoil.
The race has boiled with questions about Waters' residence, concerns about Burton's arrest as a young woman, allegations about Burton's fundraising and a controversy about which retired candidate should be allowed to wear their uniform in ads.
Burton called First Coast Connect on Friday morning to give her account of a luncheon with Jefferson, when she said he asked for the job of undersheriff.
---
Sign up for the Jacksonville Today newsletter
Your local weekday newsletter for news and ways to get involved in Northeast Florida.
---
Burton reiterated that she made a promise when she entered the race in April 2021 that she "would not make any deals, no promises" or align with anyone.
"And when I met with Ken after the primaries for lunch, his deal was, 'Lakesha, I will support you if you will make me your No. 2,' which was undersheriff," Burton said. "I said. 'Absolutely no.' So there you have it."
A few minutes later, Jefferson called the show to say it was "totally nonsense" that he tried to trade an endorsement for a job with either candidate.
"I never asked either candidate for anything. Nor was I promised anything, that there was not even strong implications there," Jefferson said. "I've not been promised anything from Lakesha Burton. I've not been promised anything from T.K. Waters."
Ross then asked Jefferson whether he would accept a job with the Jacksonville Sheriff's Office if Waters was elected.
"I'm not looking forward to anything," Jefferson responded. "If you win it, if and when that time comes, and an offer is there, then I'll consider it," Jefferson said.
Burton and Waters will face off in a Nov. 8 runoff election, after both were top vote-getters in a Aug. 23 special election. The election became necessary due to the resignation of former Sheriff Mike Williams on June 10, after revelations that he violated city charter by living outside of Jacksonville in Nassau County.
Waters garnered 46.7% of the vote and Burton 32.8%. That beat the other Democratic candidates: former Duval County Schools Police acting director Wayne Clark, former officer Tony Cummings and Jefferson. Since neither Burton or Waters received 50% plus one vote, they head to the Nov. 8 runoff.
Jefferson crossed party lines on Monday and endorsed Waters in front of uniformed officers at the Fraternal Order of Police union hall, just days after he and Burton competed in a lively debate on Oct. 21 before the First Coast Tiger Bay Club.
Jefferson, a former Sheriff's Office public information officer, said trust is the reason he chose to endorse Waters, who retired in July as chief of investigations after 30-plus years in uniform.
"We need a sheriff who will guide and lead the men and women who serve and protect us by enforcing the laws of the land, prevent crime and disorder, and make our city safer for everyone," Jefferson said. "Make no mistake: There is only one candidate that I trust to do that. I endorse T.K. Waters for sheriff and encourage the 22,000 people who supported me to consider doing the same."
In a text message to Ross later Friday, Burton reiterated the lunch meeting with Jefferson and repeated his request to be named undersheriff. She also included a statement from Chief Ayoub, who later confirmed it to WJCT News.
"He stated that he didn't want to be a (public information officer) or community person; that wasn't enough," Ayoub's statement said. "For him to endorse you, he wanted to be your SO 2 (undersheriff). He said he would bring the 14% of his voters her way. Throughout the meeting Chief Burton and I stated that it would be unethical to make any deals and that we wouldn't make any promises."
Contacted again to respond to the statement, Jefferson confirmed that he was at the luncheon, along with his own campaign manager, he said.
"I asked her how I could help, and she only said she wanted my endorsement," Jefferson said. "There was no promise by her; there was no promise of me; nothing ever happened. … My campaign manager can attest that that did not occur."
The winner of the Nov. 8 election will be sheriff only through 2023. Anyone wishing to run for the next four-year term for sheriff must campaign again for 2023's March primary and May general election.
Candidate bios
• Lakesha Burton, 46, was assistant chief of the city's Police Zone 2 in Arlington until her retirement in February to run for sheriff. She previously served as head of the Police Athletic League. More information:
.
• T.K. Waters, 51, has 30 years in law enforcement. He began as a corrections officer in 1991. He retired in July from the Sheriff's Office in July as chief of investigations to run for sheriff. More information: facebook.com/TKforSheriff.
---
Sign up for the Jacksonville Today newsletter
Your local weekday newsletter for news and ways to get involved in Northeast Florida.