Perspectives
A.G. Gancarski
Jacksonville Today Contributor
Opinion: Molly against the machine
Published on October 23, 2022 at 9:30 pm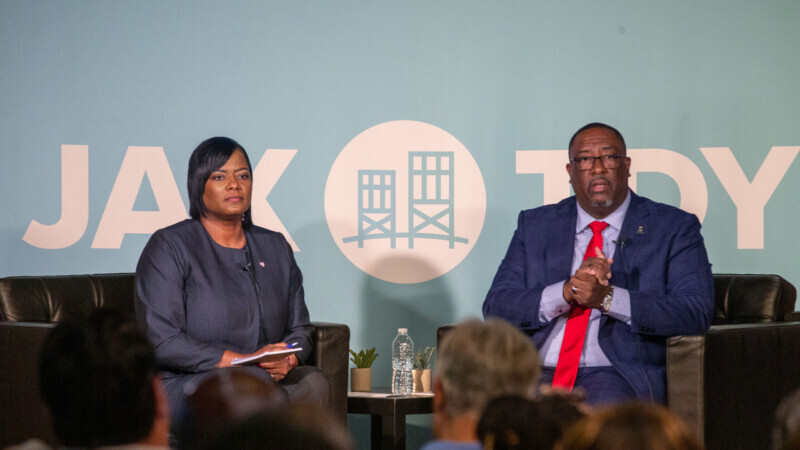 Duval County sheriff candidates T.K. Waters, right, and Lakesha Burton, left, participated last month in a debate hosted by Jacksonville Today. | Will Brown, Jacksonville Today
Dozens of endorsements are flying, and most of them are of the "Well, it would be news if they didn't endorse Candidate X" variety. Others are exceptions to the rule.
This cycle's leading example: Jacksonville first lady Molly Curry's backing of Democrat Lakesha Burton for Duval sheriff.
Burton has some traditionally Republican backers, and crossing party lines for endorsements is not entirely a surprise in Duval, including in sheriff's races.
Back in 2015, for example, many defeated Republican candidates backed Democrat Ken Jefferson in the runoff against Mike Williams. But the first lady opposing the candidate of the Republican machine, T.K. Waters, is new territory.
Molly Curry's political capital has been protected. She was part of the argument for the Yes for Jacksonville tax push early in Mayor Lenny Curry's term but has stayed above the fray otherwise. As opposed to someone like Florida first lady Casey DeSantis, she hasn't used the platform for election-style politics.
---
Sign up for the Jacksonville Today newsletter
Your local weekday newsletter for news and ways to get involved in Northeast Florida.
---
Until now.
Mayor Curry may have inadvertently called attention to his wife's endorsement, tweeting his own backing of Waters during Sunday Night Football, breaching his "no politics on NFL Sundays" rule.
Couples do diverge, of course. As WJCT News 89.9 talk show host Melissa Ross noted recently, former Jaguars owners Wayne and Delores Weaver often go opposite sides with candidates. This time around, both are with Burton. Although Waters is still well ahead in terms of cash on hand, Wayne just gave Burton's political committee $50,000.
The timing of the Curry split is interesting, as the key to the election will be female voters. Can Burton drive crossover Republican support at the ballot box as well as from the donor class? That's the open question.
In 2015's mayoral race, Republican City Council members endorsed Alvin Brown's re-election, and some Democrats went with Lenny Curry. It was a good career move for the winners. But in this case? There is nothing Molly Curry needs from Lakesha Burton. The endorsement is as pure as they get.
Burton's campaign went through a few hiccups along the way, with three opponents lowering her vote share in August and forcing the runoff in November. Burton's team also parted ways with a political consultant and dealt with other distractions and personal attacks.
After all of that was baked into the cake, the Molly Curry endorsement went public, effectively serving as the countermessage to what has been a brutal campaign of personal attacks. Whatever slings and arrows have been lobbed at her, Burton herself has tried to stay above the fray.
"I would take a bullet for him — he's my colleague. We are just competing for this. I'm not going to go dirty and negative, I'm running on truth," she said to WJXT of Waters, responding to a negative ad that has been widely circulated.
Republicans have delivered for Democratic candidates before. The 2011 crossover vote for Alvin Brown was one example. But 2023 has a variable that 2011's mayoral race did not.
Waters has the endorsement of the most important Republican in the state, Gov. Ron DeSantis. DeSantis is up against a general election candidate who just had his campaign manager resign after a domestic violence charge.
Charlie Crist spent parts of two days here last week and gave media around six minutes between the two visits, as if he were scared of being asked a question about the campaign's internal workings. The second day he was here, the Democratic National Committee chair came to the IBEW hall on behalf of Crist, a high-profile appearance to be sure, but with a paltry turnout.
Several dozen people showed up due to a lack of promotion. The event started late, seemed disjointed, and ended with a three-minute Crist gaggle. No local television was in the mix, either, so the event didn't even get eyeballs.
Democrats have the registration plurality, and Burton should have them on lock. But will there be enough of them, given the problems at the top of the ticket? If not, will Molly Curry Republicans make up the difference? That's an open question, and one no one expected to be asking until now.
---
Sign up for the Jacksonville Today newsletter
Your local weekday newsletter for news and ways to get involved in Northeast Florida.