Hurricane Ian could cost all insurance customers
Published on October 3, 2022 at 11:14 am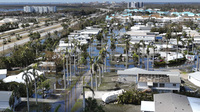 Water floods a damaged trailer park in Fort Myers, Fla., on Saturday, Oct. 1, 2022, after Hurricane Ian passed by the area. (AP Photo/Steve Helber)
Northeast Florida was spared the devastation wrought by Category 4 Hurricane Ian in other parts of the state, but that doesn't mean the disaster will not affect almost everyone who carries property and casualty insurance.
An initial analysis released Sept. 29 by Fitch Ratings indicates the total insurance claims related to the hurricane could be as high as $40 billion.
Two Jacksonville insurance agents, Matt Carlucci and Jim Love, said they were pleased to not be in the field Sept. 30 visiting policyholders filing damage claims, but the experience makes them think about what the future may bring for the insurance industry in Florida
Read the rest of this story at Jacksonville Today news partner the Jacksonville Daily Record.
---
Sign up for the Jacksonville Today newsletter
Your local weekday newsletter for news and ways to get involved in Northeast Florida.