Perspectives
A.G. Gancarski
Jacksonville Today Contributor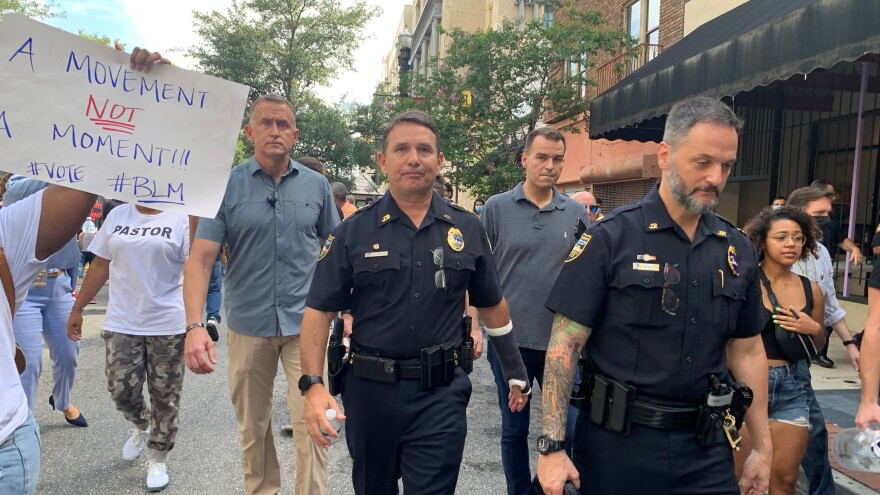 OPINION | Where the sheriff lives matters
Published on June 1, 2022 at 9:15 pm
One of my least favorite fictions about our region is that Jacksonville and the rest of Northeast Florida are the same. Anyone who has logged real time here knows that there are real differences.
I never expected to see the homegrown Jacksonville sheriff, who should be acutely aware of the differences between the city and the suburbs, try to pretend we're all part of some big happy region with no geographic divides and no real differences, by way of justifying breaching the city charter.
When Sheriff Mike Williams sidestepped the city charter and moved to Nassau County, he essentially vacated the office. The charter says that if "the Sheriff should die, resign, or remove his residence from Duval County during his term of office, or be removed from office, the office of sheriff shall become vacant."
Lawyers can work either side of that question, of course. Williams says the charter is inconsistent with a state law that did away with residency requirements.
But the charter's phrasing is unambiguous.
What's also clear: Williams insulted the people he serves by moving out of town in the middle of his second term. And then he doubled down, at least at first, when asked about it.
"We're a big metropolitan area, so there's a lot of overlap with people who work and live in Jacksonville, live outside of Jacksonville and JSO, me included," Williams told First Coast News, in a fit of geographic relativism that should make the people paying the tab in Dirty Duval howl.
The only question that counts in the end is one of who pays for what, and here's what the "big metropolitan area" boils down to for taxpayers: Which group of taxpayers are on the hook for police and fire pensions, billions of dollars in unfunded liability?
The folks with New Jersey accents in Nocatee? The Amelia Island arrivistes from Ohio? No.
They're living the good life in planned communities without any more history than the developer gloms onto the website copy.
The poor saps paying: us luckless drones here on Edgewood and Cassat and 103rd, Beach and Hodges and Spring Glen and Spring Park, in places like Baldwin and Bayard and Oceanway, a million fish on the hook for ancient public safety defined-benefit pension schemes, schemes that benefit people who don't even have the decency to say goodbye when packing up the moving truck.
And sure, while working cops can live outside the county, elected officials are different. The charter says so. And Williams, the establishment man in the field when he first ran seven years prior, should have known that before moving. Why he didn't get an advisory opinion from the city's Office of General Counsel boggles the mind. The whole argument for Mike Williams, recall, was that he represented business as usual.
Williams ran for office in 2015 as presenting continuity from John Rutherford, the former sheriff who endorsed him as he fended off challenges from Jimmy Holderfield in the first election and Ken Jefferson in the general.
I followed the 2015 sheriff's race more closely than most, and I can tell you that at no forum was the question posed: "If elected, how soon before you call a moving company and skip town?"
Now? Those questions will be posed, the new gotcha questions for every tepid forum moderator this cycle. That will be a Williams legacy.
The sheriff created this fiasco, an unforced flub that left a significant portion of the city seeing him as invalid in his current role. Stepping down is the only cure available to him at this point.
Critiques notwithstanding, it's easy to understand why Williams thought he could get away with it. People don't care too much about locality, it seems, when it comes to politics.
Consider the race in the new 4th Congressional District, with two Republicans, Jason Fischer and Erick Aguilar, throwing out culture war red meat to voters who have never seen them before.
Consider the Democrats in the Florida House District 14 race, Garrett Dennis and Mincy Pollock, who have yet to establish residency in their new district at last check. That's what real estate agents are for, though!
I would say locality should be the central question for voters.
How is a candidate going to know the district if they just moved there? And how is an incumbent going to stay connected with the people they serve if they live 45 minutes away?
That's the question I don't have an answer to.
Jacksonville is not just any city.
It is a city with a major inferiority complex, and a bit of unspoken grievance: Jacksonville bears the costs for the suburbs, whose residents so often regard the actual city with contempt.
And whether intentional or not, Williams' secret move conveyed that type of contempt: A fundamental misrepresentation of where the sheriff calls home.
An issue that is central to whether one can be sheriff, per charter, or not. An issue central to the rule of law itself, that conservative shibboleth that becomes so much smoke when Republican incumbents deal with controversy around here.
Locally, the charter IS the rule of law — the origin document from which everything else flows. And the ultimate tragedy of this moment is how it exposes the charter as malleable, subject to creative and politically self-interested taffy pulling.
Mike Williams knew better. And so did those who are willing to look past this obvious charter conflict.
The right move, the only move, is to step down. Williams needs to retire and put these legal machinations in the rearview mirror.

A.G. Gancarski
Jacksonville Today Contributor
A.G. Gancarski's columns were a staple in Folio Weekly for nearly two decades, and he has been the Northeast Florida correspondent for Florida Politics since 2014. He writes about the intersection of state and local politics and policy.

A.G. Gancarski
Jacksonville Today Contributor
A.G. Gancarski's columns were a staple in Folio Weekly for nearly two decades, and he has been the Northeast Florida correspondent for Florida Politics since 2014. He writes about the intersection of state and local politics and policy.
---
Sign up for the Jacksonville Today newsletter
Your local weekday newsletter for news and ways to get involved in Northeast Florida.