Perspectives
A.G. Gancarski
Jacksonville Today Contributor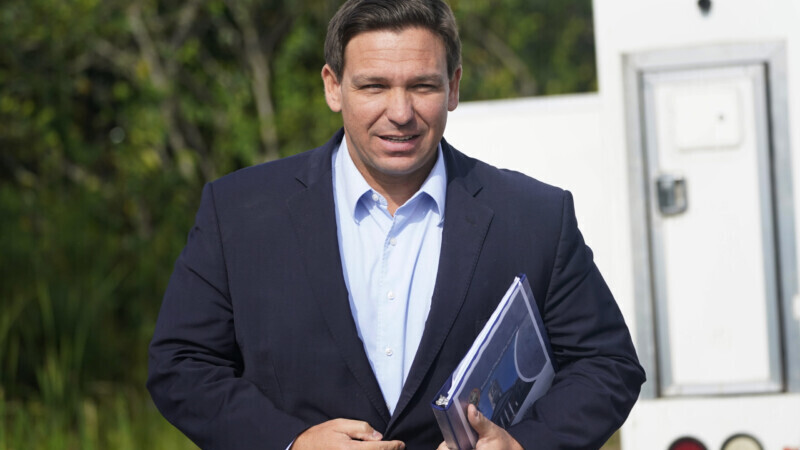 OPINION | Can DeSantis overplay his hand?
Published on April 24, 2022 at 9:07 pm
In the week since my column last ran in Jacksonville Today, Gov. Ron DeSantis got everything he wanted from the Florida Legislature.
The Republican-leaning congressional map? Delivered without amendment from the Republican-dominated Legislature, then signed quietly Friday in Tallahassee before the governor left for a much less quiet bill-signing ceremony in Hialeah.
The Disney smackdown? The Mouse smelled what DeSantis was cooking: The bill that fixes a sunset date for the Reedy Creek Improvement District, implemented in the 1960s as a way to goose Disney's buildup of Central Florida, passed.
And sure, some (or all of) the details need to be worked out, such as whether Disney or Central Florida residents take the tax hit, even as the governor assures that there is a "plan." Ratifying that will be up to the next Legislature, elected this November – an exciting agenda item for a new group for sure. But it was a real achievement to get that through in three days, proposed on Monday and passed before the weekend.
But one thing the DeSantis GOP can agree on is vengeance politics.
DeSantis was in Hialeah Friday to sign the "Stop WOKE Act," described in campaign language by a press release from the governor's office: "This legislation is the first of its kind in the nation to take on both corporate wokeness and Critical Race Theory in schools in one act."
"No one should be instructed to feel as if they are not equal or shamed because of their race. In Florida, we will not let the far-left woke agenda take over our schools and workplaces. There is no place for indoctrination or discrimination in Florida," DeSantis said.
Basically, this bill is the bookend to the Parental Rights in Education, or "Don't Say Gay" bill, creating cause for grievance and potential action from privileged white folks who don't want to hear about white privilege.
The theory there? It's better to maintain the fiction that we are characters at the beginning of the book, protagonists without precedent, than new additions in the novel's final chapters, who have inherited the burdens of our ancestors in ways many of us haven't bothered to process.
DeSantis has led a charmed political life for roughly five years now, dating back to the moment he got Donald Trump to endorse him over Adam Putnam. Trump, let's recall, had a solid justification indeed: He said he appreciated DeSantis' Fox News hits about what he called the "Mueller hoax" and that's why he endorsed the then-obscure congressman even at "3%" in the polls.
And if it hadn't been for Susie Wiles, who guided Trump's win in Florida in 2016, to triage the DeSantis campaign and help him close against Andrew Gillum, who imploded down the stretch, then we all know where DeSantis would be today: a panelist on Fox News, a Sunshine State Sean Duffy, good for some full-throated soundbites and a segment that doesn't turn off the TVs at the nursing homes.
But the last four years? Those moves have been all DeSantis.
He purged his inner circle of the establishment Tallahassee types, replacing them with true believers in the message, the mission and the man. And he's been able to get away with this because of Republican domination of the Legislature and the deleveraging of Democrats, who find themselves more and more angry but less and less effective.
The Republican sycophancy is so thick it should come with a spoon rather than a straw. To see or hear seemingly formidable politicians, servant-leaders in their own telling, fawning over him on Twitter or at a press conference is a lesson in the true limitations of power in this state. If you are useful to DeSantis, he uses you. But you'd better stay useful if this is your career path. He knows, after all, that so many of his newfound supplicants were ready to bend and bow to Adam Putnam, or Rick Scott or whoever would give them the shine of the spotlight.
And with its now being endorsement season, you can see the game in full effect. Consider the contortions undergone by Senate President Wilton Simpson to get DeSantis' endorsement in the agriculture commissioner race. He junked the Senate map for congressional redistricting, and he spent the last week playing bad cop against Disney during interviews, all so DeSantis might not back another candidate in the field. Will it be worth it? That's beside the point. But doing the work is the price of collaboration.
There are those who say that DeSantis wants to "turn back the clock" to the middle of the 20th Century, citing his "race-neutral" congressional map that removes minority access districts like the soon-to-be-former 5th Congressional District, or the aforementioned "Stop WOKE" and Parental Rights bills.
But it could be argued that what he really wants is the Florida of his childhood, circa 1990, when weekend nights were Blockbuster Nights and the prevailing cultural texts presented an ahistorical view of a country having moved beyond its racist past by whitewashing over it. And LGBT? Recall that the big debate of the time was over "Don't ask, don't tell."
Meanwhile, even commentators on the right (his putative audience for this 2024 presidential run pregame show) are balking at the overkill.
Just a couple of examples of note from recent days: Former Trump lawyer Jenna Ellis offered to represent Disney in a challenge to the retaliatory Reedy Creek repeal. And an editor of National Review chastised Florida's gambit as an example of "gangster government." The discussion is becoming a metadiscourse about tactics – tactics that work here in Florida only due to a lack of meaningful pushback, which explains why this governor continues to go forth in search of enemies to destroy. He needs the illusion of existential conflict beyond negotiation of points.
DeSantis marks will tell you this sort of thing is evidence of his "ideological purity" or of Trump being shaken that the governor has eclipsed him. But there is a strong case to be made that DeSantis, to borrow a phrase he likes to use, has gotten "over his skis" in pushing what some are starting to call an imperial style of governing.
Nothing appears imminent to change this. The sit-in protest on the House floor last week only delayed the inevitable. And DeSantis' friends need him too much to offer any meaningful course correction. And the general election? It doesn't look like it will be close at this point.
Can Ron DeSantis go too far? Maybe not for Florida. But national observers seem less convinced that what the governor calls "Sweet Florida" isn't more sour than advertised.
A.G. Gancarski
Jacksonville Today Contributor
A.G. Gancarski's columns were a staple in Folio Weekly for nearly two decades, and he has been the Northeast Florida correspondent for Florida Politics since 2014. He writes about the intersection of state and local politics and policy.
A.G. Gancarski
Jacksonville Today Contributor
A.G. Gancarski's columns were a staple in Folio Weekly for nearly two decades, and he has been the Northeast Florida correspondent for Florida Politics since 2014. He writes about the intersection of state and local politics and policy.
---
Sign up for the Jacksonville Today newsletter
Your local weekday newsletter for news and ways to get involved in Northeast Florida.