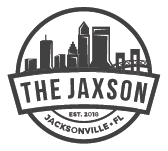 Perspectives
The Jaxson
on Jacksonville Today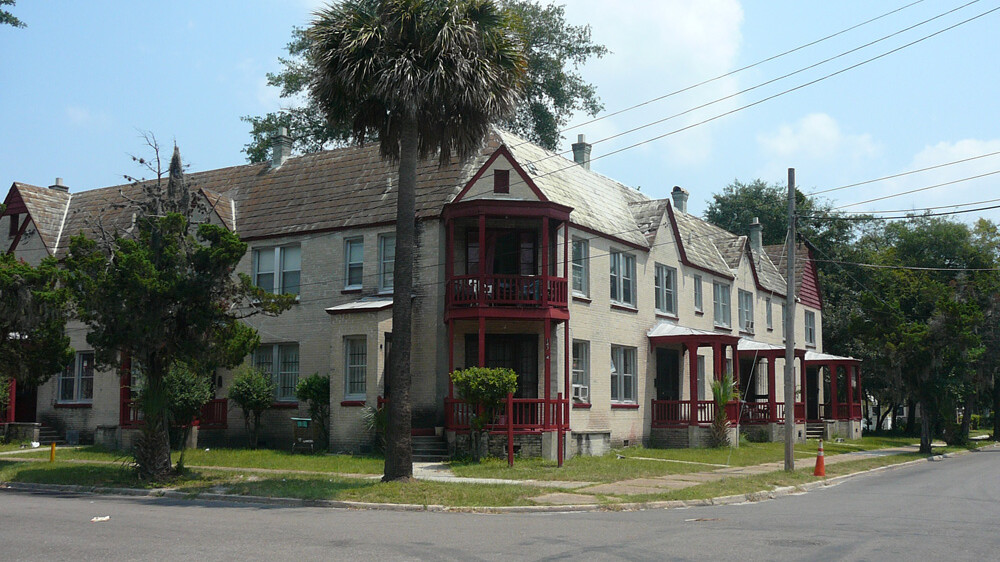 OPINION | 5 types of missing middle housing Jax should revive
Published on April 12, 2022 at 10:03 pm
Missing middle housing represents many types of residences ranging in scale between single-family homes and massive apartment buildings. From shotgun homes to duplexes to bungalow courts, missing middle housing was once common in Jacksonville – and could be a weapon to fight the housing crisis.

What is missing middle housing? It's a modern term for an old phenomenon. Made up of a variety of mutli-unit or clustered housing types comparable in scale to a single-family home, these missing middle structures stood within the architectural spectrum between the two most common housing types of today: single-family residences and large-scale apartment buildings. In cities across North America, these housing styles helped to meet workforce housing needs and to create walkable neighborhoods with amenities near residents' homes.
Jacksonville's older neighborhoods like Riverside, San Marco, Durkeeville, Eastside and Springfield are home to all types of missing-middle structures. However, since World War II, these styles became far less common in Jacksonville and many other cities due to zoning changes that encourage single-family developments from which all other housing types are excluded. Today, around 90% of all housing in the U.S. is located in these single-family neighborhoods.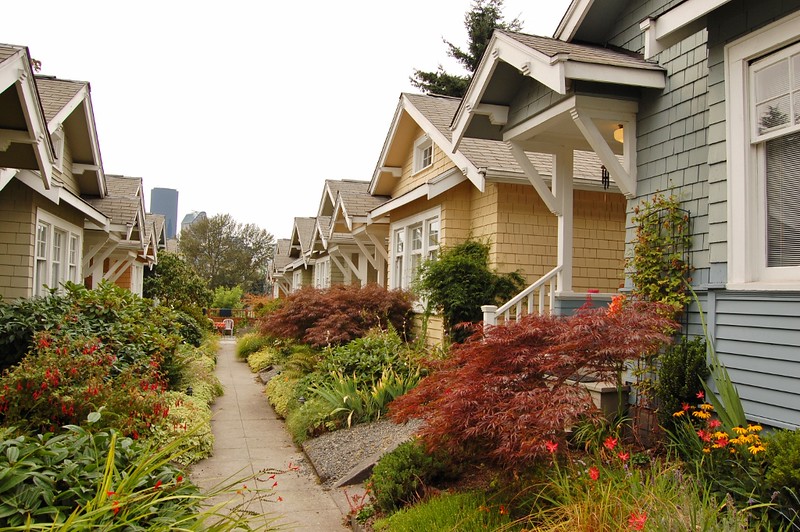 Some researchers believe the lack of housing variety has contributed to America's shortage of homes, which has now reached around 5.5 million units or more. In Florida and elsewhere, lack of housing supply and skyrocketing prices have reached crisis levels. As such, planners and civic leaders across the country are looking for solutions that can be implemented on a local level, and one of them means looking to the past: rolling back restrictions on missing middle housing. With this in mind, here are five forms of missing middle housing that could provide a critical solution to Jacksonville's affordable housing needs.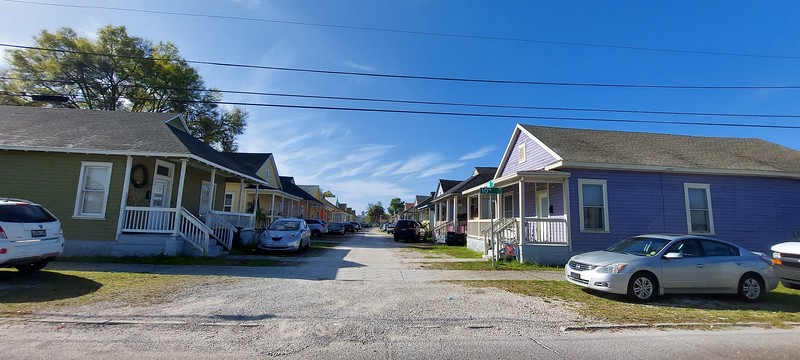 Pioneered by Sylvanus Marston in Pasadena, California in 1909, the bungalow court is a style of multi-family housing featuring a cluster of small, low-rise single-family or duplex homes centered around a central green space or courtyard. Their heyday was from the 1910s through the 1930s, especially in Southern California. Featuring limited amenities, such as no onsite parking, bungalow courts appealed to singles, couples and retirees of more modest means who wanted their own space. The housing style offered the individual privacy of a single residence with the communal benefits of a shared community space. These shared courts, typically aligned perpendicular to the street, take the place of a private rear yard and are an important community-enhancing element.'
Jacksonville is no stranger to bungalow courts. Built in 1911 by Joel H Tucker Jr, Springfield's Dancy Terrace is one of the first bungalow courts built in the U.S. Renovated in 2017, it provides a lower-cost alternative for Springfield residents and could serve as a model for future developments in other walkable neighborhoods.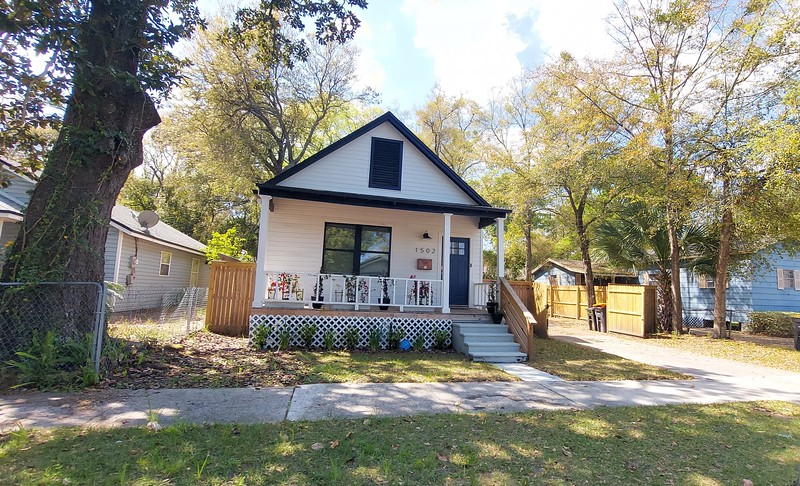 From the end of the American Civil War through the Great Depression, the shotgun house was the most popular style of housing in the Southern United States. Serving a similar purpose to the row house in Northeastern cities, shotgun houses were often built as rental properties near manufacturing centers and railroad hubs to provide affordable housing for workers. Shotgun houses tended to be narrow across the front in order to maximize the number of units on each residential lot. Running deep on the lot, rooms were typically arranged one behind the other connected by a long hallway that usually ran the entire length of the house. The hallway is the source of the name "shotgun house," as it was said someone could fire a round from the front door through the back door without hitting any part of the house.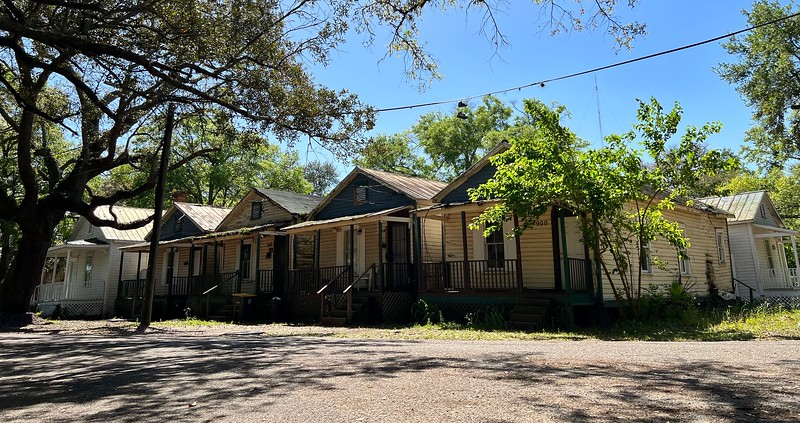 Many scholars believe shotgun houses reflect African building traditions that entered the American Southeast via the transatlantic slave trade through the Caribbean Islands, starting in New Orleans and brought to cities like Jacksonville by migrating Black freedmen. Typically less than 800 square feet of enclosed floor area, this housing style dominated the streets of Jacksonville's working class African-American neighborhoods before World War II, resulting in the city's population density maxing out at nearly 7,000 residents per square mile. Over the last seven decades, Jacksonville's urban core has lost around 100,000 people, nearly 50% of its population and density, in large part to African-American neighborhoods dominated by shotgun houses being treated as prime targets for urban renewal initiatives and demolition. With the population of the Urban Core finally growing again, it's time to build back what was lost.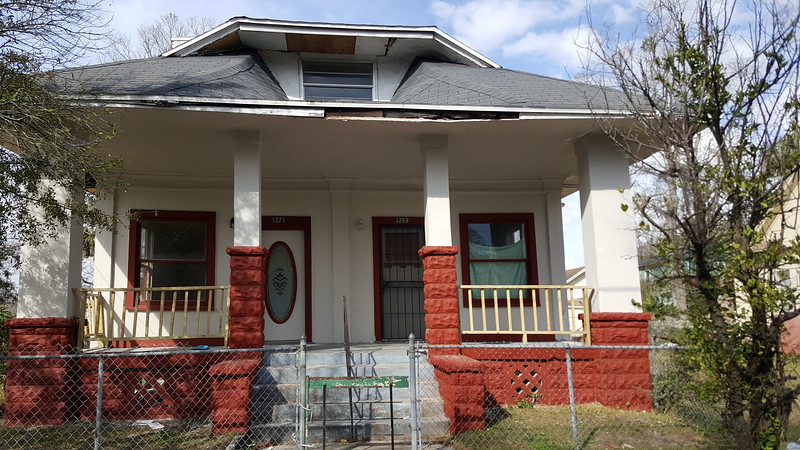 Simply put, multiplexes are single buildings on the scale of a single-family home with multiple residential nits, most commonly two (duplexes) three (triplexes) or four (quadruplexes). They come in a wide variety of styles and configurations and typically occupy a single residential lot, meaning they jell easily into most any neighborhood. Multiplexes provide renters in a neighborhood a generally cheaper alternative than a single-family home. They can also relieve the financial burden of a homeowner who can live in one unit while renting the others.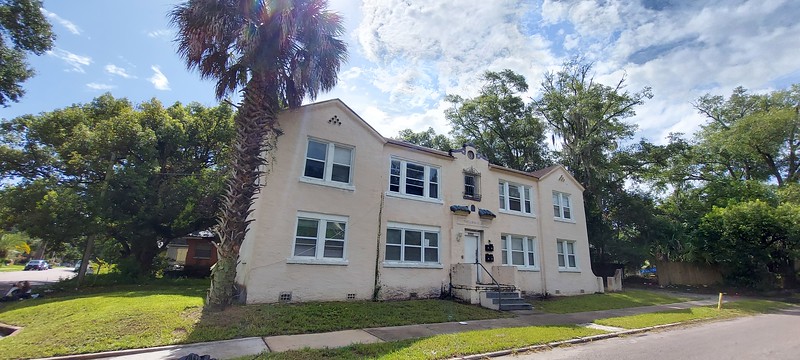 In Jacksonville, duplexes, triplexes and quads have long been integral to every historic neighborhood, and by offering another option for living, play a part in maintaining those neighborhoods' lasting appeal.
Townhomes, or townhouses, are a type of missing middle housing that's hundreds of years old. These are typically narrow two- or three-story homes attached to their neighbors with shared walls, which maximizes the indoor space. In contrast to townhomes, which don't necessarily look like the adjacent houses, row houses are a very similar concept where the units have a uniform look. Today, townhomes are commonly built as part of large-scale, single-use suburban developments segregated from other uses in the manner of apartment complexes. However, the urban form of this housing type have a long history in many of North America's oldest cities.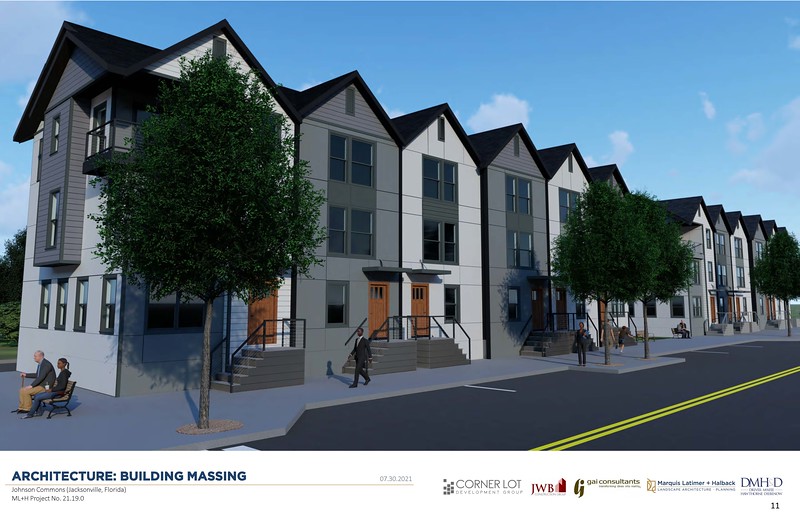 Urban townhomes and row houses have historically been less common in Jacksonville than other missing middle types like shotgun houses and duplexes. In fact, the structures at the corner of W 19th Street and Laura Street in Springfield may be Jacksonville's only surviving row house development. However, this housing type may be having a moment, with new developments moving forward] in LaVilla, San Marco and Springfield. Still, developers hoping to assemble land to build urban townhomes face zoning hurdles in many parts of town, making this a perfect place for city leaders cut red tape.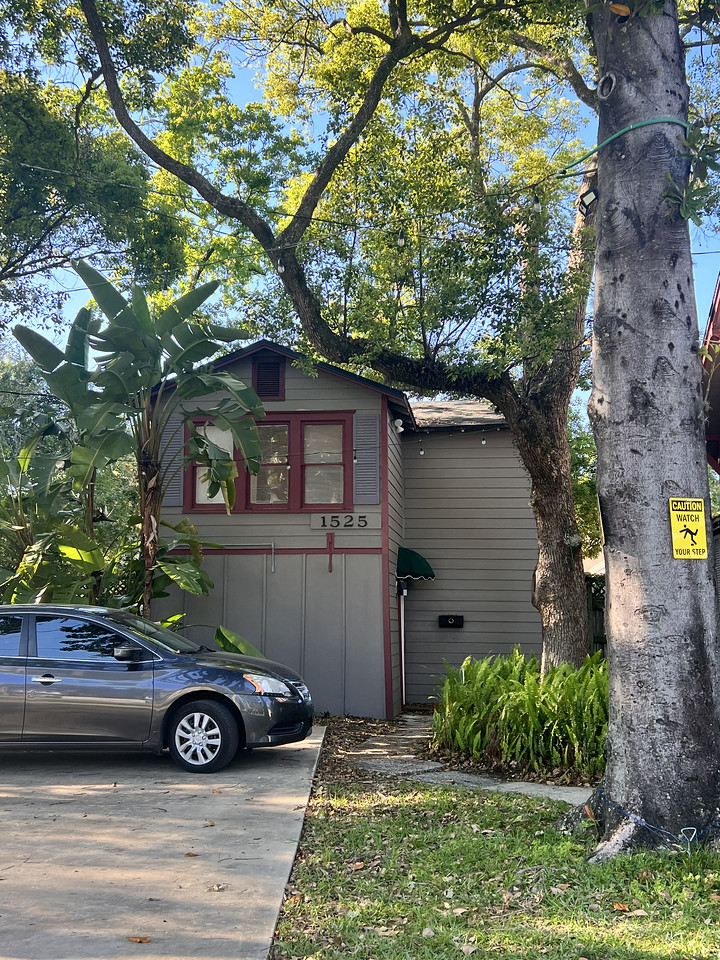 Accessory dwelling units or secondary suites may be the secret weapon for fighting Florida's housing crisis. These are self-contained residential units that share a property with a main house. Common types of ADUs include garage apartments, freestanding "mother-in-law" suites, basement apartments and even converted garages. They provide a smaller, typically lower-cost alternative for renters in a neighborhood, while also providing cash to ease the mortgage burden of the owner.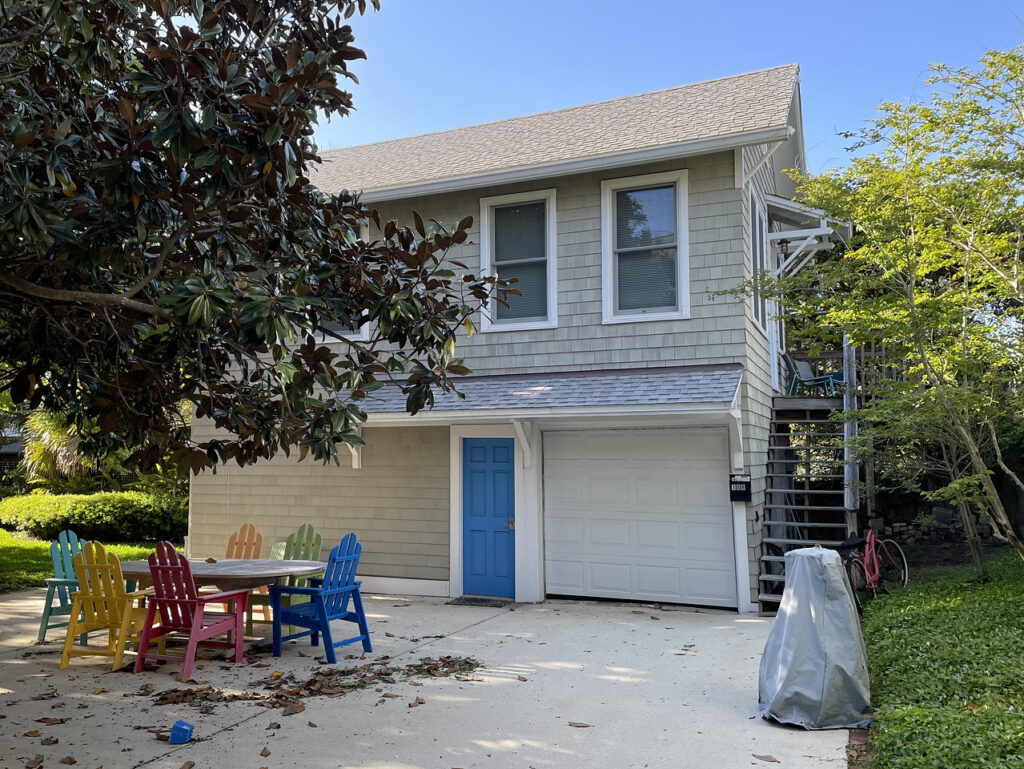 Because they can be added to a property after a house is already built, they're a cost-effective way of adding housing in a built-out neighborhood. For the same reason, they're also a case where a local government can help fight the housing crisis. The chief barrier to building ADUs is local ordinances. If that's done away with, we can expect to see ADUs added to many more single-family homes.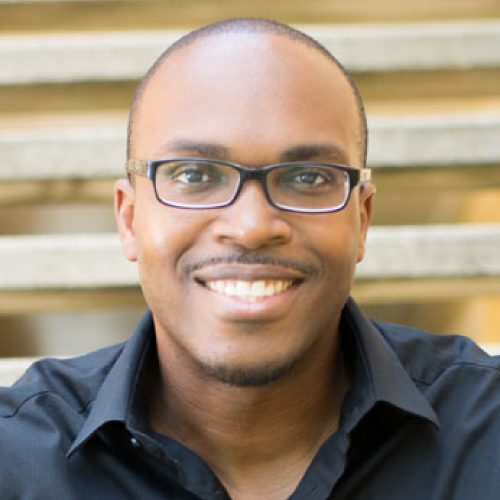 Ennis Davis
The Jaxson
Ennis Davis, AICP is an urban planner and member of the city of Jacksonville's Downtown Development Review Board. He is also co-owner of The Jaxson and Modern Cities. Reach Ennis at edavis@moderncities.com.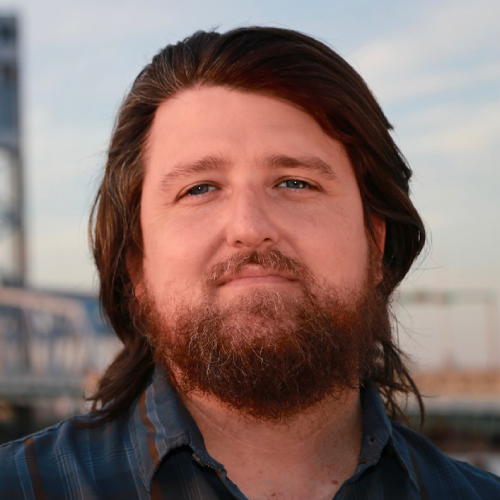 Bill Delaney
The Jaxson
Bill Delaney is a writer whose work focuses on the history and culture of the First Coast. He currently serves as City Council liaison for Jacksonville Mayor Donna Deegan.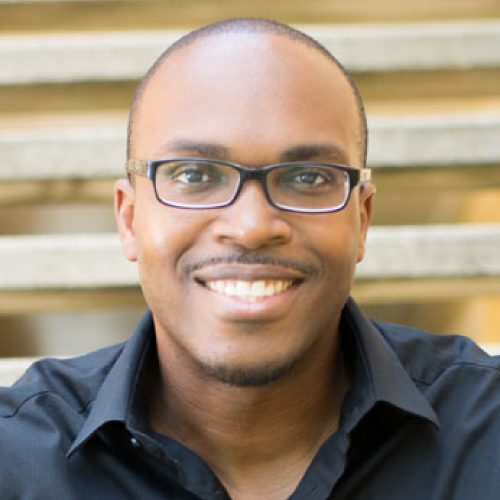 Ennis Davis
The Jaxson
Ennis Davis, AICP is an urban planner and member of the city of Jacksonville's Downtown Development Review Board. He is also co-owner of The Jaxson and Modern Cities. Reach Ennis at edavis@moderncities.com.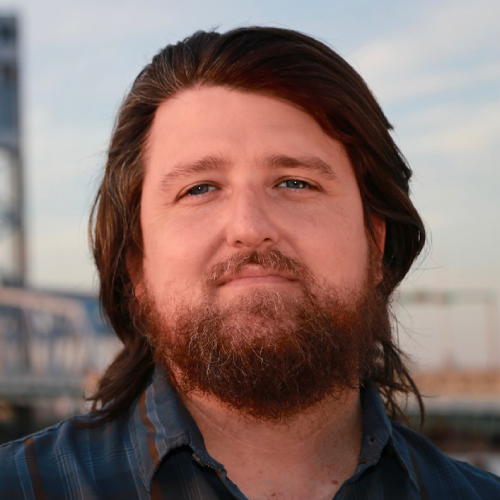 Bill Delaney
The Jaxson
Bill Delaney is a writer whose work focuses on the history and culture of the First Coast. He currently serves as City Council liaison for Jacksonville Mayor Donna Deegan.
---
Sign up for the Jacksonville Today newsletter
Your local weekday newsletter for news and ways to get involved in Northeast Florida.