How 4 Jacksonville artists made it to Miami Art Week
Published on December 16, 2021 at 4:27 pm
It's just after 5 p.m. on the Monday before Thanksgiving. Artist and Professor Dustin Harewood dons a paint-splattered denim apron as he takes a seat atop a craft table inside his sprawling classroom at Florida State College of Jacksonville's Kent Campus. Seated two tables over, fellow artist and FSCJ Professor Mark Creegan is using a fine-detail brush to apply finishing touches to an assemblage of tennis rackets, paint, glitter and pom-poms.
Undoubtedly ready to decompress after a full day of teaching aspiring young artists, Harewood and Creegan have graciously agreed to switch gears to discuss their own practice, as well as what is slated to be a seminal showcase of their work.
In the first week of December, Harewood and Creegan, alongside Jacksonville artists Tony Rodrigues and Hiromi Moneyhun, showed new works at Untitled Art in Miami. A massive contemporary art fair held each year during the city's Art Week, Untitled is one of several satellite showcases, including Art Miami, Scope International Art Show and Design Miami, that orbit Art Basel — the week's marquee event, which has become shorthand for the weeklong festivities.
While the convention-center-based Basel features mostly blue chip galleries and price tags starting in the high six-figures, Untitled is the premier event for up-and-coming contemporary artists from around the world. In total, 145 galleries and arts organizations will present work by artists from virtually every country on the map. Rodrigues, Moneyhun, Harewood and Creegan were the first Jax-based artists to show at Untitled.
"I feel, for the first time in my career, that my work will fit," Creegan says before the show. A multi-disciplinary artist, Creegan's mixed-media work — like his series of splatter-painted, glued-together tennis rackets with names like "Billie Jean deKooning," or his series of colorful, gridded paintings he calls Goofy Formalism — is rich with investigations of his own practice and commentary on contemporary art itself. "It's not that I think my work is so great or so unique. There are a lot of really great fairs during Art Week. But I feel really good about showing my work at Untitled. It's a really good fit."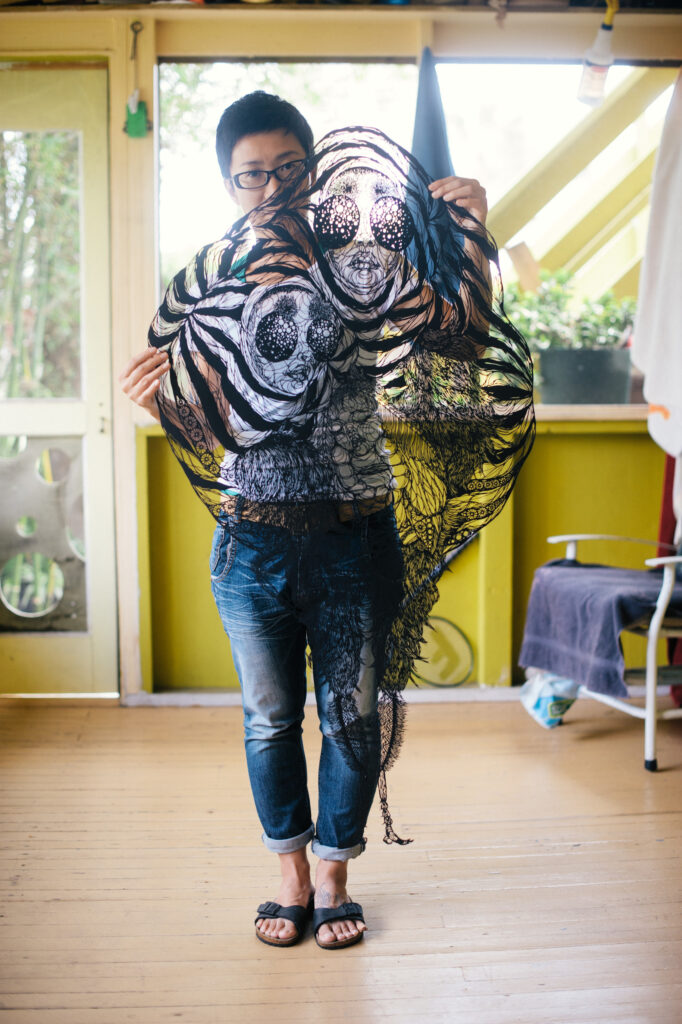 "We want Jacksonville to be respected in the greater contemporary art community. So this is one of those moments where we get to enter that space."

Artist and FSCJ Professor Dustin Harewood
Creegan and Harewood have been attending Art Week together for more than a decade. This was the first year their own work was on display.
Harewood says, "All the years we've gone, we'll look up and see a sign that says the city from which the artists are from. And we've never seen Jacksonville on one of those signs."
Harewood's work, which combines visual mashups of vivid portraiture and nautical items, abstract splashes from a palette of tropical pastels, rising and falling patterns, and pop cultural shout-outs, has earned the artist a significant following and a cadre of devoted collectors.
Along with Rodrigues' layered paintings and Moneyhun's three-dimensional paper-cut pieces, Creegan and Harewood's work has been hung on nearly every wall in the city that will display it, from Jacksonville's biggest museums and galleries to coffee shops and non-traditional spaces. They are without question the city's best-known working artists. But they've been toiling away in relative obscurity in the art world writ-large.
Enter Aaron Levi Garvey, founder of Long Road Projects, an artist-in-residency program based in Jacksonville and Eerie, Pennsylvania. Garvey's skills as a curator and art-world connector are well known outside of the Southeast.
"We expressed interest to Aaron," says Harewood of getting the wheels in motion for a showcase at this year's Miami Art Week. "He's got this great track record and a lot of respect from curators outside of Northeast Florida. I don't think anyone from here has had the resume to be able to enter into that space [Untitled]. So Aaron, because of the work he's done with LRP, was able to get our foot in the door."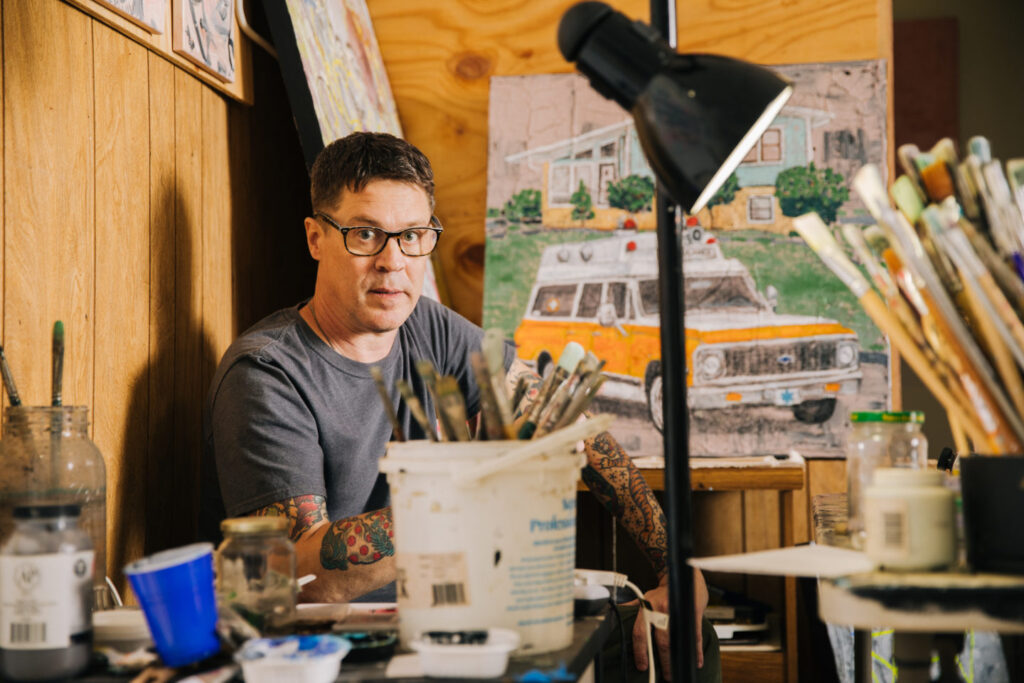 All four artists have worked with LRP in the past. Getting them to Miami was part and parcel of the mission of Garvey's nonprofit organization, he says. "A desire to build community is at the root of what LRP does. We bring international artists to Jacksonville to meet, work and collaborate with members of our community, then export relationships and our own international artists that have ties to Jacksonville into the art world."
Using his network and banking on the quality of the work these four Jax-based artists have been creating in recent years, Garvey was able to secure a booth at Untitled. The invitation was just the first step. The booth fees at Untitled are substantial — upwards of $20K. Garvey was able to procure financial support from several donors, including the Community Foundation of Northeast Florida, and backing from a handful of collectors who regularly purchase the artists' work.
"I don't think a lot of people out there are going to realize how much we had to go through to get this all together," Harewood laughs.
With the booth handled and paid for, the only thing left to do was to make art. For professors Creegan and Harewood, that meant burning the candle at both ends — teaching a full load of art classes during the day, while hammering away at new work in the mornings and evenings, during office hours, or whenever they could find a window of opportunity.
"I'm still not close to done," said Harewood of his looming deadline. "I was working last night. Working over the weekend. I worked before I came into class. I'll work when I get home."
Creegan, who, as we spoke, began bubble-wrapping one of his pieces to be shipped to Miami in the coming days, said he felt the time crunch too. But, however rare it may be for a full-time professor to be showing work at such a big-name international art fair, Creegan says he finds value in his dual role as artist and educator.
"Teaching art forces you to have to explain processes and the way of thinking so that it's understandable," he says. "But also, Dustin and I are constantly talking to our students about artisthood, or creating a life as an artist."
Harewood says he hopes their participation in Untitled provides his young charges a window into the life of a working artist. "Art school is traditionally not great at showing kids how to actually have a career — getting them out there, moving up the ladder, selling their work and having the career," he says. "That's why Untitled is a big deal. It's positioning your work. You walk into The Met[ropolitan Museum of Art] and see a piece. It could be the same piece on a coffee shop wall, but it's a different experience."
It's Thursday, December 2. Four days into Miami Art Week. Dropped directly on the South Beach sand, just steps away from the azure Atlantic Ocean, a tent the length of two football fields is buzzing with energy.
Inside the tent, hundreds of art collectors, gallerists, dealers and curators from museums around the world are matriculating through Untitled's maze of booths, activations from corporate sponsors such as Chase Bank and corporate-sponsored refreshment stands.
Though much of the national media of this year's Art Week has focused on the arrival of crypto-currency and non-fungible tokens into the art market, judging by the mass of people gathered inside Untitled, tangible artwork endures.
At Untitled, the booths are broken up into three long corridors, each labelled with a letter A-C. Somewhere near the C-corridor's 50-yard line — past New Image Art (booth, C25, Los Angeles, US) and Ndr New Mgmt (booth C26, New York, US), but before Makashini Contemporary (Turku, Finland, booth C28) — is Long Road Projects (Booth C27, Jacksonville, FL/Eerie, PA).
Rodrigues' layered, cracked-marble paintings fill up the left wall, while Harewood's mixed-media portraits and abstract paintings line the center wall. Hiromi Moneyhun's intricate paper-cut pieces adorn the booth's right-hand wall. Mark Creegan's tennis rackets are scattered about the booth.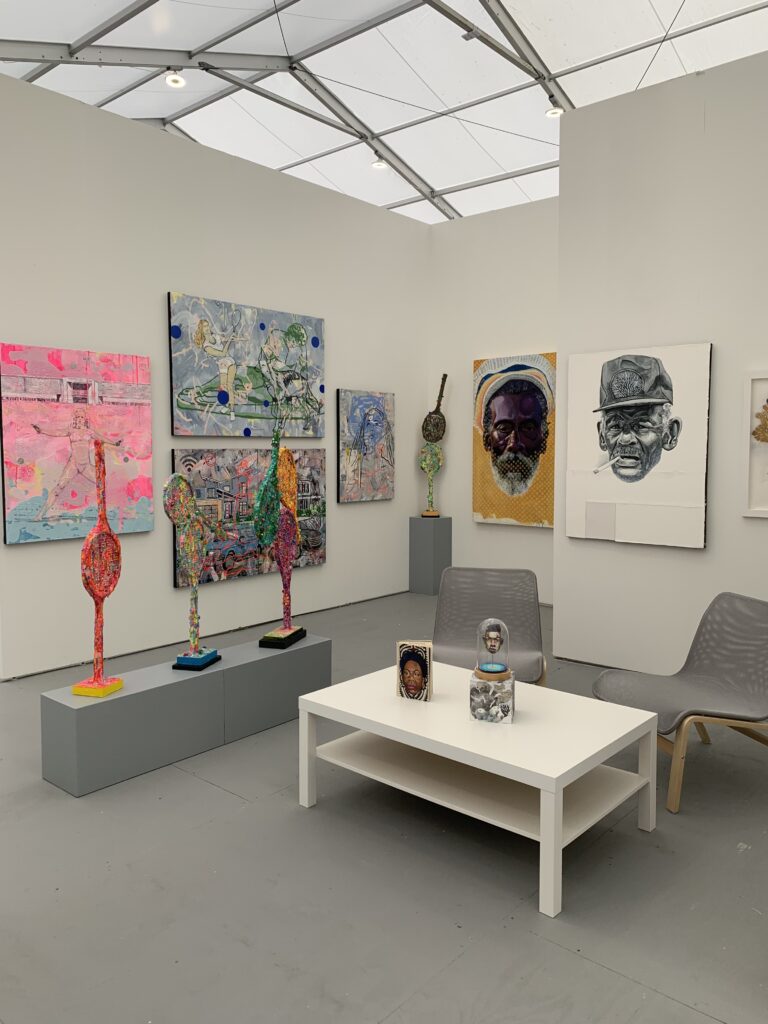 Interested parties move in and out of the space, admiring the work and asking questions of the artists on hand or Garvey and his team of volunteer dealers, which include Jax-based musician Cory Driscoll and Jax-based artist and writer Madeleine Peck Wagner. All have been rotating in and out throughout the day, taking shifts during each day's fair hours (1 p.m.-7p.m.).
"I watch people's faces when they look up at our sign," Garvey says of some of the reactions he's encountered to the city ID on booth C27's signage. "They were like, 'There are galleries there? There are artists there?'"
"A fair like this allows for personal interaction between the artists and international collectors, curators, gallerists and foundations," Garvey tells me, reflecting on the group's participation in Untitled and what it means for both the artists and LRP moving forward. He refers to Untitled as "a big stage."
"It removes any doubt that someone may have from seeing these artists' work solely on Instagram," he says.
It's a successful week for all four artists. Each garners interest from galleries in locations as disparate as New York City and Qatar. And each artist sells a significant amount of the original artwork they brought to the fair and will soon ship it to the homes of collectors across the country.
Harewood, whose work was purchased by collectors from Los Angeles, San Francisco, the Hamptons and other locations this week, says he hopes his success will reflect well on the city in which he works.
"We want Jacksonville to be respected in the greater contemporary art community. So this is one of those moments where we get to enter that space, alongside artists from around the world. And Jacksonville's sign gets to be up there."
Talk to any artist, curator or engaged patron of the arts in Jacksonville and you'll likely get an earful about what the city needs in order to be more hospitable to artists or, more aspirationally, recognized as an "arts city." Fluent in the language of those conversations, Garvey certainly has his own ideas.
"Jacksonville artists often feel fundamentally disconnected from the global art world, and everything that means —from how to enter it, to the unwritten rules of presentation, to the lack of a genuinely interested and vested group of art world contacts," he says. Helping artists make connections — like those made during Untitled — Garvey says is a good start. "LRP does the set up, then the artists knock it down."
This year's Untitled fair seems particularly frenzied, perhaps owing to Miami Art Week's pandemic-year hiatus. And with four more days to go, booth C27 will see plenty more action. By week's end Creegan, Harewood, Moneyhun, Rodrigues and Garvey are likely to be running on fumes. But in Garvey's eyes, the group's participation is just a warm-up lap.
"My plan is to bring all four artists back next year," he says. "We'll pop a single bottle of champagne at the end of the fair. But the work isn't over.
"This is just the tip of the iceberg for these artists."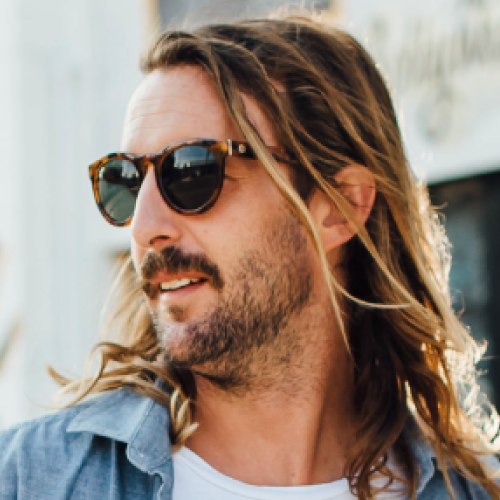 Matthew Shaw
Arts & Culture Editor
Matthew Shaw is a writer, editor and musician. His writing has appeared in Folio Weekly, Edible Northeast Florida, The Surfer's Journal, and SURFER Magazine, and he's reported on national stories for The New York Times. He was previously editor in chief of the Void Magazine.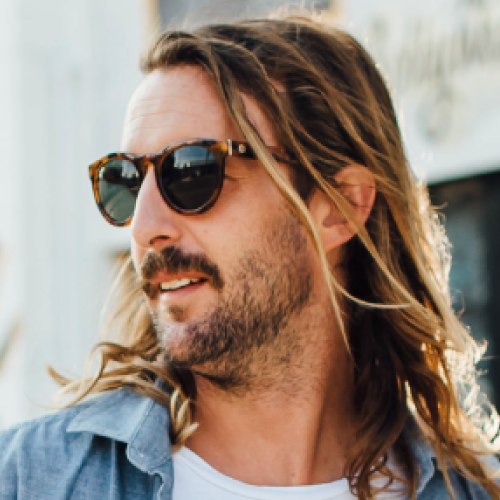 Matthew Shaw
Arts & Culture Editor
Matthew Shaw is a writer, editor and musician. His writing has appeared in Folio Weekly, Edible Northeast Florida, The Surfer's Journal, and SURFER Magazine, and he's reported on national stories for The New York Times. He was previously editor in chief of the Void Magazine.
---
Sign up for the Jacksonville Today newsletter
Your local weekday newsletter for news and ways to get involved in Northeast Florida.