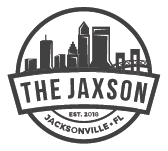 Perspectives
The Jaxson
on Jacksonville Today
Opinion: 5 infrastructure bill projects Jacksonville should pursue
Published on November 16, 2021 at 8:33 pm
A flooded street reveals some of Jacksonville's infrastructure needs.
President Joe Biden finally signed his hard-fought $1 trillion Infrastructure Investment and Jobs Act into law on Monday, November 15. As a result, approximately $19 billion in federal investment is headed to Florida. That tally includes $13.1 billion for roads and $245 million for bridges over the next five years, with a focus on mitigating climate change, resilience, bike and pedestrian infrastructure and equity. Another $2.6 billion is earmarked for the state's public transit needs, and at least $100 million will go to improving the broadband network and extending it to underserved areas and families. Florida will also be able to apply for additional funding for bridges and major projects that spark economic growth. According to Biden, the bill is "a once-in-a-generation investment that's going to create millions of jobs modernizing our infrastructure, our roads, our bridges, our broadband, a whole range of things – to turn the climate crisis into an opportunity."
The infrastructure bill puts considerable emphasis on equity, meaning it seeks to reverse past trends of using infrastructure to separate and disadvantage minority communities, as happened in parts of Jacksonville and other cities during the 20th century. It also emphasizes something Jacksonville has embraced as a major goal: mitigating the effects of climate change. As a result, the city is well positioned to launch projects that take advantage of the incoming federal dollars.
Unfortunately, there's been distressingly little talk from leaders at the city of Jacksonville, the Jacksonville Transportation Authority and others on specific projects and asks to be made. Should Jacksonville get on the ball, however, the city has a golden opportunity to build upon the investment and achieve a number of long-term goals. Here are five projects Jacksonville could and should be pursuing:
1. Structurally deficient bridges
Jacksonville is home to several bridges that have been rated as structurally deficient, including the Ray Green Bridge on Lem Turner Road over the Trout River, Main Street over the Broward River, Lane Avenue over Wills Branch and Interstate 95 over the Nassau River. The infrastructure bill offers the greatest chance in decades for the River City to repair or replace its myriad aging bridges.
The Infrastructure Investment and Jobs Act represents the single largest dedicated bridge investment since the construction of the interstate highway system in the 1950s. Based on formula funding alone, Florida expects to receive $245 million for bridge replacement and repairs, in addition to the $13.1 billion for federal highways. The state can also apply for additional funding through the $12.5 billion Bridge Investment Program, dedicated to bridges that bring economic impact to their communities, and the $16 billion dedicated to complex projects.
Nearly 20% of the nation's highways and major roads are in poor condition, as are 45,000 bridges, according to the White House.
2. Amtrak Florida Corridor Service
The White House said the infrastructure bill represents the largest investment in public transit ever, and the largest investment in passenger rail since Amtrak was created in 1971. As The Jaxson has written about before, Jacksonville is scheduled to be a major beneficiary of the Amtrak expansion. The Jacksonville-Tampa line will get two new daily round trips, doubling the number of trains serving Jacksonville.
As we've argued previously, Jacksonville has an opportunity here to achieve a long-held goal: returning passenger rail Downtown. For 30 years, plans have called for Amtrak service to eventually return to the Prime Osborn Convention Center in LaVilla. Originally the Jacksonville Union Terminal, the building served as the city's train station until 1974, when passenger rail was moved to a much smaller "Amshack" station in a Northwest Jacksonville industrial area. A return to Downtown would not only allow for easy connections to other transit options at the Jacksonville Regional Transportation Center, it could also spark badly needed development in nearby blocks.
Additionally, the Amtrak expansion gives Jacksonville the opportunity to prepare for future commuter rail. The Jacksonville-Tampa line passes through Clay County, which has the state's third worst traffic congestion and where JTA already owns a sizable park-and-ride hub along the tracks. In addition to moving Amtrak back Downtown, JTA should work with Amtrak to add a new Clay County stop, which could then additionally serve a future commuter rail system.
2. Reconnecting communities
The infrastructure bill could be an opportunity to reconnect Jacksonville neighborhoods intentionally split by highways. The infrastructure bill includes $1 billion to reconnect communities through the Reconnecting Communities Initiative. This program aims to provide funding to cities and states seeking to rectify the damage caused by highways that were intentionally ripped through minority neighborhoods across the country during the mid 20th century. In essence, road construction should be more than laying down asphalt on virgin soil for new exurban sprawl and development. It can also be about placemaking, enhancing resiliency, and righting systemic government-controlled wrongs of yesteryear to encourage resiliency and new inclusive economic prosperity in neighborhoods long ignored.
In 1955, the Florida Legislature established JTA's predecessor, the Jacksonville Expressway Authority, as an independent entity that built, owned and maintained highways and bridges throughout Duval County. Not surprisingly, this Jim Crow-era authority quickly built a series of expressways through minority neighborhoods, displacing thousands of residents, destroying communities and forming new racial demarcation lines throughout the city's Urban Core and elsewhere. These include the Union Street Expressway, Roosevelt Expressway, Arlington Expressway and Martin Luther King, Jr. Parkway, all of which separated Black neighborhoods from Downtown Jacksonville and white residential areas. Today, aging highways built in the 1950s and 60s continue to divide, choke off economic development and strangle quality of life in many Urban Core neighborhoods.
Also by The Jaxson: These are the projects revitalizing Jacksonville's Historic Eastside
While the subject has not been seriously discussed by public officials and local civic leaders, the Reconnecting Communities Initiative is an opportunity to fund the planning, design, demolition and reconstruction of street grids, parks and other infrastructure through Jacksonville's Urban Core.
3. Core to Coast Trail (East Coast Greenway)
The bill calls for $11 billion of federal funding to be spent nationally on bike-based infrastructure, including protected bike lanes, trails, and multi-use paths. This is a 60% increase in funding for the Transportation Alternatives Program out of the gate, with further increases coming annually. This means a lot more money for the largest federal source of funding for bike and pedestrian infrastructure. The bill also includes money for transportation safety. Jacksonville, which has seen an increase in pedestrians killed on local roads could benefit tremendously from this investment.
One such project is the ambitious Core to Coast Loop, a plan to link the bike and pedestrian network of Jacksonville's Urban Core with the East Coast Greenway, a 3,000-mile bike trail connecting communities in 15 states. The Core to Coast Loop is proposed to be a 50-mile loop that joins the Greenway's spine route to Downtown Jacksonville. The trail is expected to improve development on both banks of the St. Johns River and connect major business centers, residential neighborhoods and industrial areas. Considering that the East Coast Greenway is already a success, with 1,000 miles already being off-road, this would be a major boost to one of Jacksonville's most ambitious public works projects.
4. Public Transit
The bipartisan infrastructure bill commits an unprecedented level of funding to public transit, with a goal of reducing greenhouse gas emissions by repairing, upgrading and modernizing the country's transit infrastructure. Nationally, $66 million is committed to transit, with Florida getting $2.6 billion. Florida has traditionally lagged in investment in public infrastructure, and Jacksonville is no exception. As other Florida cities like Miami, Tampa and Orlando making strides in this area, it's high time for Jacksonville to step up.
The Jaxson has been critical of JTA's major transit project, the U2C, which aims to replace Downtown's Skyway monorail system with a series of small autonomous vehicles. Currently, JTA is getting $247 million in local gas tax funding for the U2C project, as well as money from other pots. Meanwhile, other transit needs in the city have taken a back burner.
The infrastructure bill could help Jacksonville immensely by investing in JTA's bus service in neighborhoods that already rely on it, including Durkeeville, New Town, Moncrief and other parts of Northwest Jacksonville. People of color who are twice as likely to take public transportation and often lack sufficient public transit options. While the U2C may be nice for shuffling the white-collar crowd between rooftop bars, an improved bus system would have a far greater impact on the community. In addition to helping provide more reliable transit options for citizens, it could have economic benefits by reconnecting communities, expanding access to employment centers and sparking investment. Additionally, JTA has an opportunity to leverage public transit funds toward a future commuter rail system, which would piggyback off the coming Amtrak investment and would benefit not only Duval residents but people in the traffic-choked suburban counties.
5. Restoring Hogans Creek
Biden touts the infrastructure deal as "the largest investment in the resilience of physical and natural systems in American history." Jaxsons are well versed in the negative impacts of climate change, both during and outside hurricane season. Nationally, the infrastructure bill commits $50 billion to protect against extreme weather. As a low-lying coastal city located along a massive river, Jacksonville's experience with the negative impact of climate change and extreme weather is considerable.
One project that could offer a major boost to resiliency in the Downtown Northbank, the Stadium District, Springfield, Eastside and Brentwood is the restoration of Hogans Creek. This 2.6-mile long tidal and freshwater creek rises in Brentwood north of UF Health Jacksonville and flows out to the St. Johns River, and has suffered from years of pollution, silting and general neglect. During heavy rains, the creek frequently floods streets and parks all along its course. The once scenic Klutho Park promenade and "grand canal" built by Henry Klutho and engineer Charles Imeson in 1929 is now an eyesore.
Groundwork Jacksonville has been working on restoring the creek as part of the Emerald Trail, a planned 30-mile network of bike and pedestrian paths linking various Jacksonville neighborhoods and institutions. The Emerald Trail Master Plan includes improvements to Hogans Creek that improve the crossing conditions along existing Hogans Creek greenway and enhances the overall quality of the greenway to match the established design standard for the entire trail system. It includes investments to improve water quality, reduce flooding, and restore wildlife habitat, in addition to enhancing recreational and transportation opportunities for residents. This process is an extensive undertaking on the part of the city of Jacksonville and Groundwork, but it's the perfect match for the intent of this element of the infrastructure bill. While seizing the opportunity would require considerable work and leadership by the city of Jacksonville, it's one project that would pay incredible dividends in the future.
Editorial by Ennis Davis, AICP, Bill Delaney and Mike Field. Contact Ennis at edavis@moderncities.com, Bill at wdelaney@moderncities.com and Mike at mfield@moderncities.com.
Bill Delaney's new book Secret Jacksonville, a Guide to the Weird, Wonderful, and Obscure is out. Order a signed copy at thejaxsonmag.com/books.
---
Sign up for the Jacksonville Today newsletter
Your local weekday newsletter for news and ways to get involved in Northeast Florida.