It's no game: Playing cards share cold case stories
Published on September 8, 2023 at 12:47 pm
Fifty-two faces of murder victims look out from a deck of playing cards, next to the usual Queen of Clubs or Jack of Diamonds.
All of the cards bear images of people from Florida whose cases have never been solved.
Eleven of them are from Jacksonville, including:
Devante Brown, shot May 2, 2016, on Wilson Boulevard.
Dana Solomon, killed in a hit-and-run crash Nov. 12, 2006, on Normandy Boulevard.
Evelyn Slay, a 74-year-old widow who was robbed and killed June 1, 1983, in her home.
The playing cards are the latest way for the Jacksonville-based Project: Cold Case to get the images and information on unsolved murders into the hands of everyone from business owners to jail staff.
This is its second edition, and it is not a game, project founder Ryan Backmann said.
"It is just to raise awareness. We are always looking for ways to share these stories," he said. "Most of these families have not been on the news, haven't had the spotlight shone on their loved one's case, and this allows us that opportunity. And we are doing it again because we are limited to 52 victims each deck."
Founded in 2015, Project: Cold Case is a Jacksonville-based nonprofit agency that publicizes unsolved homicides and provides support to families of the victims. It was begun as a way to keep unsolved murders in the public eye and gain news tips that could solve them.
Backmann founded the project after his father's shooting death on Oct. 10. 2009, was never solved. The project now contains thousands of cold case listings from 50 Florida counties, 46 U.S. states, and three countries.
Backmann released the first round of the free playing cards about 15 months ago, after the victims' families approved the use of the names. The idea was to get the cards out to any Florida business that would place them in their lobby or waiting area, including breweries, distilleries, oil change shops, tattoo parlors and poker rooms. The cards have even been distributed to county jails and halfway houses.
So far, the cards have revived interest in solving the cases, but no tips yet.
"Nothing that has led to a resolution yet," Backmann said. "Our focus was mainly getting the stories out and creating value for these victims and their families, so the response was amazing success if that is the bar; families getting the opportunity to share their loved ones' stories."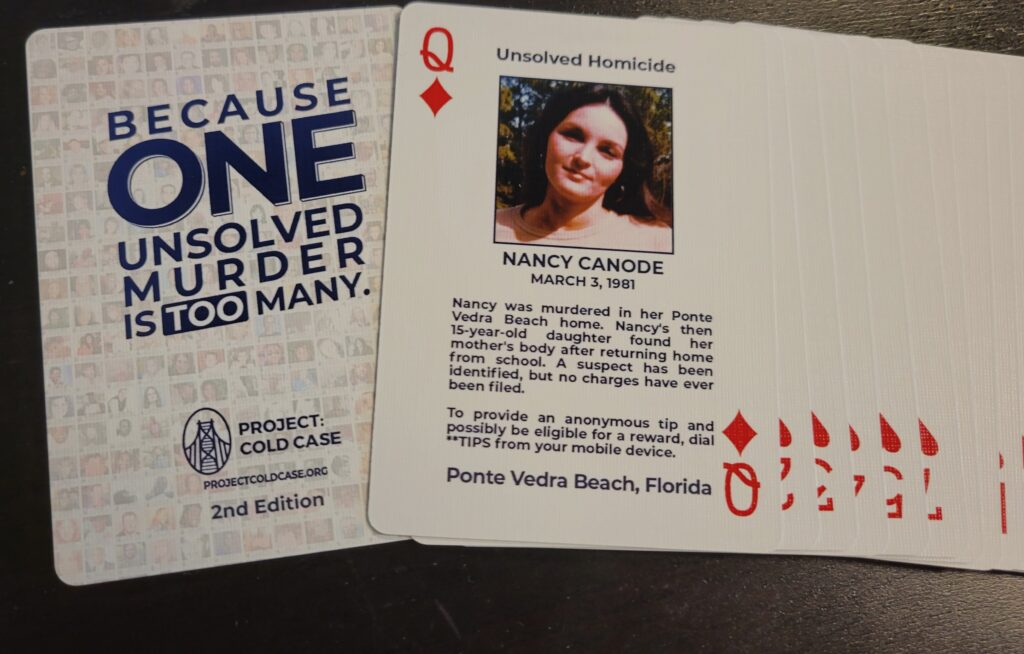 One is the Jacksonville cases is the unsolved murder of Nancy Canode on March 3, 1981. Her daughter found her dead in their home in Ponte Vedra. Donna Mullen of Jacksonville Beach is on another card, listed as missing from her home on North Second Street on July 19, 1986.
Many families reached out to Project: Cold Case after the release of the first edition of cards to ask about a second set including their murdered son, daughter or parent, Backmann said. Each family receives a deck of cards, and none are ever sold, he said. As funding allows, more rounds of cards are planned.
Businesses can contact the Project: Cold Case office at (904) 525-8080 for information about getting decks.
The Jacksonville Sheriff's Office also is boosting its cold case coverage with its own Cold Case Spotlight on its social media sites. The monthly feature, begun in March, was started to give "more of a push" for the cold cases, Sheriff's Office spokesman Christian Hancock said. Police release a new case every month.
Anyone with information related to any case on the Project: Cold Case cards is asked to contact the Sheriff's Office at (904) 630-0500 or by email at JSOCrimeTips@jaxsheriff.org. To remain anonymous and be eligible for a possible reward, call First Coast Crime Stoppers at 1-866-845-8477 (TIPS).
---
Sign up for the Jacksonville Today newsletter
Your local weekday newsletter for news and ways to get involved in Northeast Florida.