Pastors pledge to 'Take Back the Mic' from haters 
Published on September 7, 2023 at 5:48 pm
A group of clergy joined together Thursday to pray for a stop to racial division, saying the policies of Gov. Ron DeSantis and lawmakers are "spewing hate" like the mass murders at Dollar General in jacksonville.
They vowed to fast and pray over the next 10 days for reversal of what one called an "environment laced with hate" in Florida. Clergy members also plan a march on City Hall on Sept. 16.
The march will come a day after Edward Waters University students deliver a letter to the governor's office in Tallahassee, demanding an end to actions they say sow hatred.
It is time to preach against a culture of violence and death, said the Rev. William Barber II, head of Repairers of the Breach. a group based in North Carolina that says it combats immoral and illegal policies against LGBTQ people, labor and voting rights, criminal justice and other policies that negatively affect the poor and marginalized.
The movement aims to "take back the microphone" from lawmakers who spew hatred in their policies against others, Barber said.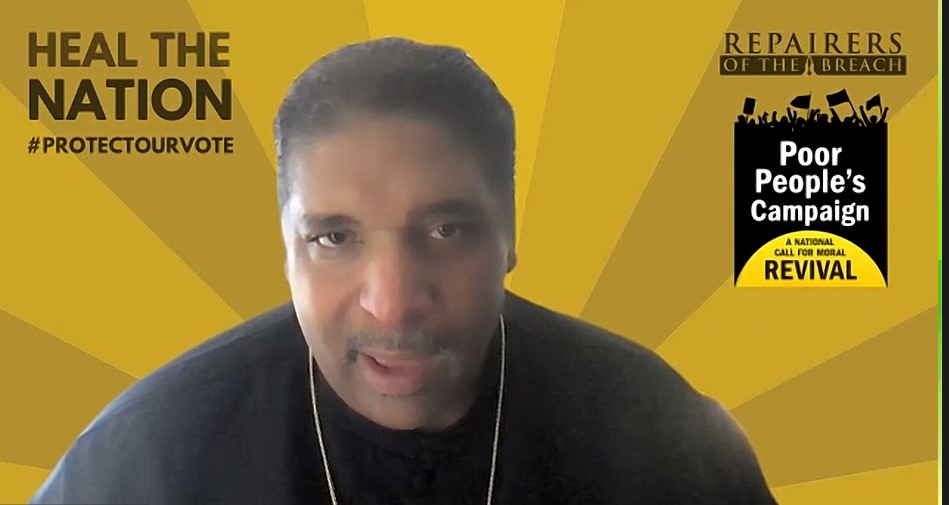 "It is time for them to cease and to desist, or resign; to repent, to confess, to cease and desist or resign. And we are required in this moment to raise up a mighty coalition of love and truth who will speak with our prayers, with our voices, and with our votes," Barber said during a news conference at Saint Paul AME Church on New Kings Road. "They are rising up to take back the mic from those who for far too long used the public mic to fill the airwaves with hateful and divisive lies about Black people, Black history, LBGTQ brothers and sisters, immigrants and women."
The civic courage of elected leaders "is in short supply," said the Rev. James Morris, president of the Florida Council of Churches. The actions of lawmakers to "muzzle" sanity and decency have put us on the brink of a cultural revolution that is "running America off a cliff," he said.
"In this day and time, today in Jacksonville, it's the demons who are in charge, rather than the demons being exorcised and run over the cliff," Morris said. But the murders at Dollar General — of Angela Michelle Carr, 52; store employee A.J. Laguerre, 19; and 29-year-old customer Jerrald Gallionlisten — will not be in vain, he said.
"We are here because we have come to take back the mic. We have gathered here for the express purpose of speaking truth to power. This is nothing new. In the Torah, Moses did this when he demanded that the pharaoh let God's people go," Morris said
Laguerre's funeral service is set for 11 a.m. Friday at Joshua Christian Faith Center on St. Clair Street. Visitation for Gallion is from 4 to 8 pm. Friday at Q. L. Douglas Funeral Home on Edison Avenue, with a funeral at 11 a.m. Saturday at St. Paul Missionary Baptist Church on Winton Drive. Carr's funeral will be at 1:30 p.m. Friday at Bethel Baptist Church in Downtown Jacksonville. The Rev. Al Sharpton will delivery the eulogy.
Speaking from the St. Paul's pulpit on Thursday, many clergy members reminded people that the triple shooting occurred the day before the 63rd anniversary of Ax Handle Saturday. That is when a gang of men beat Black teens and activists with axe handles in what is now known as James Weldon Johnson Park.
The Dollar General shootings also occurred as the nation marked the 60th anniversary of the March on Washington for Jobs and Freedom, when the Rev. Martin Luther King Jr. made his famous "I have a dream" speech.
The clergy all pointed to DeSantis, a Republican presidential nominee, for his push to relax gun laws, repeal diversity initiatives and stop what he terms "woke indoctrination" in schools.
"A philosophy put forward by the governor of this state, a philosophy that has barred classroom lessons on race, and classroom lessons of sexual orientation and gender identity; a philosophy that blocked Advanced Placement African-American studies," said The Rev. Mark Thompson. "And we learned just yesterday that he is pushing to replace the SAT, which isn't great, with the CLT, the classic learning test which teaches everything Western and nothing modern or progressive."
Morris reminded people that something can be done.
"He's declared war against woke. Let me tell you something: Woke folk vote," Morris said. "That's what we must do to change the trajectory of the state of Florida. God bless you."
The Rev. Alvin O'Neal Jackson, of the Poor People's Campaign, read from the letter that Edward Waters students will take to the governor and Legislature. He said the governor's "hateful and divisive lies" about Blacks, immigrants and those who are LBGTQ must end. Instead, focus on the real issues in Florida like health, income disparities and education issues, he said.
"Instead of focusing on and addressing the real issues in your state, you spend time spewing hate and division," Jackson read. "We, as religious and moral leaders, along with the thousands who signed this letter, are publically calling on you to cease and desist, or resign from using public office, public space and the public microphone to spew hate and divide the people. This is a form of public malpractice."
Edward Waters students plan to deliver their letter at noon Sept. 15 to the Statehouse in Tallahassee.
The clergy-led Moral Gathering march will start at 9 a.m. Sept. 16 at The Bethel Church, 215 Bethel Baptist St., and continue to City Hall, at 11 W. Duval St.
---
Sign up for the Jacksonville Today newsletter
Your local weekday newsletter for news and ways to get involved in Northeast Florida.