Perspectives
Nikesha Elise Williams
Jacksonville Today Contributor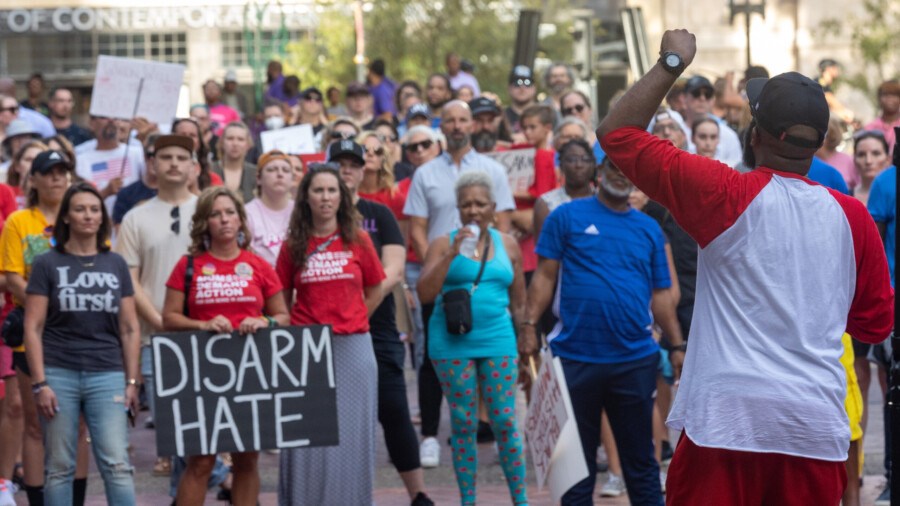 OPINION | This hate is ours to hold 
Published on August 28, 2023 at 10:07 pm
I don't want to write this. I told myself after Tyre Nichols was killed in January that I would no longer perform grief for public consumption. I didn't know it then, but I lied, because one day after tragedy in my own city I am consumed by words. They float in my mind, forming sentences to convey the mixed emotions of my hardened, cynical, wounded heart.
Saturday, I received a news alert about a shooting on Kings Road near Edward Waters University in Jacksonville. I read the headline but did not open the story choosing to remain willfully ignorant about what was happening in the name of protecting my peace. It is both a luxury and a privilege I've exercised often since I left my former career as a television news producer. Hours later I was on the phone with my mother, who lives in Chicago, and she asked me about the shooting because she had heard. A quick trip through my inbox told me three people had been killed in a racist massacre. I shook my head, commiserated with sadness about the violence, and tried to suppress any other thoughts that threatened to rise.
Sunday. 3:30 a.m. I couldn't sleep so I grabbed my phone, opened Instagram, and the first post I saw was a CNN clip of Sheriff T.K. Waters flanked by Mayor Donna Deegan, City Council Member Ju'Coby Pittman and many others detailing what took place at the Dollar General. I watched the clip, mindlessly scrolled social media for another hour, and then turned off my phone and went back to sleep.
Hours later, I walked into the mega church on the city's Southside where I choose to worship with my children — my son at my side, my daughter in my arms — and checked them into their respective classrooms. Because I came through a side door, it wasn't until I carried my daughter to her classroom that I was confronted by the enhanced security. There were no obvious weapons on display, or uniforms adorned, just a wall of men with neatly shaven faces, and shorn hair that let me know security was enhanced for the day.
I dropped my daughter off, smiled at the nursery room workers, the majority of them Black women, and click clacked my hot-pink heels across the concrete floor into the sanctuary and to my seat. I was #dressedinjoy, but the Pastor was noticeably in all Black, as if in mourning. As praise and worship resounded in the auditorium, words rose unbidden. As voices harmonized about the goodness of God I couldn't help but think about the three people who were murdered and how history, our present, and perhaps even our future has a habit of laughing in the face of the holy.
My cynicism escalated when the pastor approached the place where security would set up his podium, microphone clutched between his brown hands. He commented on the intentional diversity of the congregation and attributed the racial makeup to grace. He urged us to link arms with our neighbors as he prayed against the spirit of racism. Immediately parishioners enveloped me in a human chain, dutifully bowed their heads, and whispered their own fevered prayers and incantations to ward off the enemy and all his machinations as the pastor prayed over us all. My head was tilted downward, but my eyes were open, and my mind asked, "When has prayer ever been an effective tool against racism and white supremacy?"
Florida was a slave state before and after it joined the Union.
Florida was a Confederate state.
The city of Jacksonville was an important port city to hold for the Union army during the Civil War, but rebel soldiers were allowed to survive here thanks to inland supply routes.
Racial animus has been a part of the very fabric of Florida and the city of Jacksonville since their founding.
Since the Civil War…
Since Ocoee…
Since Rosewood…
Since Ax Handle Saturday…
Since acid was poured in the Monson Motor Lodge pool in St. Augustine…
Since Martin Luther King Jr. was too afraid to march through the streets of the nation's oldest city, and instead snuck through the back rooms of small churches to spread the message of freedom, justice and liberation…
Since the Confederate flag flew high over the I-4/I-75 interchange…
Since the Florida state flag bore the bars sans stars…
Since Stand Your Ground…
Since Trayvon Martin…
Since Jordan Davis…
Since Markeis McGlockton…
Since Ahmaud Arbery…
Since Donald Trump goaded the first Black president to prove he was a U.S. citizen…
Since Donald Trump became president…
Since Ron DeSantis found it was more politically expedient to be openly racist and ally himself with a movement of white supremacists who support authoritarian populism as long as the bellicose bigots/would-be dictators — if not for democracy — are mediocre white men who describe hateful, racist, violence as "horrific" but take no responsibility for stirring up the scum from which the "scumbag" devotedly drank, faithful to a doctrine that detests people because of the color of their skin, and live in unfounded fear that they will be replaced by us, who they call niggers.
I didn't want to write this, but here I am using my words to process a pain that runs too deep in my bones, my bloodline, for me to ignore, while my children watch TV, blissfully ignorant of the dangers that could face us, kill us, the next time we go to the dollar store, or grocery store, or play our music too loud, or wear our hoodies, or go for a run, or go to church.
There is no safe haven for Black people anywhere in America. The endless killings, beatings, attacks, false arrests etc. prove that our skin will always be a provocation for police, for vigilantes, for people who fear us for no other reason than the fact that we exist and we dare to take up space and breathe the same air.
Thoughts and prayers don't console.
God's timing is not always God's plan.
And while broken hearts heal, and forgiveness sets us free, I will never forget that as long as my soul's home is a body of Black woman, I am never safe from racism and white supremacy, which mean me harm and wish me death. Just like prayer hasn't worked against these specific wages of evil, neither has our government, or its mayors, governors, legislators, or presidents (including Obama), because this hate is ours to hold. It is our origin, not our sin, and while often cast as a villain in this country, in this state, in the city of Jacksonville, it has proven victor time and time again.
Lead image: Jamil Davis of Black Voters Matter speaks to hundreds of people at James Weldon Johnson Park in Downtown Jacksonville during a demonstration against white supremacy on Monday, Aug. 28, 2023. The rally was initially slated to observe the 60th anniversary of the March on Washington for Jobs and Freedom but was switched following the racially motivated violence in Grand Park on Saturday. | Will Brown, Jacksonville Today

Nikesha Elise Williams
Jacksonville Today Contributor
Nikesha Elise Williams is an Emmy-winning TV producer, award-winning novelist (Beyond Bourbon Street and Four Women) and the host/producer of the Black & Published podcast. Her bylines include The Washington Post, ESSENCE, and Vox. She lives in Jacksonville with her family.

Nikesha Elise Williams
Jacksonville Today Contributor
Nikesha Elise Williams is an Emmy-winning TV producer, award-winning novelist (Beyond Bourbon Street and Four Women) and the host/producer of the Black & Published podcast. Her bylines include The Washington Post, ESSENCE, and Vox. She lives in Jacksonville with her family.
---
Sign up for the Jacksonville Today newsletter
Your local weekday newsletter for news and ways to get involved in Northeast Florida.