Perspectives
A.G. Gancarski
Jacksonville Today Contributor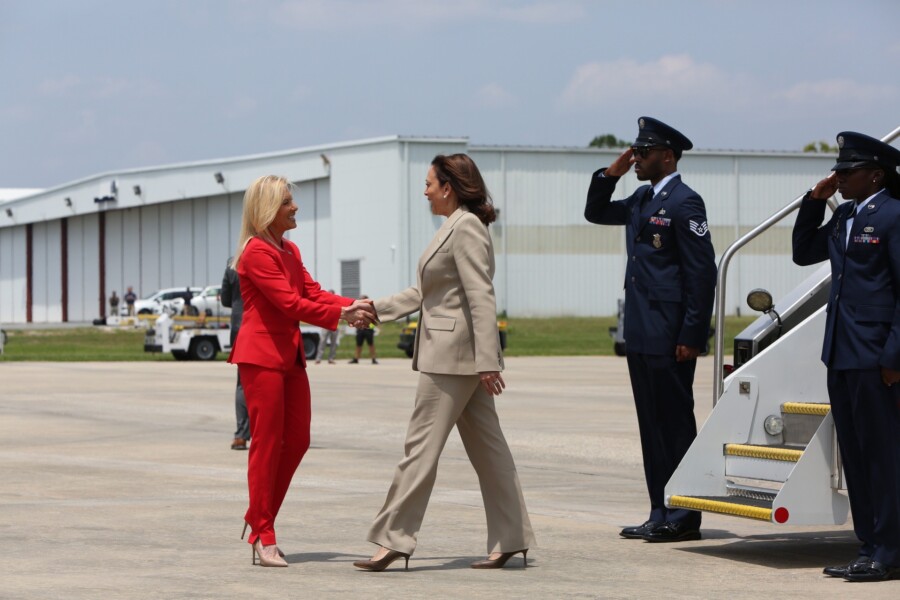 OPINION | VP Harris exposed DeSantis' weakness 
Published on July 23, 2023 at 8:58 pm
It was fitting that Vice President Kamala Harris was in Jacksonville Friday to make the Joe Biden administration's case against what she called the "propaganda" of Florida's new history-teaching standards.
After all, Jacksonville is the place where just four years ago, Democrats did not run a mayoral candidate but now has a Democratic mayor.
It is a place where Gov. Ron DeSantis, distracted by a quest for the White House, didn't do anything to help Daniel Davis, the Republican who he nominally endorsed, instead standing by and letting the office go blue.
And it is a place that DeSantis, whose handpicked Board of Education imposed a set of standards that looked for the brighter side of slavery for enslaved Black people, was a continent away from in Utah, as the vice president spoke at the Ritz Theater, blasting "extremists" and "so-called leaders" who are imposing "revisionist history" on underpaid and overworked teachers.
The governor likes to joke that Harris is President Biden's "impeachment insurance." But there was no joking when the VP was on stage in LaVilla.
While DeSantis' comms team sent out a preemptive statement snarking about Joe Biden's not visiting Hunter Biden's daughter in Arkansas, the vice president had her say about an educational establishment that would have "teachers strap on a gun in the classroom" while they teach middle school students that "enslaved people benefited from slavery" and high school students that the victims of racially motivated massacres were somehow also perpetrators.
In a 25-minute speech, Harris linked the state's treatment of Black history to "powerful forces'" efforts to "distort history," including to "minimize or even deny the Holocaust" and obscure the history of Japanese internment camps or the treatment of native peoples.
She described a national agenda to purposefully dumb people down and disinvest people in knowledge of the past.
"All the people we'd send our children out to meet are clear about our history, and we're going to send our own children out not to know what it is. Building in a handicap for our children that they're not going to know our history when the rest of the world does," Harris said.
She noted that attacks on voting rights, LGBTQ rights, and book bans "revert to the same source" that this deliberate erasure of history comes from, in a speech full of strong quotes that conveyed not just outrage but a sense that the DeSantis Era and its funhouse mirror approach to normalizing atrocities may just end at some point.
"History has shown us that in our darkest moments we have the ability to unite and come out strong," the vice president said, noting that people of disparate roots, ranging from slave ships to Ellis Island passages and native people, all can and should unite to say "no more and not again."
"They insult us in an attempt to gaslight us and we will not have it," Harris added.
Jacksonville's racial history is full of lowlights, and while it's unclear how a Mayor Daniel Davis would have handled Harris speaking in Jacksonville (if she even would have were a Republican elected in May), we know how Mayor Donna Deegan framed the vice president's speech.
"Unity in our city, in our state and in our country begins with respecting each other's humanity," said Deegan. "Any attempt to cast slavery as a benefit to Black people is offensive and unacceptable. We must teach our children the truth about slavery. It was a savage attack on humanity and that must be acknowledged. We must face the demons of our past to offer all our children a better future."
Deegan should anticipate more "offensive and unacceptable" provocations from Tallahassee. For example, legislation to force cities like Jacksonville to keep Confederate monuments (like the "Women of the Southland" statue in Springfield Park) will be filed again in 2024, with a new kicker (according to Action News' Jake Stofan) stipulating that cities must restore removed monuments at their own expense (such as the one moved from James Weldon Johnson Park at the behest of former Mayor Lenny Curry).
Many of those reading this likely don't understand what drives the need to celebrate the losing side in the Civil War or to minimize and misrepresent the brutality of the chattel slavery they defended to their deaths, given it was 150+ years ago. Many reading this also don't understand why a governor who went to two Ivy League schools would move to take books out of libraries and divest children of an ability to learn history or culture beyond the catechisms of public or charter schools.
What is clear though, from Harris' speech and from Deegan's statement, is that the culture war can and does go both ways. It is possible to resist movements toward willful dehumanization, even though the lessons of how to resist seem like they have to be learned anew in each era. There comes a point when people say they've had enough.
And on Friday in Jacksonville, there may not have been a consensus on that point. The City Council is very white, very male, and largely yoked to DeSantis and a Republicanism that treats the vice president like she herself is a caricature unworthy of her title. And in fact, Rep. Kim Daniels, a Black Jacksonville Democrat, was on the task force that helped formulate the standards. (Editor's note: In a statement released after this column's original publication, Rep. Daniels said while she was appointed to the African American History Taskforce, she never participated in any conversation about the state's Black history standards. "In fact, I was never consulted about these standards. I disagree with and would have immediately challenged and resisted any notion that slavery was a benefit to African Americans. I am a Black woman who was born in the early 1960s. I understand the atrocities of racial oppression and Jim Crow. I lived it," she said.)
But there was a renewed understanding that people have a fighting chance to fight for — and insist upon — true history, true pluralism, driven by the knowledge that we don't have to settle for the gaslighting and the deliberate erasure of facts to serve an insatiable and amoral power structure that normalizes a certain perspective and renders all who fall outside of the constrictions of that paradigm as others, whose true stories and legacies aren't worthy of remembrance.
In remarks in Utah hours after Harris' speech, DeSantis charged the VP with trying to "chirp" and "demagogue" in Jacksonville. But he didn't seem very conversant with what he called the "robust" history standards, particularly regarding how enslaved people benefited from forced servitude. He urged reporters to ask the Board of Ed about them, presumably from two time zones away.
"I think what they're doing is, I think that they're probably going to show some of the folks that eventually parlayed, you know, being a blacksmith into doing things later in life," DeSantis said.
It's that callous disregard for swaths of humanity that DeSantis' standards aid and abet. And it was up to VP Harris to speak truths that Florida's disempowered Democrats lack the platform to fully get over on their own. It is reasonable to expect to see more of her and President Biden locally and perhaps statewide, as the White House seems to have sensed that the absent governor has left a vacuum as he chases his next gig.
This column was updated on Monday, July, 24, 2023, with the statement from Rep. Kimberly Daniels.

A.G. Gancarski
Jacksonville Today Contributor
A.G. Gancarski's columns were a staple in Folio Weekly for nearly two decades, and he has been the Northeast Florida correspondent for Florida Politics since 2014. He writes about the intersection of state and local politics and policy.

A.G. Gancarski
Jacksonville Today Contributor
A.G. Gancarski's columns were a staple in Folio Weekly for nearly two decades, and he has been the Northeast Florida correspondent for Florida Politics since 2014. He writes about the intersection of state and local politics and policy.
---
Sign up for the Jacksonville Today newsletter
Your local weekday newsletter for news and ways to get involved in Northeast Florida.