Perspectives
A.G. Gancarski
Jacksonville Today Contributor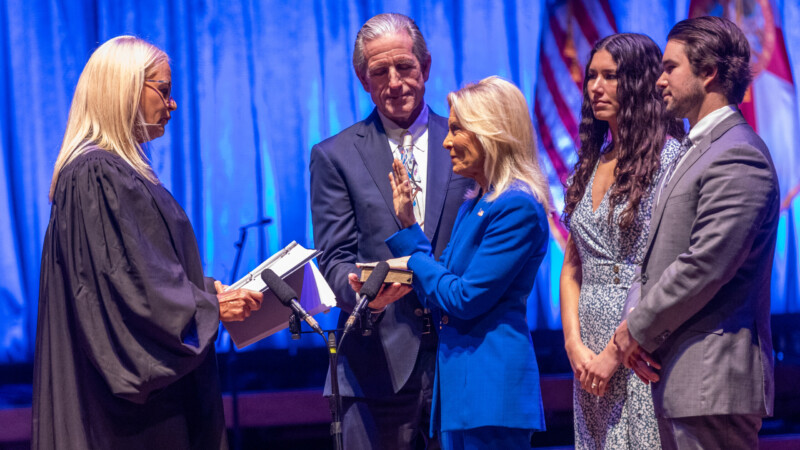 OPINION | Covering Deegan: News media will face special challenge in covering a friendly face
Published on July 10, 2023 at 2:56 pm
Though she's the first female mayor, Donna Deegan isn't the first former media member to hold office in Jacksonville.
Property Appraiser Joyce Morgan spent eight years on the City Council before winning citywide. Before that, she was a trusted voice on WJXT.
Another trusted voice from that same outlet went on to City Council some years before. Harry Reagan went from television to the dais in 1990, back when media was a different thing in this city: a big daily newspaper, a few discrete TV news ops, and nothing in the way of new digital outlets like this one and others that predominate today.
Deegan isn't even the first new elected official who recently was on television. Former First Coast News colleague Ken Amaro is new to the City Council.
But the second Democratic mayor in 30 years presents a unique challenge for local media, many of whom have known her as a friend for a long time, and who now face the challenge of detaching from the personal dynamic developed over decades and treating her like just another politician.
One suspects there will be a learning curve.
A recent First Coast Connect media roundtable, of which I was part, saw many of the participants stressing the personal connection they have with Deegan.
Some veterans on television, meanwhile, shared a number of formative experiences with the new mayor back when she spent most of her adult life at a local anchor desk. Trials and tribulations, highs and lows, life events.
This is new territory for local media and wouldn't have been the case if the May election had gone differently.
So the question local press will face, along with consumers of their products, is how they can properly assume the necessarily adversarial position the media should have with the government despite personally liking the mayor.
These are problems that reporters haven't had to deal with recently.
The eight years of Lenny Curry were typified by jousting, particularly on social media when the former office holder would go after one reporter or another (usually a Times-Union columnist) over some or other perceived slight or misrepresentation.
The dynamic bred an innate skepticism that Curry's office didn't appreciate but which led to a level of accountability that might not have existed in the same way otherwise. The conflict also elevated the T-U in ways the Curry administration probably didn't expect, allowing the shrinking staff to maintain relevance in spite of Gannett's willful disinvestment in the product.
The Alvin Brown era was not adversarial in quite the same way, but the administration dealt with enough issues that it led to adversarial coverage, and enough of that ultimately to ensure Brown was a one-term mayor in the end.
Deegan's administration is still figuring out the City Hall floor plan, but its first scandal has already happened.
Boards and Commissions Director Garrett Dennis is in the soup for using campaign funds from his failed state House run last year to contribute to the campaigns of Property Appraiser Joyce Morgan and Councilman Jimmy Peluso.
The burn rate was notable even when that campaign was happening, with a lot of money spent on expenses and staff. And the fact that he could make those donations suggests he left resources unused in his race against current Rep. Kim Daniels, raising other questions.
Dennis says it's an "easy remedy." Deegan's office says it's not an issue either.
Readers can decide if they buy that or not, of course. Or if they would buy that at face value if a high-level Curry or Daniel Davis appointee had gotten a six-figure gig after donating to a campaign from their own failed campaign's account.
Perhaps Dennis just didn't know relevant law about campaign finance, but given that he's run three campaigns in under a decade, and spent more than a decade at the Supervisor of Elections before that, it raises questions about the seeming disconnect.
There will be more issues, of course, that will require the media to move from the "Donna" era to thinking of the Deegan Administration as yet another team on the 4th floor that requires journalistic detachment. Some may be personal scandals; they happen in all administrations. Others may be related to the upcoming budget hearings in August, or to negotiations with the Jaguars, or the inevitable challenges created with hurricane aftermath, or other things less eminently foreseeable.
Donna Deegan may be most reporters' friend. But holding the Deegan administration accountable will be their responsibility for at least the next four years, and media would be advised to detach the personal from the professional, even with someone they like.
As a journalist, Deegan asked the tough questions. As a mayor, she will expect them, and the local press should get comfortable delivering them.
Corrected: A previous version of this column said Garrett Dennis donated to Deegan. He donated to Joyce Morgan's campaign. We regret the error.
Lead photo: Mayor Donna Deegan is sworn in on July 1, 2023. | Will Brown, Jacksonville Today

A.G. Gancarski
Jacksonville Today Contributor
A.G. Gancarski's columns were a staple in Folio Weekly for nearly two decades, and he has been the Northeast Florida correspondent for Florida Politics since 2014. He writes about the intersection of state and local politics and policy.

A.G. Gancarski
Jacksonville Today Contributor
A.G. Gancarski's columns were a staple in Folio Weekly for nearly two decades, and he has been the Northeast Florida correspondent for Florida Politics since 2014. He writes about the intersection of state and local politics and policy.
---
Sign up for the Jacksonville Today newsletter
Your local weekday newsletter for news and ways to get involved in Northeast Florida.