Legislature expands parental rights law; preferred pronouns not allowed
Published on May 4, 2023 at 11:57 am
Over the objections of Democrats Florida's Republican-led legislature is expanding the state's parental rights laws to allow them greater say over school library books and classroom materials.
The proposal also places more restrictions on how sex education is taught and discussed in state schools. The measure is an outgrowth of Florida's so-called "Don't Say Gay" law.
Democratic Sen. Tracie Davis of Jacksonville says you can't please everyone, so why not allow parents to limit access to their kids only? Davis tried to amend the bill to do that when it comes to school library books and classroom materials.
"We shouldn't allow one parent to cancel the materials for every student pending a review that could take at a few months [or] a few weeks," said Davis.
But the Senate bill sponsor, Republican Clay Yarborough of Jacksonville, wasn't having it.
"Allowing objected materials to remain available to other students could lead to confusion and potentially expose them to content their parents might find objectionable," he said.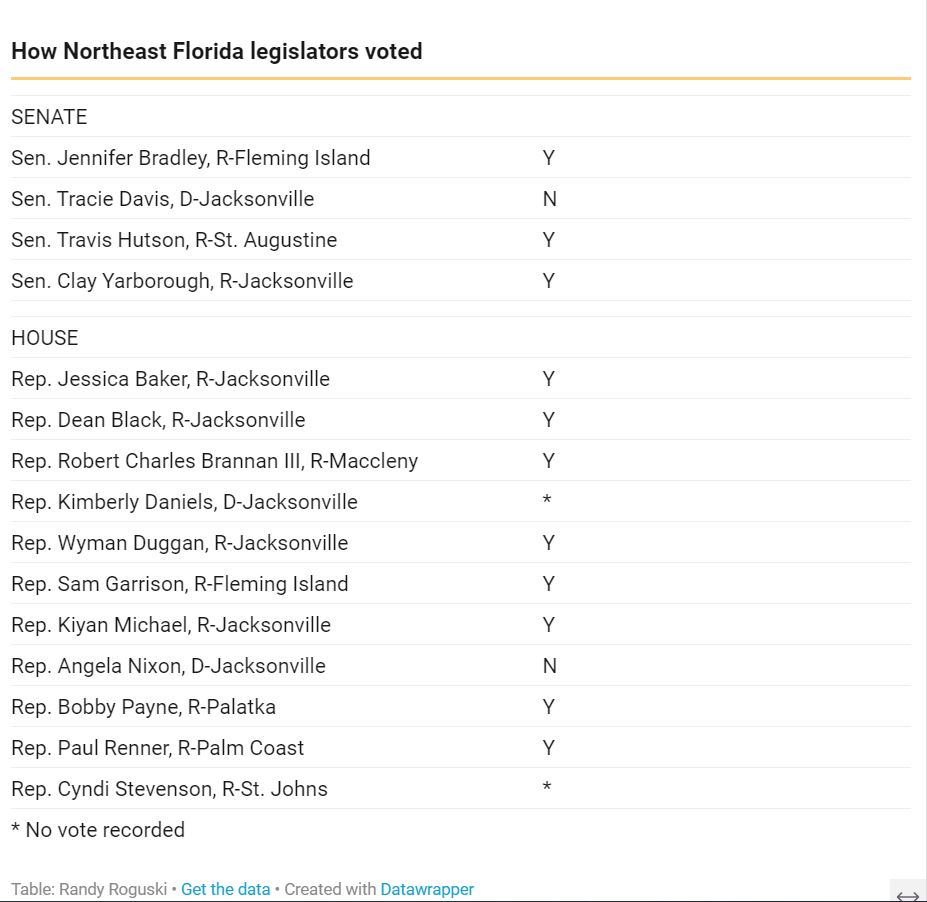 Senate Bill 1069 creates a process for people to challenge public school library books—an expansion of last year's parental rights in education law, which critics have dubbed "Don't Say Gay." It also limits pronoun use for students and employees to the ones that align with a person's biological sex.
A law approved last year bars instruction about sexual orientation and gender identity in kindergarten through third grade. The measure approved Wednesday broadens the prohibition to pre-kindergarten through eighth grade.
"Let's be honest about what this bill is about. It's about silencing any discussion about anything different from heterosexuality," said Democratic Sen. Tina Polsky of Boca Raton.
Most of the books removed from schools so far have included same-sex relationships, and descriptions of sex that Gov. Ron DeSantis has described as pornographic. Here's Yarborough, describing a recent press conference where the governor and state ed officials highlighted some of the books removed.
"One of the books was called 'Flamer' that's a graphic book about young boys performing sexual acts at a summer camp. Another was "The Teens Guide To Sex"… we need to keep the discussion about what's called 'book banning' in context…we have in no way directed the districts and schools to remove every single book off their bookshelves."
The proposal initially extended a ban on instruction of gender identity and sexual orientation through the 8th grade, but a move last month by the state board of education to extend the ban to all grades made that issue moot. The newest proposal comes amid an intensifying backlash to LGBTQ issues and a rapidly escalating culture war, which Gov. Ron DeSantis is leaning into.
Copyright 2023 WFSU. To see more, visit
WFSU
.
---
Sign up for the Jacksonville Today newsletter
Your local weekday newsletter for news and ways to get involved in Northeast Florida.