Jax native believes affordable housing effort in Northwest will bear fruit
Published on May 1, 2023 at 3:07 pm
Rebecca Williams used to be intimidated by her grand vision to transform urban communities in Jacksonville.
She prayed. She hoped. She anguished.
Finally, someone told her: "Why don't you just do it?"
Since that time, she has.
This spring, Williams' company, Fruit of Barren Trees, held a groundbreaking for the $23 million redevelopment of Moncrief Park that included purchasing a vacant building to transform into its headquarters.
The company seeks to help meet Jacksonville's desperate need for affordable housing by acquiring vacant lots and developing them into homes that "bring dignity and quality to this area" for people who earn less than the area median income ($58,263 last year, according to the U.S. Census Bureau). A nonprofit arm, Fruit of Barren Trees Pipeline, will focus on affordable housing, workforce development and environmental justice to ensure minority communities are no longer left behind.
"I think sometimes we think for certain areas, certain things are impossible," Williams says.
The name of her company promises more. "Fruitful things can come from things that are barren," she says. The name comes from an Old Testament passage that says a righteous person's trees will yield fruit in due season.
With affordable housing on the agenda of both mayoral candidates, the City Council, economic development leaders and nonprofits, Williams says there is an opportunity to provide it while reviving an area that is a 10-minute drive northwest from Downtown.
"What we are trying to do is change the narrative of what's affordable," Williams says of her company's floor plans, which include Spanish bungalows, Tudor or cottage offerings. "We want to think about our lived experiences. All of us need somewhere affordable to live. Instead, there is this stigma that affordable housing is only for people in poverty."
Williams doesn't believe Moncrief is an urban wasteland. She was raised in Northwest Jacksonville — growing up near Dunn Avenue and living in Brentwood for a spell. What Northwest Jacksonville lacks, she says, is intentional and specific investment from people who want to pay homage to history without destroying or displacing the present.
After she founded Fruit of Barren Trees in 2020, the company has purchased 12 properties in Brentwood, Grand Park and Moncrief. Its target homebuyers are working- and middle-class families.
Funding from community redevelopment investment organizations, like LISC Jacksonville, as well as sponsorships from local banking institutions were critical in acquiring the 2,800-square-foot building in Moncrief Park that will serve as its headquarters.
Williams' vision for what's next is to focus on vacant properties that are within walking distance of each other to establish roots in Moncrief Park before expanding to other areas of Northwest Jacksonville.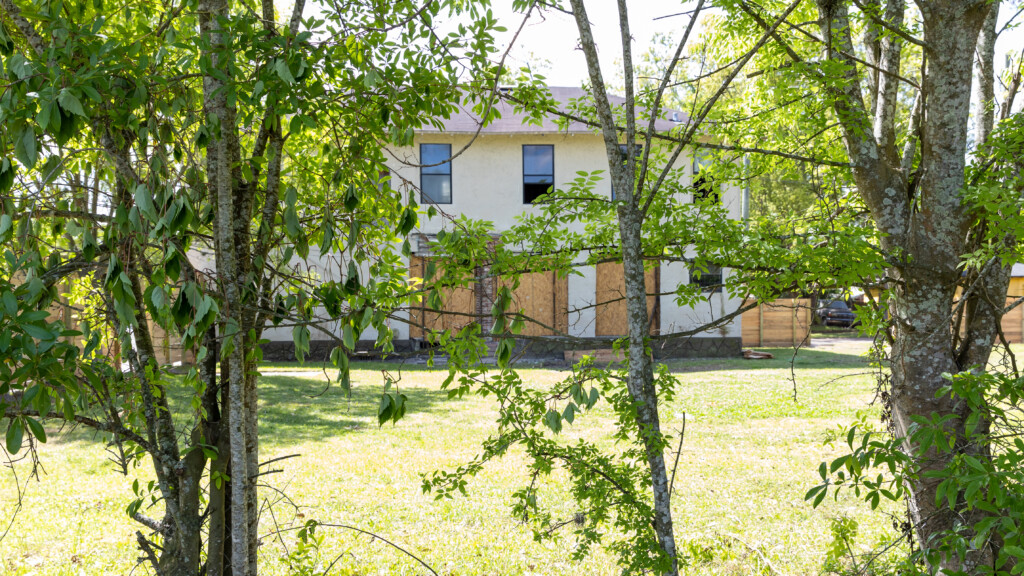 "I'm just one piece of a massive puzzle," Williams says. "For all of the pieces to work together, everybody has to do their part because there is only so far that one person can get. …The more we have a coexistence and lean into that, I think, that's how we get it moving forward."
Fruit of Barren Trees, a for-profit home builder, joins nonprofits like HabiJax and the Northwest Jacksonville Community Development Corporation, which have been building homes in the same area for decades.
Northwest Jax CDC CEO Paul Tutwiler welcomes the efforts of what he calls "young and bright minds" — and he sees an opportunity for Northwest Jacksonville to become the mixed-income community he's envisioned for decades.
"I pray the success of this community is not dependent on me," says Tutwiler, who at 62 has devoted a third of his life to developing Northwest Jacksonville. "It's a welcome relief to see there are other people who are interested in the development of the community. You have to hope they are successful in their efforts. We don't have to be the author of everything that happens. We can just be a compliment."
Tutwiler remembers when Northwest Jacksonville was economically stagnant and shrinking. "Now, we are seeing people return to the community. People with means. People who choose to live in an area and who don't have to live there," he says.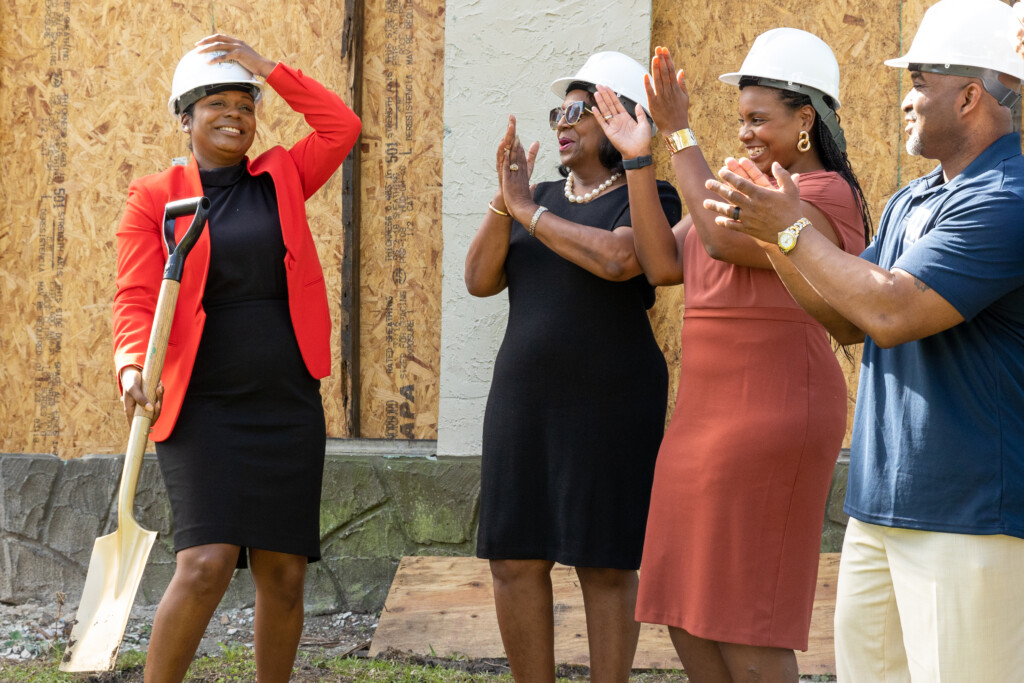 The Northeast Florida economic development agency JAXUSA has targeted intermodal logistics as one of six innovation niches the region can capitalize on over the next five years.
Tutwiler says Northwest Jacksonville's proximity to Jacksonville International Airport, Jaxport and Downtown make it akin to a ripening fruit. The effect of these industries is evident.
For smaller developers — like his organization and Fruit of Barren Trees —the rising price of materials since the pandemic and other inflationary pressures can make it difficult to carry costs. However, those who can strategize and buy land can seize opportunities in this economic climate.
Tutwiler and Williams have met with Council member Ju'Coby Pittman about improving the Moncrief corridor over the last 18 months.
Pittman's district no longer includes all of Myrtle Avenue; but, the native Jaxson has a desire to improve the entire corridor through beautification, attracting small businesses and advocating for economic development dollars.
"We want the same quality of life for residents along Moncrief and Myrtle Avenue area as everyone else in this community," Pittman told Jacksonville Today in an earlier conversation.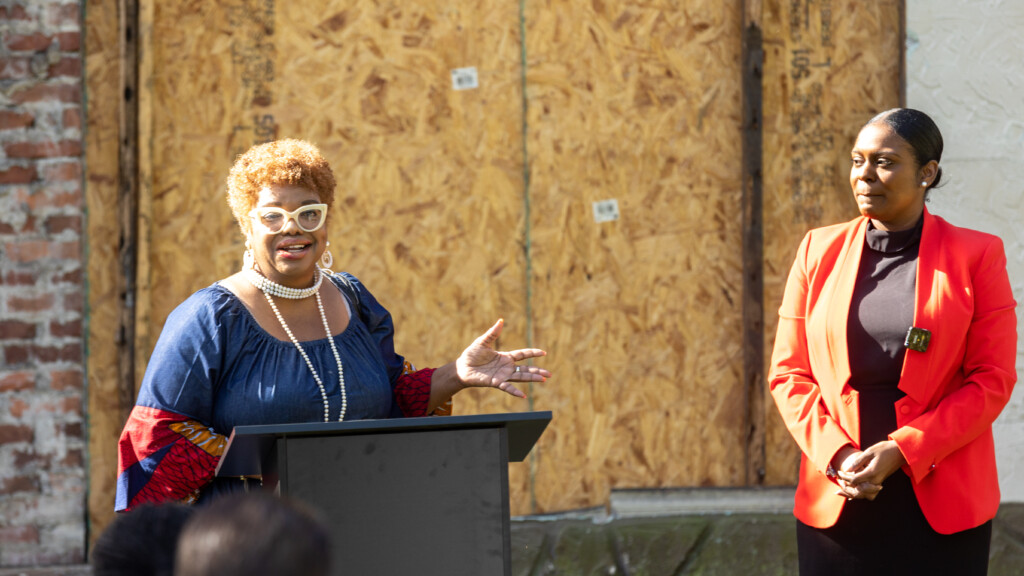 Dreams are deferred without dollars. Pittman alluded to as much at the Fruit of Barren Trees groundbreaking in March.
Williams understands that is a reality as well. She is seeking a mix of private investment and funding from community development institutions and banking institutions, as well as the local, state and federal governments to ensure her dream does not fester like a sore.
"We have a lot of gatekeepers in our community," Williams says. "So, if we can alleviate some of those gatekeepers and create access, streams and workflows that stream directly to the folks who need it, that's where we'll be able to develop in a significant way."
Williams expects the renovations of her new headquarters will be finished this summer. She named it The English Gardens at the Birmingham in honor of her late mother, former River Region Human Services CEO Derya English Williams. She envisions it as an office and event space that will serve as a lighthouse for the broader Northwest Jacksonville community.
"We don't demolish anything that is existing," Williams says. "We try to rehab existing infrastructure unless it's condemned. But the lots that are vacant, they will have new and modern buildings to honor the new generation of people that have chosen to come."
Williams concedes that her vision is audacious. But, the Bethune-Cookman University graduate takes inspiration from her alma mater's founder. Mary McLeod Bethune converted $1.50, relationships with philanthropists and a commitment to serve an oft-forgotten segment of Black people into a university that has affected innumerable Floridians over the last 125 years.
Joe Whitaker, a business retention manager within the city of Jacksonville's Office of Economic Development, says Williams' vision is unlike most that he has encountered in his more than two decades in economic development because she is focused on redeveloping a few blocks at a time.
"Neighborhoods all over Jacksonville need a Rebecca Williams," Whitaker says. "It's going to be great to see this project not only get off the ground but be successful."

Will Brown
Reporter, Jacksonville Today
Will Brown is a corps member with Report for America, a national service program that places journalists into local newsrooms. He previously reported for the Jacksonville Business Journal

. And before that, he spent more than a decade as a sports reporter at

The St. Augustine Record

,

Victoria (Texas) Advocate

and the

Tallahassee Democrat. Reach him at will@jaxtoday.org.

Will Brown
Reporter, Jacksonville Today
Will Brown is a corps member with Report for America, a national service program that places journalists into local newsrooms. He previously reported for the Jacksonville Business Journal

. And before that, he spent more than a decade as a sports reporter at

The St. Augustine Record

,

Victoria (Texas) Advocate

and the

Tallahassee Democrat. Reach him at will@jaxtoday.org.
---
Sign up for the Jacksonville Today newsletter
Your local weekday newsletter for news and ways to get involved in Northeast Florida.