Duval Schools book-review supervisor, who called gay characters 'contrary to the design of humanity,' is resigning
Published on March 8, 2023 at 10:00 pm
A Duval Schools staffer who's helping lead the district's ongoing review of 1.6 million books called depictions of an adult lesbian couple in a book intended for 5th graders "morally damning to a student" in a book review last spring.
Michelle DiBias, the district's supervisor of instructional materials and media services, also wrote in the review of Ivy Aberdeen's Letter to the World that the book was "teaching a lifestyle contrary to the design of humanity," and recommended it be removed from all shelves, according to a log of 2022 review notes obtained by Jacksonville Today.
DiBias' comments fell outside established American Library Association standards, other librarians say, and her characterization of Ivy Aberdeen's Letter to the World was in stark contrast to peer-reviewed journals, the kind of resources that new Florida laws require district reviewers to utilize in deciding what books to keep on shelves.
On Wednesday, DiBias sent out an email to colleagues saying she is resigning from her position. She did not respond to multiple requests for comment, but in the email to colleagues, obtained by Jacksonville Today, she wrote, "I am hoping to stay with DCPS in some capacity. It is a step of faith, so I do not know at all what that capacity is yet." On Thursday, Duval County Public released new records showing DiBias submitted her letter of resignation to the district on February 27. This was a few days after Jacksonville Today inquired to the district about her comments in last year's review.
DiBias was one of 11 reviewers assessing a collection of 179 books under scrutiny last year, and she was recently tasked with overseeing volunteer reviewers in a new process. Last week, the district retracted a logistical email DiBias sent to potential book reviewers, saying the information was "premature."
She's departing from the position as Duval Schools has received national scrutiny, and repeated criticism from Gov. Ron DeSantis, over its book review process. The district is assessing all 1.6 million of its books for compliance with state laws – a more extreme response than most other Florida school districts. The rate of the review means that only about 10,000 titles are currently available to students, according to the district.
Duval rejected dozens of books
Since 2020, DiBias has overseen an office that "coordinates the adoption, purchase, distribution, and inventory of instructional materials and textbooks for all schools. With an annual state categorical budget of approximately $10 million," according to the district's website and DiBias' LinkedIn profile.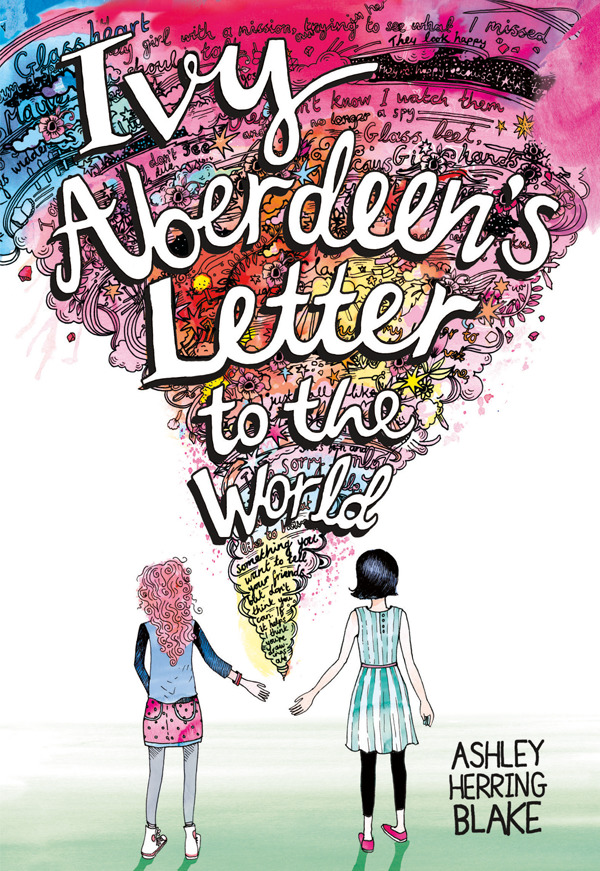 DiBias' written comments last spring were part of the district's review of a "diverse, inclusive" set of books called the Essential Voices classroom library collection. A different Duval Schools reviewer recommended Ivy Aberdeen's Letter to the World be placed in middle or high schools, instead of recommending removal like DiBias.
The Language Arts journal says the book's topics are "sensitively and warmly portrayed in this beautiful novel;" the School Library Journal calls the book "relatable and engaging;" and Kirkus Reviews says it's a "standard-setter," recommending the book for ages 8-14.
The district later returned the copies of the book to its distributor, along with 46 other titles. The book is not currently available in any grade level across Duval Schools, according to online library catalogs. Surrounding St. Johns and Clay counties have numerous copies of the book in both middle and high schools.
Ivy Aberdeen's Letter to the World was not the only book DiBias' reviewed differently than Duval County's other reviewers and peer-reviewed journals.
DiBias criticized a book about the Stonewall Riots (the 1969 uprising at a New York bar widely viewed as an origin of the modern LGBTQ+ civil rights movement) because it "does not depict the hard-working intelligent gay people who have jobs, marriages and are model citizens." She also wrote: "This book is not appropriate for any group of students. Remove it from all schools."
Kirkus Reviews called the same book "a user-friendly look at a watershed event and its context" and recommends it for ages 11-14. Another Duval County reviewer recommended the book be placed in high school media centers, with parental permission required.
The book was returned to its distributor, and it is not currently available in any Duval County high school, online catalog searches show. The same book is available in some St. Johns County schools, and other books about the Stonewall riots are available in Clay County schools. Almost all of the books in Duval County's online catalog that mention "Stonewall" are about Stonewall Jackson, the Confederate general.
DiBias made the same recommendation – "not appropriate for any group of students" – for the book The Best Man, in which the main character is a ring bearer in a gay wedding. "All other weddings he was in at the beginning of the book are looked down on," DiBias writes. According to the review logs, no other reviewer assessed the book and it was also returned to its distributor last year.
When Jacksonville Today asked Duval Schools what steps it had taken to address biases in book reviewing since last year, the district said, "The reviews you are seeing are more than a year old and were written prior to any state or local training on the new laws. Since then, we have developed guidelines to assist certified media specialists in their reviews and to improve reliability and consistency between reviewers."
Jacksonville Today has requested a copy of any district-specific guidelines currently used, but hasn't received those yet. Here are the state guidelines.

The district did not respond to questions about the relevance of DiBias' comments about morality or the "design of humanity" to the book review process.
In recent weeks, DiBias has been overseeing the creation of volunteer review committees, composed of parents and volunteers, tasked with assisting Duval Schools in reviewing books. She sent an email to applicants of the district's planned, volunteer book review committee last week, stating the public would be invited to attend the meetings to observe and listing meeting dates.
Duval Schools later retracted DiBias' email, "Unfortunately, it included information and details that were not finalized," the district told Jacksonville Today.
Unaligned with national standards
A couple of librarians who spoke to Jacksonville Today say DiBias' comments fall outside the scope of nationally accepted standards for reviewing school books.
Hilda Weisburg develops librarian training materials and says, "Librarians operate under the ALA code of ethics when they select materials," pointing to provisions in the Library Bill of Rights like, "Materials should not be proscribed or removed because of partisan or doctrinal disapproval."
The organization's professional code of ethics says, "We work to recognize and dismantle systemic and individual biases; to confront inequity and oppression; to enhance diversity and inclusion; and to advance racial and social justice in our libraries."
She says these are shared values, not requirements of being a librarian. "There's no library police." She is concerned about the message the comments send to kids, particularly LGBTQ+ youth. "It seems to me that pretending someone isn't there won't make them cease to exist, but it will cause harm," she says.

Retired Duval Schools librarian and former president of a local professional organization for librarians Pam Picray says, "Libraries are and should remain the most open forum for objective thinking. A key factor in earning a degree in library science is to learn how to create and maintain a well-balanced collection that will answer the needs of all users."
Why last year's book review matters now
Last year's review occurred before new state guidance about book reviews, and before Florida passed its new Parental Rights in Education law, restricting discussion of sexual orientation and gender identity in grades K-3 or "in a manner that is not age-appropriate." (A new bill before the state Legislature seeks to expand that provision through 8th grade.)
Duval's books are currently being reviewed for compliance with two other Florida laws too: the newly passed Stop WOKE Act — which limits how schools can instruct on race and racism — and a long-standing law against pornography in schools. New state guidance directs media specialists to "err on the side of caution."
Many of the staffers overseeing last year's review of 179 books are also coordinating this year's comprehensive review. Among the rejected titles last year are a book about Martin Luther King Jr. intended for fourth graders; a biography of Rosa Parks for second grade classrooms; a first grade Berenstain Bears book about God; and multiple titles including LGBTQ+ characters and families.
Duval Schools contests the characterization that its book review last year was "banning books" because the district pulled them before they went on shelves, and before any parent complained about them.
The district says last year's review of the books in the Essential Voices collection was necessary, in part, because 14 of the titles were not part of the district's original order. Following the review, the district returned all of the books it did not originally order, as well as 33 other books.
Just about 10,000 of the 1.6 million books districtwide have been approved since the state Board of Education released new guidelines in January, according to a regularly updated count on the district's website.
Most school districts in Florida are letting books stay in place until they're contested. Duval Schools says its "intensive process" of reviewing every book is "to ensure teachers and school leaders do not have to worry about jeopardizing their career because a book may be construed to be in violation of Florida law."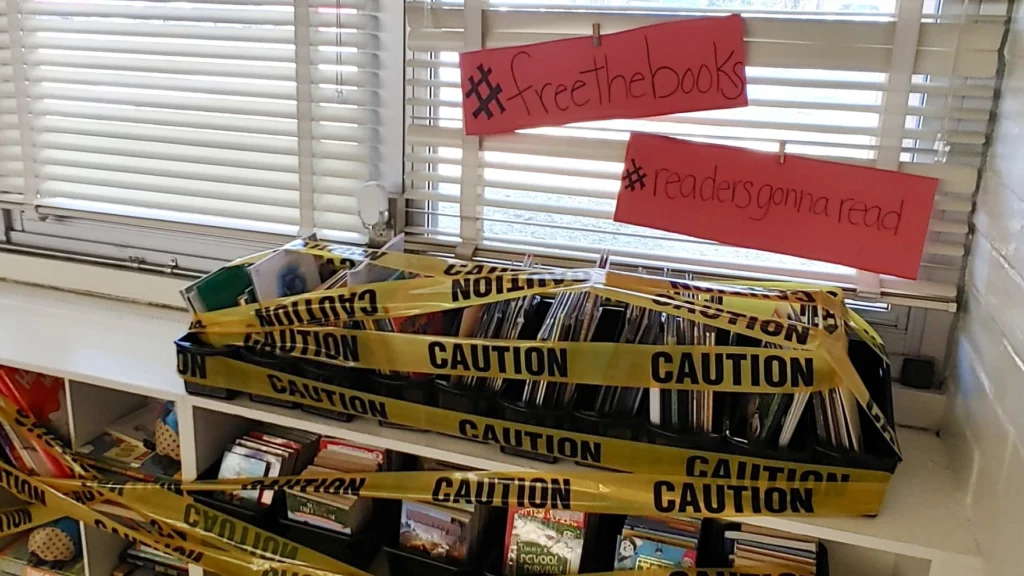 Gov. DeSantis has criticized photos of empty bookshelves in Duval Schools, including the viral video of empty bookshelves in a middle school, which the governor called a "fake narrative." His comments came a couple weeks after the video was posted online, and the long-term substitute who posted the video, Brian Covey, was fired the next day.
Duval Schools later posted another video of the same library showing some shelves with books on them, writing, "The viral video you are sharing shows half the story." Jacksonville Today reviewed a longer version of the video of empty shelves taken by Covey at the same time as his viral video, which also shows some shelves with books, and some empty shelves.
"When I posted the empty bookshelves, that was what surprised me when I walked into the library," Covey said on First Coast Connect with Melissa Ross. " I wasn't trying to hide that there were books, I was trying to stay within the attention span of people on Twitter."
Duval Schools sent an internal training video to principals in February directing teachers to "cover or store" classroom library books during the review process, and says books are unavailable until they are reviewed.
"We did direct teachers to temporarily reduce their classroom library collections to titles that were previously approved while waiting for media specialists to curate a more expansive list of approved titles," Duval Schools stated in a blog post last month.
Jacksonville Today asked the Brunswick, Georgia-based author Ashley Herring Blake about DiBias' portrayal of her book, Ivy Aberdeen's Letter to the World. She says, "I was incensed. I mean, that is clearly bringing in a religious ideology."
She included the adult, queer characters in the book to share the message with the central character, 12-year-old Ivy, that, "it will get better and you are okay," Blake says. "For someone to look at that interaction and say that it is morally damning is atrocious to me."
UPDATE: This story was updated Thursday with new information from Duval County Public Schools about the DiBias' resignation.

Claire Heddles
Reporter, Jacksonville Today
Claire has been a reporter in Jacksonville since August of 2021. She was previously the local host of NPR's Morning Edition at WUOT in Knoxville, Tennessee. Reach Claire with tips, ideas or comments at (904) 250-0926, claire@jaxtoday.org and on Twitter at @ClaireHeddles.

Claire Heddles
Reporter, Jacksonville Today
Claire has been a reporter in Jacksonville since August of 2021. She was previously the local host of NPR's Morning Edition at WUOT in Knoxville, Tennessee. Reach Claire with tips, ideas or comments at (904) 250-0926, claire@jaxtoday.org and on Twitter at @ClaireHeddles.
---
Sign up for the Jacksonville Today newsletter
Your local weekday newsletter for news and ways to get involved in Northeast Florida.