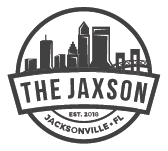 Perspectives
The Jaxson
on Jacksonville Today


OPINION | 5 ways to improve I-95 construction plans in Jacksonville's urban core
Published on February 7, 2023 at 8:59 pm
On February 2, 2023, the Florida Department of Transportation (FDOT) held its last public meeting inviting citizen input and questions regarding proposed modifications for I-95 from I-10 to north of Beaver Street. 
The proposed $194 million project will rehabilitate and replace the deck of the Myrtle Avenue Bridge as well as add up to two 12-foot travel lanes in each direction on I-95. Construction is anticipated to begin in 2026. As proposed, the Interstate 95 improvement plan could be detrimental to many ongoing initiatives within Downtown Jacksonville and the urban core.
With this in mind, here are five recommendations from The Jaxson that should be considered to alleviate these concerns:
1. Embrace already planned Park Street road diet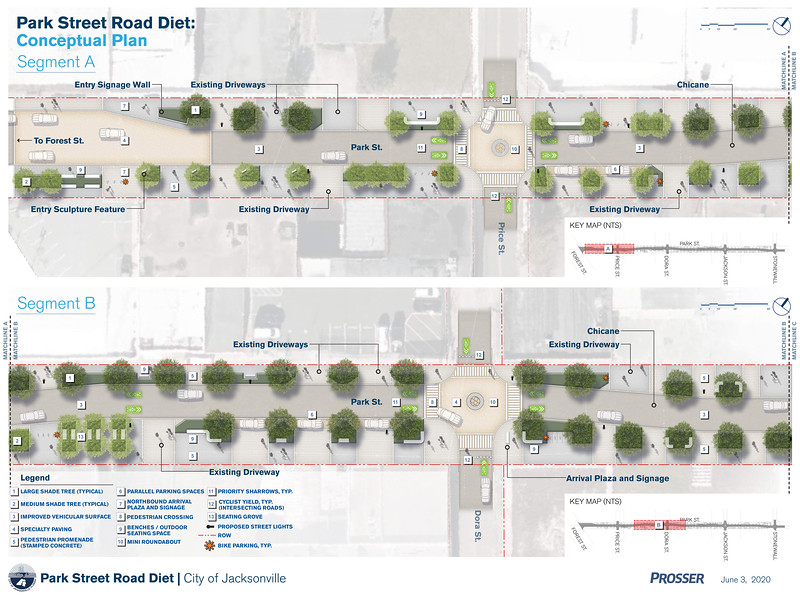 As proposed, the Interstate 95 improvement plan includes a four-lane concept for Park Street with dual left turn lanes at Forest Street. On the surface, this would not attract much attention. However, this concept is in direct conflict to the community vision and the Downtown Investment Authority's Downtown CRA plan, which calls for Park Street to be reduced to two-lanes to accommodate increased bicycle and pedestrian activity in Brooklyn in the vicinity of the Emerald Trail.
According to Chapter 126.1 of the Florida Design Manual, four-lane undivided roadways with an Annual Average Daily Traffic (AADT) count of less than 20,000 are typically good candidates for a lane repurposing (e.g., converting to a two-lane, two-way road with a center-left-turn-lane). As of 2021, Park Street had an AADT of 2,800 vehicles, placing it well below that FDOT design criteria threshold. This Interstate 95 improvement plan concept for Park Street should be revised to align with on-going programmed City of Jacksonville projects in the vicinity.
2. Revisit plan for Myrtle Avenue intersection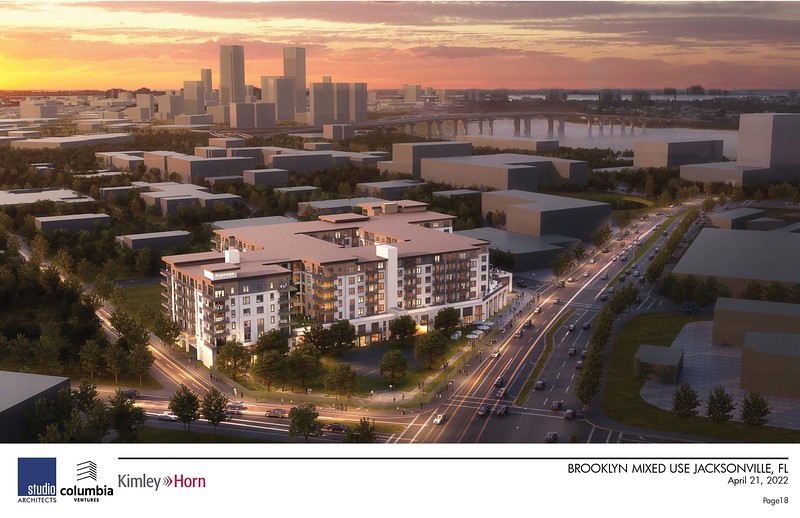 Currently, the intersection of Forest Street and Myrtle Avenue allows southbound drivers to make left or right turns to Forest Street or continue southbound to access an on-ramp to Interstate 95. The proposed I-95 plan eliminates most of this accessibility by forcing all southbound travel between the Rail Yard District, Durkeeville and Riverside, to a right turn only at Forest Street.
To continue to Riverside and Five Points, drivers would be forced to drive into Mixontown to make a U-turn or more likely flood narrow residential streets in Brooklyn, to continue southbound on Park Street. This has the potential to be a traffic circulation nightmare in an area where thousands of multifamily residential units and major mixed-used development are planned or already underway. The current intersection configuration isn't broken. Let's keep it "as is".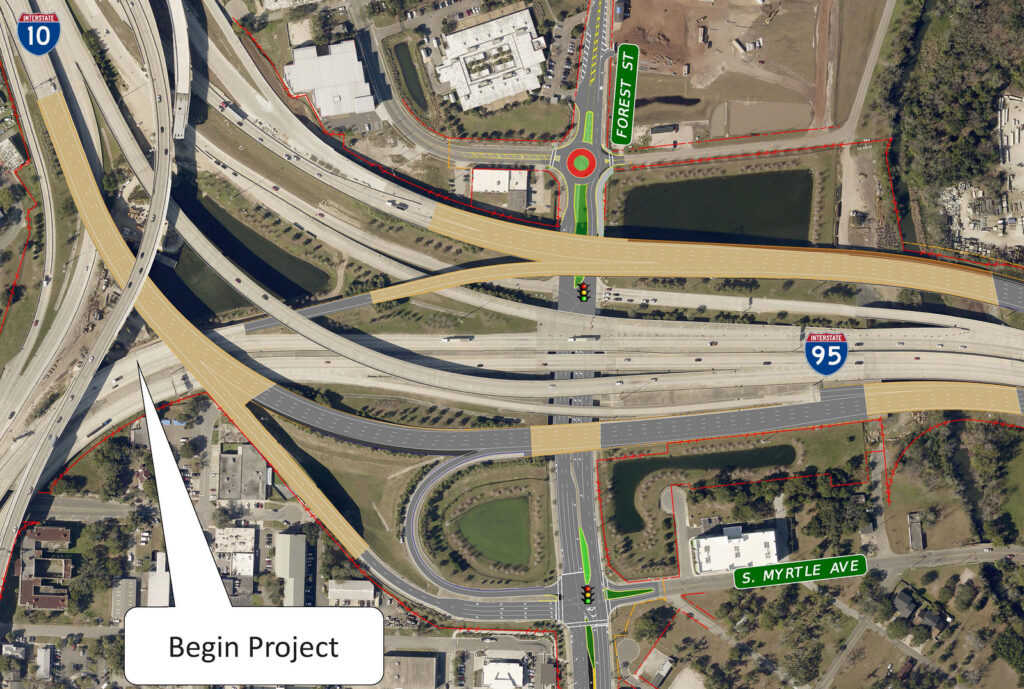 3. Myrtle Avenue bicycle and pedestrian connectivity needed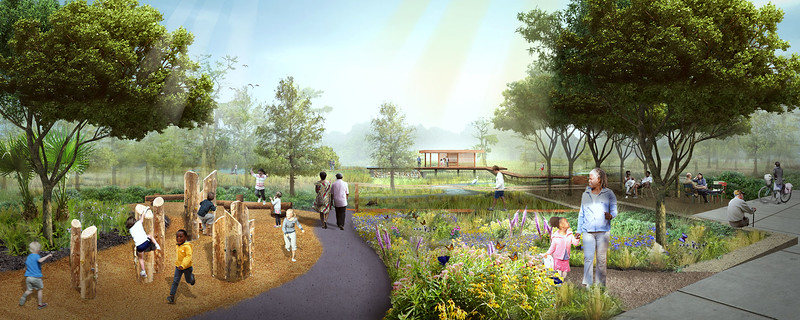 As proposed, the FDOT concept plan overlooks an Emerald Trail segment that will be constructed parallel to Forest Street along the banks of McCoys Creek. When the project is complete, Myrtle Avenue will include a bicycle facility that will connect Forest Street to the Emerald Trail, Rail Yard District and Durkeeville. Currently the proposed FDOT retrofit to Forest Street and Myrtle Avenue does not include this important connection for pedestrians and cyclists. However, there is an easy solution here. Let's identify all on-going and proposed projects in the vicinity and modify this concept to align with them.
4. Grade separation needed for Emerald Trail's Model Mile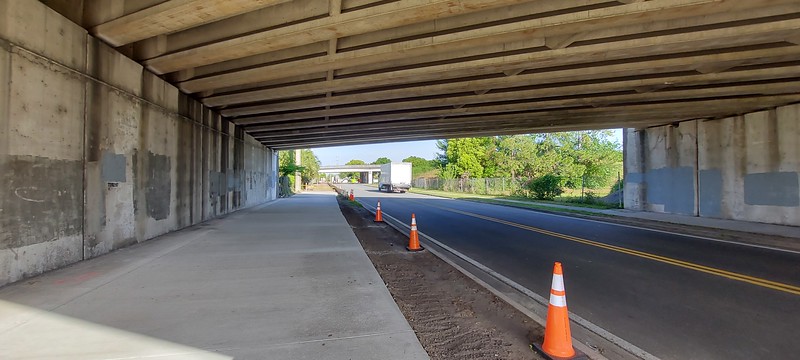 In 2022, Jacksonville was ranked as the 6th most dangerous metropolitan area in the country for bicyclists and pedestrians.
The Emerald Trail is a project that could help Jacksonville change this embarrassing national ranking. An ambitious plan to link Jacksonville's urban core neighborhoods, the Emerald Trail is a public/private partnership between the city of Jacksonville and the nonprofit Groundwork Jacksonville that is scheduled to connect fourteen urban neighborhoods to Downtown, the St. Johns River, McCoys Creek, and Hogans Creek. It is expected to be completed over the course of a decade and will eventually encompass thirty miles.
Later this year, the LaVilla Link will connect Brooklyn and LaVilla with the S-Line Urban Greenway Trail in New Town. The 1.3-mile pedestrian and bicycle trail will serve as the "Model Mile" of the proposed Emerald Trail network.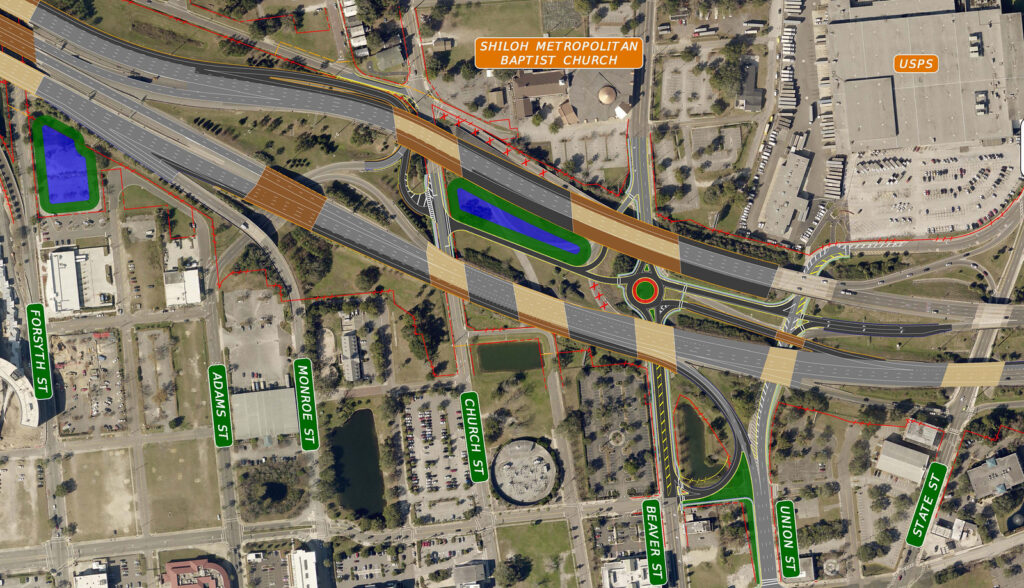 Unfortunately, this plan for I-95 would potentially place trail users in harm's way by placing an expressway on-ramp through the new $4 million Model Mile. Cities like Atlanta have been able to avoid this type of safety conflict with similar trail projects like the Beltline. Jacksonville should be able to figure this out as well.
Grade separation between the trail and the expressway ramp should be seriously considered. Examples of similar trails under major expressways and ramps on other FDOT facilities include the Seminole Wekiva Trail at I-4 and Lake Mary Boulevard in Seminole County,
UF's campus at SW 13th Street (U.S. 441), and a path under I-10 in Jacksonville between Murray Hill and Lackawanna. While costs will be used as a way to avoid the issue, the solution is simple. It's time to do the right thing. We found a way to get the bicycle/pedestrian path included in the Fuller Warren Bridge project. We can work together as a community and make sure that this highway project doesn't negatively impact the community's significant investment in the Emerald Trail.
5. Aesthetics and Community Benefits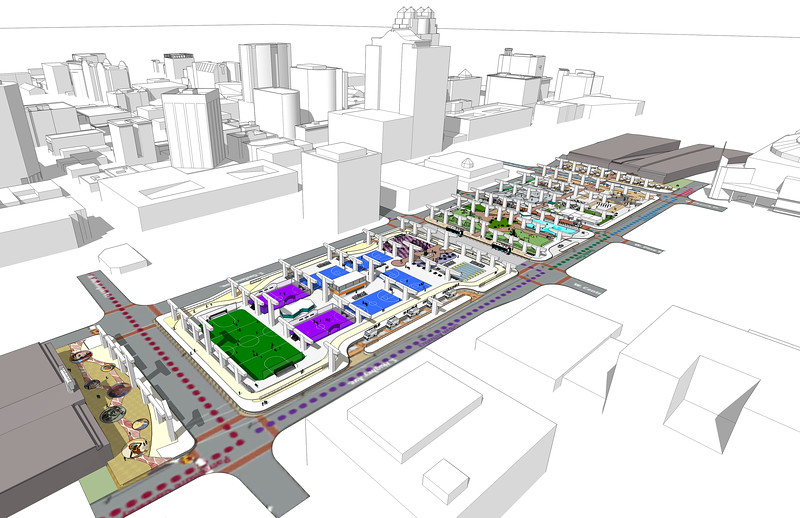 When Interstate 95 was originally built by the Jacksonville Expressway Authority, a path was selected that intentionally erased some of the most prosperous African American neighborhoods in the city. The interstate's path nearly erased LaVilla, Campbell Hill and Sugar Hill. Across the state, similar results played out with Interstate 95 slicing through Miami's Overtown and Interstate 4 destroying large swaths of Tampa's Ybor City and Orlando's Parramore.
From Miami's Underdeck to Orlando's Under I, recent FDOT interstate expansion projects through these systematically disenfranchised historic neighborhoods have attempted to be as reparative as possible. In Jacksonville, the city and its residents should expect the same and nothing less with the neighborhood of LaVilla.
Interstate 95's improvements should target much more than maintaining the roadway and movement of traffic flow. This project should also provide amenities, aesthetics, bridge lighting, gateway features and economic enhancement opportunities for adjacent neighborhoods, residents and business owners. This will involve a lot more than the standard landscaping of a roadway and passing additional aesthetic enhancements off as the city's responsibility is unacceptable. It's time for all entities, FDOT, the City of Jacksonville and the adjacent LaVilla community to work together to shape a solution that the region can be proud of. We achieved this goal with the inclusion of a shared use path across the Fuller Warren Bridge. We can do the same with this upcoming improvement plan for Interstate 95 through the urban core.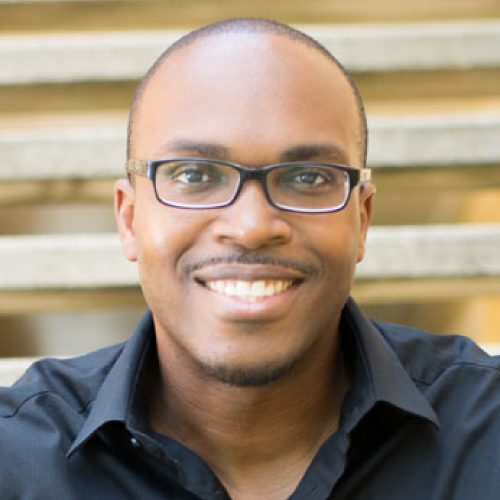 Ennis Davis
The Jaxson
Ennis Davis, AICP is an urban planner and member of the city of Jacksonville's Downtown Development Review Board. He is also co-owner of The Jaxson and Modern Cities. Reach Ennis at edavis@moderncities.com.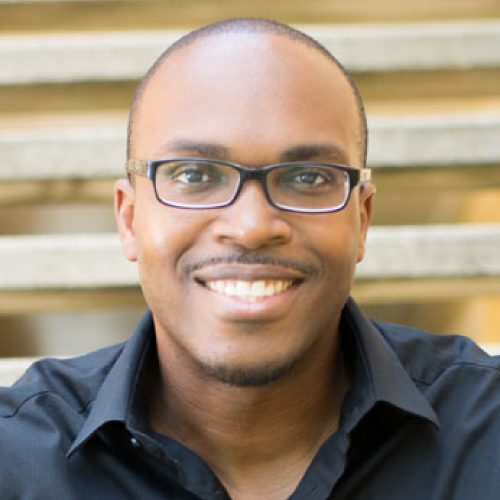 Ennis Davis
The Jaxson
Ennis Davis, AICP is an urban planner and member of the city of Jacksonville's Downtown Development Review Board. He is also co-owner of The Jaxson and Modern Cities. Reach Ennis at edavis@moderncities.com.
---
Sign up for the Jacksonville Today newsletter
Your local weekday newsletter for news and ways to get involved in Northeast Florida.