EXPLORE: How DeSantis' congressional map affected Northeast Florida midterms
Published on November 20, 2022 at 9:35 pm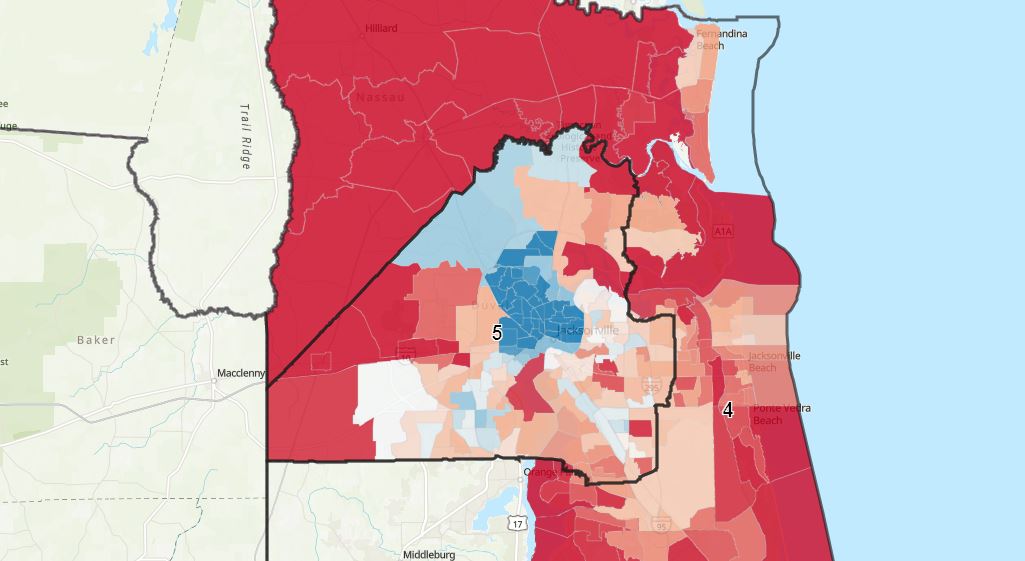 Gov. DeSantis vetoed a Congressional District 5 that would have been entirely in Duval County.
Republicans narrowly flipped the U.S. House this election cycle, gaining four seats in Florida — including one in the newly drawn District 4, which covers part of Jacksonville. A Jacksonville Today analysis of voting data show District 4's predecessor, the former District 5, would have been a close race with a possible Democratic win if Gov. Ron DeSantis hadn't vetoed the state Legislature's congressional redistricting to push through his office's version.
Here are the results of Florida's congressional races and how they would likely have looked under the Florida Legislature's original, proposed map. Use the arrows on the left to toggle between the Florida Legislature's proposed, vetoed map and the map DeSantis' office submitted.
Editor's note: The Clay County Supervisor of Elections has not released precinct-level election results. This map will be updated when they become available.
Election results in vetoed map vs. DeSantis' map
Credit: Claire Heddles, Jacksonville Today and Hina Shaikh, University of Florida Data Justice Lab director
3 takeaways:
Leaning toward a Dem win: The Florida Legislature's proposed, vetoed Congressional District 5 was drawn entirely in Duval County. In the roughly 142 of Duval's 187 current precincts that would have been entirely or mostly inside the proposed district, about 54% of voters chose Senate candidate Val Demings (D) vs. 44% for Marco Rubio (R), and 53% voted for governor candidate Charlie Crist vs. 46% for Ron DeSantis (R), according to a Jacksonville Today analysis. This estimate does not account for precinct population distribution or how election supervisors would have drawn the precincts that straddle two districts if DeSantis hadn't vetoed the map. Other statewide turnout analyses, estimating how precincts would have been split, show a tighter race, with simultaneous narrow DeSantis and Demings wins in the vetoed District 5.


Still a "red swell": Democrats likely wouldn't have won the congressional seat by the margin election experts had predicted for the Legislature's proposal. The Princeton's Gerrymandering Project predicted Democrats would get 61% of the vote in the vetoed District 5, but voting data show top-of-ticket Democrats got closer to half the vote. This "red swell" could be a reflection of turnout; just 49% of registered Duval Democrats cast a ballot this election cycle compared to 65% of registered Republicans – the largest differential in at least the past five midterm elections.


Northeast Florida's all-Republican Congressional delegation: Congressional District 4 winner Aaron Bean says he decided to join the race after seeing the DeSantis-backed voting map. "Under Ron DeSantis, something happened a little under six months ago: This new seat was created," Bean told supporters at his election night party. "It caused us to start chatting about it and I felt a call, we felt a call, and we thought we could do something." The vetoed District 4, in which House Rep. John Rutherford (R) would have been the incumbent, included Nassau, Clay and St. Johns counties. The DeSantis-drawn District 4 created another Republican-leaning district in Northeast Florida, lumping the most Democratic parts of Duval County with Republican strongholds in Nassau and Clay counties. Bean received 75% of the vote in Clay County, 78% of the vote in Nassau County and 45% of the vote in Duval this election cycle.
How Florida got here
Before the midterms, 16 Republicans and 11 Democrats made up Florida's U.S. House delegation. After this month's election – using maps drawn by DeSantis' office – 20 Republicans and eight Democrats will represent Florida in the House. Florida also has one extra seat this year from population growth marked in the 2020 Census.
---
Sign up for the Jacksonville Today newsletter
Your local weekday newsletter for news and ways to get involved in Northeast Florida.
---
During this year's legislative session, the state Senate approved a new congressional map that kept the status quo of the state's court-drawn maps (after the Florida Supreme Court ruled the Legislature's post-2010 Census maps were unconstitutional gerrymanders). The proposed map favored Republicans, election experts say, but not to the extent that DeSantis' maps later would.
DeSantis vetoed the map, publicly calling the Black-majority District 5 unconstitutional – drawn entirely in Duval county in their proposal. Public records obtained by ProPublica show DeSantis' team had been working with a GOP law firm to develop more Republican-favoring maps before the Legislature submitted maps for his approval. He called the Legislature back for a special session to push through maps from his office.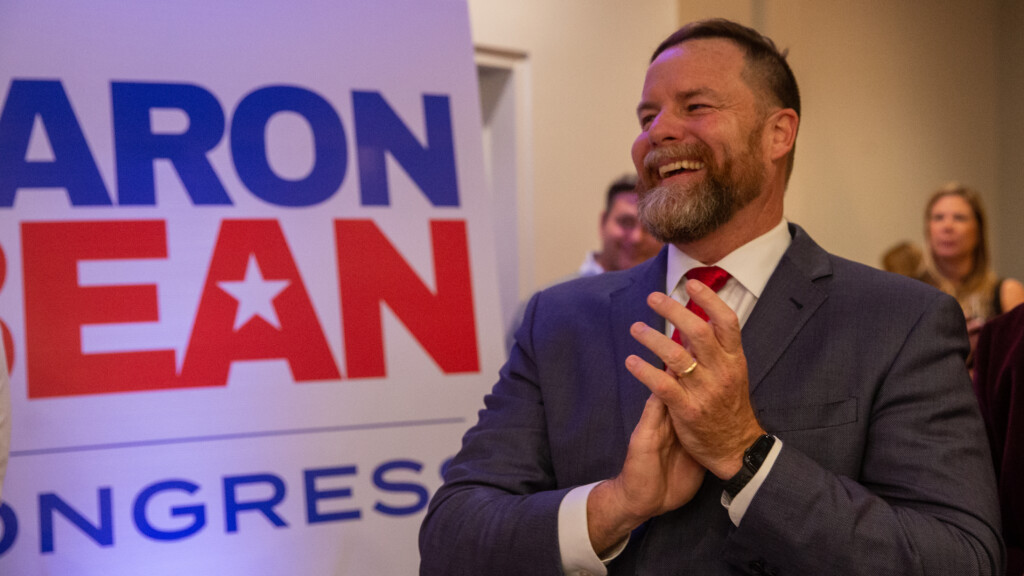 His new maps split Duval County into two Republican-majority districts: The southeastern portion of Duval in District 5 with St. Johns County and the rest of the county with the Republican-majority District 4 with Clay and Nassau counties.
In a federal lawsuit, voting-rights groups say DeSantis' map "was adopted, at least in part, for the purpose of disadvantaging Black voters." The lawsuit is ongoing, and the Florida Supreme Court declined to intervene and block the maps from taking effect this election after a lower court ruled in the voting rights groups' favor.
There was no general election in District 5; John Rutherford (R) didn't have a Democratic challenger.
Update: Additional context about how Jacksonville Today conducted its analysis and external data analyses was added to this report.
---
Hina Shaikh, director of the University of Florida Data Justice Lab and professor in the Department of Gender, Sexuality and Women's Studies, contributed to this report.
---
Sign up for the Jacksonville Today newsletter
Your local weekday newsletter for news and ways to get involved in Northeast Florida.