Duval's colon cancer rate is higher than Florida's. A local doctor studied whether personal phone calls about screening could help. 
Published on November 10, 2022 at 8:57 pm
When Black Panther: Wakanda Forever debuts this week it will serve as a cinematic eulogy to Chadwick Boseman.
The actor portrayed a handful of legendary characters who resonated with millions of Black Americans — Jackie Robinson, Thurgood Marshall, Levee Green in August Wilson's Ma Rainey's Black Bottom — but he was most revered for playing T'Challa in 2018's Black Panther.
The Marvel superhero movie was a cultural phenomenon. And Boseman was the keeper of that flame.
When Boseman's family announced that he died from colon cancer in August 2020, the news was a surprise to all but his closest family. He was 43 years old — 15 months away from the age doctors suggest people begin testing for colon cancer.
Though colon cancer is declining overall, those who are being diagnosed are increasingly likely to be young or Black. Over a five-year period (2014-2018), the U.S. Department of Health and Human Services Office of Minority Health found that African American men were 1.2 times more likely to develop colon cancer than non-Hispanic white men. And a 2021 study found African Americans have the lowest five-year survival rate for colorectal cancer of any racial group in the U.S.
When Boseman died, Dr. Peter Ghali, a gastroenterologist at UF Health Jacksonville, was studying the impact of targeted colon cancer screening for Black Jaxsons and low-income residents.
In 2019, the most recent year statistics were available from the Florida Department of Health's Bureau of Community Health Assessment, Duval County's colon cancer rate of 46.4 diagnoses per 100,000 residents was 28% higher than the statewide average, continuing an at least 15-year trend.
Because colon cancer is more prevalent in Black Americans, and Jacksonville is more than 30% Black, Ghali says there is a correlation. Black Jaxons have a higher incident rate because there is "a significant population" that has not gone through the early screening process, which allows doctors to catch the cancer while it is a polyp and has not yet entered their bloodstream, he says.
Ghali, spoke with Jacksonville Today about his work studying colon cancer, with a grant from the NFL as part of its Crucial Catch campaign, facilitating colon cancer screenings of more than 790 people at six clinics across Jacksonville. The study's full results are expected early next year.
Q: What is a good age for people to get tested?
A: For the longest time it was age 50 if you had no risk factors. We've noticed over the years that younger people are getting diagnosed with colon cancer.
If you look across America, the number of patients with colon cancer, overall, is still going to be higher in patients that are older than 50. But, there is a more significant percentage that are under 50. Because of that, the guidelines have been revised down to 45.
The African American community is more heavily hit with this and has to be more aggressively getting screened between 45 and 50.
The most important risk factor is going to be a family member who's had colon cancer.
We know that the process whereby colon cancer forms tend to take 10 years on average. We always recommend starting 10 years younger than the youngest first-degree relative who was diagnosed with colon cancer.
The risk isn't as high with one second-degree relative. But if, within a family, there are multiple relatives on both sides of the family, it's a conversation that should be had with a primary care physician or a gastroenterologist.
Q: What do people need to know about colon cancer?
A: There are things that are important for reducing one's risk of colon cancer. Probably the easiest to modify are going to be to stop smoking and try to live a healthy lifestyle that brings your weight down. We now know that obesity is associated with colon cancer.
The other part is if people notice symptoms, they really shouldn't ignore them. Sometimes people will have some blood in the toilet and they'll say, "Well, it's just my hemorrhoids and it happens to everybody," but you're better off mentioning it to your physician.
Q: Have people come in and had their colon checked because of Chadwick Boseman's passing?
A: I noticed that several people have come in my own clinic and said that they decided to get their colonoscopies, and oftentimes a little bit later than the recommended date for screening. I tend to ask people, "Why did you choose to put it off a little bit?" Several of them said they were moved by Chadwick Boseman's passing and felt this could be them easily or someone they know.
Q: How did funding from the Jacksonville Jaguars and the NFL affect your work?
A: There was a call for research projects around the country looking at cancer screening and racial disparities in access and adherence to treatment across the country. It was sponsored by the American Cancer Society in association with the NFL.
We at the University of Florida in Jacksonville applied because it's a big part of our mission to improve colon cancer screening for our population and our community.
Editor's Note: The Crucial Catch campaign has raised more than $24 million and contributed more than 600,000 screenings of all cancer types since it was launched in 2009. UF Health Jacksonville won a grant from The Crucial Catch in 2020.
The call came out during the time of COVID. As good citizens, they were worried that COVID was going to affect colon cancer screening and, perhaps, disproportionately in some populations where health disparities are, potentially, more risky.
What our hypothesis was: We knew colon cancer screenings rates went down with COVID because our endoscopies were underbooked. And for a couple months, most places stopped doing colonoscopy. We were worried it would have affected the most vulnerable members of our community more than everybody else.
What we were looking at specifically was not just colonoscopy but any type of colon cancer screening that was requested. We wanted to look before and after COVID. We selected clinics that have the high percentages of insured people, Medicaid populations or people who buy insurance from the federal health care exchange and who might be underinsured.
As you might expect, a significant number of people had not gone through with their colon cancer screening. (This was also an issue before COVID.) The extra step we did was we started calling these patients.
Everybody who hadn't completed their screening test, we explained to them what colon cancer screening is and that there are actually options for how to do it because it's more important that you get something than get hung up on one, particular test. Then, we offered the simplest and least invasive test, a FIT test, which is a stool-based test. Where they did agree, we sent the FIT testing to them for free. That was covered by the NFL- ACS grant. It's fantastic that we're able to do such a thing.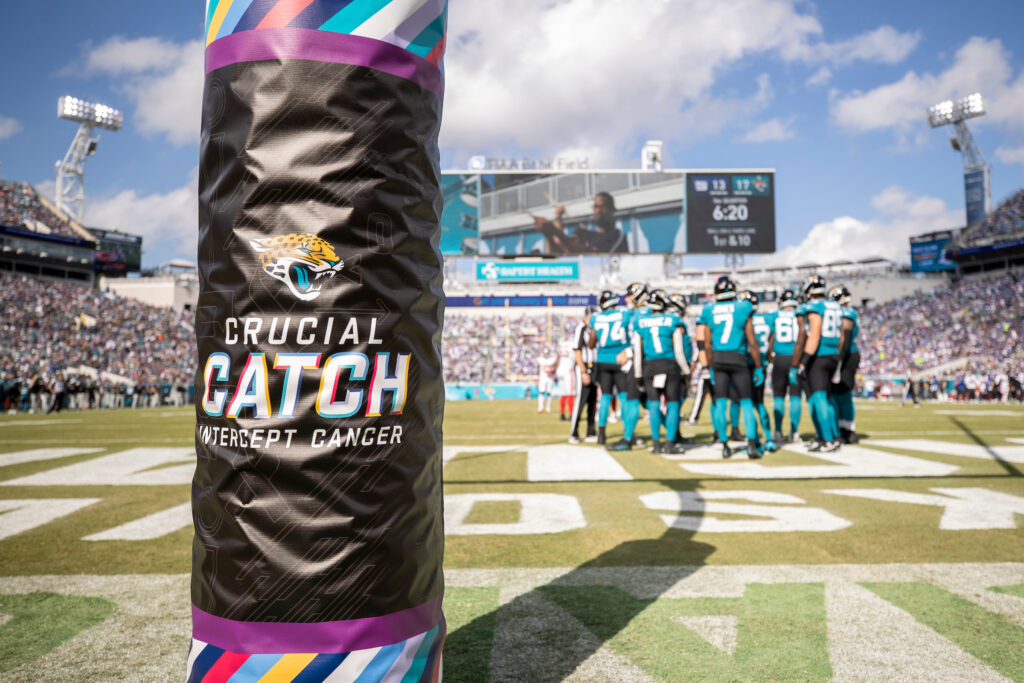 This is really trying to get a message out there more than anything else. And this is a small project. In a relatively short time, we're coming up on 1,000 patients in six clinics. The potential is enormous.
Q: What are your takeaways, in terms of how this study helped raise awareness for prevalence of colon cancer in Jacksonville?
A: I think what the biggest impact of Chadwick Boseman's' death, from my perspective, is that the conversation gets had. People are talking about it. They are bringing it up, and that's remarkable. That's what this study showed. In many cases, it's just talking to people and empowering them with information to make the best decisions for themselves.
What happens all too often is someone hits 45 years old, so their primary care physician says, "Well, you need colon cancer screening," and then they order a colonoscopy. They don't necessarily go into an in-depth conversation about it. People may have hesitation, so they don't bring it up and then they don't follow through.
We already know that anywhere from 30% to 50% of the colonoscopies we do are going to reveal polyps. The biggest take home from me is we need to have straight conversations with people to trust that people will do what's best for themselves when they have the information that they need.
This conversation was edited for brevity and clarity.

Will Brown
Reporter, Jacksonville Today
Will Brown is a corps member with Report for America, a national service program that places journalists into local newsrooms. He previously reported for the Jacksonville Business Journal

. And before that, he spent more than a decade as a sports reporter at

The St. Augustine Record

,

Victoria (Texas) Advocate

and the

Tallahassee Democrat. Reach him at will@jaxtoday.org.

Will Brown
Reporter, Jacksonville Today
Will Brown is a corps member with Report for America, a national service program that places journalists into local newsrooms. He previously reported for the Jacksonville Business Journal

. And before that, he spent more than a decade as a sports reporter at

The St. Augustine Record

,

Victoria (Texas) Advocate

and the

Tallahassee Democrat. Reach him at will@jaxtoday.org.
---
Sign up for the Jacksonville Today newsletter
Your local weekday newsletter for news and ways to get involved in Northeast Florida.