Trailblazer Dr. Charles B. McIntosh paves path for clinic, community center in Northwest Jax
Published on November 7, 2022 at 8:49 pm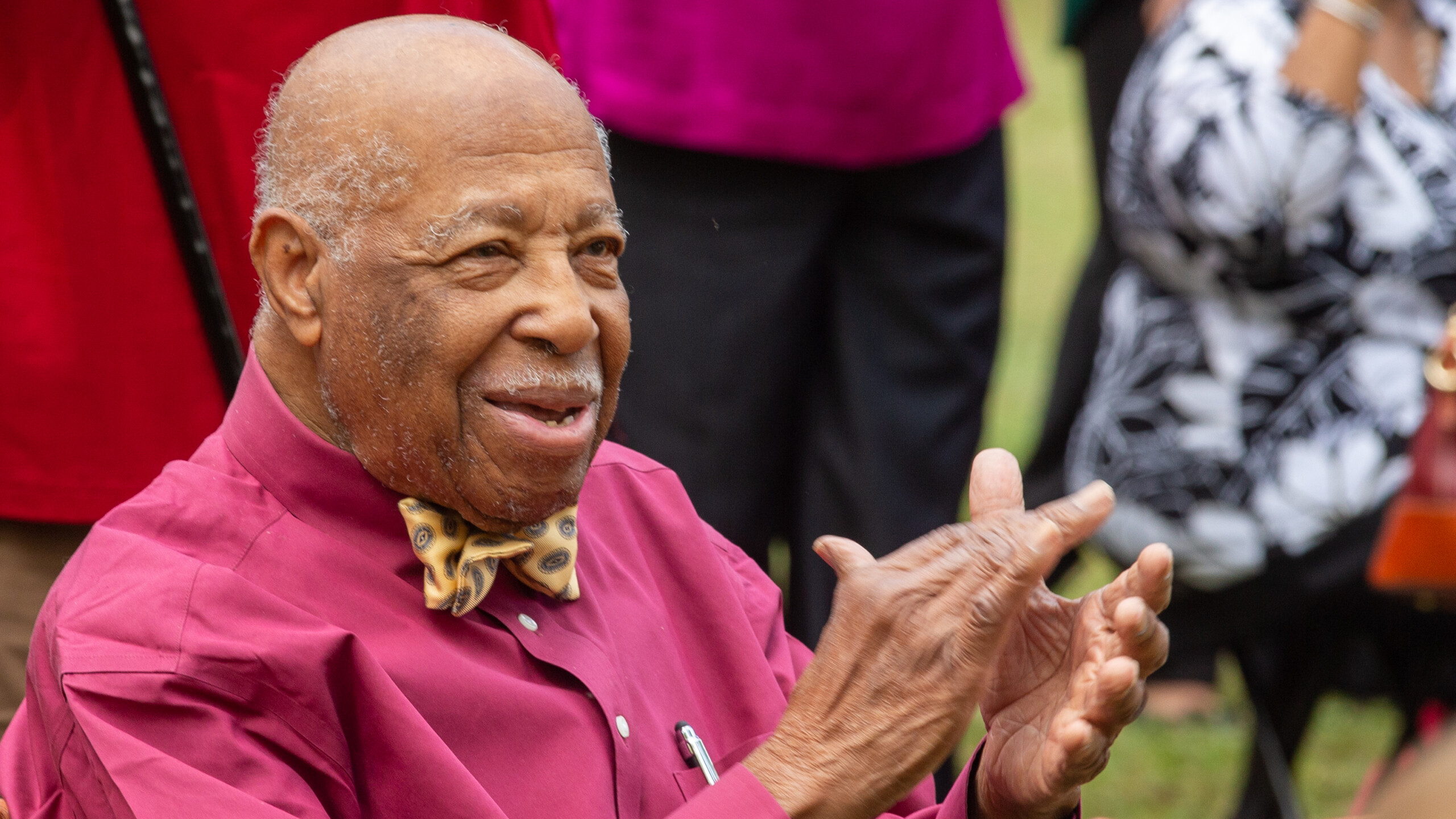 Dr. Charles B. McIntosh became Jacksonville's first Black pediatrician to open a private practice in 1958. | Will Brown, Jacksonville Today
A smile slowly crept across Dr. Charles B. McIntosh's face as he watched the unveiling last week of a rendering of the community center that will bear his name.
The longtime Jacksonville pediatrician's legacy is being affixed to the facility in Northwest Jacksonville, meant to both address health disparities and provide a place for youth in the area to gather.
The Charles B. McIntosh Community Achievement Center is slated to open in July 2024, with a budget of $8 million, made possible through a partnership between the Kappa Alpha Psi Jacksonville Foundation, Inc., Wolfson Children Hospital and Baptist Health.
"It means to me that I have lived long enough to see the fruition of an idea that started 20 years ago in the fraternity," says McIntosh, who will turn 96 in March.
McIntosh became Jacksonville's first Black pediatrician to open a private practice in 1958. He started the Sickle Cell Disease Association of Northeast Florida in 1969 with the goal of informing the community about sickle cell disease and sickle cell trait – which heavily affect African Americans – and he was a founding member of Volunteers in Medicine Jacksonville.
The Community Achievement Center's name also includes a hat tip to McIntosh's 75-year year relationship with the fraternity. He crossed Kappa in the spring of 1947 as a junior at Florida A&M University, then called Florida A&M College for Negroes, after he'd met the man who would spur his career in medicine.
Dr. Russell Anderson was the medical director of the Florida A&M Hospital at the time, and one of McIntosh's professors. McIntosh recalls, he was one of just six students.
To make way for the new facility in Northwest Jacksonville, two nearby buildings on Moncrief Road, including the Kappa Alpha Psi Memorial House, will be razed.
The path toward last week's groundbreaking got a boost in January 2020. Lawrence Dennis, executive director of the Kappa Alpha Psi Jacksonville Foundation, says that was when his organization banded together with Sulzbacher and the two prominent local health care providers.
McIntosh says the building is a way to invest in children in a deeper and more meaningful way.
"We knew that someday, we would like to have a center where young men particularly, but youth generally, could come and participate in programs for the enrichment of their lives," McIntosh says. "In today's time, when African American young men are really committed to the institutions of the jail. Too many of our youth's lives are wasted there. We hope we can prevent some of that here in this institution."
About 60% of the space will be dedicated for the community center. The rest will be the health clinic.
Earlier this year, when a handful of Jacksonville health care facilities produced a Community Health Needs Assessment, it showed that the "lack of affordable healthcare/insurance" was the second-most cited cause that Duval County respondents blamed for their poor health. The assessment also concluded: "Systemic racism, incidents of discrimination and cultural incompetence are drivers of racial health inequities."
McIntosh is quick to note that Jacksonville is not the only community where there are health disparities and achievement gaps between Black residents and non-Black residents. Bridging them, he says, requires more community help.
"We don't have to do it all by ourselves," McIntosh says. "We will do alliances with the schools, with the churches, to help provide some of what can't be provided in either place."
The local Kappas have a track record of working with local charities and organizations, and McIntosh has dedicated his career to improving health care options in Jacksonville.
It was why Sulzbacher CEO Cindy Funkhouser was so excited to meet McIntosh last week. During her remarks, she called McIntosh a legend.
Sulzbacher has previously worked with Wolfson Children's Hospital to provide health care at the Ribault Family Resource Center at Ribault High School. Because the Kappas have volunteered with Sulzbacher for years, Funkhouser was eager to help realize the crimson-and-cream dream to open a community center.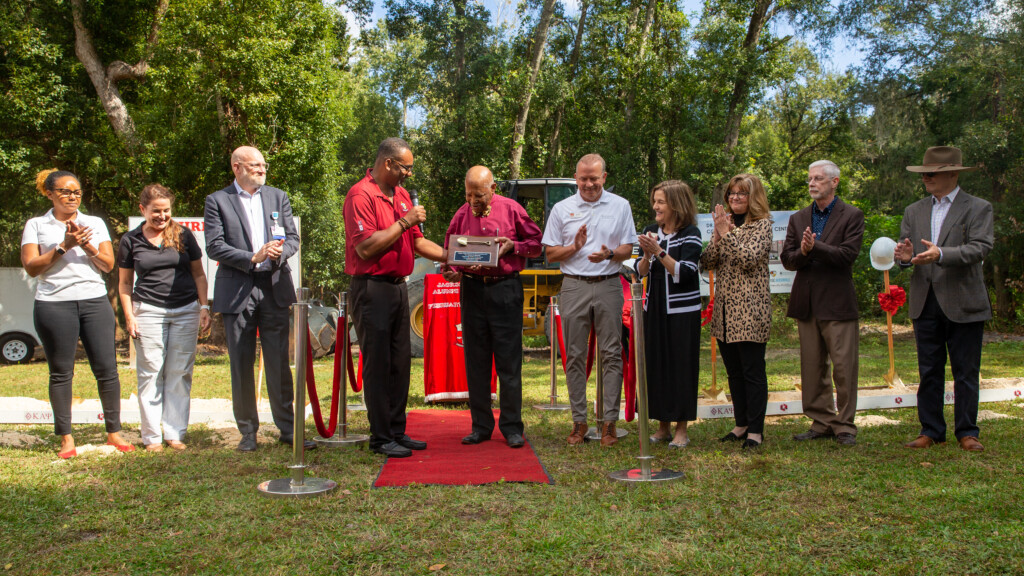 "We are going to team together and have a clinic in this building, and it's going to be open to any children in this community who need services," Funkhouser says. "We are honored, thrilled and excited."
The center may have McIntosh's name on it. But the Kappas are quick to note their longtime dream would not be this close to reality without buy-in from other community partners: LISC Jacksonville, the Delores Barr Weaver Fund, the Community Foundation and others.
Architects, design groups and construction companies working on the center have deep local ties. All-Con-Baker JV, LLC is a joint venture between Jacksonville-based All Construction Group and Jacksonville-based engineering consultant Baker Design Build. Meanwhile, kasper architects + associates provided the architecture plans at cost.
Permitting for the project is expected to be completed in the first quarter of next year. Work is slated to begin next spring and finish within 15 months.
Last week, Will Williams, the operations director for the City of Jacksonville's Public Works Department, presented McIntosh with a proclamation from Mayor Lenny Curry declaring Nov. 3 Charles McIntosh Day.
Family members from Boynton Beach, Fort Pierce and Minneapolis were in Northwest Jacksonville to witness the proclamation and groundbreaking. McIntosh's only daughter, Donna, was by her father's side.
McIntosh said he achieved his dreams because his wife, Anne, joined him in that aspiration. They married in 1955 one week after he graduated from Meharry Medical College and were married for 63 years before she died in February 2019.
While so many applauded McIntosh last week, and others publicly revered him for his work, the longtime Jaxson was hesitant at the idea of being an inspiration.
"I don't know if my accomplishments, if you want to call it that, will stimulate anybody. But, I think, if we can stimulate them for science, in general — we give our scholarships in Kappa Alpha Psi not for any one particular field; whatever field you choose, it should be one that you can actually rise to the top. And, I don't think I did that in my particular profession, but I did the best of my ability."
---
Sign up for the Jacksonville Today newsletter
Your local weekday newsletter for news and ways to get involved in Northeast Florida.