'Poll chaplains' prep for Jacksonville Election Day
Published on November 6, 2022 at 8:15 pm
Southside Jacksonville evangelist Doris Rodgers spent her Friday morning posted outside the Northside's Highlands Regional Library, one of Jacksonville's early voting sites. She wasn't holding a Bible or talking about her faith but saw this morning as another kind of ministry: She's one of more than 25 Jacksonville faith leaders trained as a "poll chaplain," tasked with ensuring voters feel safe casting a ballot.
Voter intimidation is illegal under Florida law, but voting-rights groups say the state's high-profile voting fraud arrests, and recent reports of armed "vigilante" ballot box watchers in Arizona, could scare some legal voters out of casting a ballot. The national organization Faiths United to Save Democracy hopes poll chaplains can help diffuse those concerns – especially for "people of color, the elderly, and the poor."
"This particular precinct is normally pretty quiet," Rodgers said outside the library Friday. But if voters "seem to be having some agitation, we step in and ask questions." She also looks out for elderly voters who might have "mobility issues, and we help there where we can."
Duval County Supervisor of Elections Mike Hogan says there was one altercation during early voting, when a woman who claimed to be a poll watcher yelled and hit an employee at the Prime Osborn Convention Center. He says the Jacksonville Sheriff's Office asked the woman to leave, and there haven't been any incidents since.
Still, Faiths United to Save Democracy says it's targeting Florida (along with nine other states) because of "new voter restrictions or organized voter intimidation campaigns." The organization's coordinator, Rev. Barbara Williams-Skinner says they also used voter complaint data to decide which precincts to send poll chaplains to.
"Lawyers' Committee for Civil Rights received over 200,000 complaints in the last election, (in) largely Black, Brown and low-income communities," Williams-Skinner says.
Tracking voter intimidation
Florida Secretary of State Cord Byrd did not provide the number of statewide voter intimidation complaints he has received, by request of Jacksonville Today, nor has he publicly mentioned voter intimidation — a third degree felony — this election cycle.
None of the state's five election complaint forms explicitly address voter intimidation. Byrd has, by and large, focused his attention on voter fraud. His office advertises its complaint process for reporting perceived election fraud and publishes a running tally of these complaints.
By contrast, the Arizona secretary of state has spoken out against voter intimidation this year and encouraged voters to report incidents at the polls with an online form. In the Phoenix area, two armed people in tactical gear stood outside ballot drop boxes last month.
In Northeast Florida, St. Johns County Elections Supervisor Vicky Oakes tells Jacksonville Today, "In the primary and currently, solicitors can be a little aggressive to voters while distributing their literature. The main problem we had during the primary election was the solicitors stopping voters at the entrances to our early-voting sites, blocking traffic and backing up traffic."
Oakes says local poll deputies are trained by the Department of Homeland Security, the local Supervisor of Elections Office and the St. Johns County Sheriff's Office to de-escalate and respond to any attacks at voting sites.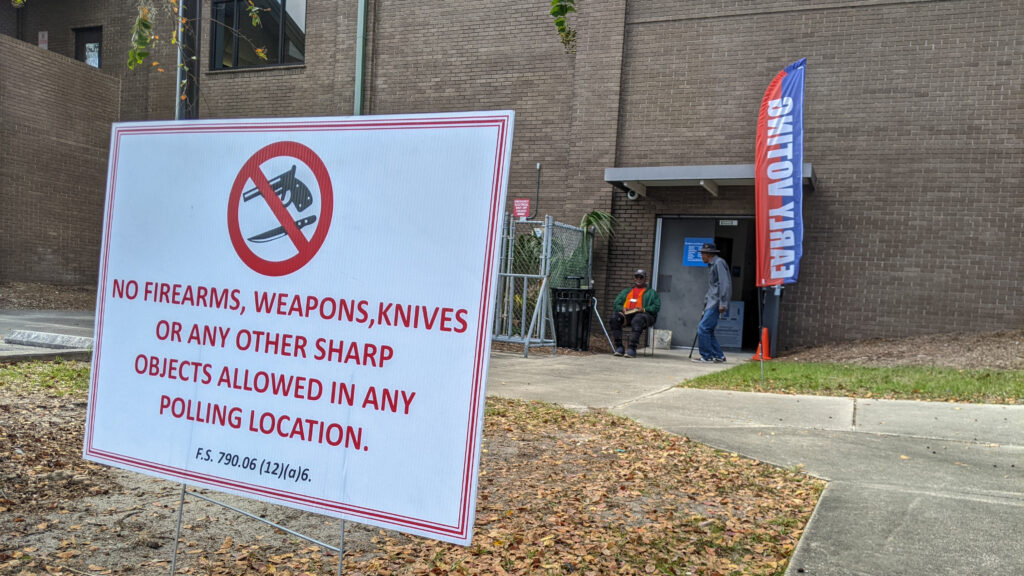 Election supervisors in Putnam, Bradford, Union and Flagler counties tell Jacksonville Today they are not aware of any voter intimidation incidents so far this election cycle. Clay and Nassau county election supervisors have not responded to a request for comment as of this story's publication. Elsewhere in Florida, voters faced verbal attacks at two voting sites in Daytona Beach's Volusia county, according to WMFE.
"Trying to discourage them or scare them from coming in to vote because they're worried about their safety, that's a problem," Volusia County Election Supervisor Lisa Lewis says.
President of the Florida Supervisors of Elections association Mark Earley says instances of voter intimidation are isolated — in part due to the 150-foot no-solicitation boundary around polling sites in Florida.
"We're watching it, but I don't want voters to become overly concerned that a visit to a polling place might become an encounter that they don't want to have," Earley said on the Florida Roundup radio program last week.
While campaigning at polling sites Friday, U.S. House District 4 candidate LaShonda Holloway told Jacksonville Today she's concerned about a less tangible kind of voter intimidation — misinformation. She says she's gotten calls from people convicted of felonies, with their voting rights restored, who are scared to vote because of the recent arrests.
"There is a lot of misconception as a result of those 20 arrests," Holloway says. "I have tried to ensure all of them that, look, if you have a voter registration card issued by the supervisor of elections, go and vote. Exercise your right, you've paid your debt to society."
What to do if you see misinformation or voter intimidation
Florida law says no one can "directly or indirectly use or threaten to use force, violence or intimidation" to prevent or compel anyone to vote. Also under the law, no solicitors or campaigners are allowed within 150 feet of a polling entrance.
Local election supervisors say voters should tell their precinct poll workers if they see or experience anything that violates these laws.
Voters can also file a National Voting Rights Act complaint with the Florida Department of State. The national nonprofit Election Protection coalition runs an election-protection hotline where voters can report voter intimidation to civil rights groups at 1-866-OUR-VOTE, and the federal Department of Justice receives complaints about voting-rights violations at 1-800-253-3931.
Jacksonville poll chaplain Doris Rodgers says the biggest thing she's hearing from her Southside Church of God in Christ congregation as Election Day approaches is the determination to have their voice heard. "The more resistance that shows up, the more determined," Rodgers says. "They're more determined in doing their part in this democratic process."
Polls are open from 7 a.m. to 7 p.m. across Florida on Tuesday, Election Day. Voters can only cast a ballot at their assigned precinct. See a sample ballot and find your precinct at your county election supervisor's website. And check out Jacksonville Today's voter guides for information on the races on the ballot.

Claire Heddles
Reporter, Jacksonville Today
Claire has been a reporter in Jacksonville since August of 2021. She was previously the local host of NPR's Morning Edition at WUOT in Knoxville, Tennessee. Reach Claire with tips, ideas or comments at (904) 250-0926, claire@jaxtoday.org and on Twitter at @ClaireHeddles.

Claire Heddles
Reporter, Jacksonville Today
Claire has been a reporter in Jacksonville since August of 2021. She was previously the local host of NPR's Morning Edition at WUOT in Knoxville, Tennessee. Reach Claire with tips, ideas or comments at (904) 250-0926, claire@jaxtoday.org and on Twitter at @ClaireHeddles.
---
Sign up for the Jacksonville Today newsletter
Your local weekday newsletter for news and ways to get involved in Northeast Florida.