Could Duval's Black voters dictate the Florida midterms? 
Published on October 25, 2022 at 8:10 pm
Moné Holder does not need to be reminded of the importance of next month's elections.
"If we're about to energize, mobilize, galvanize folks from Duval County, I believe it will be a huge impact in elections this November," says Holder, a senior director with the progressive-leaning Florida Rising advocacy group.
Hers is one of the groups — among them, national and statewide organizations — that are trying to mobilize Black voters in Duval in an attempt to affect the outcome of Florida's midterms — a potentially meaningful difference because so many registered Black voters in Jacksonville did not participate in recent elections.
Though overall turnout in the 2018 gubernatorial election was at a high not seen in decades — partly driven by then-rising Democratic star Andrew Gillum, the young, Black former Tallahassee mayor, at the top of the ticket — Black turnout in Duval County has consistently lagged behind overall turnout during midterms.
Red, Blue and Black
Black voters in Duval County make up just under 28% of the county's total electorate. Still, they have the potential to swing elections in Florida: In each of the last three midterm cycles, the number of registered Black Duval voters who did not participate was greater than the governor's margin of victory.
Four years ago, Gillum may have been the first Democratic gubernatorial candidate to win Duval County in 32 years — but the 63,704 Black voters in the county who didn't participate in the 2018 midterms was nearly twice the statewide margin of victory for Republican Gov. Ron DeSantis, 32,463 votes, and nearly six times the margin of victory for Republican Sen. Rick Scott, who topped three-term incumbent Democratic Sen. Bill Nelson by just over 10,000 votes.
In every Florida midterm election since 2002, Black voter turnout has trailed overall turnout.
Still, Duval County Supervisor of Elections Mike Hogan says, his office never targets its get-out-the-vote messaging to a specific political party, group of voters or portion of town.
"The real driver, in any election turnout, is the candidate or the candidates," Hogan tells Jacksonville Today. "This general ballot is huge. It's got a lot of different races, from federal, state and local…that's why that (turnout) number is going to double (from the primary) just because of that."
This August, when only 28.8% of the Duval County electorate voted, turnout among Black voters was 27.3%.
"In Jacksonville, and everywhere else, you can't expect Black voters to come out if you're not speaking directly to them," says Obi Umunna, a Jacksonville Democratic strategist who has worked with sheriff candidate Lakesha Burton's campaign and others. "Unless you feel they are part of the process, and make them feel their vote is specifically part of the process, you're not going to get them to turn out and you shouldn't expect them to."
That means he counsels campaigns to focus less on criminal justice reform and more on universal issues that may be less of hot buttons, like property taxes and access to jobs and capital.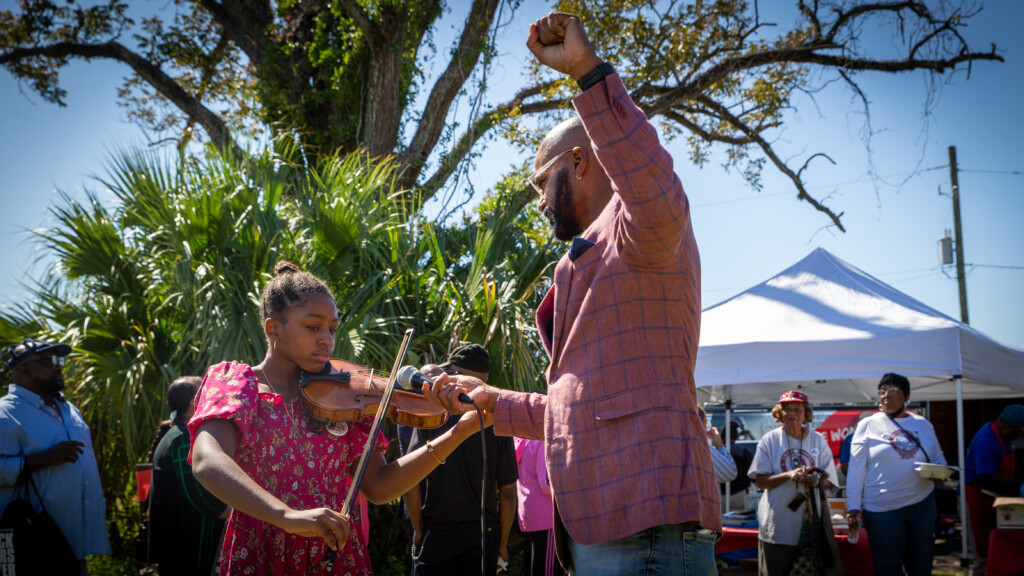 Duval in the spotlight
"Whatever happens in this state will happen because of Black voters," Cliff Albright, the co-founder of Atlanta-based Black Voters Matter, said during a rally at St. Stephen AME Church in Jacksonville this month. "Duval will shape the way the entire state goes. You have to believe you have that power."
The Black Voters Matter "Blackest Bus In America" bus tour is visiting more than two dozen cities across America to encourage Black voters to participate in the midterms. Jacksonville was one of four Florida cities on the agenda ahead of early voting.
The tour stops are cities with large Black electorates — Philadelphia, Detroit and Washington D.C. — or a history of racial protests and race riots — Wilmington, North Carolina; Minneapolis, Charleston — or with a Historically Black College. Jacksonville has all three.
Daryl D. Jones, board chairman of the D.C.-based Transformative Justice Coalition, said his organization and others brought the Blackest Bus Tour to Jacksonville because community leaders requested their help in energizing Black voters.
Next month's election is the first time since Minneapolis police killed George Floyd that Duval County will elect a sheriff. It will also be the first election since city-county consolidation when Duval voters will simultaneously elect a governor, U.S. senator, a freshman member of congress and a sheriff at the same time.
Jamil Davis, the Florida organizing manager for Black Voters Matter, blames voter suppression, gerrymandering, and the effects of the housing crisis for dampening Black voter enthusiasm. He says promises made to Black voters across the country in 2018 and 2020 to help Democrats control the White House and both branches of Congress haven't been delivered on — but shouldn't be a reason to sit out this time.
"Jacksonville is one of the Blackest cities in the country when it comes to the political landscape," Davis says. "People have said to me, as an organizer, 'As Jacksonville goes, so do Black politics in the state of Florida. So, it is imperative for us to build a hub, to build an epicenter here in Jacksonville, because we need to regain Black political organizing power."
In each of the past five gubernatorial elections, Duval County's Black voter turnout rate has been less than turnout overall. The Black turnout gap was at least 5% in 2002, 2006, 2010 and 2014, but narrowed to less than 1% in 2018 — a trend the activists are pushing to continue past the Gillum era.
Less allegiance to Democrats
For Democratic-leaning activists, one hurdle is Black voters' leaving the party. In September 2020, Duval County's Black electorate was 14.4% NPA; by last month, that percentage had risen to 16.5%.
Umunna, the Democratic consultant, says more Black voters are becoming independents because of their dissatisfaction with the Democratic Party.
"Campaigns have not been sophisticated enough to talk to different groups of Black voters," Umunna says. "Black people, in general, have felt disillusioned from the political process… When you don't trust the process, voting isn't a priority for you, because you're not getting what you want."
Meanwhile, the percentage of Black Republicans has essentially remained flat, increasing from 3.5% to 3.7%. But a growing effort is aimed at encouraging Black voters to consider the GOP.
Earlier this year, Republican National Committee Chairwoman Ronna McDaniel was in Jacksonville to open the RNC Black American Community Center on the Westside – a first-of its-kind facility for Florida meant to host discussions of conservative ideals and introduce them to Black voters.
At the time, McDaniel said Democrats took Black voters for granted. Quisha King wholeheartedly agrees.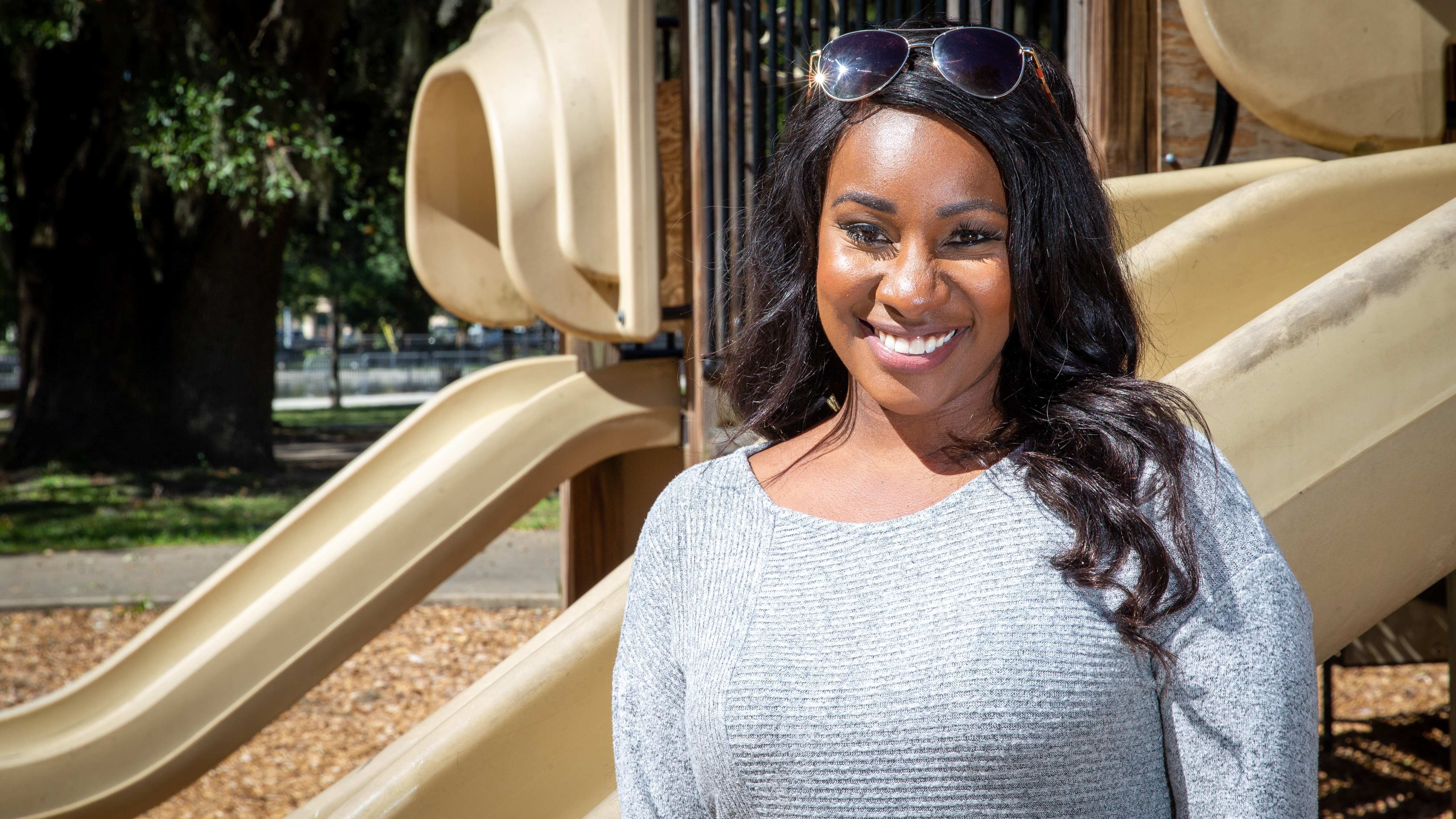 King is a Jacksonville native and the founder of Mass Exodus Movement, a conservative Christian group that calls for the defunding of public schools and urges parents to remove kids from them because of "indoctrination."
"It's extremely important for people to think for themselves because you have to understand, politicians, they want to win," King says. "We need to make sure we are voting for things that are actually beneficial for your family, (things) that are actually going to give you more opportunity, be able to take advantage of opportunity, to be able to get the best education for your children."
King says she became politically active in the summer of 2016 shortly after Black men Alton Sterling and Philando Castile were killed by police on consecutive days – events that set off protests and riots in cities across America.
When the political conversation shifted to policing in Black neighborhoods and law enforcement funding, King says she felt "disgusted" and "duped" by Democrats who advocated for reducing both.
She says the Black voters she encounters – either as part of the Mass Exodus Movement or as the former deputy director of legislative affairs for conservative advocacy group Building Education for Students Together – are disappointed on multiple fronts.
"They don't see the engagement with the Republican Party and they don't see the benefit of voting Democrat," King says. "I think it's a sentiment of a lot of groups, not just Black voters, that people are kind of tired of what's been going on. It can make you feel like, 'You know what, they are going to do what they want to do anyway. I don't want to be a part of the process.'"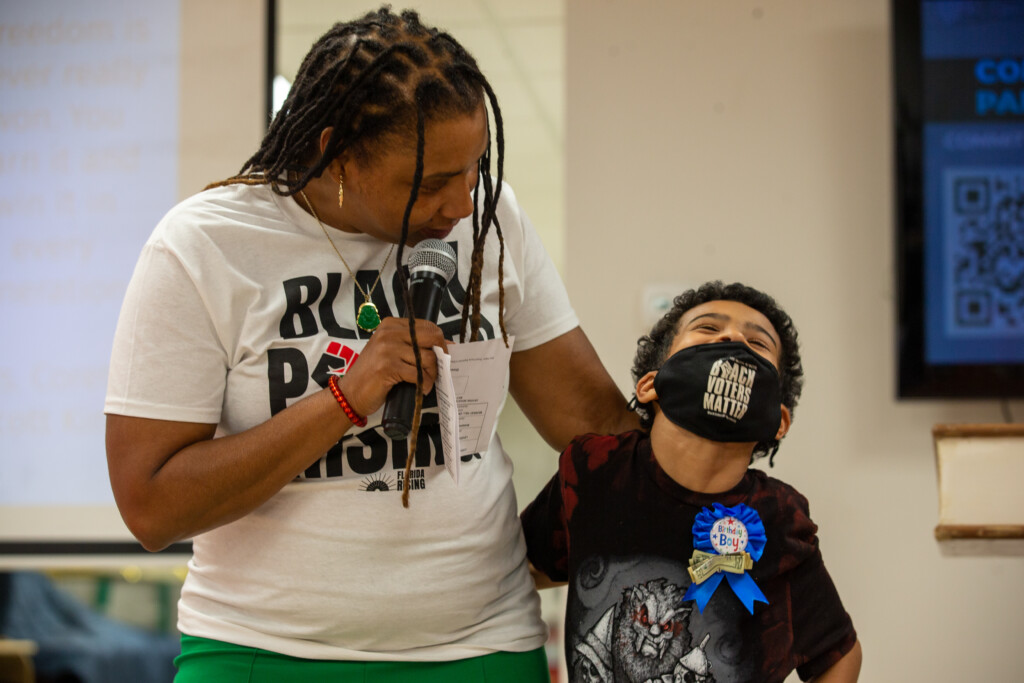 Gaining momentum
For volunteer Alexis Gaines, taking part in the process by voting is not enough. She and her 10-year-old son, T.J., have been canvassing throughout the Westside and Northside this fall in support of Democratic candidates.
Gaines also speaks at public hearings and attends town hall meetings to ensure politicians of both parties "are putting forth the action" that she and other voters expect.
"We are putting people in place who are trying to fulfill the open-ended promises of before," Gaines says.
Gaines, like King, says education is one of her voting priorities. She lives in the newly drawn Congressional District 4 and would like to see either Aaron Bean or L.J. Holloway secure federal dollars that will fund education and ensure students feel welcomed and safe at school. As for the governor's race, she wants a candidate who will allow for public schools to teach a full representation of history and culture.
"I'm all about motivation in action," Gaines says. "That's the only way to get across the finish line. We have to be the first step and show them how to come behind."

Will Brown
Reporter, Jacksonville Today
Will Brown is a corps member with Report for America, a national service program that places journalists into local newsrooms. He previously reported for the Jacksonville Business Journal

. And before that, he spent more than a decade as a sports reporter at

The St. Augustine Record

,

Victoria (Texas) Advocate

and the

Tallahassee Democrat. Reach him at will@jaxtoday.org.

Will Brown
Reporter, Jacksonville Today
Will Brown is a corps member with Report for America, a national service program that places journalists into local newsrooms. He previously reported for the Jacksonville Business Journal

. And before that, he spent more than a decade as a sports reporter at

The St. Augustine Record

,

Victoria (Texas) Advocate

and the

Tallahassee Democrat. Reach him at will@jaxtoday.org.
---
Sign up for the Jacksonville Today newsletter
Your local weekday newsletter for news and ways to get involved in Northeast Florida.