Downtown Jax is finally starting to grow
Published on October 26, 2023 at 3:31 pm
The evidence that Downtown Jacksonville is growing again is visible along its riverfront and in its new apartments and condos, according to the people who work to improve the growth and health of that part of city.
But as new hotels and parks blossom along the St. Johns River's shores, the 2023 State of Downtown Report by Downtown Vision Inc. also shows a higher rate of empty offices than other major Florida cities, and some concerns about living and working there.
The 18-month recap of progress in Downtown Jacksonville's Business Improvement District takes a snapshot from Jan. 1, 2022, through June 30. Among the images are 11 new apartments or condos in the past five years; eight more under construction; and 16 more in review or proposed in Downtown, Riverside, LaVilla and Brooklyn.
A profile of those who live there shows a large majority loving or liking where they live, up 2% from 2022. And more people are coming Downtown to eat, drink and be merry — up 4.4% over 2022.
Those are very good numbers, and "it's never been going better," said Jacob Gordon, CEO of Downtown Vision Inc.
"There's a huge amount of investment in Downtown Jacksonville, and we are up to $8 billion in total right now, up from $5 billion," Gordon said right after the report's release Thursday. "You contrast that to the past 20 years, and there just hasn't been as much investment as we see now.
"So, I think the people of Jacksonville have a rightly cynical view of Downtown, and we have been growing slower historically. But this year, and the past couple of years, have been huge growth years for Downtown Jacksonville."
In her forward to the report, Mayor Donna Deegan wrote that she is thrilled with what she called a significant increase in public and private projects in the pipeline. Downtown development is "advancing swiftly, " she said.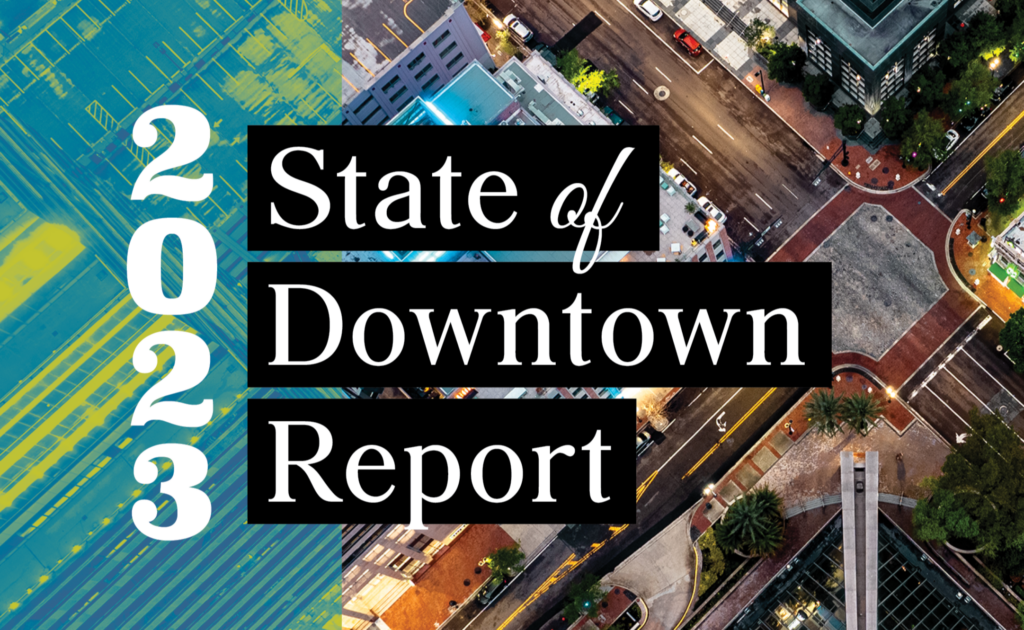 "The city of Jacksonville will continue to support these efforts to make Downtown the world class destination we know it can be," Deegan wrote. "We will fully fund our riverfront parks and complete the Emerald Trail. These projects will add to our quality of life, and along with a focus on arts and culture, they will ignite Downtown so more people will invest, live and play there."
Downtown Vision Inc. is a nonprofit business improvement district that has worked to create a vibrant Downtown for 23 years. Funded mainly by Downtown's commercial property owners, it annually tracks and analyzes Downtown's performance in key indicators such as development and investment, residential demand, office market and employment base, transportation enhancements and tourism health.
Those projects are shepherded by the Downtown Investment Authority, the city's community redevelopment and economic development arm, which works to attract investment, fosters job creation and increase residential density through capital investment and other efforts.
In fiscal 2021-2022, the DIA invested more than $100 million to leverage more than $576 million in private capital investment into new businesses, rehabilitation of historic properties and the construction of new properties, the report said.
The report's high points include news that more than a half-billion dollars in projects that were in review in last year's report have now broken ground. That compared with $4.69 billion in Downtown projects under construction, in review or proposed, according to the 2022 State of Downtown Report.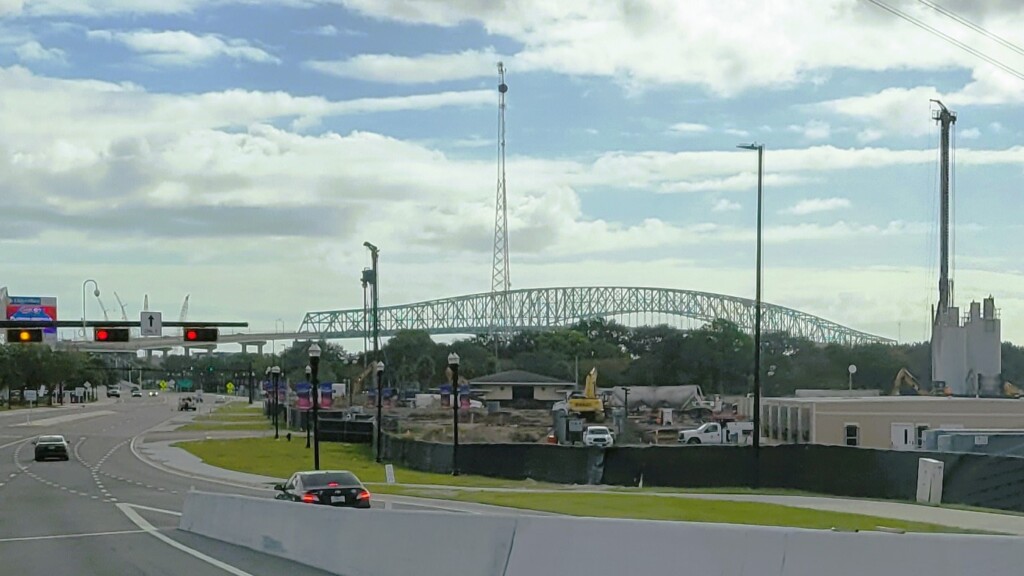 Gordon credits the Downtown focus by current and past mayors and City Councils.
That has led to more people living there as well.
"That number of residents has doubled in just the past 18 months," Gordon said. "You look at the residential buildings Downtown, and they are nicer than they were before. It's a place people want to live, and I think that's why you see a lot more residents Downtown. People make a community better; they make retail better."
Almost 30% of Downtown's 4,600 residential units began leasing in the past five years, leading the number of residents to more than double. There are 1,579 more units under construction and 3,448 more under review, the report said.
Three new residential properties — 218 Church St., Ashley Square Apartments and The Southerly — have come online since 2022, adding 329 new market rate and senior housing units. That is a 50% increase in multifamily units in the past decade. And historic properties in the North Core are being revitalized, including apartments at 218 Church St., the historic Federal Reserve Bank and the NoCo Center, the report said.
As for business growth, 53,600 people work Downtown, with a 2.5% unemployment rate. But Downtown office space has a vacancy rate of 26%, compared with 15.5% in downtown Miami and 12.5% in downtown Orlando, the study said.
Part of the reason is that office occupancy after COVID-19 sent most workers home. But Gordon called the occupancy numbers "the most concerning" data in the report.
"Downtown Jacksonville is much more insulated than some other communities, where there is a lot of office vacancy," he said. "You can see that we have a lot of work to do. The reality is that there is a lot of great office space in Downtown, and you just see there is a little bit of a lull. But we are having a lot of people coming back to work."
Despite the vacancy rate, the report said three Fortune 500 companies call Downtown home, with almost 8 million square feet of commercial office space, Two new headquarters — FIS and JEA — have added more than 500,000 square feet of office space to Downtown. And 245,000 square feet of retail space is under construction Downtown, the study said.
The study reports that employees say the best things about working Downtown include restaurants; the waterfront and river access; the convenience and central location; walkability; and a bicycle-friendly atmosphere, plus public art and cultural venues.

Just over 84% of those people like or love working Downtown, while 48% of them who live outside Downtown have a commute time of 20 minutes or less, the study said. Just under 67% rent their homes, while just over 55% have lived there for three or more years.
The worst things about working or living Downtown were panhandlers, followed by a lack of "curb appeal" due to empty storefronts, then "feeling unsafe," the report said. The cost of parking and the lack of shopping round out the five worst things in the survey.
Gordon said they tried to be "realistic" about the challenges Downtown, and transients are a huge issue.
"There's not as much vibrancy as we would see, which gives a perception of safety so sometimes the only people you see are in need, depending on the day of the week or time that you are here," Gordon said. "So there is a very concerted effort led by elected officials and others to make sure people in need are getting care. Our organization does have a social services department, and there are a number of other great social services. But the reality is that we will have an affordable housing issue and we are working on that as a community."
As for mass transit, the report points to the opening of the JTA's new $57 million multimodal station in LaVilla in 2020, which integrated bus transfer, First Coast Flyer, Skyway/U2C transit system, rideshare and bikeshare with the Intercity Bus Terminal.
JTA also is working with the city and other agencies to add autonomous people movers on Bay Street, ultimately expanding to the Skyway's overhead routes for its Ultimate Urban Circulator to reach into San Marco, LaVilla and elsewhere.
The study says more people are visiting Downtown Jacksonville for events or hotel stays, some of that due to the opening of a Residence Inn by Marriott in 2022 — Downtown's first new hotel since 2009. An additional 396 hotel rooms are under development at the Four Seasons Hotel near EverBank Stadium, with a new marina. A TRYP by Wyndham and a Home2 Suites by Hilton are also planned.
But the city needs a more robust visitor community with more things for them to see, like the activities surrounding this weekend's Florida-Georgia football game, Gordon said.
"Visitor experience is something that can definitely be focused on," Gordon said. "The reality is that we had our best tourism year ever last year, as you can see in the report. We are adding a ton of hotel rooms. But that means that we have to add more amenities like e-scooters, things that visitors need as opposed to just catering to office workers."
That includes more investment in the arts, which creates a vibrant Downtown, he said.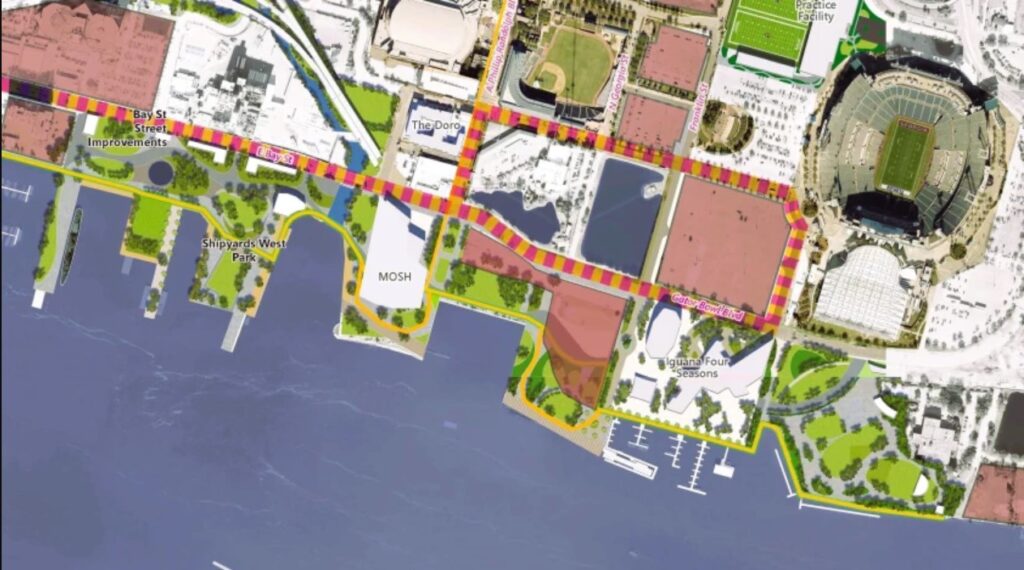 The report also points to development that has begun on more than 100 acres along Downtown's riverfront, including the Four Seasons as well as city parks like the $15 million St. Johns River Park and Friendship Fountain, the Artist Walk and the $27.25 million Riverfront Plaza. The report points to the new Fuller Warren Bridge Shared Use Path for walkers and bicyclists connecting Brooklyn and Riverside to the Southbank and San Marco. And a network of dedicated bike and pedestrian trails are underway, like the Emerald Trail — a 30-mile network of bike-pedestrian trails to connect Downtown to 14 historic neighborhoods, 18 schools, two colleges and nearly 30 parks.
But the question remains: Why has it taken the city so long to develop the riverfront after demolishing the old City Hall and courthouse along Bay Street years ago, as well as Jacksonville Landing and unfinished Berkman II condominium tower and garage?
The people of Jacksonville deserve to be a bit skeptical of the slow pace of Downtown redevelopment over the past few decades, Gordon admitted.
"Things are really happening," he said, pointing to Fuqua Development's 1 Riverside mixed-use residential facility with Whole Foods, marina, restaurants and other amenities.
"There are real, huge projects happening," he said. "And the Landing is a good example of something built in 1988. And by the early 2000s, (it) had already not been what the future had changed to.
"Those are huge differences. So the city is being smart and cautious, making sure that what we build Downtown will be the best possible thing, not just for now, but (for) my children's children."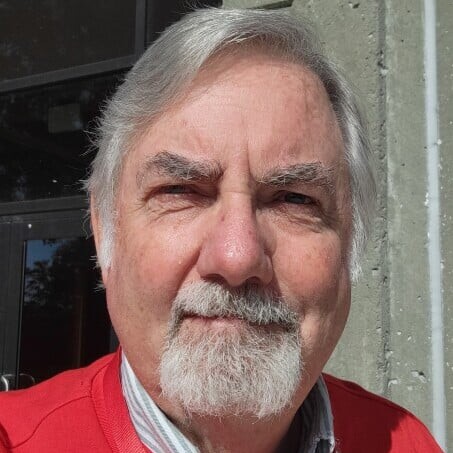 Dan Scanlan
Reporter, WJCT News 89.9
Dan Scanlan is a veteran journalist with almost 40 years of experience in radio, television, and print reporting. He has worked at various stations in the Northeast and Jacksonville. Prior to joining the WJCT News team, Dan spent 34 years at The Florida Times-Union as a police and current affairs reporter.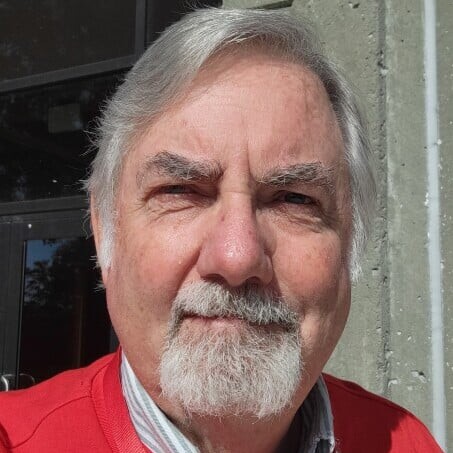 Dan Scanlan
Reporter, WJCT News 89.9
Dan Scanlan is a veteran journalist with almost 40 years of experience in radio, television, and print reporting. He has worked at various stations in the Northeast and Jacksonville. Prior to joining the WJCT News team, Dan spent 34 years at The Florida Times-Union as a police and current affairs reporter.
---
Sign up for the Jacksonville Today newsletter
Your local weekday newsletter for news and ways to get involved in Northeast Florida.