Racism rises again a century later in Rosewood
Published on October 18, 2023 at 11:05 am
Historian Marvin Dunn was surveying land he co-owns in a Florida town called Rosewood — once a haven for Black Americans — as part of plans to memorialize the horrific racial violence there a century ago, when an enraged, white mob murdered Black residents and set homes and churches ablaze.
Dunn, 83, of Miami, a professor emeritus at Florida International University, is among the first Black property owners in Rosewood since the infamous massacre, one he says is too often forgotten. Dunn and five others were on the 5.7-acre, heavily wooded plot to identify historic sites for a centennial memorial: a former church, a graveyard, the Black Masonic lodge and the remains of rail tracks that once carried survivors who fled the ravaged town and never returned.
One hundred years later, those same hallowed grounds witnessed another racial reckoning.
David Allen Emanuel Sr., 62, a clam farmer who lives with his family across the street from the site in Levy County in north-central Florida, shouted racial slurs at Dunn and his group — calling him a "f—-ing n—-r" — and demanded that they leave the area.
He sped away from the group in a white Ford F-250 pickup, cut a U-turn through a ditch and, after briefly stopping in his driveway, accelerated toward the men. Gravel flew. Dunn's son, Frederick Douglas Dunn, 53, jumped out of the way as the three-ton truck missed him by inches.
"It wasn't like I pulled a gun on him," Emanuel said in a phone interview this week, still professing his innocence. "My man got his feelings hurt."
Unlike the white perpetrators who all went unpunished for the 1923 Rosewood massacre, this summer, a federal jury in a two-day trial convicted Emanuel of hate crimes over the September 2022 incident. It ruled that he had violated the civil rights of the Dunns and the others by intimidating or attempting to injure them based on their race. Emanuel, who is white, is expected to be sentenced to prison Thursday in federal court in Gainesville, 45 miles from where the scene played out.
"It'll be nice to have a little weight off our shoulders once it's all over," said Frederick Douglas Dunn, who narrowly missed being struck by the speeding truck. "This sentencing will be closure for me."
Prosecutors said the victims — who they described as fathers, veterans, historians, a preacher, a firefighter, a scientist, a devoted son and a grandson — testified about the violent confrontation, describing racial slurs from Emanuel that were "so degrading and dehumanizing that the victims could barely utter them," Assistant U.S. Attorney Kaitlin Weiss wrote in a court motion.
The group recorded the license number and even photographed Emanuel's pickup as he sped away. "We just had a man try to run a guy over out here on the side of the road," a witness told a 911 dispatcher, according to court records. "He come inches from him." He added: "It is absolute harassment of these gentlemen."
The terrible irony of the incident wasn't lost in the 911 call. The witness, identified only as "R.P." in court records, was a contractor Dunn had hired to help clear brush at the site of the massacre 100 years ago. Their plans were to build a memorial, an educational facility to teach future generations about the horrors from Rosewood's history fueled by racially charged rage, he said.
"Because of this stuff, like this right here," R.P. told the dispatcher. "We're not in a day and time where that stuff's acceptable at all."
Levy County sheriff's deputies questioned Emanuel at his home, where a deputy noted Confederate flags and bumper stickers on display. He greeted a sheriff's corporal by asking, "This all over the Black people deal?"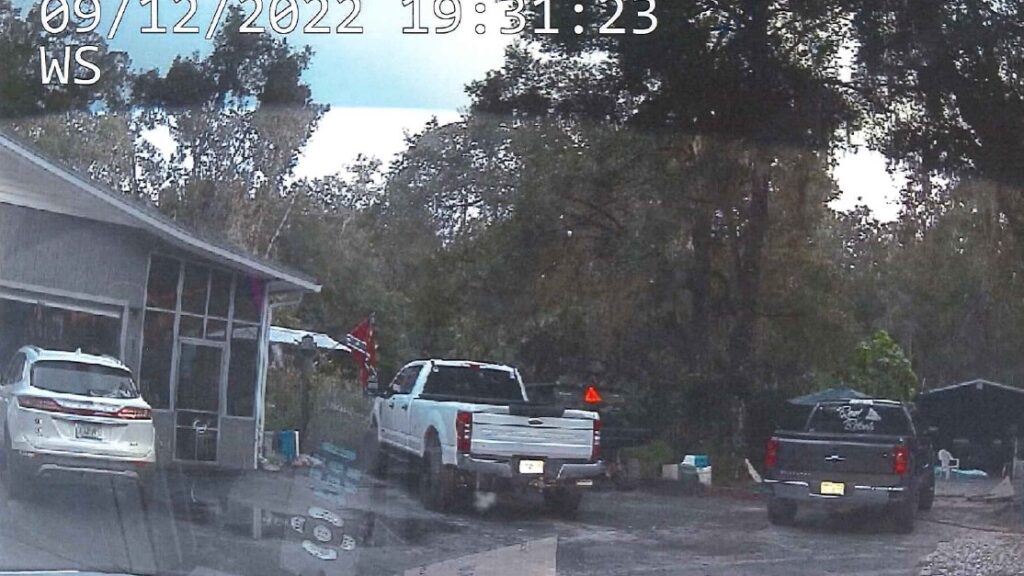 In the Sheriff's Office interview, Emanuel denied using the n-word but acknowledged there had been a confrontation: "I might have said, 'Hey, you Black son of a b—-, I'll see you in hell,'" he said. "I might have said that, but I don't even know that he heard it. This was out the window of my truck."
Emanuel said that Dunn and his group of researchers had a history of damaging his property and that the confrontation followed a profane exchange between the men and Emanuel's adult daughter who told them to move their vehicles parked on a 19-foot-wide public easement along their family's property. Prosecutors said they were lawfully parked.
Emanuel also disputed that he hurt anyone: "I didn't stop and run them over, and I didn't beat the crap out of them."
He was upset, he said, about large groups of Black visitors touring the massacre site across from his home: "They come here every four or five years," he said. "I've been here 24 years, and I've dealt with these Black people. Busloads of them coming down here and line up."
Days later, in the patrol cruiser on his way to jail, Emanuel was in disbelief, saying, "I didn't do a g–d— thing," and said he was "treated like this s— over a f—ing n—–, man. I didn't do a g–d— thing to them. I should have run over them motherf——."
It wasn't clear how many years — if any — U.S. District Judge Allen C. Winsor, appointed by President Donald Trump in 2019, will send Emanuel to spend behind bars, or what the judge will say to him in the courtroom.
The Justice Department prosecutors in the case told Winsor that a "substantial prison sentence" was necessary because the crimes were serious and it would serve as a deterrent. They cited a recent Montana case where a man was sent to prison for 18 years for firing a gun into the home of a gay woman. That defendant targeted one person, prosecutors said. Emanuel targeted six.
In court motions, prosecutors asked the judge to stay within sentencing guidelines, but the range of punishment was in a presentencing report that was not publicly available, so it was unclear how much prison time Emanuel may be facing. They said they would make further arguments for a long prison term in the courtroom later this week.
Local sheriff's deputies filed a sworn complaint against Emanuel the day of the confrontation and issued a warrant for his arrest seven days later. He was originally accused of aggravated assault with a deadly weapon, and state prosecutors formally charged him Jan. 27. He was indicted in federal court a month later on hate-crime charges.
Most of the federal jury that convicted Emanuel was white. Marvin Dunn and his son said the case gave them renewed confidence in the judicial system.
"What happened in that federal courtroom was reassuring that America still works," Marvin Dunn said.
Both Marvin Dunn and his son expect to be in the courtroom when Emanuel is sentenced.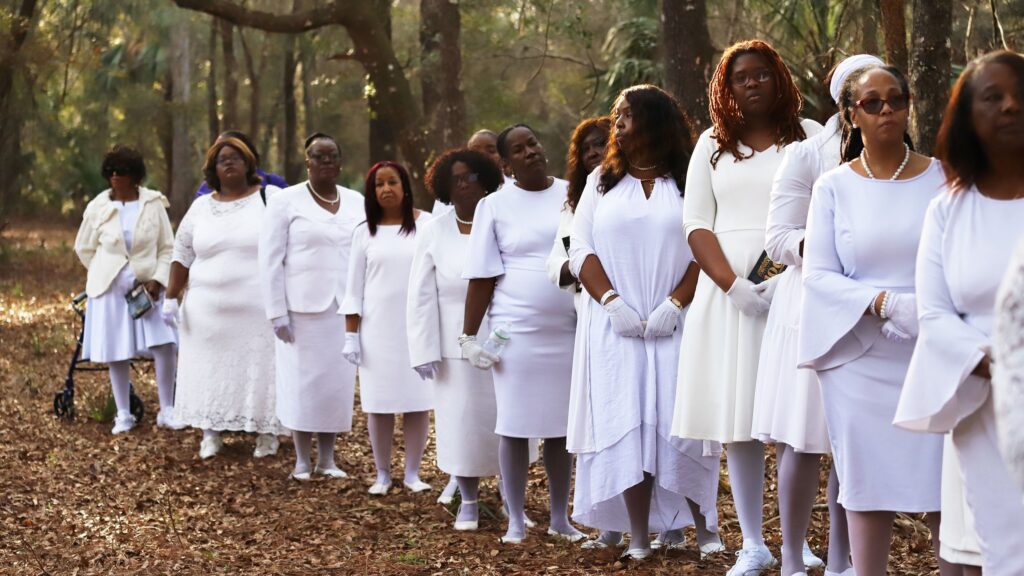 Marvin Dunn isn't discouraged from teaching painful history. This includes projects like converting the Rosewood property into a state park and his "Teach the Truth" tours, where he ferries students around Florida's sites of racial violence.
Last month, he took Stetson University students to the grounds of the massacre in Ocoee, Florida, where about 300 Black bodies are presumed buried in a mass grave. They visited Live Oak, where 15-year-old Willy James Howard was lynched in 1944 for giving a Christmas card to a white girl. They traveled to the site of mass lynchings in Newberry and visited Rosewood.
"People are struck when they walk the grounds where these things happen," he said. "It's transformative to a lot of people, and not just for Black people."
After Emanuel serves his federal sentence, he said he plans to sell his house and move to another part of town close to his son's grave.
"I'm not living across from a Rosewood memorial," he said in the phone interview this week, "that thousands of Black people are going to come to."
This story was produced by Fresh Take Florida, a news service of the University of Florida College of Journalism and Communications. The reporter can be reached at lemnusj@freshtakeflorida.com. You can donate to support the students here.
Lead image: Kenneth Nunn, left, and Benjamin L. Crump mourn for the victims of the Rosewood massacre during a wreath-laying ceremony, at Rosewood on Jan. 8, 2023. | Xinyue Li, Fresh Take Florida
---
Sign up for the Jacksonville Today newsletter
Your local weekday newsletter for news and ways to get involved in Northeast Florida.