Two very different accounts of the arrest of Le'Keian Woods
Published on October 3, 2023 at 5:58 pm
Natassia Woods stood quietly at the Jacksonville Sheriff's Office on Tuesday, surrounded by 80 supporters as they rallied in support of her son, sitting swollen and bruised in the Duval County jail nearby.
She had been there with supporters on Sunday to say police officers severely beat her son, 24-year-old Le'Keian Inarius Woods, during his arrest Friday on drug charges. "Nobody should be able to be beaten like that and get away with it," she said
This time, she let her attorneys speak as they called for a U.S. Department of Justice investigation of the Jacksonville Sheriff's Office and accused Sheriff T.K. Waters of a cover-up.
Attorney Marwan Porter called Woods' treatment "a UFC ground-and-pound beatdown by trained professionals, allegedly." He said Woods was in "excruciating pain" when they visited him in jail earlier. His face is still swollen and his kidneys are injured, Porter said.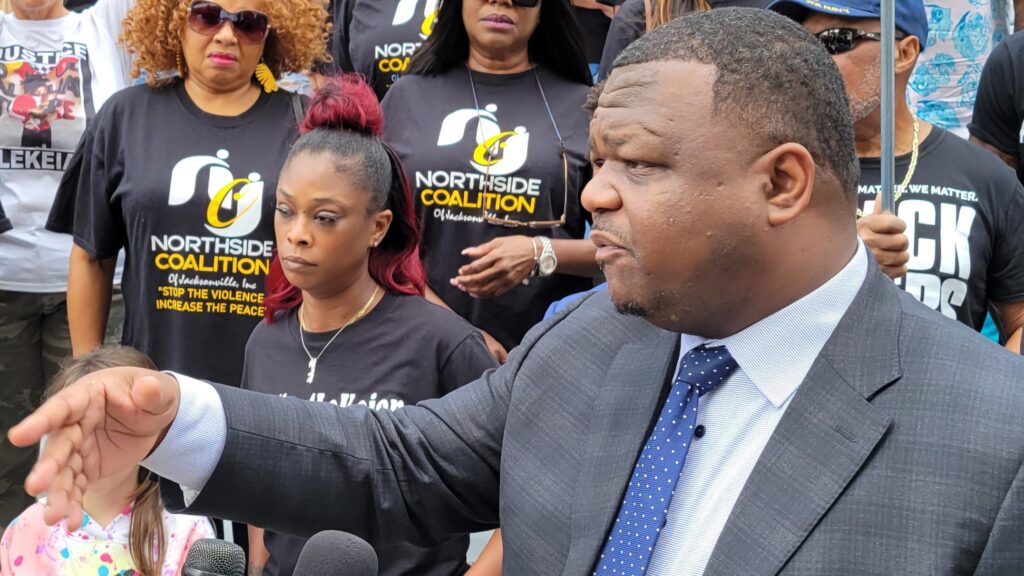 Porter's description contrasted sharply with the version Sheriff Waters had given at a news conference a day earlier, when he said officers acted appropriately when Waters continued to resist arrest.
Waters released police bodycam video showing his officers tackling and fighting to handcuff the young man after a chase. A police report indicated that officers punched and elbowed Woods as he appeared to resist even after being hit twice by a Taser.
A cellphone video shared on social media showed three officers kneeling on Woods, banging his face into the ground and appearing to kick him. Waters said people opposed to police manipulated the video to outrage the public. 
The video appears to show an officer hitting Woods with his leg, but it was actually "reversed to make it appear that he had kicked the individual," Waters said.
"This intentionally misguided manipulation of facts is wrong and dangerous, and I will not remain silent while the truth is buried to advance a particular agenda," Waters told reporters. "The truth is Woods sustained facial injuries when he fled from police and was tased, and fell face first on the concrete. Detectives struggled with him, and as I stated before, they used strikes to gain control, but he continued to resist arrest."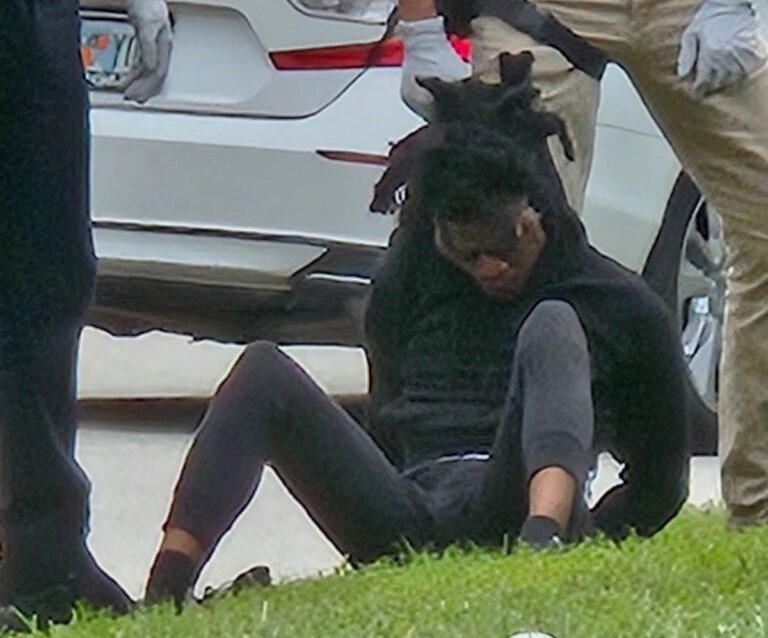 Civil rights attorney Harry Daniels said what happened was not in line with Sheriff's Office policy and procedures. And he said he is familiar with this police department because he filed a federal lawsuit against then-Officer Josue Garriga over the killing of 22-year-old Jamee Johnson in 2019 in Jacksonville.
"Deadly force is warranted when the person that's trying to use deadly force against you. Clearly from the video, that didn't happen," Daniels said Tuesday. "So that's what I mean by excessive, and I would go a step further. I would say the force is unlawful — unlawful use of force — and the reason why we petitioned the Department of Justice, not just for an investigation as to this incident, but to the Sheriff's Office in other cases. The Department of Justice comes in and finds wrongdoing. That's when the FBI comes in."
Gang unit surveillance
Woods' arrest report details surveillance by a Sheriff's Office gang unit near Toledo Road and Powers Avenue on Friday. Officer Garriga wrote that he saw a parked Dodge Durango joined by a gray Dodge Ram with three people inside. He suspected a drug deal, he said.
A man in black got out of the Ram, his "pants weighing heavy on the right side of his person," Garriga wrote. Garriga radioed other detectives that the person might be armed.
Garriga said he recognized Woods and watched him counting cash outside the Durango before getting back into the Ram as it was driven away. Garriga stated that the Ram's driver was not wearing a seatbelt. Officers in unmarked vehicles followed it to Kensington Gardens Lane and surrounded it.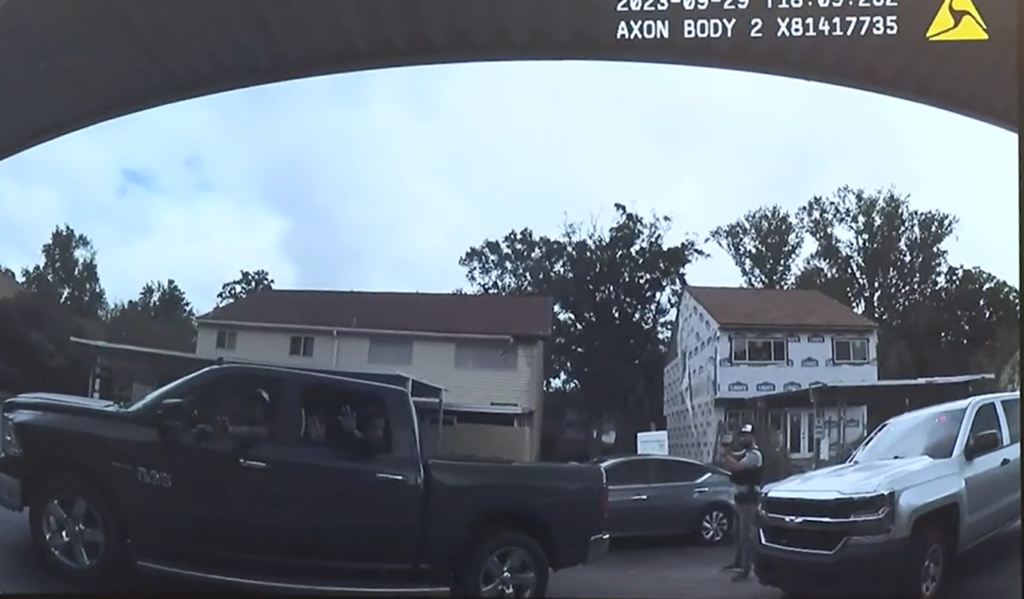 Two other men in the truck were ordered out and handcuffed, as shown on bodycam video the Sheriff's Office released Monday night. But as Detective Beau Daigle was ordering them out, Woods ran.
Detective Hunter Sullivan chased him, ordering him to stop before pulling out his Taser and firing. Woods did not stop, so Sullivan fired the Taser again. Woods was hit and fell down.
"I commanded him multiple times to 'Put your hands behind your back!' or he was going to be tased again, which he refused to do," the report states. "At this point, I immediately observed blood on the suspect's face from falling to the pavement. … I continuously tried to maintain control of the suspect's arms, but he actively resisted my efforts."
Bodycam video shows Woods, who weighs 160 pounds, according to his arrest report, squirming as Sullivan gave more commands to stop resisting. Sullivan felt Woods was "still armed and actively resisting," the report said
At one point, Sullivan hit Woods in the face, then ultimately grabbed his left hand before lying on his back to keep him on the ground. Woods tried to lift the detective and a second officer off the ground to stand up, the report said.
"I delivered four more strikes to the suspect's face with my right fist and one strike to the right side of his ribs while other responding detectives and officers arrived to assist me," Sullivan wrote. "The struggle with the suspect continued for a long period of time, despite multiple officers and detectives attempting to safely place him into custody."
Garriga's narrative says he "delivered four knee strikes to the upper shoulder area to gain compliance," with "unintentional knee strikes to Le'Keian's face during the struggle." Eventually, another officer handcuffed Woods, the report said.
The traffic stop
Daniels, the civil rights attorney, said the task force never saw any drugs, only someone counting money, so there was no reason to pull them over. As to how Woods got his injuries, his bloody chin could be from his initial fall, he said.
"Without a doubt in my mind, the swollen eyes, the ruptured kidney, (are due) to the beating that he took by JSO," Daniels said. "He was struck almost six times. And one of the officers, Garriga, says in his report that he accidentally might have hit him in the head. … That's not an accident. That's intentional."
During his news conference Monday, the sheriff acknowledged that arresting officers used force, "and yes, that force is ugly."
"But just because force is ugly does not mean it is unlawful or contrary to policy," the sheriff said.
Waters also told reporters that all of the officers involved in the incidents remain on the street "where they belong."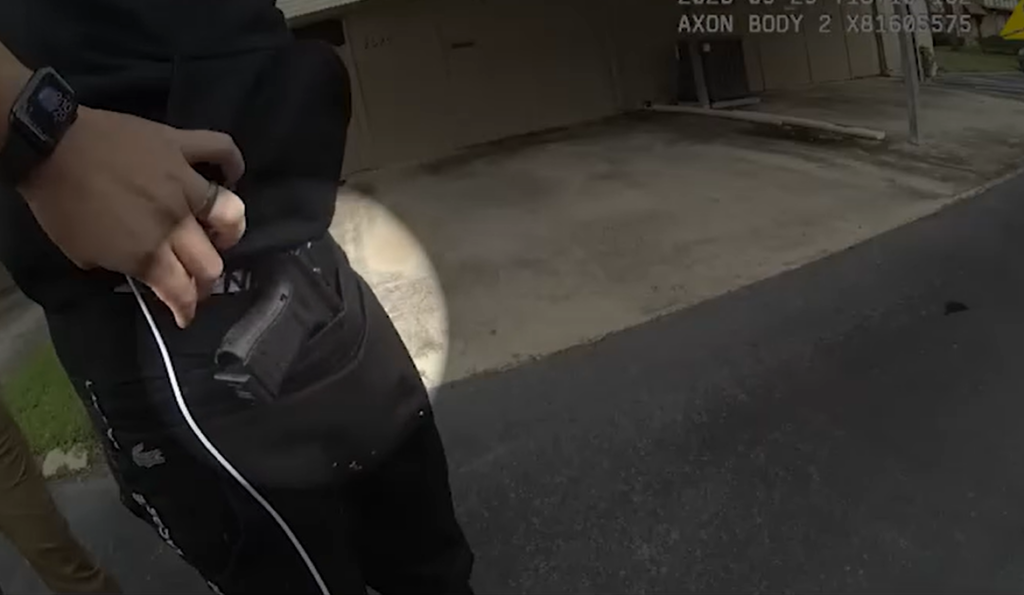 Woods was charged with armed trafficking of cocaine and methamphetamine, plus resisting an officer with violence and other charges. The report said crack cocaine, cocaine, amphetamines and other drugs were found in the truck. Woods also faces a charge of violation of probation stemming from a sentencing in February 2022 for robbery in Tallahassee, Waters said.
The history
Over three years ago, the civil rights attorney Daniels filed a federal lawsuit against Garriga, the department and the city over the fatal shooting of Jamee Johnson on Dec. 14, 2019. Daniels' suit claimed officers used excessive force after making a traffic stop of Johnson on Buckman Street. That lawsuit also claimed that police and prosecutors deliberately chose to ignore witness's testimony, causing Garriga's actions to be deemed as justified.
As for Friday's incident, Daniels said the gang unit has a way of doing business that is wrong.
"They stop people for pretextual reasons to do what — to assault, terrorize and tear this community apart," Daniels said. "We have been here several times on multiple cases with the same exact officers. …. They pinned him to the ground. That's clearly a violation of policy."
Three of the officers identified in Woods' arrest report have discipline issues on their employment records.
Garriga had a citizen's complaint in 2012 about his driving. It was not sustained, his employee record states. After an accident in May 2021, he was ordered to receive counseling and remedial training
Detective Daigle had a traffic accident in 2018 and also received counseling and remedial training, according to his employee record. Detective Sullivan received counseling and training for two crashes, in 2018 and last year, his record shows. In November 2019, an in-house complaint about unbecoming conduct was sustained, with a written reprimand and a 15-day suspension.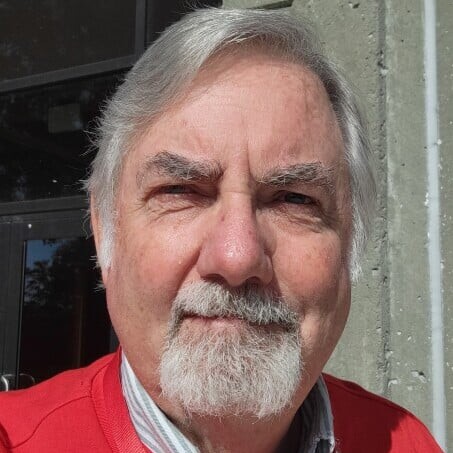 Dan Scanlan
Reporter, WJCT News 89.9
Dan Scanlan is a veteran journalist with almost 40 years of experience in radio, television, and print reporting. He has worked at various stations in the Northeast and Jacksonville. Prior to joining the WJCT News team, Dan spent 34 years at The Florida Times-Union as a police and current affairs reporter.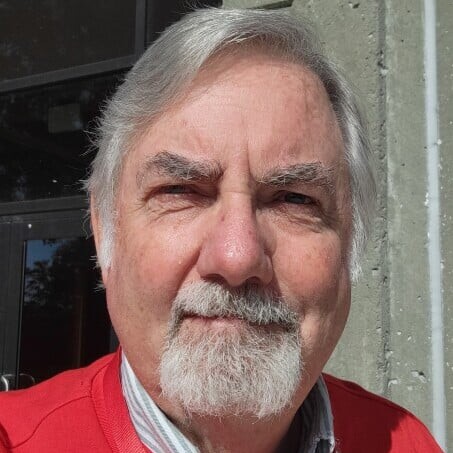 Dan Scanlan
Reporter, WJCT News 89.9
Dan Scanlan is a veteran journalist with almost 40 years of experience in radio, television, and print reporting. He has worked at various stations in the Northeast and Jacksonville. Prior to joining the WJCT News team, Dan spent 34 years at The Florida Times-Union as a police and current affairs reporter.
---
Sign up for the Jacksonville Today newsletter
Your local weekday newsletter for news and ways to get involved in Northeast Florida.