#AskJAXTDY | What are those natural gas tanks doing at Commodore Point?
Published on September 11, 2023 at 12:08 pm
Q. Jacksonville Today newsletter reader Steve C. regularly pilots his boat past Jacksonville's Commodore Point, a longtime home to shipyards along the St. Johns River under the Hart Bridge. And he has taken notice of development at the site, including what appear to be tanks with "SLNG" stamped on their sides.
A: Virginia-based Fincantieri Marine Systems North America is building a $39 million marine repair operation at Commodore Point. The company says the project will bring more than 300 jobs to Jacksonville, according to a 2021 news release.
Fincantieri spokesman Eric Dent tells Jacksonville Today that the waterfront facility upgrades are being done to "improve marine infrastructure," including preparatory work to accommodate a new dry dock. This will give the company the ability to perform maintenance and inspections on larger military, government and commercial vessels as early as next year, he says.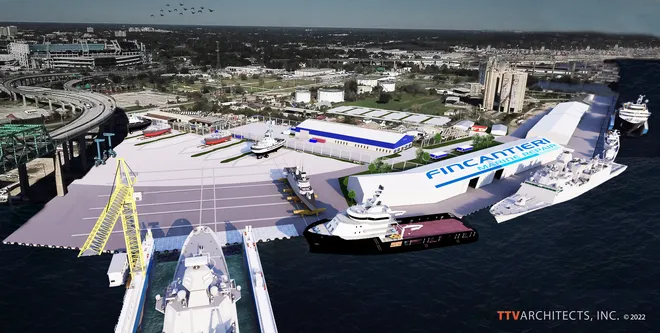 And as for those objects that Steve C. sees?
"Some of our customers own and/or operate LNG vessels, and they call us for maintenance and repairs," Dent says in an email responding to our question. "But we are not an LNG storage facility, and there are no plans to do that here at our facility. The LNG tanks mentioned in your email are empty, inert, and are here temporarily waiting installation."
---
Sign up for the Jacksonville Today newsletter
Your local weekday newsletter for news and ways to get involved in Northeast Florida.