Beach nourishment: not just throwing good sand after bad
Published on August 12, 2020 at 2:08 pm
A riled-up Atlantic Ocean has been biting off and swallowing huge chunks of Northeast Florida beaches during fierce storms in recent years. Millions of dollars have been spent to replenish beach sand, only to sometimes have it disappear with the next storm.
One area beach has lost 135 feet to erosion and storms in the last 30 years. Ponte Vedra Beach is now completely submerged at high tide, residents say. Hurricanes Matthew and Irma left beachfront homes there dangling off a sand cliff. The St. Johns County Commission recently voted to approve funding for restoration, but one commissioner strongly disagreed.
James Johns, who represents an inland district, objected to spending taxpayer dollars "for something that may be washed away in the next nor'easter or hurricane."
But a local advocacy group said restored beaches benefit more than just homeowners.
"Let's face it: we're a beach community and that is the single largest driver in our economy, from tourism to property values," said Lori Moffett, founder of Save Ponte Vedra Beach, Inc.
"We have so many small businesses depending on the beaches," added Commissioner Jeremiah Blocker.
But who should foot the bill for reconstructed beaches? Taxpayers? Beachfront homeowners? Tourists? Business owners? And how long can we keep retrieving what the ocean claims?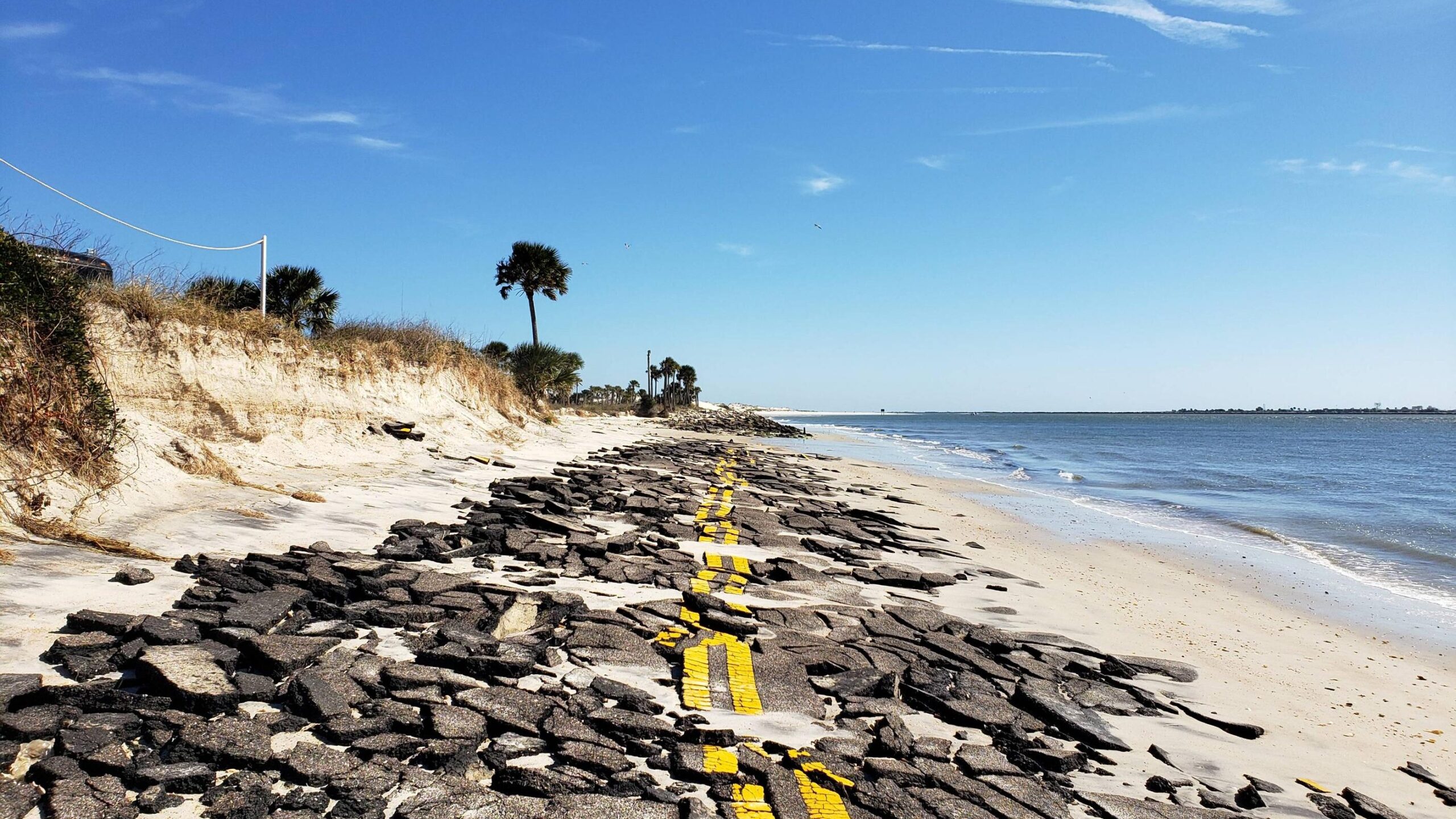 Florida, it turns out, has been in the beach re-building business for a century, spending $1.4 billion to date, more than any other state. It also has more shoreline than any state except Alaska, 60 percent of which has at least some erosion. In Northeast Florida, 45 percent of beaches are classified as "critically eroded" by the Department of Environmental Protection.
Called "beach nourishment," it's more than just replacing sand lost to storms. It can mean pre-emptive moves like building dunes, changing the slope of a beach or adding sediment to eroded areas. Hurricanes aside, beaches are typically "nourished" about every six years.
Many First Coasters remember aerial footage of the ocean's surging into residential streets through breaks in the Jacksonville Beach dunes during Hurricane Matthew. Dunes were removed in the past because they were considered unsightly or because they blocked the ocean view, but their value is recognized today.
Sometimes local government handles nourishment projects, but often it's the federal government via the Army Corps of Engineers. The Corps can pick up the lion's share of the cost, with state and local government splitting the difference, as long as there is public access to the beach. FEMA provides emergency funding.
"The purpose is to protect upland properties," said Marty Durkin, an engineer in the Planning Division of the Army Corps of Engineers, at a recent environmental symposium in Jacksonville. "It also provides economic and environmental benefits."
Protecting the coasts costs less than federal disaster assistance and insurance payouts, one Corps study found. And the Department of Environmental Protection says nourished beaches saw "minimal" damage after recent hurricanes, compared to non-nourished beaches.
"It's important to communities to protect the uplands from rising seas," said Jackie Larson, executive director of the Florida Shore and Beach Protection Association, a group formed in the 1950s to combat beach erosion. "Also, to protect tourism and nesting sea turtles."
For Florida's $65 billion tourism industry, beaches are the No. 1 draw. The state's 825 miles of beaches contribute $15 billion annually, according to an Army Corps study that called beach tourism Florida's "greatest economic asset."
Larson said beach projects' return on investment is impressive, which makes it easier to get lawmakers' support. The state makes $5.40 for every dollar spent on beach nourishment, a figure that estimates sales tax revenues from beach tourism. In other words, if the state spends $50 million on its beaches, it expects to collect $270 million in sales tax. And local government is funded mainly by property tax, which is dependent on property values.
Storms aren't even the main cause of beach erosion, according to the Department of Environmental Protection. Man-made structures, like inlets and jetties, are.
Sea level rise is also a factor in increasing erosion, and there's more talk of its impacts among Tallahassee lawmakers than in the past.
"We are absolutely seeing a growing demand for state funds," said Larson. "That's why the $50 million from the Legislature is very important."
She was referring to funds allocated for grants and aid to local governments for statewide beach management projects during the 2020 legislative session. This marks the fourth year in a row the Florida Legislature allocated $50 million, an amount Larson's group says is needed annually to "catch up" the backlog of eroded beaches.
Nourishment is seen as one of the three options for dealing with eroding or damaged beaches; the other two are sea walls and, if all else fails, retreat. Sea walls are the least effective, according to a University of California study. Nourishment is expensive and time-consuming. And nobody, it seems, is ready for widespread retreat.
In St. Johns County, the federal government will reimburse up to 75 percent of the $22.2 million, 50 year plan to shore-up county beaches, with the state and county splitting the difference. The local contribution will be helped by a recently approved one-cent tourism tax and a special taxing district made up of beachfront homeowners.
So, who pays? In this case, everyone.
As long as property tax revenue, tourists and turtles bring in more dollars than they cost, beach nourishment is likely here to stay.


Lisa Grubba
Executive Director, Greenscape of Jacksonville
Lisa Grubba, Interim Executive Director of Greenscape of Jacksonville, Inc., is an award-winning journalist and Florida Master Naturalist who has been covering environmental matters in Northeast Florida for more than a decade.

Lisa Grubba
Executive Director, Greenscape of Jacksonville
Lisa Grubba, Interim Executive Director of Greenscape of Jacksonville, Inc., is an award-winning journalist and Florida Master Naturalist who has been covering environmental matters in Northeast Florida for more than a decade.
---
Sign up for the Jacksonville Today newsletter
Your local weekday newsletter for news and ways to get involved in Northeast Florida.